Quick Hit: Red Witch Zeus Bass Fuzz Suboctave Review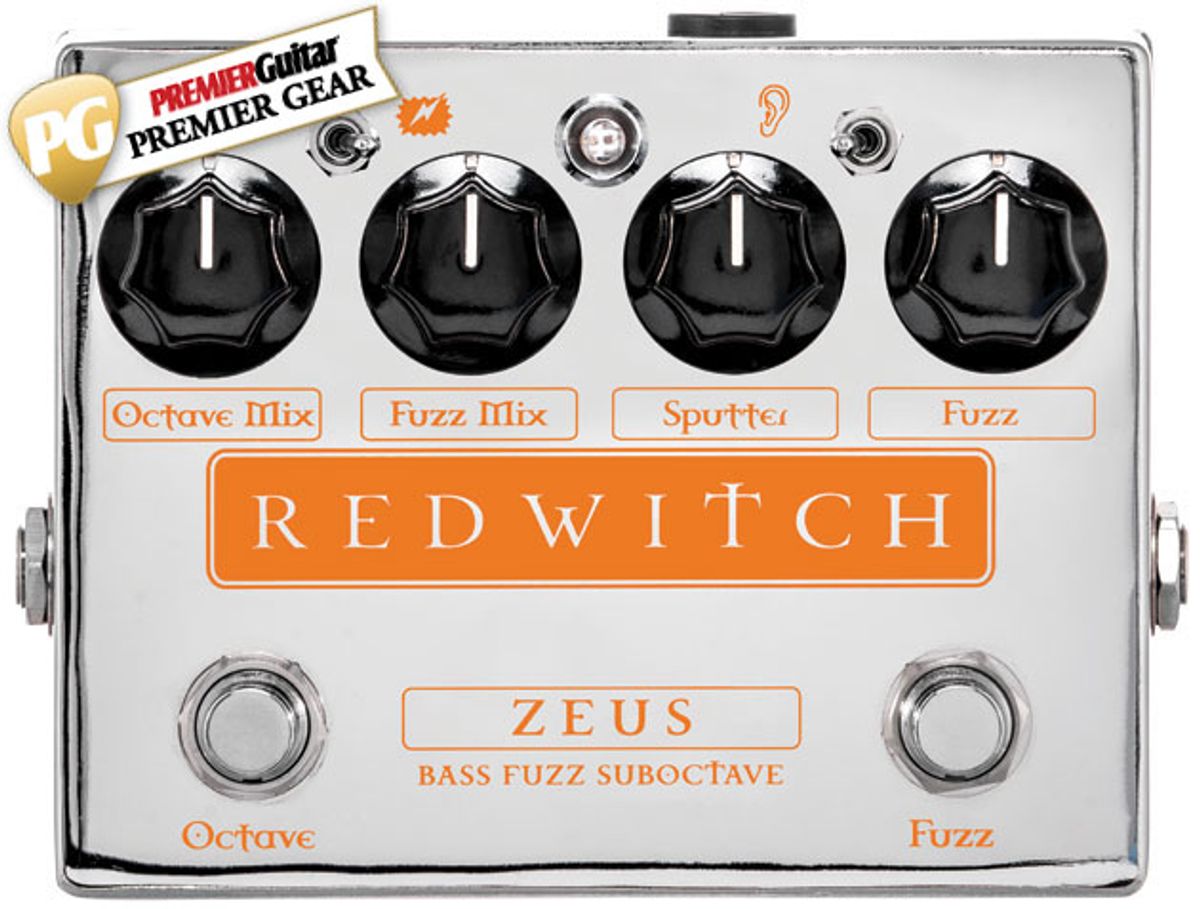 A fuzz/suboctave combo for bassists that'll scare the paint off the wall.
Hot on the heels of their first offering for bassists with the Factotum, New Zealand's Red Witch has followed up in big fashion with the all-analog Zeus suboctave/silicon-fuzz pedal. Like the Greek god it shares its name with, this box is powerful, easily angered, and able to unleash a thunderstorm at will.
The sharp-looking chrome-finished enclosure houses separate footswitches for the two effects that can be run independently or together. There are mix dials for each to fine-tune the wet/dry signal blend, along with controls for fuzz level and sputter. The sputter dial determines the character of the fuzz—from sweet to outright nasty. A gain switch and high-frequency roll-off switch round out the control panel.
To get a taste of the fuzz on it's own, I set the mix to noon, the fuzz at 3 o'clock, and found the sweet spot for the sputter at 2 o'clock. Glorious Kyuss-esque fuzz that would impress a jaded doom and stoner aficionado oozed out of my 4x12. Engaging the octave effect and gradually rolling up its corresponding mix dial changed the game with the power of incorporating an octave lower. A little goes a long way here (the halfway mark was plenty) and you'll quickly loose clarity moving the knob into cranked territory, but dial it in right and you can capture massive low-end power for laying down a lush and full foundation. The octave effect tracked well across the fretboard, though I had a little trouble holding on to the suboctave with the first four notes of my 4th string.
Yeah, it's a pricy pedal, but the payoff is big when you consider you have two effects in one, and two excellent ones at that. With the mirror finish, you can practice your best knarly bass face to coincide with the sounds you find inside.
Test Gear: 2001 Fender Precision, Gallien-Krueger 800RB head, TC Electronic RS410 cab.
Ratings
Pros:
Two solid effects on tap. Jaw-dropping fuzz that gets even fiercer when blending in the suboctave effect. Good looking.
Cons:
Zeus doesn't come cheap.
Street:
$299
Red Witch Zeus
redwitchpedals.com