Radial Introduces New Products at Winter NAMM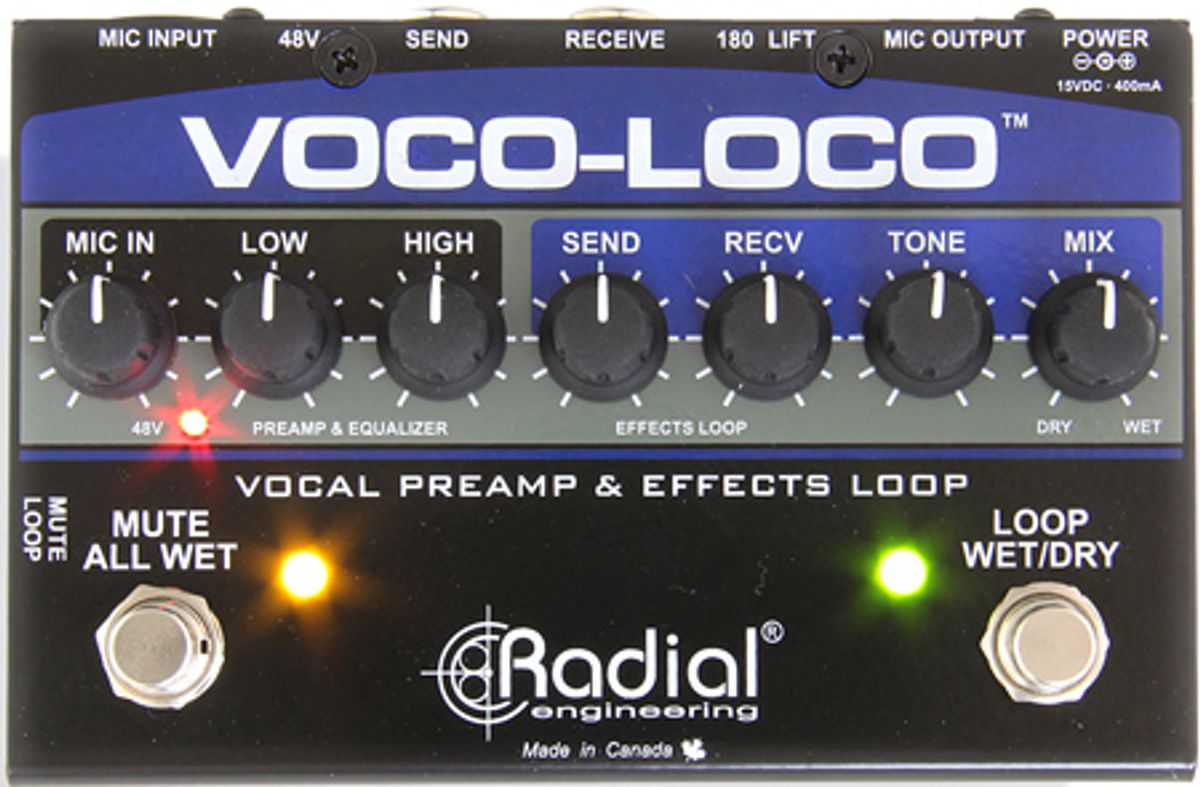 Vancouver, BC (January 22, 2013) – Radial Engineering Ltd is pleased to announce the Voco-Loco, a combination microphone preamp and effects loop insert that enables the vocalist to add
Vancouver, BC (January 22, 2013) – Radial Engineering Ltd is pleased to announce the Voco-Loco, a combination microphone preamp and effects loop insert that enables the vocalist to add guitar effects like delay, reverb or distortion to the voice using a simple footswitch.
The design begins with a high-performance preamp section that delivers over 60dB of gain, more than enough to adapt to virtually any microphone via standard XLR input. And with a built-in 48V phantom power generator, condenser mics can also be used. Radial's unique Accustate level control automatically sets the gain and sensitivity via a dual wafer potentiometer for improved signal-to-noise. A simple two band shelving EQ lets the vocalist add bass or accentuate the highs to enhance. 
The signal then feeds an effects loop that has been optimized for guitar pedals via standard 1/4" guitar jacks. Separate send and receive level controls let you adjust the levels going to the pedals to reduce distortion and optimize the signal path. A tone control on the return path can then be used to tame overly bright pedals for a smoother more natural tone while the wet/dry blend control enables the artist to mix in as much of the effect as desired.  The Voco-Loco's output is fully balanced and able to drive a typical mixing console input.
Two footswitches are top mounted. The right hand footswitch is used to turn on or off the effects loops while the left-hand footswitch can be used to either mute the Voco-Loco output to turn off the mic when not in use or be assigned as an on-off switch for the loop, bypassing the wet/dry function. You could for instance create a weird telephone effect with all of the sound passing through a distortion pedal or toggle the signal so that a blend of the unprocessed voice plus some reverb can be heard together. A 180°polarity reverse switch ensures the pedals are in phase with the original signal when the wet/dry blend is in use. 
Measuring only 5" x 7" (12.7cm x 17.8cm), the Voco-Loco is exceptionally compact to fit on any pedalboard. It comes equipped with an external 15VDC supply.
Radial Engineering Ltd is also pleased to announce the StageDirect - a unique direct box that combines all of the standard features one would find in a DI with the added convenience of being able to mute the signal using a footswitch for silent on-stage tuning or to quietly switch instruments without having to turn down the PA system or put the stage amp on standby.
As with all Radial direct boxes, the StageDirect is made from 14 gauge steel and finished in baked enamel for maximum durability. Connections include a ¼" input for the instrument, a ¼" output for the stage amp, and a standard XLR male output to feed the PA system. A separately buffered ¼" tuner output is always on. When the footswitch is depressed all of the outputs other than the tuner are muted to enable quiet on-stage tuning. The mute feature also makes it easy to switch instruments on stage without having to turn down the PA channel or set the stage amp on standby in order to avoid loud popping in the audio system.
Top panel switches include a -15dB pad to handle extra high output instruments like a passive bass, a high-pass filter to eliminate excessive bass and resonance, and a 180° polarity reverse to help tame acoustic hot spots on stage that can cause feedback.
These features combine to make the StageDirect the perfect, stage hand for busy musicians who want to be in control of their sound at all times. 
Radial Engineering Ltd. is also announcing the Stage Bug SB-1, an ultra-compact direct box designed to fit inside the string pocket of a guitar case.
Designed primarily for acoustic guitars, the Stage Bug SB-1 is an ultra compact active direct box that measures less than 2" wide  x 3.85" long x and only 1.3" high.  (5.1 cm x 9.8 cm x 3.3 cm) and is powered using standard 48V phantom power.
It features a standard ¼" hi-Z instrument input, a low-Z balanced output to feed the PA system, plus a tuner output that works double duty as a thru connection to feed the artist's on-stage amp. All connectors feature glass-filled nylon construction and nickel-silver contacts for long life without failure.  Through-hole parts are employed throughout for optimal signal transfer. This is combined with a full ground plane to reduce noise. Performance is spectacular with a ruler flat response from 20Hz to 20kHz while being able to handle extreme dynamics without flinching. It is also equipped with a -15dB pad to handle high output active instruments and a 180°polarity reverse to help tame hot-spots on stage and eliminate resonant feedback.
For more information:
www.radialeng.com