There's never been a better time to record guitar. Here's a look at the newest toys out there.
Every year, guitar equipment gets more studio-friendly. Small tube amps—many with USB ports—analog and digital preamps, effects, guitar amp plug-ins, and other recording-ready devices are now about as novel as NFL end-zone celebrations. But because they fit under the banner of "guitar gear," we'll save those for our normal product review and news sections. Instead, this roundup highlights a dozen recent items you won't find next to the stompboxes and Finger-Ease—software, mobile apps, mics, monitors, controllers, and other tools ranging in price from free to $2,000. Dig in.
Ableton Live Suite 9.5
DAW Software
With upgraded sampling and other under-the-hood improvements, the latest version of Ableton's unconventional DAW may seem like it's squarely aimed at beat making. And that it is. But Live's clip-based workflow also makes it a great platform for guitar production—especially if you're into writing riffs and manipulating guitar sounds—and the audio improvements help there, too. Live's formidable set of plug-ins includes decent guitar and bass amp simulations, but its strengths are in more unconventional audio processing—try running an arpeggio through Grain Delay—as well as easy and versatile looping and exceptionally effective pitch and tempo manipulation. Plus, the pitch-to-MIDI feature introduced in version 9.0—coupled with a nice complement of software instruments and audio content—lets you turn guitar parts into synth and drum tracks. With a foot controller like Keith McMillan Instruments' 12-Step, the program can be an onstage performance powerhouse for a looping guitarist. Version 9.5 also introduces a new Link feature that lets multiple devices sync across a network. Along with Live, Ableton announced a new version of its controller-cum-instrument Push, a nice alternative for non-keyboard players. If you don't need all the content included with the Suite, you can opt for Live on its own ($449). A fully functioning 30-day demo is available.
$749-799 street
ableton.com
Shure MOTiV Series
Mobile Recording Devices
The ubiquitous SM57 and SM58 dynamic mics have given Shure a well-deserved reputation for durable performance. So when the company used "durable" to describe its new series of mobile recording devices, it got our attention. The MOTiV line includes the MV5 Digital Condenser Microphone ($99), MV88 iOS Digital Stereo Condenser Microphone ($149), MV51 Digital Large-Diaphragm Condenser Microphone ($199), and MVi Digital Audio Interface ($129), all of which work with the free ShurePlus MOTIV Mobile Recording App.
Of the set, the MV88 and MVi seem to be especially guitar-friendly. The former may be especially appealing to acoustic players; it can connect directly to any Lightning-equipped iOS device and has a mid-side microphone element mounted to a rotatable 90-degree hinge. It also lets you tailor the sound with five built-in DSP preset modes, a 5-band EQ, and stereo width control. The MVi—which can connect to a Mac, PC, or iOS device—has two inputs: an XLR for mics and a 1/4" for instruments. It also offers phantom power, its own quintet of DSP modes, a headphone jack, and more. Bells and whistles aside, if the series comes close to matching the near indestructibility of Shure's stage mics, they should be more than capable of standing up to the rigors of recording in the field.
$99-$199 street
shure.com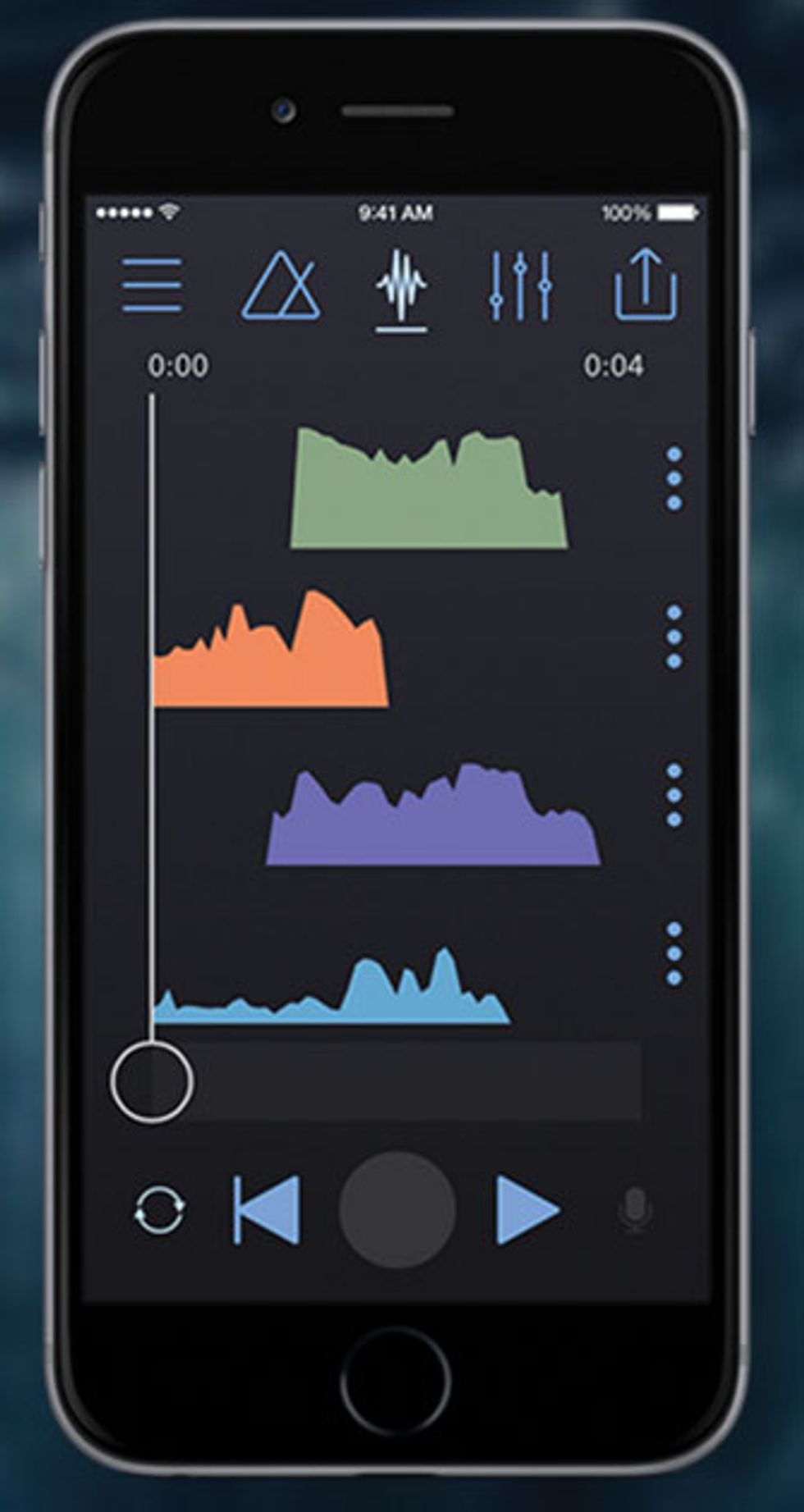 iZotope Spire
Recording App
Computer software and mobile apps are great music-making tools. But for all their power, neither has quite managed to capture the elegant simplicity of the old cassette 4-track. Izotope's Spire comes close—largely because the app doesn't try to do too much, and doesn't get bogged down in retro emulations. Using the touch screen to maximize efficiency, the program lets you record up to four tracks and mix by simply sliding each track around on your screen—up for louder, left or right for stereo placement. There are no effects, but the app does include a metronome and DSP processing on the input to improve the sound of your mobile device's built-in mic. Mixes are easy to share, either as compressed AAC files (for emailing) or as full AIFFs in Google Drive and other cloud services. And did we mention it's
free
?
Free
madewithspire.com
Audient iD14
Interface
When you're on the go, it's nice to have an audio interface that can be powered from your computer's USB port. But bus-powered and high-performance don't always go hand in hand. Audient's new iD14, however, boasts a few features that add some muscle to its bus-powered frame. In addition to two analog inputs with high-performance Burr-Brown AD/DA converters, the iD14 has an ADAT optical connection that lets you add eight digital inputs from an external mixer or preamp. The two phantom-powered mic preamps are borrowed from the company's flagship ASP8024 console, while a switchable 1/4" instrument input has guitar-friendly JFET circuitry.
The iD14 also introduces a feature called ScrollControl, which lets you use the unit's volume encoder (that's "knob" to you and me) as a mouse-like scroll wheel. It can adjust the iD14's mixer app as well as your DAW host software, plug-ins, and more. Other highlights include a low-latency DSP mixer, a pair of speaker outputs, and an independent headphone output with software-controlled monitoring, all packed into a small but rugged all-metal enclosure.
$299 street
audient.com
Etymotic ER•4 microPro
Earphones
Headphones are crucial in many recording situations, and while we love conventional cans, there are also times when we say "stick it in your ear"—in the nicest possible way. Etymotic, a company that makes a wide range of hearing protection and safe-listening devices, has a solid reputation for combining high fidelity and hearing safety, which is why its ER
•
4 earphones make this list. When inserted correctly, ER
•
4s are designed to block outside noise and provide a balanced sound with plenty of bass. The logic is that, because you don't have to crank up to overcome outside noise, you'll listen at a safer volume, so if you're recording in a room full of amps, next to a loud drummer, or mixing in the outside world, these should have you covered. Each set comes with a number of ear-tips, but if you have the budget for the optional custom-molded ear-tips, they're said to improve the noise-blocking seal. If the ER
•
4s are too rich for your budget, you might check out the lower-priced hf3s ($149).
$299 street
etymotic.com
Eventide Anthology X
Plug-in Suite
Ever wonder why your stompboxes never quite matched the creamy chorus and shimmery pitch shifting of Frank Zappa or Eddie Van Halen? More likely than not, that sound was provided by an Eventide Harmonizer. The Anthology X bundle is designed to capture the company's classic hardware in native plug-in form, while adding what they're calling "future classics." A number of the 17 plug-ins emulate vintage hardware with serious guitar bona fides, including the H910 Harmonizer (favored by Frank Zappa), Omnipressor (Brian May), H949 and Instant Phaser (both used by Jimmy Page), and the H3000, a late-'80s multi-effects powerhouse that was the first device to boast diatonic pitch shifting. The set also sports Eventide effects of more recent vintage, including UltraReverb (which has nine algorithms) and Octavox (an eight-voice diatonic pitch shifter using technology from the company's H8000 hardware)—as well as EQs, channel strips, mastering plug-ins, and more. If the Anthology's asking price is out of reach, you might opt for the H3000 Factory ($349), which recreates most of the effects found in the original. Demo versions are available by request.
$1,195
eventide.com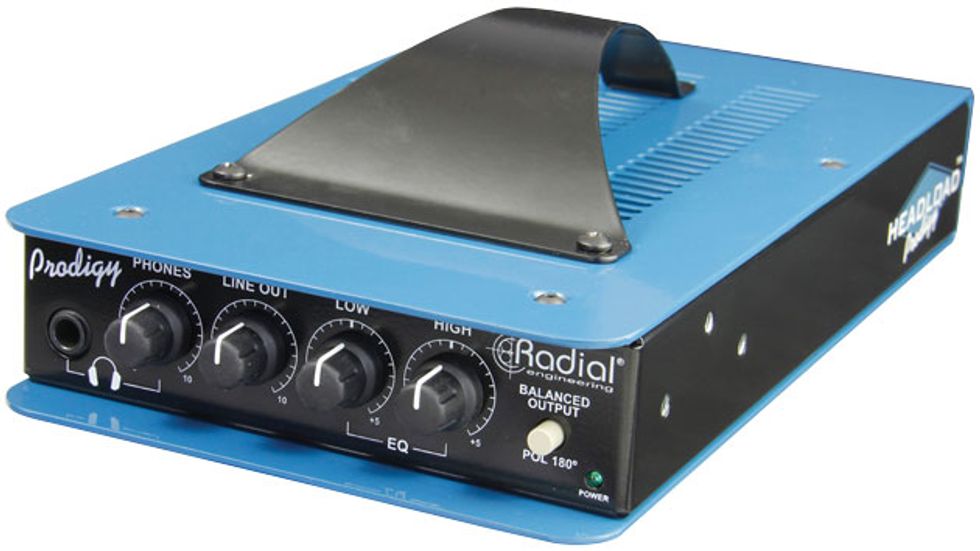 Radial Engineering Headload Prodigy
DI and Attenuator
It's no secret that power tubes can be shy about unveiling their charms unless you push them a bit. It's also no secret that "loud amp" and "good recording" rarely go hand-in-hand: Even if you don't have neighbors to worry about, a loud amp in a small room can be a nightmare to mic, and often ends up sounding thin. Radial's rugged new Headload Prodigy lets you tackle both problems at the same time. A smaller, more affordable version of the Headload ($899), the Prodigy is housed in a 14-gauge steel chassis and combines a speaker load box with a DI output, letting you reduce the volume going to your amp's speaker by 50 percent (for miking) and simultaneously send the power amp's output directly to a mixing console or recording device. The Prodigy has custom-made, cement-encrusted resister coils, and it can handle up to 100 watts RMS and also operate as a full "dummy" load, allowing you to safely disconnect your amp's speaker and record in silence. Depending on the output you choose to connect, you can take the amp's tone "dry" or with EQ and an emulation of a 4x12 half stack miked by a Shure SM57. Other highlights include an XLR output with switchable polarity and ground lift, a 2-band front-panel EQ, and a headphone jack with its own volume control.
$399 street
radialeng.com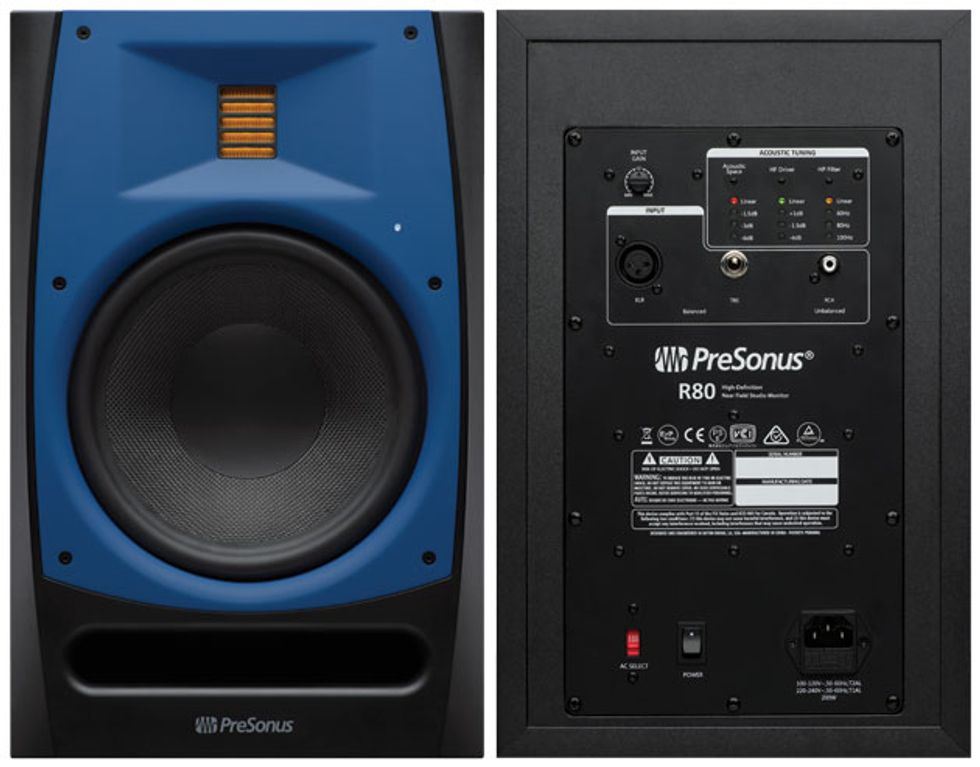 PreSonus R65
Active Monitor
When it comes to mixing guitars, the low to low-mid frequencies are often a battle zone. You want to preserve your axe's bottom without cluttering up territory rightfully claimed by the bass and kick drum. Small monitors—especially when they're underpowered—can cloud this crucial frequency range, but with 100 watts going to a 6.5" coated Kevlar woofer—and another 50 going to a custom Air Motion Transformer (AMT) tweeter—the R65 Active Monitor is designed to handle lows while responding to transients as well as anything of its size and price point. Offering a 50 Hz to 25 kHz frequency response, the monitor can be adjusted with a set of Acoustic Tuning switches, including Acoustic Space (designed to compensate for the bass boost that can occur when a monitor is placed near a wall or corner) as well as settings for the tweeter and for use with or without a subwoofer. There are both balanced (XLR and 1/4") and unbalanced (RCA) connections for use with pro and semi-pro recording gear. The R80 ($499.95) offers similar features with an 8" woofer, extending the low-end response down to 45 Hz.
$399 street
presonus.com
Steinberg UR22mkII
Interface
If you're new to digital recording or want a portable audio/MIDI interface for both computer and iOS devices, Steinberg's new UR22mkII might be a good fit. Picking up where the original UR22 left off, this compact device offers two analog inputs with phantom power via Neutrik combo 1/4"-XLR connections, along with 1/4" monitor outputs and a headphone jack with its own volume control. One of the UR22's two class-A D-PRE microphone preamps can be switched to high-impedance mode for use with guitar and bass. Like the original UR22, the mkII offers audio resolutions of up to 24-bit/192 kHz, fast USB 2.0 connectivity, and an onboard mix control that lets you dial in zero-latency monitoring. The mkII version adds a class-compliant mode for mobile use (you'll need an optional adapter) and comes with free "lite" versions of Steinberg's flagship Cubase DAW: Cubase AI (for Mac or PC), and Cubasis LE for iPad. With a rugged metal casing and a loopback function (which lets you combine your live performance with computer audio and stream your music to the internet in real time), the unit seems especially well suited to live recording and computer-aided gigging.
$149 street
steinberg.net
Behringer X-Touch Compact
Control Surface
When you're a guitarist, mouse jockeying and track padding are more than inconvenient—they can be damaging. We know more than a handful of player-producers who blame their carpal tunnel on the constant slide-and-click movements required to run a DAW. A control surface, therefore, is a worthy investment. There are many from which to choose, but the price, size, and features of the X-Touch Compact make it especially appealing. With Mackie Control emulation, it's designed to work with just about every DAW and/or software instrument on the market, and its "dual layer" mode lets you quickly toggle between DAW and instrument parameters. It has nine automated, touch-sensitive 100 mm (think "full-sized") faders, 16 rotary controls with LEDs to indicate each knob's position, and 39 illuminated buttons (the latter group includes a full tape-style transport section). A pair of 1/4" inputs lets you add a footswitch and/or expression pedal—helpful when you need to punch in and out while playing your axe. The X-Touch comes pre-configured for a number of popular programs, but there's also free downloadable editor software if you want to customize the controls. Once connected to the computer via USB, it can even serve as a MIDI interface, and multiple units can be ganged together for extended control. A three-year warranty doesn't hurt, either.
$399 street
music-group.com/brand/behringer/home
Avid Pro Tools 12
DAW Software
When Pro Tools 12 was unveiled at the 2015 NAMM Show, it made news—and not just because it added important features to an already powerful program. The bigger story—which has implications beyond the DAW itself—was that Pro Tools would now be available via subscriptions, as well as through the outright purchase of a $599 "perpetual license." Subscribers have two options: month-to-month ($29.99) and annual (12 monthly payments of $24.92). Every subscriber gets access to the latest version of the software, and each time there's an update, it becomes accessible. If you do decide to buy, you still subscribe to future updates for $99 per year. This "subscription" upgrade path is intriguing because it removes the developer's incentive to hold new features until a future major upgrade, instead making them available as soon as they're ready.
By the time we went to press, Pro Tools was already up to version 12.3, and since the initial release, the software has added more tracks, new plug-ins, and some significant operational enhancements, including a new "commit" feature that can be used to free plug-in resources. There's also a free remote iOS app that lets you control the software via touch screen—great if you're manning the guitar and don't want to be near your computer.
Under the old system, any or all of the above might have been saved for a "version 13" release sometime down the road, and owners of the old version would have to decide when and if to pony up for its replacement. As for the software itself, it's as robust and guitar-friendly as ever. If you've never used Pro Tools or haven't gotten your hands on a recent version, you can get a feel for it with the free-yet-effective Pro Tools | First version. But as for our early point about the wider implications of Pro Tools new pay-to-play options, Avid wasn't the only music developer to launch a subscription plan in 2015: EastWest did so with Composer Cloud ($29.99/month) and Noteflight scoring software also offers subscription plans starting at $49 a year.
$24.92-29.99/month, $599 (plus $99 per year for updates)
avid.com
Royer Labs R-122 MKII
Microphone
No wish list would be complete without at least one high-ticket item. At an MSRP of nearly two grand, Royer's new "MKII" version of the venerable R-122 ribbon microphone definitely qualifies. Once an endangered species, ribbon mics are now among the most popular choices for guitar duty, handling both cabinets and acoustic guitars with equal grace. And if one company is responsible for the ribbon revival, it's Royer, which introduced the original R-122 back in 2002. It was the first phantom-powered, active ribbon mic to hit the market, and its real-world versatility has been winning converts ever since. The R-122 MKll increases that versatility with a switchable -15 dB pad and a switchable bass-cut filter. Put in guitar terms, they're both "true bypass"—when they're off, the MKII functions like an original R-122. Sweet.
$1,850 street
royerlabs.com