State of the Stomp: What You Really Missed at NAMM!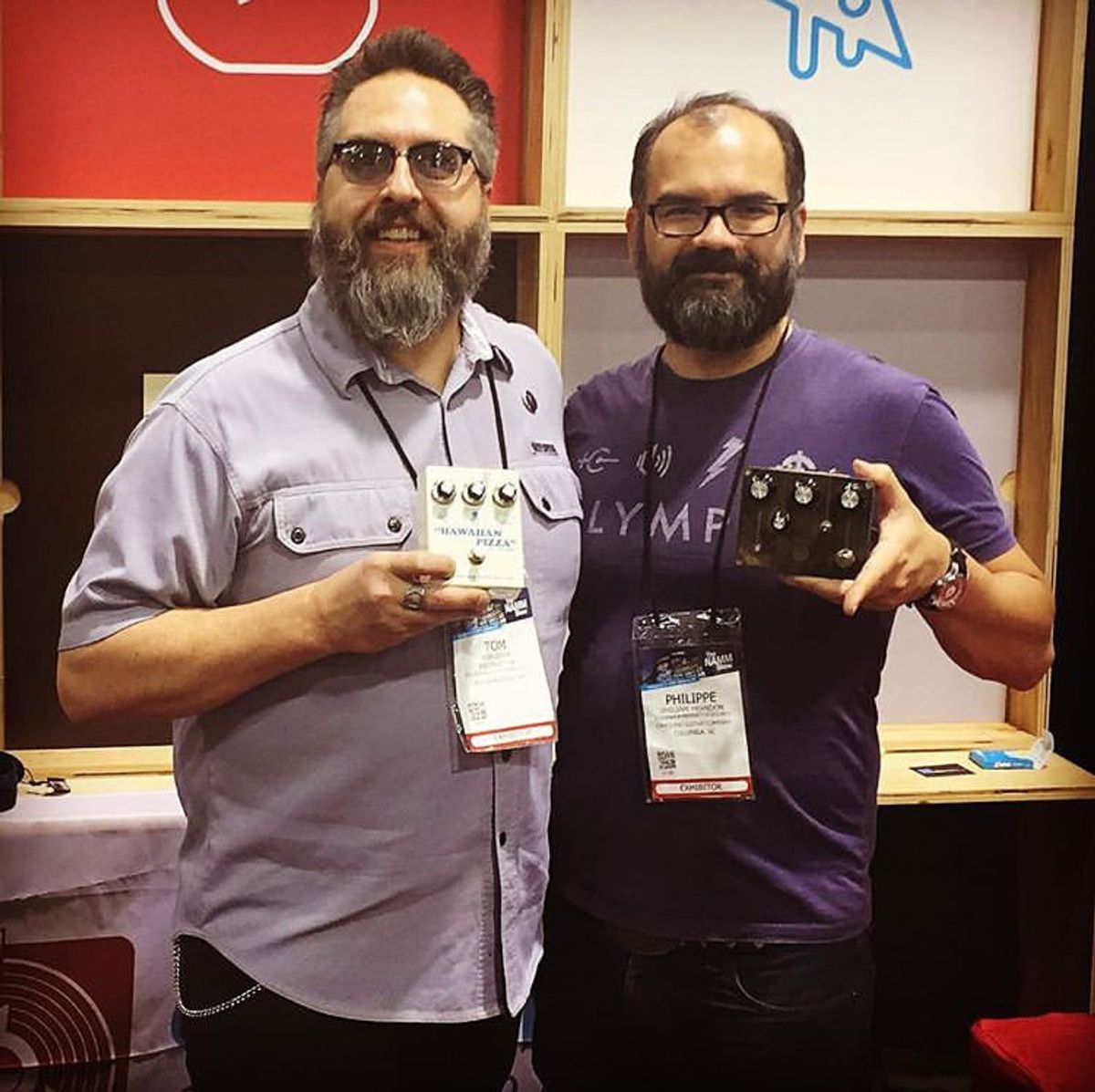 An insider's view from pedal world at this winter's show.
NAMM. Those of you who don't attend only get to see it from afar. A mix of Mecca, the Detroit auto show, the Consumer Electronics Show, and a thousand Wonka factory tours for gear dorks. It always looks so cool! And think of all the people you get to see or meet: A-listers like Sinbad and John Stamos wandering the halls, content gurus stumbling around with all their camera gear, and those long winding lines of people waiting to meet Corey Feldman or someone who played with Ozzy or Kiss for six months two decades ago! What could be better?

Everybody flaunts their bravest face, their most flattering press, and whatever noteworthy artists happen to stumble into or be paid to play at their booth. Want to know what you really missed in pedal world if you weren't at NAMM this January?

Bronchitis and tinnitus. Jokes about NAMMthrax are the kind of insider baseball that makes people roll their eyes, but the truth is that when you cram tens of thousands of people with iffy histories of personal care (musicians, writers, engineers) to shake hands, hug, network, and stand in close proximity to each other, people get sick. I gave up on any pretense of politeness and regularly slathered my hands in sanitizer immediately after speaking with people. It's over a week since the show ended and I still don't have my voice back. Good times!

Meanwhile, the yawning cacophonous maw of sound in our section evoked a fighter plane or UFO that would buzz the tower in our immediate proximity, loudly hover above us while emptying its sonic portajohns onto our heads, and continue its patrol until our next scheduled visit 10 minutes later. My inner True Detective agitated, I traced one particularly egregious offender to a small display staffed by one man embodying a #rigsofdad post. Protected by earplugs, I withstood him for 72 straight seconds as he aimlessly sprayed a gruel of nonstop loud, sloppy, clumsy pseudo-shred audio-vomit in E-minor into the aisle like an oscillating lawn sprinkler—a siren's song seeking the attention of anyone who might confuse musical bullying for affection.
I made a mental note to express my eternal gratitude to and endlessly recommend the work of our neighbors, Fuzzrocious Pedals, a company whose products are very well suited toward the creation of loud sonic chaos and genuine rock 'n' roll discomfort, but whose demo setups and amplifier placement exhibited sincere consideration for their nearby peers.
I gave up on any pretense of politeness and regularly slathered my hands in sanitizer immediately after speaking with people.
Two sides of the coin. Like everything from our restaurant options to our political choices, data-mining and market forces have created both increased polarization and clustering along those endpoints, as consumers and creators play to their strengths and stay within their comfort zones. On one side is a "more vintage than vintage" mindset, where classic sounds and equipment have been mined, duplicated, elaborated, and supposedly improved upon by contemporary builders with nostalgia and hindsight. I don't mean that dismissively. If your goal is to sound like classic recordings from whatever era you consider classic, you have many more quality choices than your heroes ever did. Some of these are thorough, thoughtful, and inventive, while others merely traffic in the aesthetics and buzzwords of that bygone time. I understand and get it, as someone who still appreciates and loves the sounds of Tube Screamers into crunchy British stacks, squishy compressors into clean silverface-era combos, and choppy tremolo and wobbling vibrato. We now have plenty of companies willing to scratch those itches in whatever way best suits our wants and needs.

Meanwhile, the shifting Overton window of gear that players are willing to use for mangling their tone beyond anything we'd capture at an output jack has been getting wider and weirder, and I appreciate that. From Fuzzrocious and Rainger's analog fuzzy smashing to digital exploration by the likes of Dwarfcraft, Alexander, Red Panda, and Meris, I found all kinds of satisfying and curious bleep-bloop-wrawrmp and strange happenings in my pauses and spaces between the notes. It warms my heart to see—as the author of "The Myth of Real Guitar Tone" in the July 2015 edition of this column—that along this continuum, my own company's work could now be considered relatively conservative by comparison. If your sonic explorations go beyond inoffensively gauzy reverb pads or faux-organ shimmers, there's a lot to find out there.
The genuine connection with peers. For years, I'd admired the work that Tom Cram did in reviving the DOD and DigiTech brands. So to see him going solo with beautiful and rad-sounding work in his new endeavor, Spiral Electric, and to hear that he enjoys and respects our own fuzz as well, means a ton. Another highlight I'll never forget was Paul Reed Smith looking me right in the eyes and telling me that we make one of his favorite modern distortions, and that "you did a really good job on that." But beyond the big names, to meet people firsthand who respect our work, and to hear what it has meant to them, is a big reason why we stay in this business. I mean, it can't be the money. That barely pays for the Z pack we get prescribed for the bronchitis.
---