Tools for the Task: Partial Capos
If you find yourself longing for an additional finger or two, look into what a partial capo can do.
Whether you're a beginner hoping to make starting out a little easier or a seasoned player who wants to explore alternate tunings and sounds, a partial capo—like the 10 examples here—can open up a new world of possibilities.
 
SPIDER CAPO
Spider Capo Std.
This universal partial capo lets players capo each string individually, which allows for the exploration of new tunings, keys, textures, and harmonies.
$29 street
spidercapo.com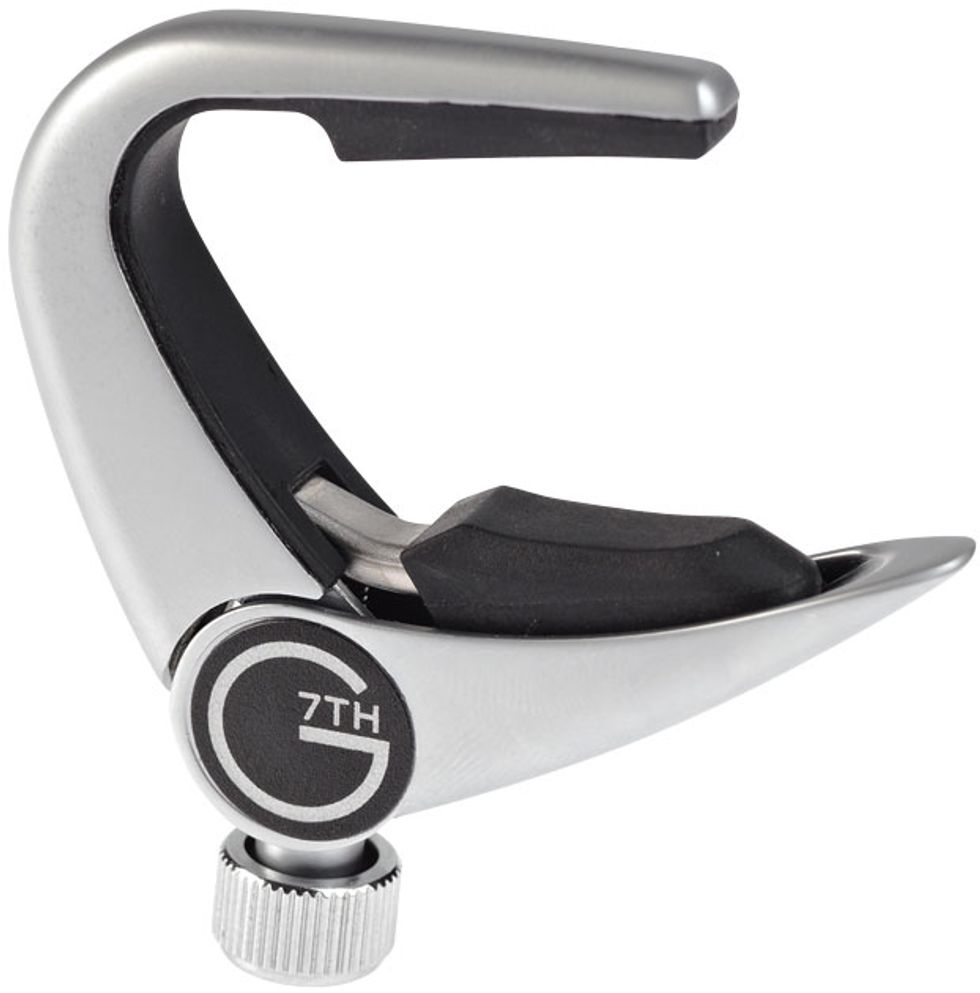 G7TH
Newport Partial #3
This cut capo clamps three strings for a variety of different tunings and features a fine-tuning tension-adjustment screw for dramatically reducing common tuning and sustain issues.
$21
g7th.com
KYSER
Short-Cut
Whether used alone or in combination with a standard capo, the Short-Cut was designed to make simple chord progressions even easier and alternate tunings reachable without retuning.
$17 street
kysermusical.com
SHUBB
C8B
By skipping the 6th string and clamping the other five, emulating drop-D tuning is a breeze with this lightweight brass capo that features over-center clamping action.
$25 street
shubb.com
WEASELTRAP RECORDS
Harmonic Capo
Ideal for use with open tunings, this capo lightly touches the strings to create harmonics (instead of clamping the strings), which allows fretted notes to be played above or below the capo.
$34 street
weaseltrap.com
LIBERTY GUITAR
Flip Model 43
This easy to adjust and operate capo is reversible, which allows it to function as a 3-string or 4-string partial capo, depending on the chosen tuning/configuration.
$24 street
libertyguitar.com
WOODIES
G-Band II
These low-profile capos grab the outer two strings (top or bottom) of a standard steel-string guitar and work up to the 7th fret.
$12 street
woodieshanger.com
PITCH-KEY
PK-01
While not
technically
a capo, this device—which installs behind the nut—enables a player to set up two different pitches for a particular string, and allows quick switching between the two.
$33 street
pitch-key.com
CAPO CLIPS
E/A/D Capo Clip
This device works with most any spring-loaded capo to create a partial capo that provides open-E tuning without retuning. Other key configurations are available.
$10 street
capoclips.com
PLANET WAVES BY D'ADDARIO
NS Drop Tune Capo
Designed for drop-tuning use, this capo's micrometer-adjustment mechanism allows players to dial in the exact tension needed for clear, ringing notes without excessive force on the neck.
$15 street
daddario.com