Trash or Treasure: Hiwatt DR103
Gear guru Zachary Fjestad appraises a PG reader's iconic half-stack—the same type used by Pete Townshend and other legends.
Hey Zach,
How about a little British love in your column? I absolutely love British rock and the Hiwatt sound. You could say I'm a product of the British Invasion during the 1960s. I bought this Hiwatt half stack many years ago to replicate the sound of my favorite bands, and I have to say it does the job perfectly! Can you offer some Hiwatt history and tell me what my rig is worth today?
Respectfully,
James in Albany, New York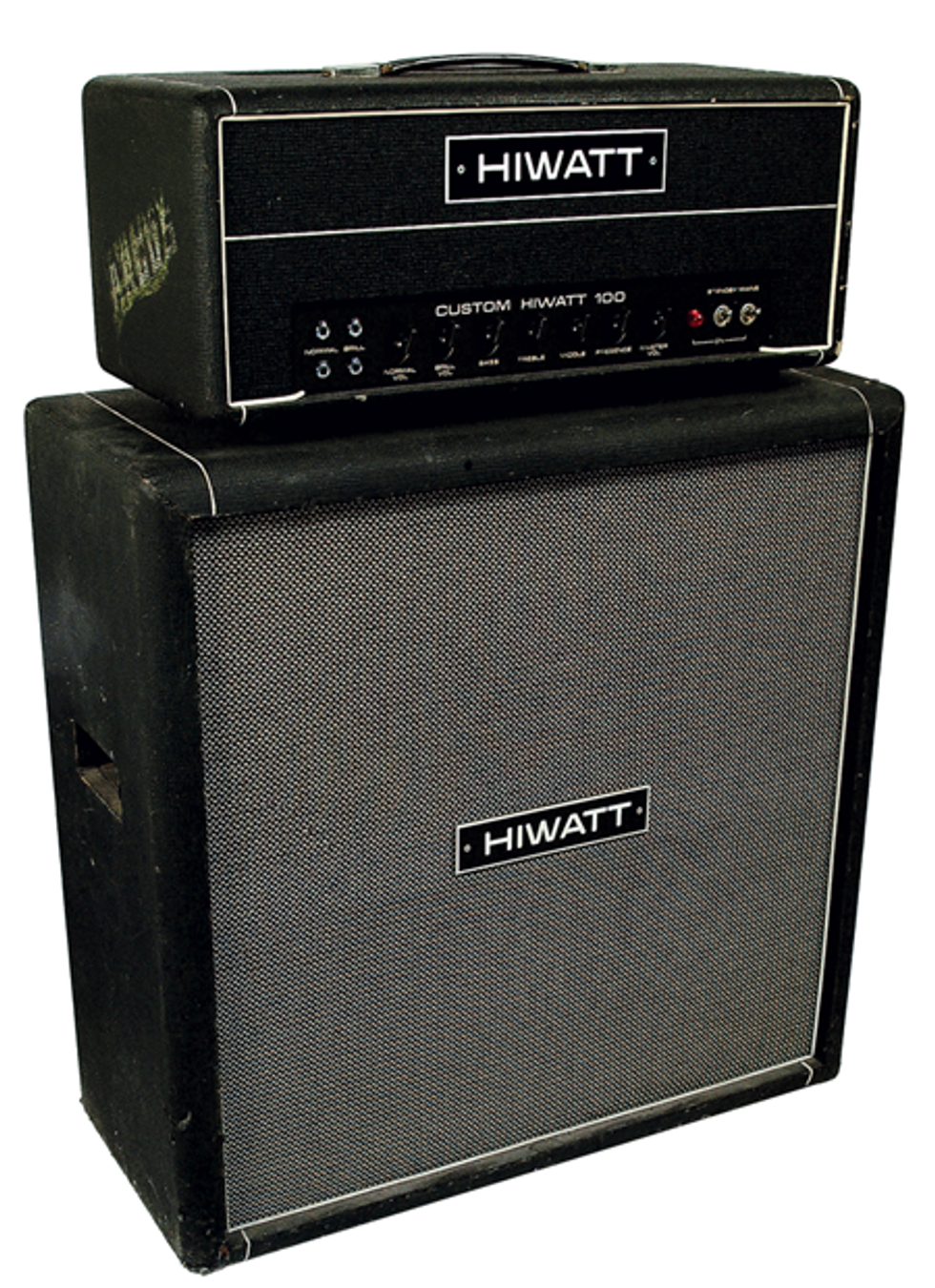 A Hiwatt half-stack rig consisting of a 100-watt DR103 amp and a SE4123 4x12 cab would be valued between $3,000 and $3,500 in excellent condition.
Hi James,
You're right, I don't discuss nearly enough British gear in my column. Hiwatt, along with Marshall and Vox, are largely responsible for shaping the sound of British rock during the 1960s. Bands such as Pink Floyd, the Moody Blues, the Rolling Stones, and The Who have all used Hiwatt amps to help create their legendary sounds.
British audio engineer Dave Reeves founded Hiwatt in the mid-1960s (the exact date varies from source to source). To raise enough money to get his company up and running, he contracted with Ivor Arbiter's Sound City music store to build a line of amps bearing the store's name. By the late 1960s, however, Reeves had fulfilled his contract with Sound City and began focusing on building his Hiwatt-branded amps.
Hiwatt amps bear a strikingly similar appearance to Marshall amps, but they certainly have their own sound. With their military-spec chassis, point-to-point wiring, and marine-grade cabinets, Hiwatt amps are also known for being built like tanks. Pete Townshend was likely drawn to Hiwatts for more than just their tone: They were about the only thing that could withstand his punishment.
Your 100-watt model DR103 was probably the most popular amp head Hiwatt produced at the time. Other amps in the line included their 50-watt DR504, 200-watt DR201, and the massive 400-watt DR405. Each of these models featured two channels and standard control knobs for treble, middle, bass, individual channel volume, presence, and master volume. All the tubes in the aforementioned amps were of British origin, and the DR103s in particular were loaded with EL34 power tubes and ECC83 preamp tubes.
With their military-spec chassis, point-to-point wiring, and marine-grade cabinets, Hiwatt amps are known for being built like tanks.

As Hiwatt became more popular in the late 1960s and early 1970s, Reeves found he could no longer keep up with production. So he commissioned famed amp-designer Harry Joyce to wire chassis for him and this partnership lasted successfully up until Reeves' untimely death in 1981. Unfortunately, Reeves was divorced at the time of his death and the company ended up in the hands of lawyers, instead of his children as he had intended.
At this point, a few remaining Hiwatt employees incorporated under the name Biacrown Ltd. and continued to produce Hiwatt amps with some minor changes to the circuitry. For reasons largely unknown, Biacrown became financially strapped and closed its doors in 1984. The Hiwatt name was then sold to Richard Harrison and his U.K. company Music Ground.
In the U.S., the Hiwatt name reemerged with Fernandes Guitars. In order to keep up with the times, this collaboration began offering a line of Asian-made amps under the Hiwatt name that included solid-state models in their Bulldog series of amplifiers. Fernandes and Hiwatt were distributed together for a number of years until just recently.
Your half-stack rig consists of the DR103 head and a SE4123 4x12 speaker cabinet. For this complete set, the value is currently somewhere between $3,000 and $3,500 in excellent condition. However, it also very much depends on the year of the amplifier, since the earlier models are worth more. Any association with Pete Townshend and The Who seems to increase the value as well. Maybe it's because Townshend smashed so many of them that they've become so rare and more desirable!