The jazz phenom chats about flying with his guitar, how he approaches fluidity on his instrument, overcoming injury, and his take on pedals and tunings.
Why Julian Lage Doesn't Use Many Pedals | Wong Notes Podcast
Kate Koenig
Getting signed to Blue Note Records—the onetime home of John Coltrane, Lee Morgan, Miles Davis, Kenny Burrell, and many, many other greats—is a high honor in the jazz world. "It's just incredible," says Julian Lage, whose new album, Squint, is his debut for the famed label. "It's thrilling and inspiring and absolutely makes me want to be a better musician." But sometimes, simply being a better musician in a technical sense isn't enough. In the period between when the COVID lockdown began and the start of Squint's sessions with his trio in August, Lage had an epiphany during the "months of playing these songs, hours on end by myself. I wanted to write songs that would be restorative to play.
---
Made in Canada, this two-voice guitar features a chambered Mahogany body, carved Swamp Ash top, 25.5" scale Mahogany neck and Rosewood Fingerboard.
Godin Guitars launches the Radium-X as part of its high-quality guitar lineup. After over 30 years of hand-crafting award-winning multi-voice guitars, celebrated by players worldwide, we are proud to introduce the Godin Radium-X! Designed to be ultra-versatile, the Godin Radium-X delivers both electric and acoustic tones.
With a Seymour Duncan Jazz SH-2 at the neck and a Bare Knuckle Boot Camp True Grit Zebra at the bridge, the Radium-X is designed to be a powerhouse of tone. This diverse magnetic pickup combo is capable of delivering powerful, warm distortion to clear, glassy tones, appealing to a wide range of players and musical styles. The Radium-X's stunning acoustic voice comes courtesy of a custom-designed LR-Baggs X-Bridge tremolo with six built-in "HEX" saddle transducers.
Godin Radium-X Rustic Burst - demo'd by Frank O'Sullivan
Body : Chambered Mahogany
Top : Carved Swamp Ash
Neck : Mahogany
Fingerboard : Rosewood
Scale Length : 25.5" (647.7 mm)
Neck Pickup : Seymour Duncan Jazz SH-2
Bridge Pickup : Bare Knuckle Boot Camp True Grit Zebra
Bridge : LR Baggs X-Bridge Tremolo
Controls : 1x Volume, 1x Tone, 3-way Toggle for magnetic pickups, 1x blendable volume and 3-way mini-toggle for acoustic/electric mix
Colours : Rustic Burst, Natural
Finish : Semi Gloss
There's just something about the grit on those repeats.…
There's definitely a place for those pristine, perfect digital delay units, but when you need to hear a bit of degradation on the repeats there's only one way to go. Here's a look at 10 different analog boxes that range from simple and funky to expansive and weird.
MXR M169 Carbon Copy
The sparkly green time machine is a dead-simple way to get classic bucket-brigade tones. It includes a top-mounted switch for modulation, two internal trim pots, and up to 600 ms of delay time.
$149 street
Maxon AD999
This stereo box ups the ante with eight custom Maxon MC4107D bucket brigade ICs, which equals up to 900 ms of delay. The circuit is designed with a bit of an EQ bump plus dynamic distortion on the repeats for a vintage vibe.
$439 street
Boss DM-2w Waza Craft Delay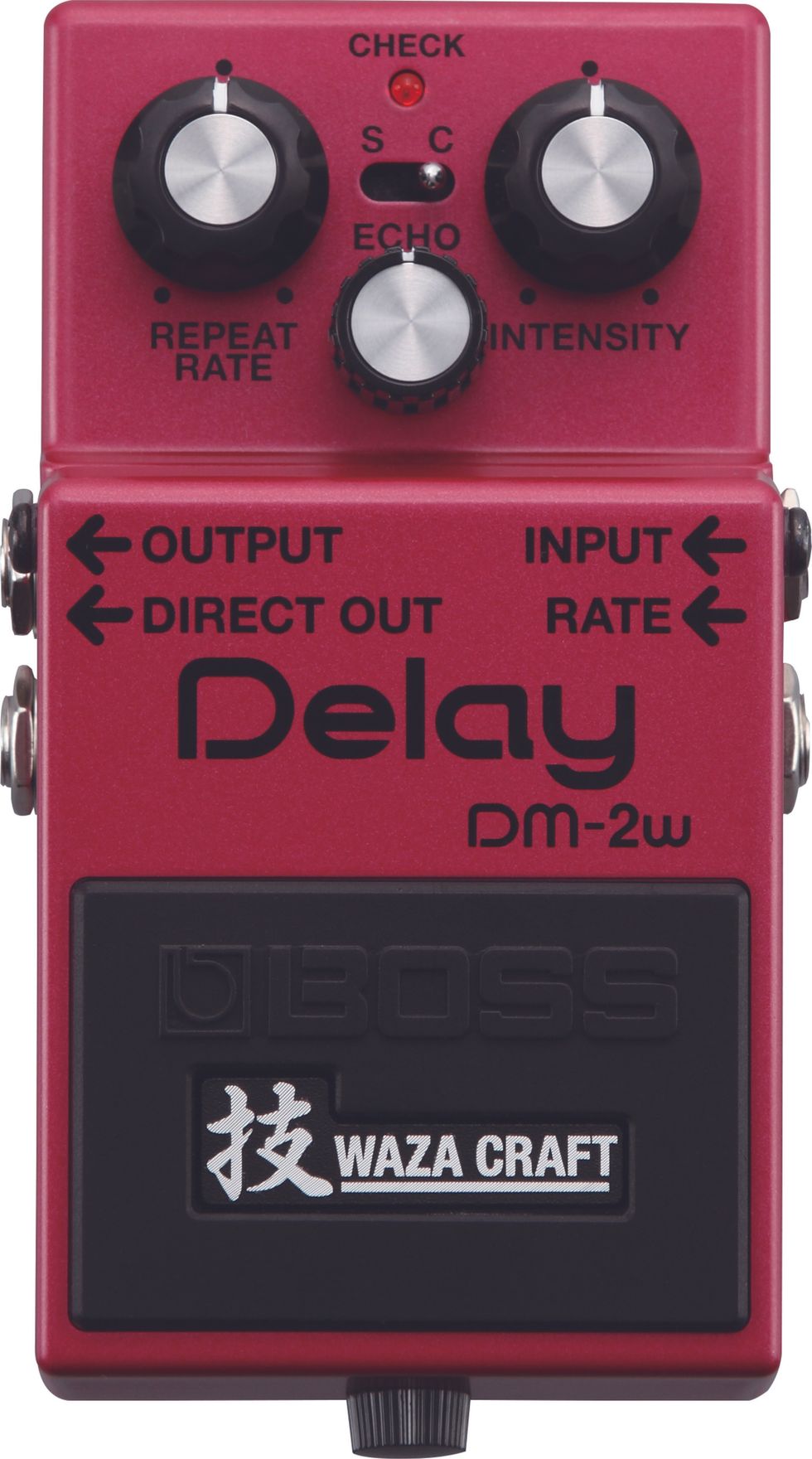 A reissued classic that not only faithfully recreates the original version from '84 but allows you to switch to a custom mode that increases the delay time to 800 ms. Plus, the pedal features both wet and dry outputs and expression pedal input.
$174 street
Way Huge Smalls Aqua Puss MkIII
The latest iteration of Jeorge Tripps' ubiquitous circuit not only packs analog tones into a smaller enclosure but can rock self-oscillation and tape-style echo. The top-mounted jacks also help on crowded pedalboards.
$149 street
Electro-Harmonix Deluxe Memory Man Nano
For decades the large-format DMM was a staple on pedalboards across the world. This smaller version aims to cop all the vibe and mojo of its ancestor. It not only features the same delay, chorus, and vibrato modes as the original but gives you full control over modulation speed.
$213 street
J. Rockett Audio Designs Clockwork Echo
A collaboration with Howard Davis, who created the Deluxe Memory Man, this fully featured pedal includes an independent boost circuit, dual expression pedal inputs, stereo outputs, and a deep modulation section.
$399 street
Ibanez Analog Delay Mini
Only the essentials are present in this new mini pedal. Along with tiny controls for repeat and blend, the larger knob allows you to control time on the fly. As with most analog outfits, you don't get a ton of delay time, but up to 600 ms is on tap.
$119 street
Chase Bliss Thermae
As with all of Joel Korte's creations, the Thermae is way more than a simple analog echo box. It has a wealth of customizable options including a pitch shifter, MIDI, expression pedal support, and synth-like sequencer tones.
$499 street
TC Electronic Echobrain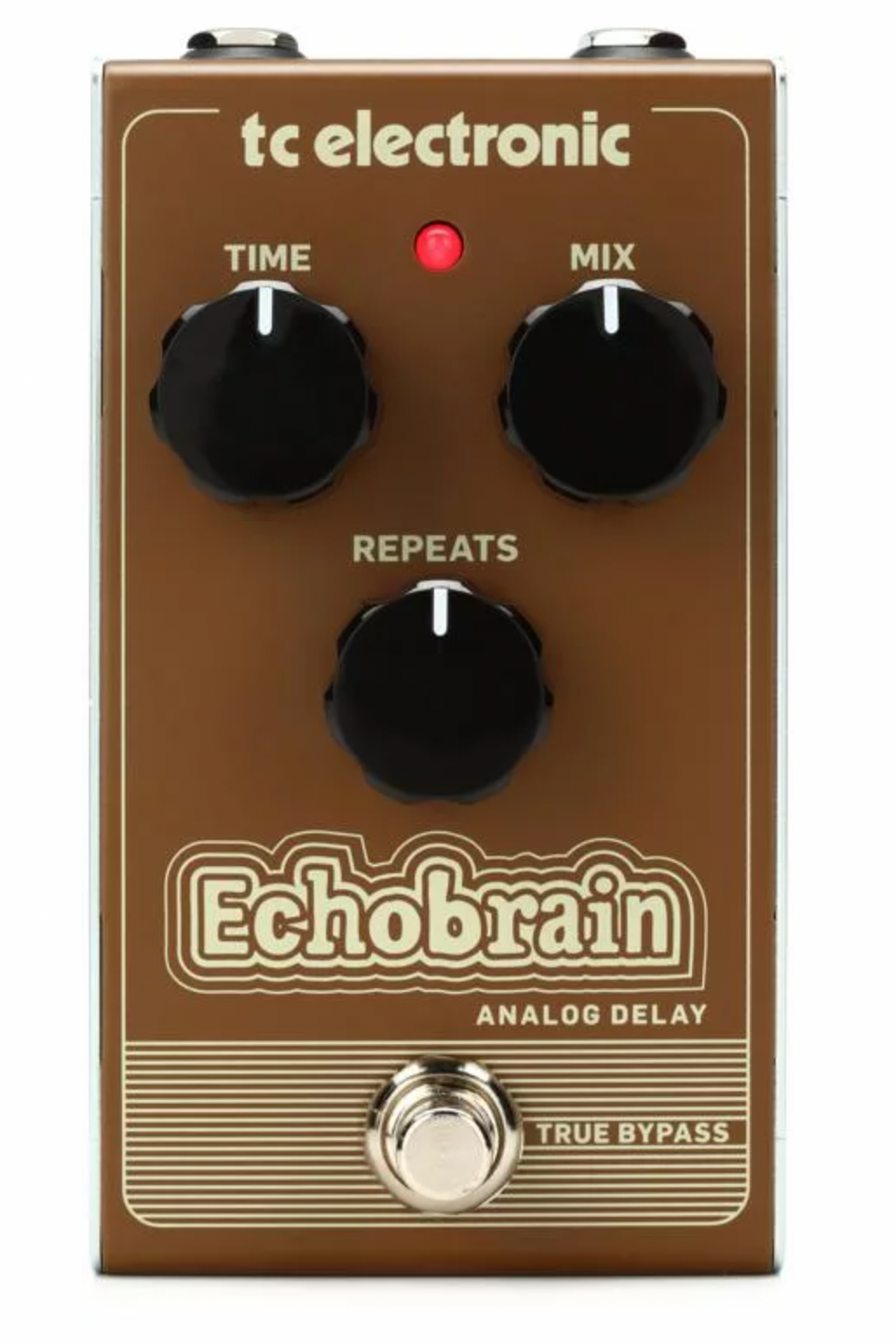 At only 60 bones, this stripped-down analog delay not only will be easy on your wallet, but also on a cramped pedalboard. It maxes out at 300 ms but has a vintage-style BBD chip and comes in a road-ready chassis.
$59 street
Mythos Oracle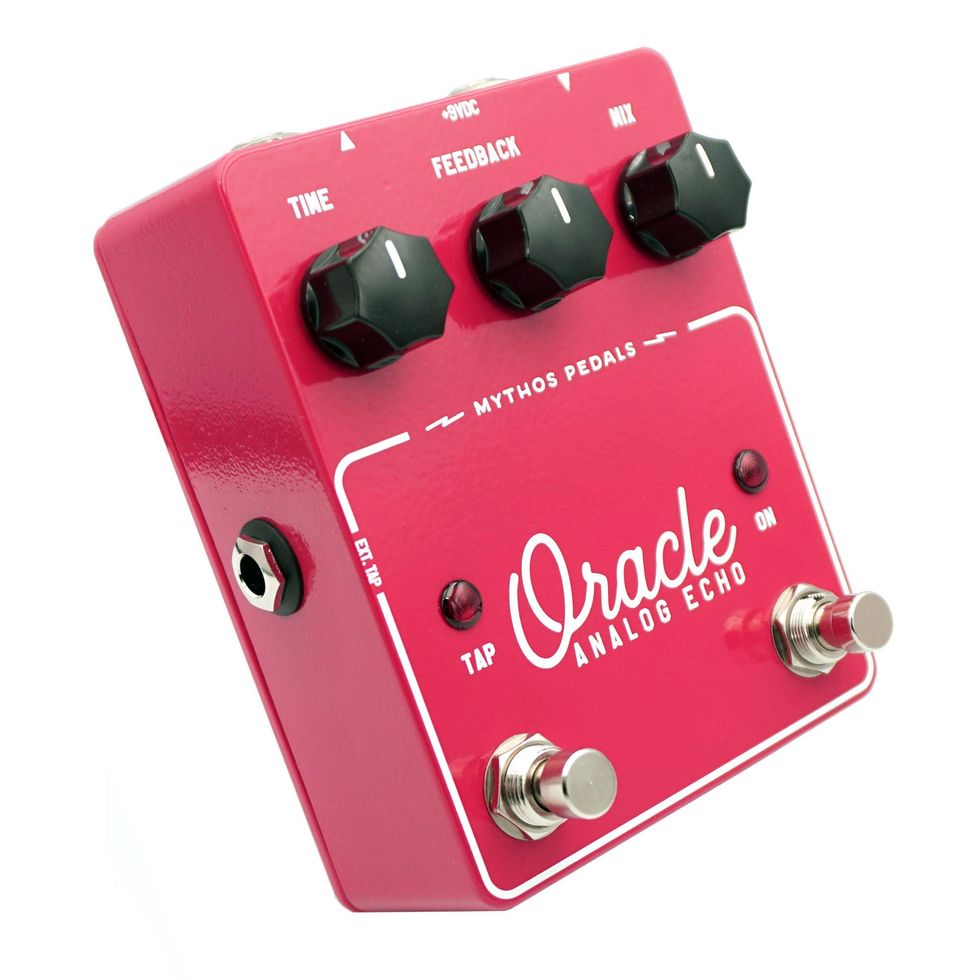 Zach Broyles teamed up with John Snyder of Electronic Audio Experiments to create this fully analog delay that is built around a pair of MN3205 chips and features tap tempo. If you use the time knob, the pedal maxes out at about 600 ms, but the tap tempo allows you to push it a bit more.
$259 street
A new marketplace allowing music makers to buy and sell gently used gear through the trusted online music retailer.
The Sweetwater Gear Exchange creates a new opportunity for musicians to get the equipment and instruments they need to make music by buying and selling gently used gear in a safe and cost effective way through a trusted partner. Through Gear Exchange, there are currently zero seller fees incurred when the seller chooses a Sweetwater gift card as the form of payment.
Since 1979, Sweetwater's mission has been to provide the best shopping experience possible for customers. That single focus continues to drive every aspect of the company's operation and is the key to its ongoing success. By understanding and keeping a pulse on what customers want, The Gear Exchange further exemplifies Sweetwater's ability to provide them with a top-notch experience. Gear Exchange sellers have the opportunity to create their own customized storefront, including setting a store address, outlining policies for returns, and adding a bio to let people learn more about them. Sellers can create listings that include photos of the instruments and gear they no longer need or want.
To maintain safety, Gear Exchange has implemented tight fraud prevention measures including requiring photos of the exact item listed. There will be badges available on the storefront pages showcasing how long Gear Exchange sellers have been verified Sweetwater customers. Additionally, there will be a full team of administrators monitoring the marketplace for any potential security risks. Shipping labels for sellers can be purchased directly through The Gear Exchange, utilizing Sweetwater's great rates. The cost of the labels can be subtracted from the payout so sellers don't have to pay shipping bills until they get paid.