Hello and welcome to this expanded take on my usual Mod Garage madness. Here we're going to tackle my favorite mods for the four most common electric guitars—the Fender Stratocaster and Telecaster, the Gibson Les Paul, and hard-rock- and metal-friendly "super strats" of various makes.
Although I've got tons of ideas for great-sounding mods that can be fairly complex (just check out my past Mod Garage columns on premierguitar.com), I believe small, simple mods like the ones here can make a huge difference in the number and quality of tones at your disposal. The other benefit of easy mods is that they introduce those who might be anxious about messing with their beloved guitars to the exhilarating world of modding and give them the confidence to try even more adventurous, fun, and rewarding mods in the future.
So let's get started. We'll begin with Leo Fender's second classic design—the Strat.
The 7-Sound Stratocaster
One of the most popular wiring projects for Stratocasters is also one of the oldest, so nobody can tell exactly who came up with it first. Some say it was invented by famous Western swing guitarist Eldon Shamblin, other sources say it was another swing guitarist named Bill Carson—who just happened to be Leo´s favorite guitar test pilot.
Regardless of its origin, this mod aims to rectify the one bummer that greedy tweakers see in the Strat's otherwise super flexible 5-position switch: With three pickups onboard, that means there are actually seven possible pickup combinations on a Strat. But standard wiring doesn't let you pair the bridge and neck pickups (like on a Telecaster) or all three pickups at the same time.
Standard Fender Stratocaster 5-Way Wiring
| | |
| --- | --- |
| Position | Pickup Combination |
| 1 | Bridge pickup only |
| 2 | Bridge and middle pickups in parallel |
| 3 | Middle pickup alone |
| 4 | Middle and neck pickups in parallel |
Thankfully, the 5-way selectors from companies like CRL or OakGrigsby (both of which are now owned by Electroswitch) make it easy to mod your Strat so that it still gets the factory-set combinations but also lets you add in the other two using an additional switch to engage the neck pickup. Several styles of switches can facilitate this, but they all have one thing in common—they're all a single-pole, single-throw (SPST) switch. In other words, they're all simple on/off switches. 
You can install your new neck-pickup on/off switch by simply drilling a hole in your Strat's pickguard and installing a small SPST toggle, or you can replace one of the potentiometers with a push/pull or push/push pot with an integrated switch that lets you activate the neck pickup. Once you've done so, position 1 on your 5-way selector will still engage the bridge pickup alone, but when you flip your new toggle switch it will engage the neck pickup, too—so you'll have both in parallel. Same goes for position 2: It will still activate the bridge and middle pickups, but when you now engage the toggle you'll add the neck pickup, too. 
7-Sound Stratocaster Mod Wiring
| | | |
| --- | --- | --- |
| Position | Pickup Combination | With SPST Switch Engaged |
| 1 | Bridge pickup only | Bridge and neck in parallel |
| 2 | Bridge and middle pickups in parallel | All three pickups in parallel |
| 3 | Middle pickup alone | Middle pickup only |
| 4 | Middle and neck pickups in parallel | Middle and neck in parallel |
| 5 | Neck pickup only | Neck pickup only |
Another cool way to perform this mod is to use a new pickguard outfitted with three SPST on/off switches instead of a 5-way switch. (Fender used this method for the Elite Stratocaster that was available from 1983 to 1984 by using three small on/off pushbuttons rather than the more common toggles.) While some feel the three-SPST approach can make it easier to keep track of which pickups are active at a single glance, the disadvantage is that it often takes more up and/or down motions than a typical 5-way switch to select a new pickup combination.
As for the usefulness of these new combinations, all three pickups together can provide a nice rhythm sound in certain settings, while the neck-and-bridge combo reminds me of the middle setting on a Telecaster—but a lot fatter and more defined.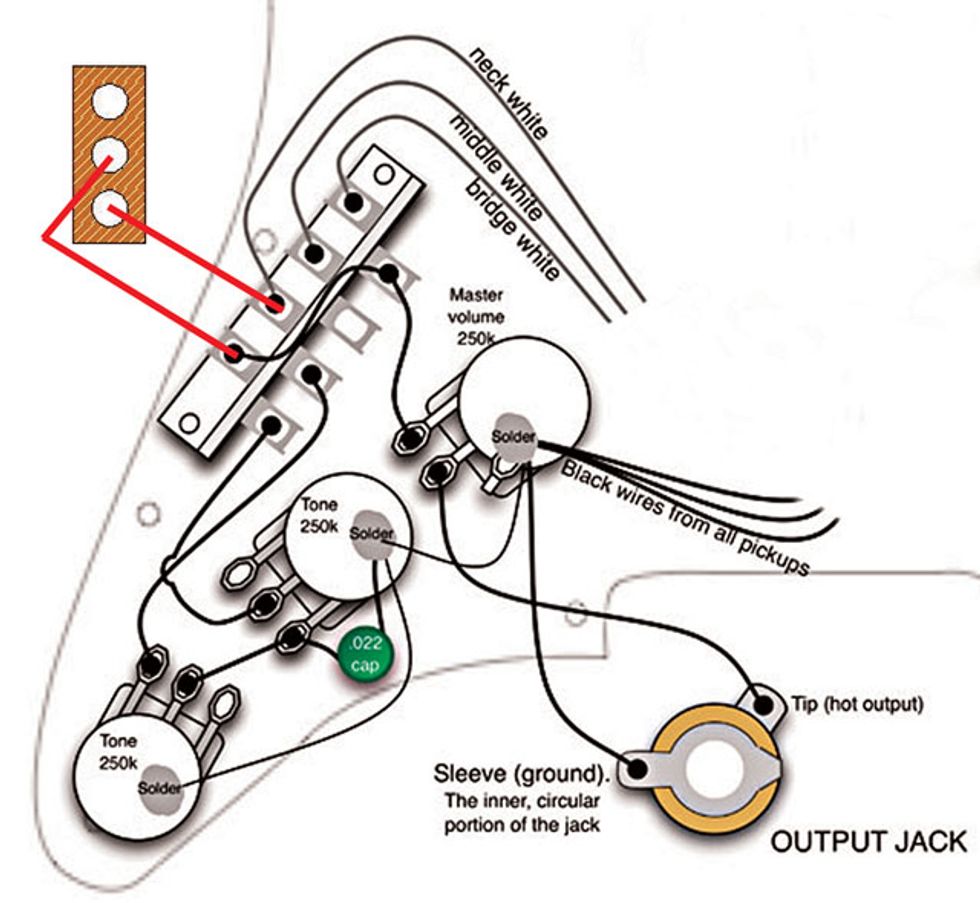 Wiring diagram for the 7-sound Strat mod. Diagram courtesy of Seymour Duncan Pickups.