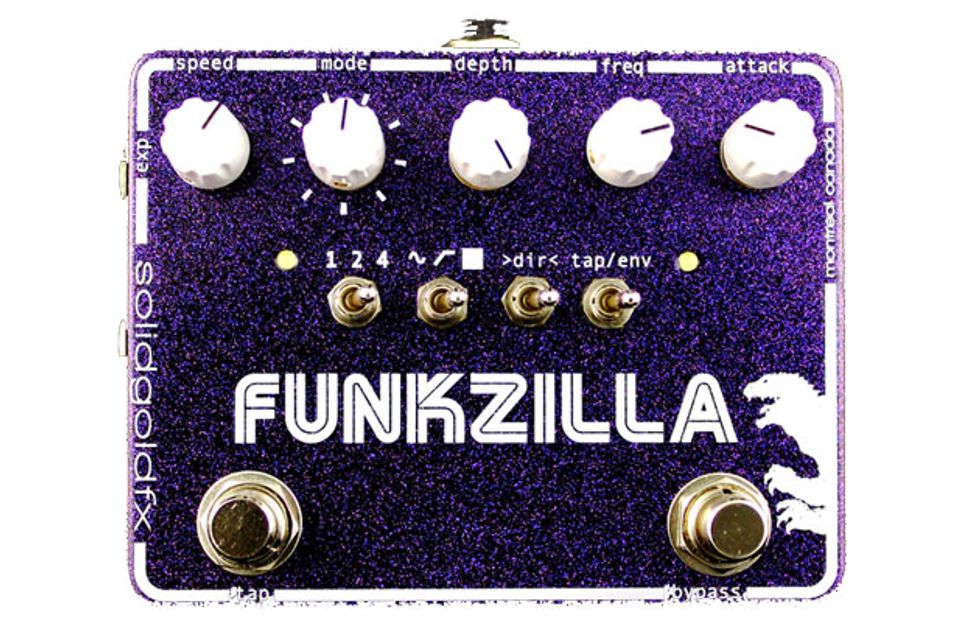 Montreal, Quebec (March 20, 2014) -- SolidGoldFX proudly announces the launch of their new Funkzilla Envelope Filter. Funkzilla blends an all-analog filter engine with tap tempo, variable waveforms, rhythmic patterns, direction and expression control.
The Funkzilla is SolidGoldFX's answer for those in search of the ultimate filter pedal. With its fat all-analog signal path, powerful filter matrix, unique Tap Tempo control, and filter modulation, the Funkzilla is truly an instrument in and of itself. Standard controls for Frequency and Depth make it easy to quickly shape the character of the filter while the Attack knob lets you dial in the filter's response to your instrument. In addition to the core filter controls, the Funkzilla also includes a Direction toggle giving you the ability to set the direction of the filter sweep as well as a custom Tap Tempo function, with multiplier, taking the filter control even further offering multiple waveform settings, expression pedal input, and dynamic rhythmic patterns. With its wide musical range the Funkzilla is at home on any pedalboard whether for guitar, bass or keys. If you have been looking for an inspired filter pedal that takes creativity to a new level look no further than the Funkzilla!
The SolidGoldFX Funkzilla is available through SolidGoldFX dealers as well as direct for a street price of $250.00.
For more information:
SolidGoldFX