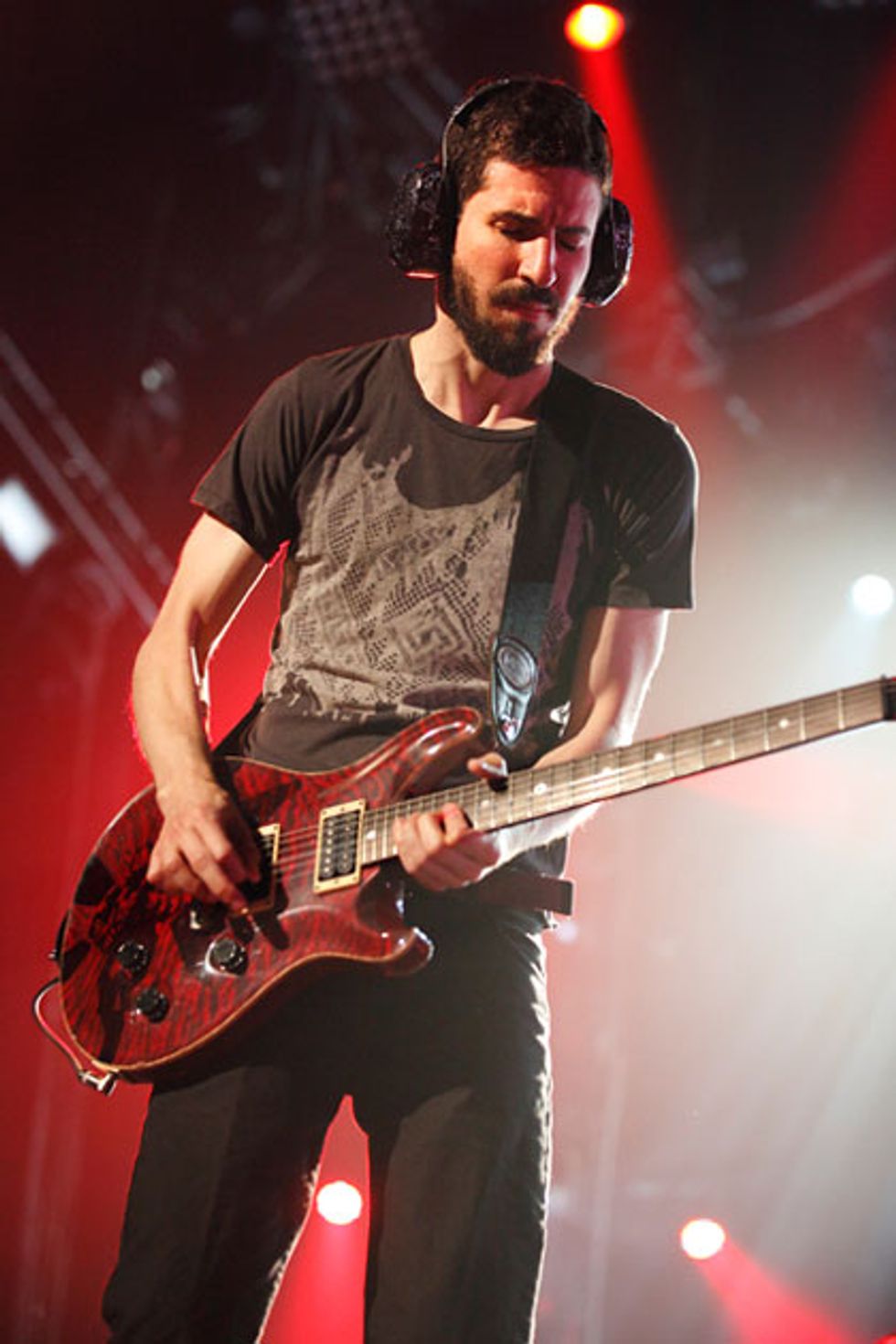 Brad Delson rocks out live with Linkin Park in 2012 on one of his special-made PRS Custom 24s. Photo by Ken Settle.
Delson opened the door to a sound room to show his amps. "Be sure not to knock any of the mikes," cautioned Delson. In this wood-paneled room four separate stations housed brawny modern amps: an Orange TH100 head through an Orange 2x12 cabinet with Celestion Vintage 30 speakers, miked with a Heil PR 30, a Sennheiser MD 421, and a Royer R-121; a Chandler GAV19T head through an Orange 1x12 cabinet with a Vintage 30, miked with a Mojave MA-100 and a Neumann FET47; an Engl Fireball 100 through a Marshall 1960 cabinet, miked with a Shure SM57, an MD 421, and an FET47; and a Bogner Customized Twin Jet through a Bogner Ubercab, miked with a PR 30, an MD 421, and an R-121.
"It's great to have a setup where I can run combinations of heads and cabs simultaneously to get the most appropriate tone, or do something more straightforward like record just one cabinet with two mikes," said Delson.
Brad Delson's Studio Gear
Guitars
Fender Custom Shop 1962 Stratocaster (built by Jason Smith)
1978 Gibson SG Standard
MJT Telecaster
PRS Custom 24
PRS SE245
Amps
Bogner Twin Jet
Chandler GAV19T
Engl Fireball 100
Orange TH100
Effects
Caroline Guitar Company Kilobyte
Dr. Scientist Reverberator
Electro-Harmonix HOG
EarthQuaker Devices Disaster Transport SR
EarthQuaker Devices Hummingbird
Electro-Harmonix Holy Grail
Red Panda Particle
Strymon BigSky
Z.Vex Super Hard-On
Z.Vex Mastotron
Strings and Picks
D'Addario EXL110 strings (.010–.046)
Dunlop Tortex Wedge .73 mm picks
He led me back to the control room and seated me in the Aeron chair, showing me how to adjust the board's master volume control. Then the album's editor, Josh Newell (an intense-looking gentleman with a shaved head and an obvious enthusiasm for body art), took over while Delson ducked out of the room. Newell played me seven songs from the new album, quietly announcing each title.
Listening to these raw mixes, it was evident that the winning strategy Linkin Park established on Hybrid Theory—dovetailing spoken verses with melodic choruses—hadn't been discarded. But on all levels there was new depth to the music in the form of lengthier interludes, greater harmonic diversity, and uncanny guitar sounds that made way for brief, fitful solos.
Delson returned and said he felt satisfied by the guitar's primacy on the new music. "On the last few records I certainly played guitar in the studio, but I'd been focusing on other instruments. I've been playing guitar since I was 12, and it had become fascinating to learn keyboards, programming, and Pro Tools, which is like an instrument in itself. But these songs are all about rediscovering the guitar and having a lot of fun with it."
We talked about the record's compact solos, which, despite their brevity, reveal Delson's formidable guitar skills and penchant for spontaneity. "There's an unpredictability to these songs that lends itself to me just picking up a guitar and playing insanity," he said. "Nothing is preplanned. For some of the faster solos I warm up, but not in an overtly methodical way. If I want to record a solo over at a fast tempo, I just noodle on that Strat for an hour until I'm hyper-fast. I don't want to merge onto the highway at 15 miles per hour. I want to be at full speed by the time I get thrown on to it."
On that note, it was time for me to hit the highway. Delson led me to the door and then he picked up the Stratocaster, eager to return to his craft.