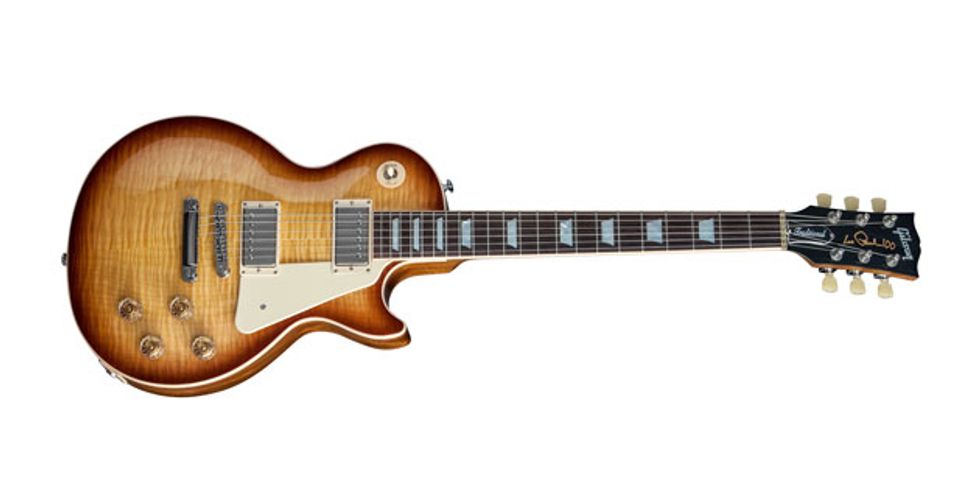 2015 Gibson Les Paul Standard
Nashville, TN (October 3, 2014) -- Gibson USA has unveiled its new 2015 Model Year lineup. The guitars come in new finishes with major playing improvements.
"Gibson USA has established the business practice of introducing a new model line every year in the fall. Every new Model Year is the culmination of research on how we can make the most advanced guitars," says the company.
Prices start at just $899 for a Les Paul Junior Single Cut. The extensive range includes three SG guitars, three basses (SG and Thunderbird), a Firebird, and 11 variations of the legendary Gibson Les Paul.
Standard on most 2015 models, is the new Gibson G FORCE system, the best and simplest experience yet in an automatic tuning system. This is a significant improvement on the Min-ETune system – easier to use, with enhanced features and increased speed. All Gibson USA guitars except for the Les Paul Supreme, Firebird and Derek Trucks SG will ship with the G-Force tuning system.
Other added features include the new zero fret nut which is a patented applied for nut that has adjustable action capabilities. The new Tune-O-Matic bridge features a hex wrench adjustment on thumbscrews for easy action adjustments. All guitars receive a professional set up with accurate intonation, and a new PLEK program with 27% lower fret wire.
Wood grades on the guitars' tops go from C to AAAA. Body contours are now more easily understood, too.
For more information:
Gibson