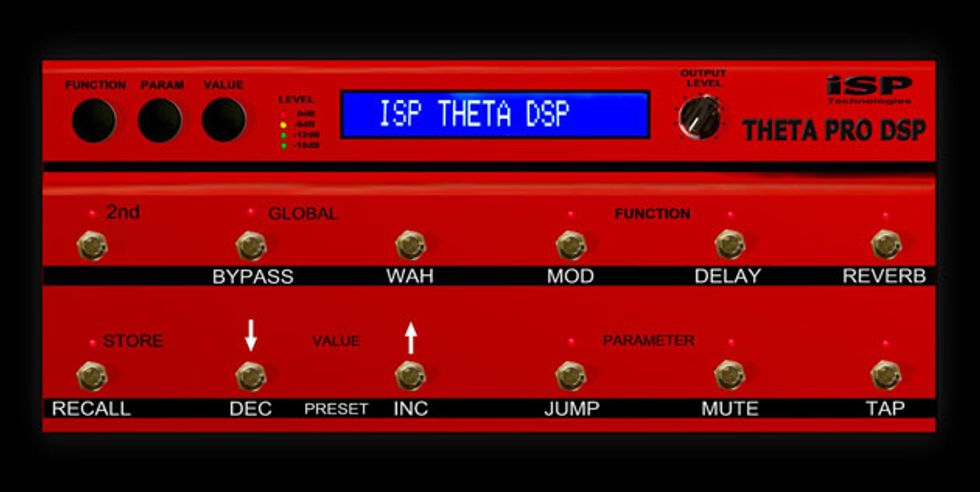 Waterford, MI (December 18, 2014) -- The new patented ISP Technologies Theta Pro DSP is a floor controller with the programmable digital Theta preamp plus built-in studio-quality effects processing. The Theta Pro DSP is based on ISP Technologies new DSP platform using a 32-bit floating point processor and the latest generation of high quality audio converters. The ISP engineering team continues its Digital Signal Processing legacy with the original designers of the Intellifex, Chameleon, Voodoo Valve and Prophesy working to make the Theta Pro the ultimate DSP processor with the tone and sound quality surpassing any digital guitar processer available. The Theta Pro is fully programmable with a DSP software version of the ISP Technologies Theta Preamp providing super high gain and zero aliasing typical in other digital preamps with considerably less gain. This allows over the top gain unlike any other digital preamp without any background aliasing.
The Theta Pro DSP will also provide a classic preamp for vintage tones and a full complement of built in studio quality digital effects. Instant access to your effects allows you to switch your individual effects on or off in any of your programmed presets. Also included is a full digital implementation of the Decimator noise reduction for silent operation and dual stereo outputs with one stereo out to drive a guitar rig and a second with ISP's speaker simulated output for direct recording or line out to the mixer.
The speaker outputs offer ISP's new "True Speaker" convolved speaker outputs providing the actual time domain aspects of vintage speakers with adjustable microphone placement. An input for an external expression pedal map-able to countless parameters for on the fly control is also included. The Theta Pro DSP includes 256 user programmable presets for sound library storage. Designed and manufactured in the USA.
For more information:
ISP Technologies