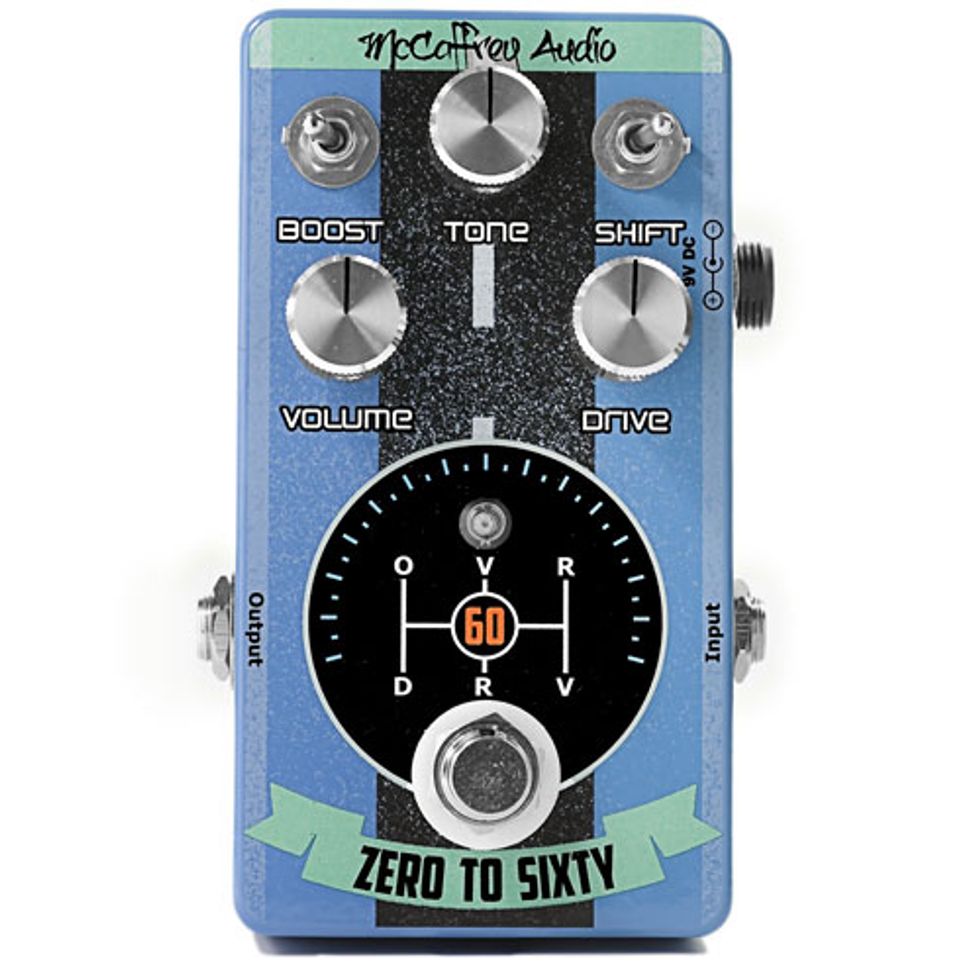 Wausau, WI (April 27, 2015) -- McCaffrey Audio announces the release of a new overdrive pedal, the Zero To Sixty Drive. The Zero To Sixty Drive design integrates cool, classic, overdrive tones heard on countless recordings with many of the most requested after-market modifications. The Zero To Sixty Drive is equally at home in a rig crafted for vintage tone, a rig designed for searing modern tones, or anywhere between those two extremes.
Designed to retain your guitar's natural tone, the Zero To Sixty Drive is a classic, symmetrical, overdrive circuit which produces everything from just a touch of "hair" to all out distortion. The classic controls of LEVEL (volume), DRIVE (distortion) and TONE (tone) are just the beginning of this pedal's revolutionary design. The SHIFT switch allows selection between a matched diode overdrive/distortion circuit, no clipping diodes (works like a boost pedal with tone control) and an unmatched diode clipping circuit, to customize the pedals tonality and match your individual, playing style. The BOOST two-way switch allows you to add more bass response to desired taste.
The Zero To Sixty Drive is made for anyone that wants a highly functional overdrive pedal, in their rig, that is much more than a one-trick pony. The Zero To Sixty Drive is equally suited for squeezing out those rich, warm, vintage tones as it is at producing the more aggressive, but equally pleasing modern tones.
Features:
Neutrik Jacks standard on all of our pedals.
Power: Negative center 2.1mm standard 9V power supply.
Single dual op-amp with symmetrical clipping.
Volume: Increases/decreases output volume of pedal.
Drive: Affects the amount of gain/drive of the pedal. Notice that your guitar tone is retained even with the gain set at max.
Tone: Controls the highs and lows of the pedal. Does not act like a "normal" tone control. It is more of a fine tune of the midrange frequencies.
Boost Switch: Two-way switch that allows you to add more bass response to desired taste.
Shift Switch: Three-way switch that selects stock symmetrical silicon clipping in the right position. Middle position is NO diodes, just pure op-amp drive (works great for pushing the front end of your amp or another pedal(s) in your chain). Left position is a magical mix of diodes in symmetrical clipping. Adds a slight increase in volume and a tad less compression than the right position.
For more information:
McCaffrey Audio