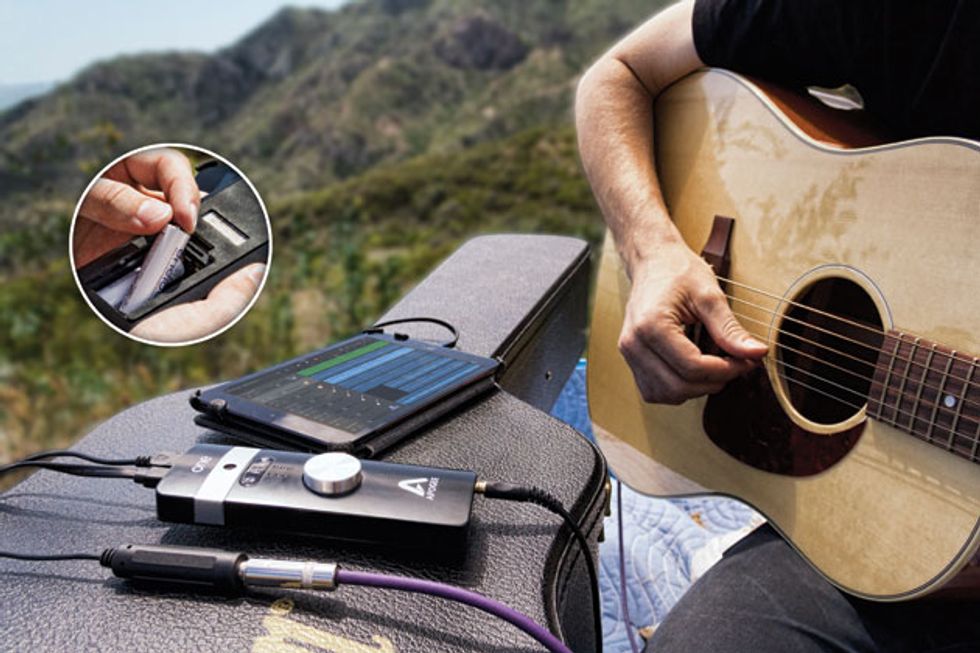 With an iPad, recording software, and a battery-operated interface like the Apogee One, you can record wherever and whenever inspiration strikes.
The Ins and Outs of Mobile Inputs
The idea of recording an album on a phone or tablet seems like more fun than hauling around a laptop or stand-alone recorder. Computers are for work; smartphones and tablets are for play.
Then again, there's nothing fun about recording music and having it sound like, well, you recorded it on a cell phone. Fortunately, a growing number of manufacturers are bringing better—and, in some cases, pro-level—audio quality to mobile devices. As with computer interfaces, these connect to a data port—currently, the majority work with Apple's Lightning—and offer analog-to-digital-to-analog conversion. Among them are a number of options offering 24-bit resolution at sample rates as high as 192 kHz. (All prices listed are street.)
Apogee—known for making high-end A/D converters and interfaces—was one of the first computer audio companies to get serious about mobile. The development shows in their latest array of mobile accessories ranging from the $129 Jam 96K to the $1,395 Quartet. The latter boasts four mic preamps, an 8-channel Lightpipe I/O, and the ability to work with both Mac and iOS devices.
PreSonus has affordable and compact interfaces that can connect directly to both computers and iOS devices, including the 2x2 AudioBox iTwo ($99), which offers both audio and MIDI I/O and comes with the company's free multitrack mobile app, Capture Duo.
Shure made a splash last fall by introducing MOTIV series microphones and interfaces designed specifically for the latest generation of iOS devices. Priced between $69 and $199, the series includes mono and stereo mics, as well as the MVi, a guitar-friendly interface that can also work with a computer. Other pro audio mic makers have been going mobile as well. Sennheiser offers a pair of clip-on mics that seem targeted more to video work than music, but with Apogee converters, the $199 ClipMic Digital does the trick.
For production work, an external interface and/or a quality external mic is definitely recommended.
Rode's lineup of iOS mics includes two stereo condensers: the iXY-L ($199) has a Lightning connector, while the iXY ($149) is both less expensive and sports the increasingly hard to find 30-pin connector of old. And Blue Microphones' Mikey Digital ($99) can mount directly to an iOS device and has an auto-sensing level and multiple gain settings.
In addition to making a number of popular handheld stand-alone recorders, Zoom recently released the iQ series of versatile Lightning-compatible mics, ranging from $69 to $99. Focusrite's stable of iOS interfaces includes the two-channel, 24-bit/96 kHz iTrack Dock ($199), which lets you dock and charge your iPad while feeding it mic, line-level, or MIDI signals.
While IK Multimedia's original iRig series connected via the headphones jack, the company's new iRig Pro series, topped by the two-channel PRO DUO ($199), uses Lightning for better audio quality. The Line 6 Sonic Port ($99) offers both Lightning and 30-pin connections and comes with a mobile version of the company's POD amp/effects modeling app.
You'll also find an array of compact USB interfaces and microphones that can be made iOS compatible with an Apple Camera Kit or Lightning-to-USB Camera Adapter, such as Apple's $31 MD821AM.
Among the latest is Steinberg's new UR22mk2 ($149), which can record at sample rates as high as 192 kHz and comes with Cubasis LE, an iOS version of the company's popular pro-level DAW, Cubase. Roland's $179 Duo-Capture EX offers 48 kHz A/D recording, MIDI, and more. The Audio-Technica AT2020USBi ($199) mates a large-diaphragm side-address condenser with a USB interface that can work with Windows, Mac, and iOS devices.
Finally, if you're looking to make your iOS recording rig part of your performing setup, you'll find a few mobile interfaces in the pedal format. Sonoma Wire Works $299 GuitarJack Stage has four footswitches, high-Z inputs specifically designed for guitar and bass, and knobs that can be used to control iOS or computer amp modelers.