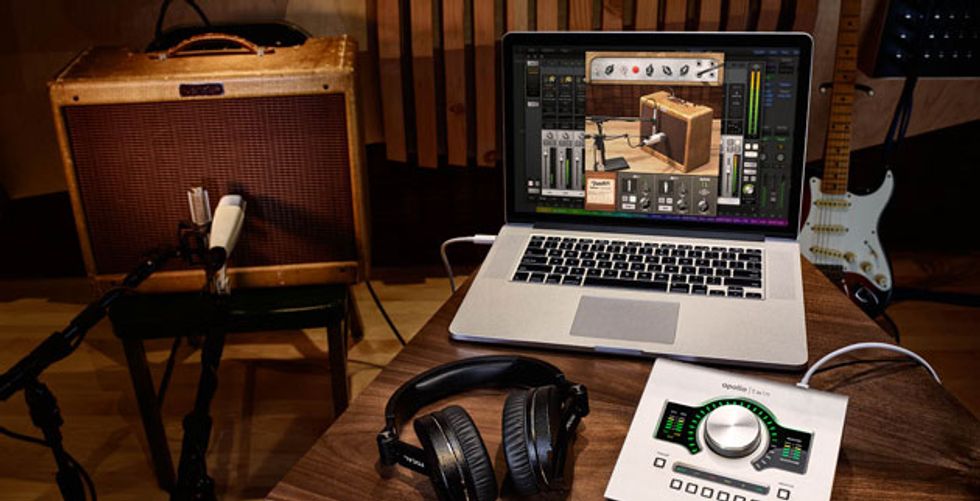 Scotts Valley, CA (May 3, 2016) -- Universal Audio is proud to announce the release of UAD Software v8.6, featuring the Fender '55 Tweed Deluxe — the first 100% UA-developed guitar amplifier plug-in — exclusively for Apollo interfaces and UAD-2 hardware.
Deluxe in 1955. This amplifier's touch-sensitivity has a dynamic range from clean and sweet, to overdriven raunch that's made it a go-to recording amp for the likes of Larry Carlton, Neil Young, Mike Campbell, Daniel Lanois, and Billy Gibbons.
For more than two years, UA undertook extensive research and development, capturing every single component of two "golden unit" 1955 Fender Deluxe amps — from vintage speaker paper and tubes to filter caps and transformers — the essential ingredients that make the 1955 Deluxe an iconic "secret weapon" recording amp.
The result is the UAD Fender '55 Tweed Deluxe plug-in, Universal Audio's first guitar amplifier emulation and a groundbreaking development in guitar amp modeling.
Featuring an assortment of meticulously-placed microphone combinations, as well as three different classic speaker types, the Fender '55 Tweed Deluxe plug-in includes Universal Audio's Unison™ technology; Apollo users' guitar pickups will see the exact impedance load as if plugging into a vintage 1955 Fender Deluxe — a feature found only on Apollo audio interfaces.
Features:
An authentic end-to-end circuit emulation of an original 1955 Fender "5E3" Tweed Deluxe amplifier, exclusively for UAD-2 and Apollo interfaces.
Choose from three different speaker types: stock 1955 Jensen P12R, Celestion 25-watt Greenback, and JBL D120F.
Choose different microphone combinations and placements — without phase issues.
Unison technology for Apollo interfaces offers authentic tone, touch, and feel of original 1955 Fender Tweed Deluxe amplifier thanks to impedance matching.
For more information:
Universal Audio