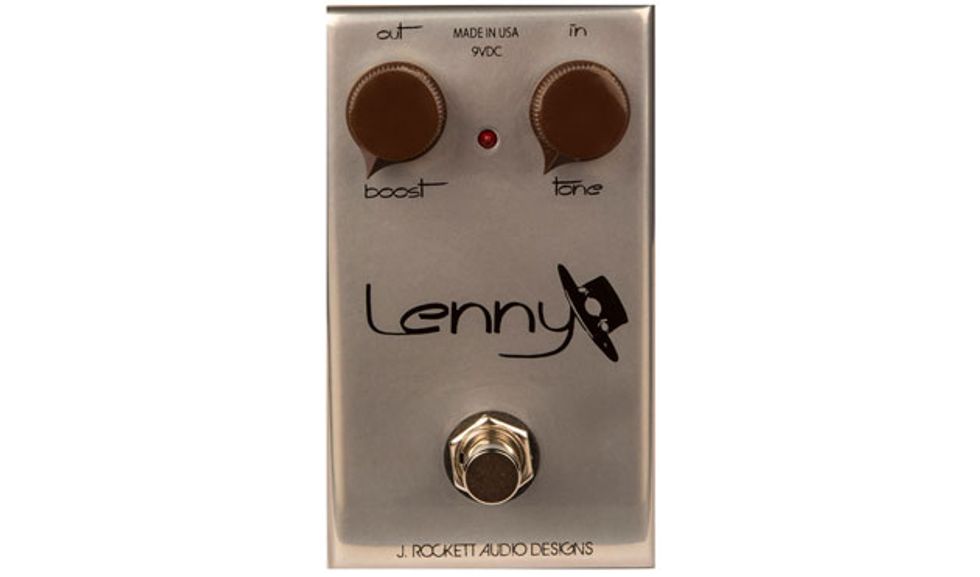 Nashville, TN (September 12, 2016) -- J. Rockett Audio Designs has announced the sixth product release of the long awaited Tour Series line. The Tour Series is comprised of all-new products designed with the influence of a host of top Nashville and LA touring artists to address their needs on the road.
The collaboration continues with the release of the J. Rockett Audio Designs Lenny Color Boost.
Lenny was a happy accident. We set out to design a recreation of the legendary Dumble Steel String Singer but thought, who needs a loud, clean amp sound in a pedal? The player that made the Steel String Singer come alive was none other than Stevie Ray Vaughan. With that said, Lenny was born! It was our intention to create a Steel String Singer being pushed to create color, texture and feel versus just loud and clean. Simply put, this is a very musical boost that colors your tone considerably, in an inspiring way…kind of like a Neve console. There is a definite mid character, but boy does it cut through a mix!
Features:
Boost: Tons of push, which creates an interplay with the front end of any amp.
Tone: Dials in your highs, simply put!
Two controls: Boost & Tone
I/O jacks at the head of the pedal
9V DC operation with standard – tip and + sleeve
Approximately 4" x 2.30" in size
Watch the company's demo:

The Lenny carries a $179.00 street price.
For more information:
J. Rockett Audio