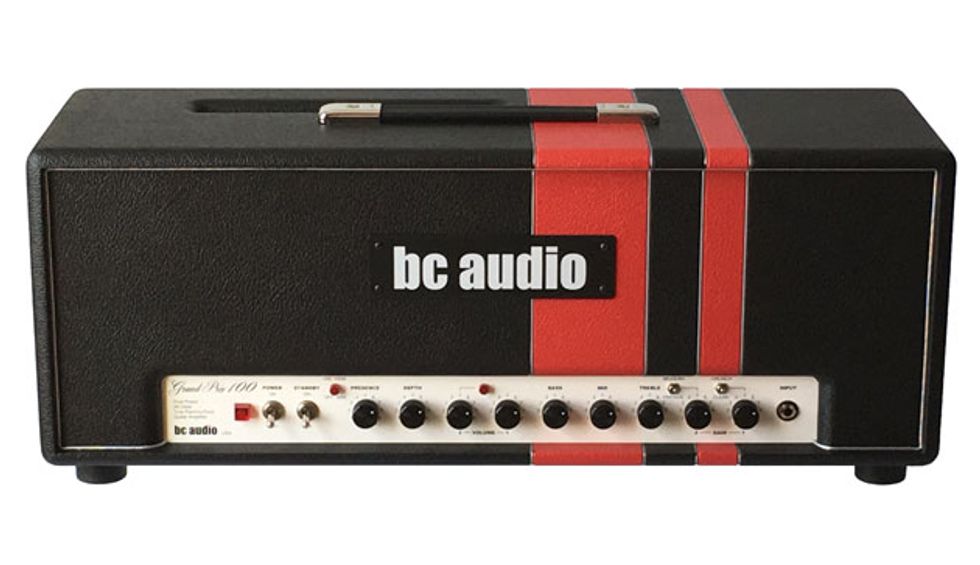 San Francisco, CA (January 19, 2016) -- Boutique guitar amp builder BC Audio (bcaudio.com) revealed the Grand Prix 100, a meticulously hand crafted all-tube guitar amplifier with a radical footswitch-activated Dual-Power function – the first of its kind. The Dual-Power footswitch toggles the amp's power section between two and four power tubes, doubling power output and creating a volume boost ideal for soloing.
"A problem nearly every gigging guitar player faces is how to be heard over the band when it's time to solo, but blend in otherwise," says BC Audio founder, award-winning guitarist and tube amp master builder Bruce Clement. "The Dual-Power footswitch jumps up the volume without changing anything else on the amp, or in your signal chain. Finally, the performing guitarist has the power to step out in front of the mix, no matter what the situation."
The Grand Prix 100 boasts two channels, two modes per channel, 3-band EQ, Presence and Depth controls, and an effects loop. It uses 6SL7GT octal preamp tubes, rather than the ubiquitous 12AX7. It is constructed with true point-to-point wiring, US-made transformers and high quality components throughout.
Features:
4x EL34 Power Tubes (foot-switchable to 2x EL34)
3x 6SL7GT Octal Preamp Tubes
True Point-to-Point Construction (no turret, eyelet or printed circuit board)
Channel 1: clean and crunch modes
Channel 2: vintage and modern modes
Bass/Mid/Treble Controls
Presence and Depth Controls
Effects Loop
26" Wide "Small-Box" Head
Black tolex and bold red racing stripes
The Grand Prix 100 will be on display and available to demo at the NAMM Show January 19-22.
Pricing: $3600, direct from bcaudio.com. Matching 2x12 speaker cabinets are available from $850.
For more information:
BC Audio