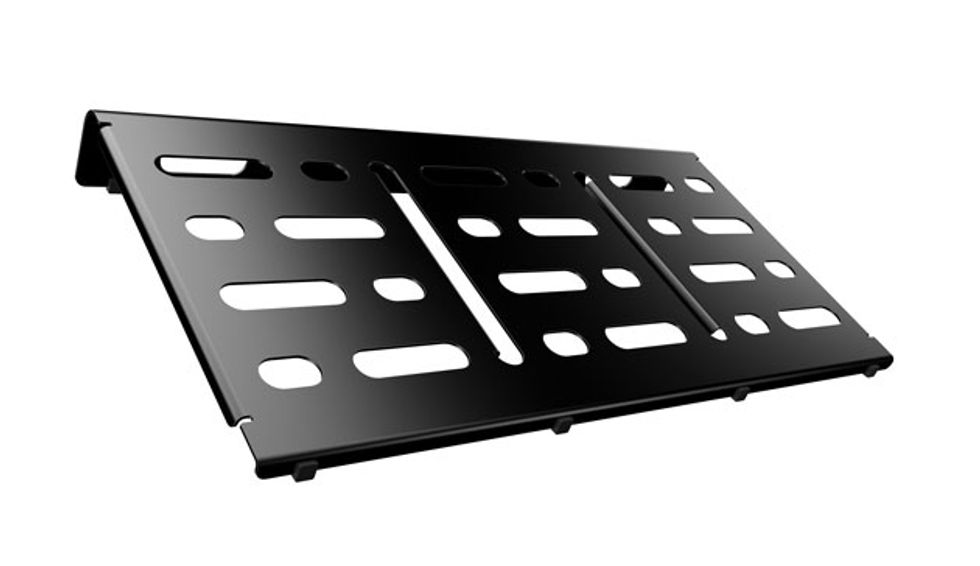 Anaheim, CA (January 31, 2017) -- MONO – an IDSA Award-winning company that makes innovative and inspiring instrument cases and accessories – is taking its first leap from the green room to the stage, releasing a range of ergonomic, adaptable pedalboards and updating the popular range of Club, Tour and Pro series of Accessory Cases. MONO is unveiling these new products at NAMM 2017.
"A fully loaded pedalboard represents a meaningful investment, often greater than the cost of a guitar itself. MONO's Cases set the standard for mobility and protection across the industry, and the combination of MONO's Pedalboards and Gear Cases represent the ultimate solution for the working musician on the move," says MONO Director of Sales, Randy Couvillon.
"MONO fans have been using our best-in-class pedalboard cases to carry their effects set-ups for years. By studying the everyday demands of these users, MONO identified a real need in the market to create a pedalboard that was truly responsive and designed for how the modern mobile creator operates in the real world. At MONO, We're incredibly proud to release a range of sleek but durable pedal boards that will really add a new dimension to the set-up for our community of musicians around the world. At the same time, we're also updating our Accessory Cases to not only be a perfect fit for our new MONO pedalboards, but also the newer Pedaltrain pedalboard models, and other models with dimensions similar to these popular sizes," says Mr Couvillon.
Lead Industrial Designer, Peter Boeckel says "Our new range of five pedalboards are all cut from a single piece of 3mm anodized aluminum to be lightweight and durable. At MONO, we always design with the daily realities of creators in mind - and we know that people need to travel light and like to customise their pedalboards to suit their own needs. We worked hard to find the right balance between structure and openings, bending the sides and the overall material thickness in order to achieve the right combination of stability and portability. As a result our pedalboards feel streamlined, elegant, and effortless.
"We've designed the cut-outs on top of the board to accommodate any custom cable routing configuration that you desire - and every pedalboard is shipped with 3M dual lock to make sure have the best material to affix your pedals to the board. Our pedalboards are flat or set at a ten degree incline, so are designed for ergonomic stomping and easy reach. This means that creators can spend less time on their balancing act and more time creating their signature sound," says Boeckel.
MONO's new pedalboard range includes five sizes from the Lite measuring 14 x 5.25 x 1.25 inches up to the Large measuring 32 x 16 x 3.5 inches. Laser cut from 3mm anodised aluminum, these Black Anodized and Silver Anodized pedalboards are light and easy to travel with; they're also tough wearing and look great on stage.
MONO's full range of PedalBoards is as follows: Lite (14 x 5.25 x 1.25 inches; no angle of elevation): Super lightweight for easy transit. Can mount common compact power supply units
Features:
Laser cut aluminum, bent from single sheet, chemical polished, anodised either black or clear.
Anodizing is an electrochemical process that converts the metal surface into a decorative, durable, corrosion-resistant, anodic oxide finish.
Laser engraved logo
Rubber feet for stability and shock absorption
Lightweight for ease of travel
Lite+ (18 x 5.25 x 1.25 inches): All the benefits of the Lite with additional space so you can fit that extra pedal
Small (18 x 12.5 x 3.5 inches): Double the size of the Lite+, accommodates any power solution including AC. Front cable opening and a mix of openings for flexible cable management
Medium (24 x 14.5 x 3.5 inches): vertical cable outlet in centre of board to give more flexibility to wire up your pedals. Two front openings for cable access and management.
Large (32 x 16 x 3.5 inches): Two vertical cable outlet in centre of board to give more flexibility to wire up your pedals. Two front openings for cable access and management. Not available for retail, only available for partnerships and collaborations.
MONO's Updated Pedalboard/ Gear Case sizes are as follows:
The Club 2.0: Fits MONO Pedalboard Small and PT Classic Jr & 2 (18 x 12.5 x 3.5 inches)
The Tour 2.0: Fits MONO Pedalboard Medium and PT Novo 24 (24 x 14.5 x 3.5 inches)
The Pro 2.0: Fits MONO Pedalboard Large and PT Classic Pro (32 x 16 x 3.5 inches)
The Tick 2.0 : Fits MONO Pedalboard Lite and PT Nano (14 x 7 x 3.5 inches)
All new products will be available Spring 2017 at monocreators.com and through select dealers.
For more information:
MONO