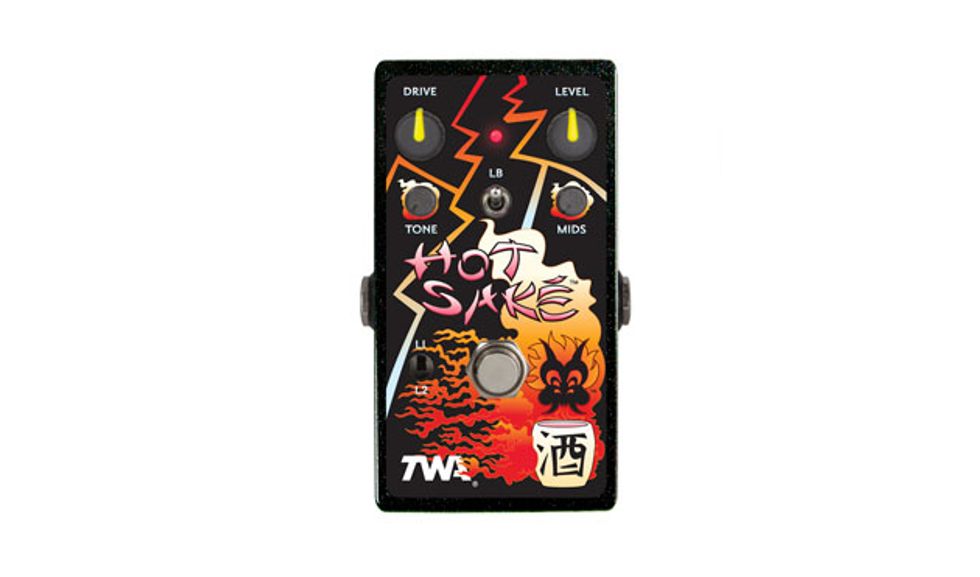 Clifton, NJ (February 15, 2017) -- Godlyke is proud to announce the release of the TWA HS-02 Hot Saké Overdrive/Distortion.
TWA's first foray into the boutique overdrive market, Hot Saké offers a versatile array of overdriven tones, from classic tube-like drive to searing, '70s-style fuzz. Hot Saké can be used with a clean amp as a switchable dirt channel, or to push an already dirty amp into meltdown. The degree of "saké-ration" can be easily controlled by manipulating the guitar's volume control.
Hand-assembled in the USA, Hot Saké features low-tolerance, audiophile components for low-noise operation & reliable performance.
The TWA Hot Saké offers the following features
Wide range of available sounds, from classic amp-like overdrive to vintage-style fuzz.
Excellent dynamic response – cleans up easily by rolling back guitar volume.
36 dB Level Boost – let's you get out in front of any band for solos, etc.
Dedicated Tone & Mid controls – allows user to fine-tune their tone to a particular rig or room.
Low Boost switch –Boosts at 60 or 100 Hz, dramatically changing the pedal's character.
Audiophile quality TLO72 Op-Amp for low-noise operation.
Compact pedal footprint takes up less room on pedalboard.
S3 "Shortest Send" relay-based True-Bypass switching for transparent operation in bypass.
External 9 VDC or on-board 9-Volt Battery power options.
3-year warranty.
Made in USA.
Street Price $189.
For more info on TWA products including video demos of the HS-02 Hot Sake, please visit our website www.godlyke.com, e-mail us at info@godlyke.com or call us at 973-777- 7477
Watch the company's video demo:

For more information:
Godlyke