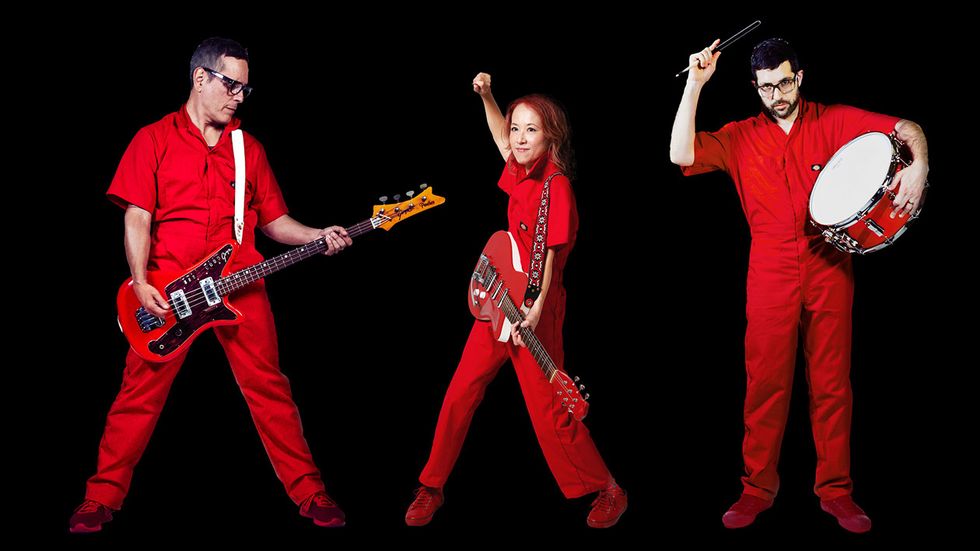 Halo Orbit's massive and unpredictable sound hinges on the axis of Alderete (left) and guitarist suGar Yoshinaga (middle), who is also a devout believer in the gospel of effects pedals. Mark Guiliana (right) completes the trio behind the drum kit. Photo by Piero F Giunti and Yoshika Horita
Juan Alderete really wants to get off the computer. Not in an internet-surfing kind of way, but for live performances with his new band, Halo Orbit. "I know it will always be there," he says, "but I don't want it to be the mainstay. I want the band to be a band, so we'll see how it evolves."

Evolution has been the hallmark of Alderete's career ever since he gained recognition in the '80s as a member of Racer X, the Los Angeles-based shred metal band notorious for its Musicians Institute-honed chops. After Racer X, and a brief attempt at appealing to the mainstream via rock bands like the Scream, he ditched convention, went back to school—at California State University, Los Angeles, where he earned a B.A. in English—and started reinventing himself in avant-garde musical projects that were more about personal growth than chasing the almighty dollar.

He abandoned the hair metal scene via the punk-pop of Distortion Felix, forged a singular voice on fretless bass and as a songwriter, and ultimately expanded his sonic horizons with Vato Negro by diving deeply into effects pedals. Such versatility is the backbone of the style that's made Alderete a much-sought player in rock and hip-hop. And 10 years in prog-punk-psych outfit the Mars Volta, which won a Best Hard Rock Performance Grammy in 2009 for the song "Wax Simulacra," enabled him to reach a wider audience while further developing his effects-driven approach. In 2012, he launched his own website on the topic of gear-based sonic exploration and whatever's on his mind: pedalsandeffects.com. And though he may decry the use of computers in a live setting, his ability to lock in with backing tracks has been garnering him touring and recording work with cutting edge rap/hip-hop artists Deltron 3030, Jonwayne, and Dr. Octagon, among others.
"I'm trying to keep bass players in the game through effects use. That's how you stay in the game."
But his songwriting comes to the fore in Halo Orbit, the band he formed with drummer Mark Guiliana (David Bowie, John Scofield), and guitarist/synth player suGar Yoshinaga (Buffalo Daughter). The group plays a unique brand of futuristic rock that draws comparisons as disparate as Battles and Portishead. Their eponymous debut is a 21st century burst of fusion, incorporating elements of electronic music, rock, jazz, funk, hip-hop, and soul. It also features appearances by guest artists Del the Funky Homosapien, Lisa Papineau of Big Sir (another Alderete project), Money Mark Ramos-Nishita, and his Mars Volta bandmate Marcel Rodríguez-López.
As Halo Orbit morphs from studio project to live act, Alderete is contemplating his desire to move away from the computer and a reliance on backing tracks. "I was on tour with Juliette Lewis last year, playing live the whole time, and every set is different, so you get a little more emotionally out of it," he admits. "I love electronic stuff and we did tons of it in Big Sir, but after so many years of playing to backing tracks, I just feel stifled. So, with Halo Orbit, we're doing our very first show with no computer."

Although it was released just recently, Halo Orbit was actually recorded in 2012. Its four-year gestation period was due to circumstances that reflect the challenges of navigating a music career in the modern era. "Really this record could've come out at the end of 2013," explains Alderete. "But because we didn't have any money to mix it, we had to wait for Robert [Carranza]. He could only mix it when he had free time, which is almost never because he's an in-demand engineer."

Given the project's zero budget, Carranza (Beck, Jack Johnson) mixed it as a favor. Digital recording technologies and the ability to share files via e-mail make cutting records easier and more affordable, but robust budgets from labels have suffered as a result. "Labels don't give you any money to make records anymore, so you have to do it this way," Alderete stresses. "You're working on favors."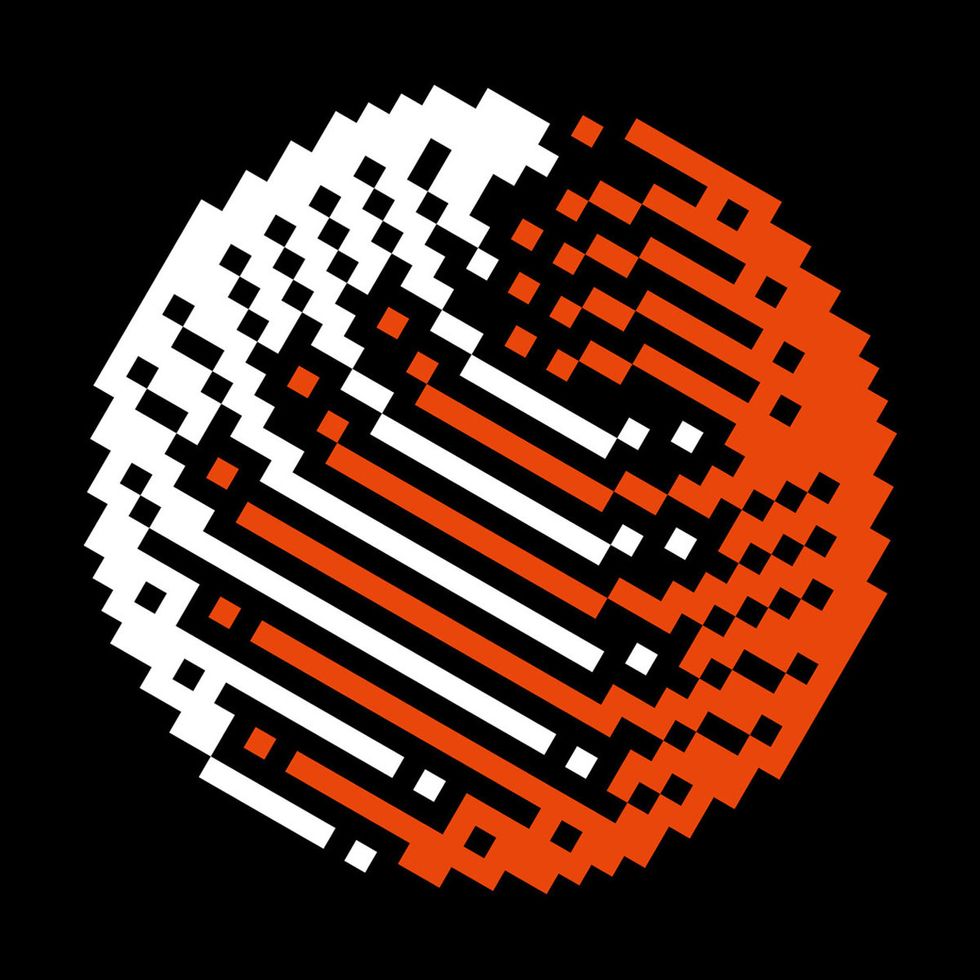 Although Halo Orbit was recorded in 2012, it was delayed for lack of a budget. Engineer Rob Carranza mixed the tracks as a favor. "Labels don't give you any money to make records anymore, so you have to do it this way," Alderete says.
PG caught up with Alderete, who was at home in L.A. prepping for a pedalsandeffects.com clinic tour of the EU with guitarist Nick Reinhart (Tera Melos), to discuss his preference for short-scale instruments, the sonic underpinnings of Halo Orbit, and the challenges of being a pioneer of modern electric bass.
Halo Orbit opens with a cool bass sound on "Subump." What are you using?
The "ba, ba" bass part on "Subump" is a sample of the DOD Meatbox. I was messing around with it one day and posted it on Instagram like, "Check out the Meatbox when you really distort it. It sounds crazy." After I posted it, I was like, "I have to use that." I tried to recreate that sound in the studio, but I couldn't, so we basically took my Instagram video and sampled it—that's that sound.
What about the other bass riff that opens that tune?
I wrote that entire song, but that riff is Paul Gilbert's Jerry Jones Longhorn Bass6. I think he wrote the first Mr. Big single on it. That's suGar playing that riff. I wrote it, she played it.

There's a pretty wicked fretless solo in "Subump," too.
I realized there was no real statement from my instrument, on a shock level, so to speak, so I was like, "Fuck it, I'll throw a riff right here just to be like, "Oh, there's the riffer who played in Racer X [laughs]."
---