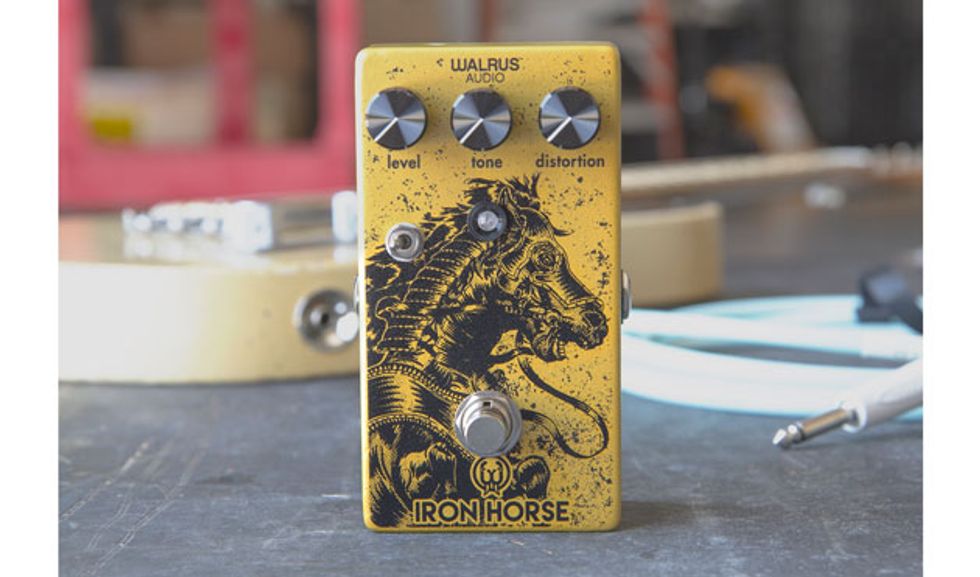 Oklahoma City, OK (June 20, 2017) -- Winter NAMM saw a smattering of new announcements for the public to chew on from Walrus Audio but this is one little morsel we saved for a summer surprise. The true bypass, high gain behemoth, The Iron Horse Distortion, has been updated to help steer the stallion or let the reigns loose for full on distorted onslaught. Re-skinned with both new artwork and a slight tweak to the enclosure color, the Iron Horse has been updated to be a more user-friendly, versatile distortion.
The Iron Horse V2 updates are as follows:
Updated the Level control so that it is easier to dial in unity gain.
Updated the Tone control to allow more treble to be dialed in if desired.
Updated Distortion control to smooth out the range of distortion making it easier to dial in lower gain tones.
The Iron Horse V2 comes in a Galaxy Gold finish with black ink. Artwork by illustrator Adam Forster features a new battle ready stallion cloaked in armor.
The die-cast enclosure's exact size is 4.77" x 2.6" x 1.39". Power requirements are 9VDC (100mA minimum).
Walrus Audio is offering The Iron Horse V2 for a retail price of $199 and is available as of June 20, 2017 at walrusaudio.com and with our authorized dealers.
For more information:
Walrus Audio