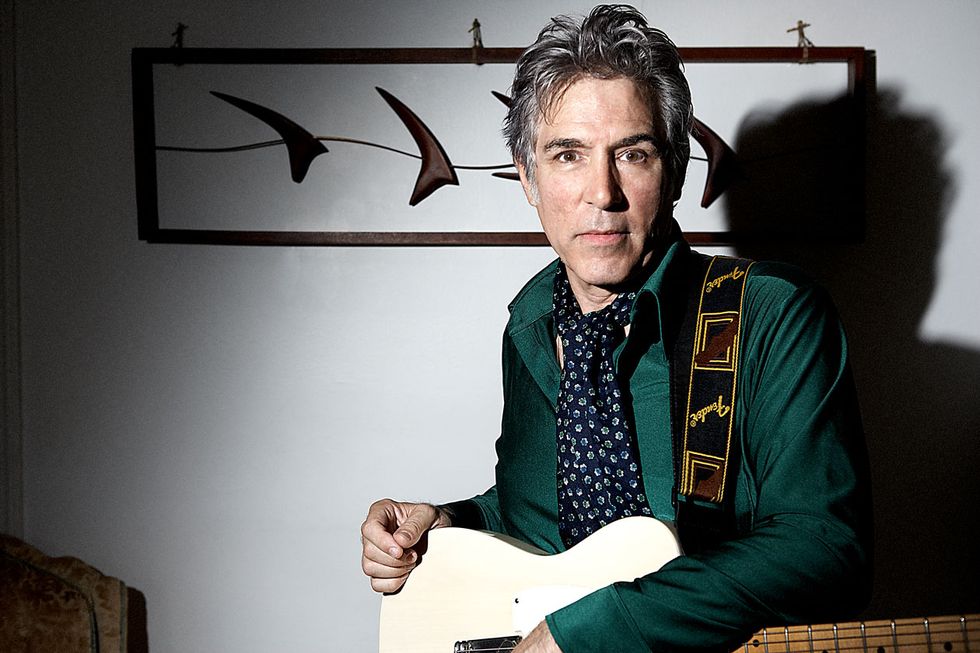 "Some of what I do in my trio has to be done on the Tele," says Campilongo. "Some of the behind-the-nut bends. Detuning the low-E string, hitting a harmonic, and pushing it up." Photo by JR Delia
If you're a fan of the Telecaster and live in New York City, you might have had the transcendent experience of witnessing Jim Campilongo, one of the instrument's indisputable masters, in action on a Monday night. Every week Campilongo holds court at Rockwood Music Hall, leading a mostly instrumental trio with Chris Morrissey on bass and Josh Dion on drums, before a small but rapt audience.
Whether playing with Norah Jones, Bright Eyes, or Martha Wainwright, Campilongo is known as a sensitive and refined sideman, but at Rockwood, another side of his personality is on full display. In a mode of expression that Campilongo refers to as "free rock"—which is to say, gritty and high-energy, and flexible in structure—the guitarist stretches out much further than in other settings.
On one hand, Campilongo is really out there. He plugs straight into an old Fender Princeton amp and delivers a range of bizarre effects from this minimalist rig that lesser players could only get with a floor full of stompboxes. On the other hand, the music that Campilongo plays in his trio is deeply rooted in tradition. Employing hybrid picking, as many Tele players are inclined to do, he borrows from Western swing, country, and classic rock in equal amounts, and he makes the most astute connections between these different genres.
Campilongo's new album, Live at Rockwood Music Hall NYC, includes some of the best performances from a year of the guitarist's weekly residency, giving listeners not just a good sense of the depth and intensity of the trio's live show, but a revelation of all that's possible with just a Telecaster and a small tube amp.
"I just want an instrument that's ready to go. I want a hammer so I can make a doghouse. I don't want to plug the hammer into a screwdriver and then plug that in and have to go get an adapter."
Having just brewed himself a pot of coffee on a recent Sunday, Campilongo called from his home in Brooklyn and talked animatedly about how playing the Rockwood gig has enhanced his musicianship, how he creates some of his trademark effects on the Tele, what it's like to jam with fellow guitar great Nels Cline, and why it's important not to overthink things.
How has the Rockwood residency evolved over the years?
Well, it's certainly made me a better player. In the beginning, Chris and Josh and I really walked a tightrope—if someone fell off, it was usually me—but those guys were so kind and supportive, any fear left me. If somebody goes to a galaxy no man has gone before by himself and doesn't know how to get back, it's usually greeted with support, somebody throwing you the downbeat, or simply laughing and later complimenting you. It's looked at as bravery in the worst-case scenario. So I've become a way better improviser than I used to be.
We're doing a Little Willies reunion, as a band with Norah Jones, Richard Julian, Dan Rieser, and Lee Alexander, and we haven't played together for a number of years. In preparation I was listening to what I recorded a few years back, and there were some solos I worked out, melodic Duane Eddy–style solos. I started to learn them note-for-note, and then I was like, "You know, I don't want to do this. I'm just going to play."
My willingness to just play and take chances has grown considerably because of that weekly residency with Josh and Chris. It's not easy, playing every week at the same place. And we all work hard at keeping the material new and not on autopilot. I mix up the sets, there's always a new song every week, so there's that, too.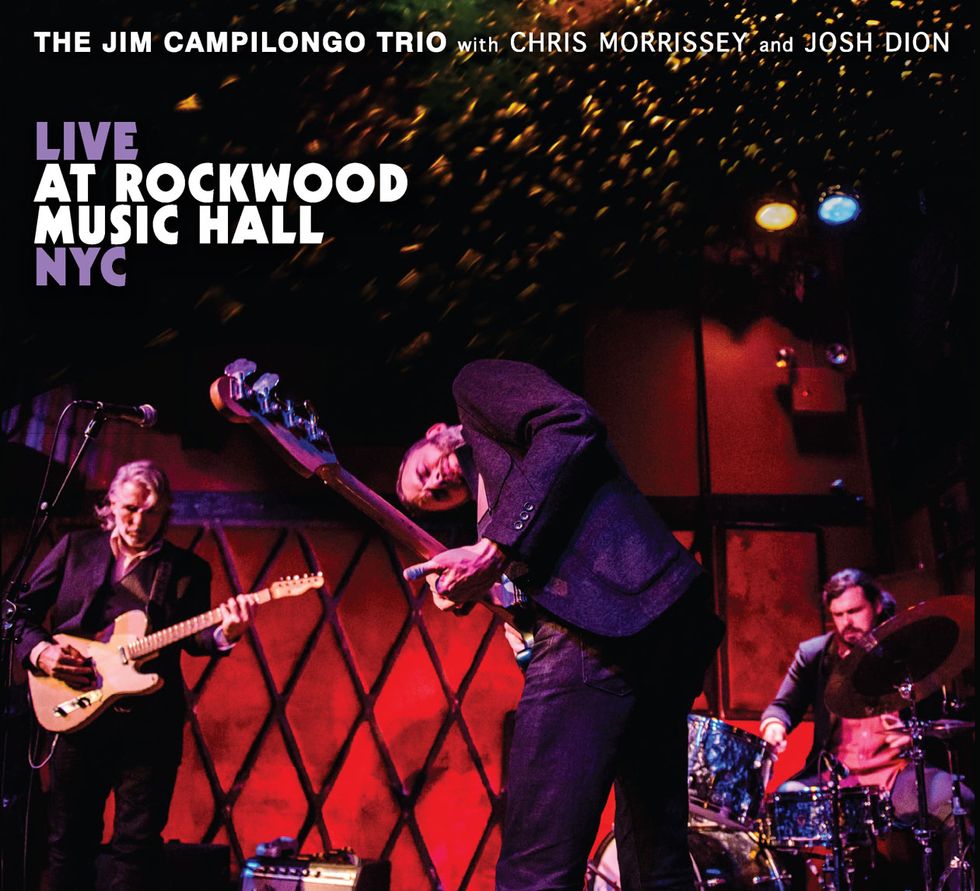 TIDBIT: Campilongo selected the eight songs on his new album from roughly a year of shows, recorded and transferred to thumb drives, which he combed for the best performances.
Were only certain shows taped, and, if so, did you find yourself playing differently when you knew the recorder was on?
They'd miss a few here and there, but almost every show was recorded, and I totally would forget that. I so didn't care because I had money in the bank and the main thing was just to go for it and play music with Josh and Chris. We weren't in front of a studio at 10 a.m., hauling in drums, with the clock already ticking and the pressure on to do spirited versions of our music, as if we were playing in a nightclub.
How did you put the record together? Did it require extensive listening sessions?
I did it myself. They'd give me a thumb drive—one long song file—at the end of every show, and I would never listen to it, so I ended up having a bag full of them after about a year. I started moving through each track, and if there was a real winner, I'd splice it out and then mark what day it was. Then I'd see if I got another one that beat it, and that's when it started driving me a little nuts. Some tracks eliminated themselves pretty quickly. Others, not so much. I could make three entire records of the bonus track, "Jim's Blues." I like so many of them.
How did you choose the version of "Jim's Blues" that made it on the album?
It took a while to determine the winner, but the one I picked was one of the strongest performances. It was Chris's favorite, and I really liked it as well. Like I said, there were other tunes that were much easier decisions. The track with Nels Cline that's called "Cock and Bull Story" was an absolute no-brainer. Everyone totally went for it without thinking. We changed keys three or four times and went to such unexpected places. There is a bit of a fiery rapport at the end that I hope people find palatable. I think Nels' playing on it is fantastic.
Check out these three lessons Campilongo created for PG back in 2012.
---
---