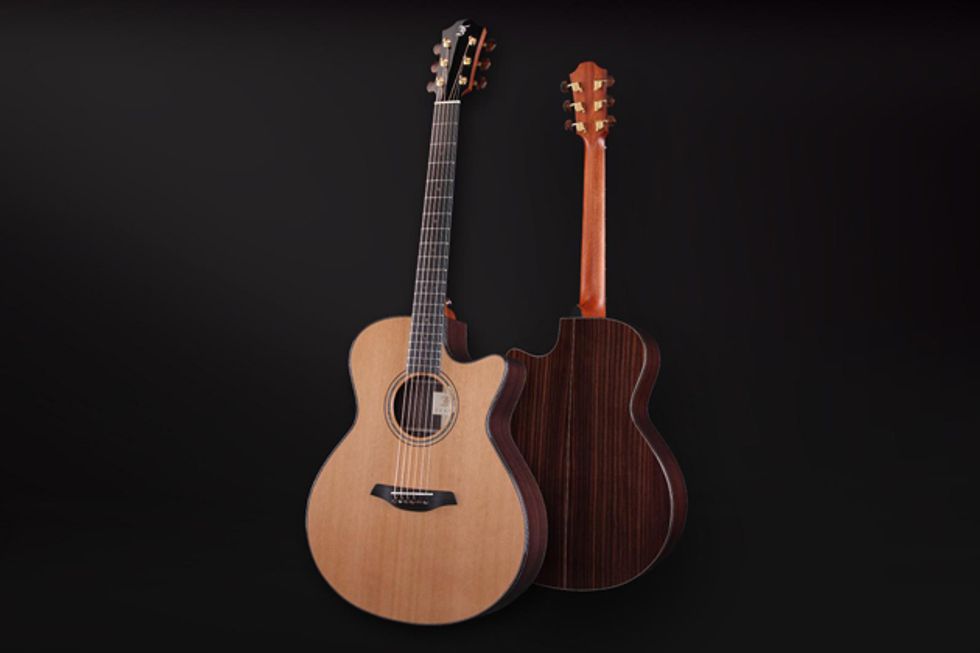 Velké Němčice, the Czech Republic (February 7, 2018) -- Furch Guitars (Furch), the world's leading manufacturer of premium quality guitars, officially introduced today its new portfolio of acoustic guitars. The new lineup bears the names of the colors of the rainbow and replaces the current Millennium models.
Following a period of nearly two decades, Furch has made a fundamental change in its portfolio of acoustic guitars. The flagship line of Millennium instruments has been replaced with seven new model lines – RED, ORANGE, YELLOW, GREEN, BLUE, INDIGO, and VIOLET. The Millennium models have ranked among the world's most sought-after acoustic guitars for many years during which Furch continued research and development to further enhance the quality of its instruments. The process was completed last year with the introduction of several revolutionary innovations that have fundamentally improved the sound and construction of Furch guitars. The innovative technologies are incorporated in the new color series introduced in 2018, which raises the superb quality of Furch's Millennium guitars to a yet higher level.
The color series models stand out not only thanks to their attractive looks, underscored by a host of meticulously crafted details, but also, and more importantly, thanks to a first-class sound, courtesy of a combination of the highest-grade premium tonewoods and high-precision manufacturing. Every color series guitar is crafted using proprietary state-of- the-art technologies that include soundboard voicing, which tunes the top plate to achieve unrivalled acoustic properties, highly consistent ultra-thin finish, and high-precision robotic polishing. In addition, all color series guitars feature the Furch CNR System, a revolutionary neck design that guarantees lasting stability and allows the neck relief to be adjusted with an unsurpassed degree of accuracy.
"For us, guitar making is much more than just a business. Building guitars is our passion and a challenge at the same time. We constantly work on improvements and look for ways to take the quality of our instruments to a yet higher level. In the past three years, we have developed and successfully tested several revolutionary designs. To let the world know that these new features have been incorporated into production, we've decided to change the names of our guitar models. Considering how much care goes into the crafting of every single Furch guitar, our guitars now bear names that evoke the emotional and passionate nature of music making," explained Petr Furch, the managing director of Furch Guitars.
Furch Color Series Acoustic Guitar Models
Each of the new color series model lines is exclusive and features a unique combination of materials, finish, and appointments. The top-of- the-line RED series features high-grade tonewoods, top and back tuning, captivating unconventional adornments, and our matchless High-Gloss Finish. Conversely, the VIOLET series includes instruments with a solid top, Open-Pore Finish, and stylish scaled-back appointments. All Furch guitars share the typical rich balanced sound and superb craftsmanship, thanks to which our instruments continue to rank among the very best guitars on the planet.
"One of the reasons behind changing the names of our models was to create a comprehensive range of acoustic guitars for all purposes and all musicians. The new model lines were created based on the success of our established models. The color series includes direct descendants of guitars we have been offering until now as well as several brand new models. The color series includes 19 all solid woods guitars and three guitars featuring both solid and layered woods, each of which is a top-quality instrument that differs from other models by its sound and overall design," added Petr Furch.
The seven color series model lines are complemented by the RAINBOW premium series, which allows players to handpick the features of their guitar and order a fully custom instrument. The RAINBOW series starts with a base master-grade model that can be customized using a host of options from the list of custom features. Thanks to that, every RAINBOW guitar is a true original.
New Vintage Series
The Vintage Series, which features guitars with a traditional design, has also been completely revamped. The previous lineup has been replaced with guitars designated as Vintage 1 to 3, which come in a combination of a Sitka spruce soundboard and Indian rosewood back and sides. The models mainly differ from one another by different appointments that underline their alluring mellow appearance.
The Furch Guitars portfolio also includes Grand Nylon guitars, acoustic-electric bass guitars, and the Little Jane travel guitar.
For more information:
Furch Guitars