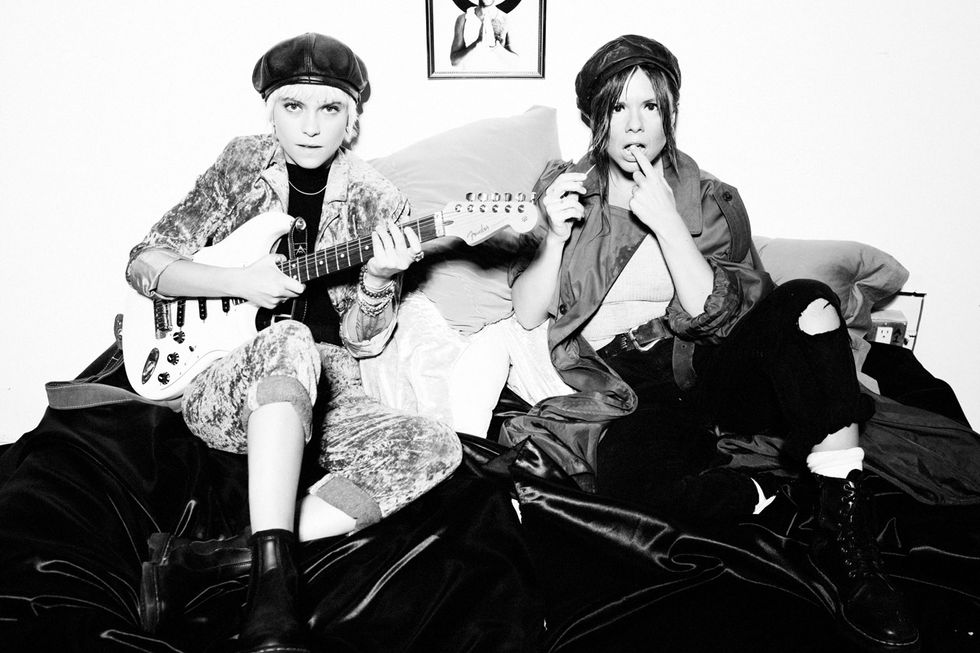 Carmen Vandenberg (left), with the Fender Custom Shop Stratocaster she used on tour with Jeff Beck, started the band BONES in collaboration with singer and co-guitarist Rosie Bones (right) in 2014.
A few years ago, Carmen Vandenberg, a rock guitarist with a strong blues background, finished up a concert in London with vocalist Rosie Bones, her partner in the band BONES. It had been a killer performance, and a male concertgoer approached to tell the duo as much—with a caveat. He informed Vandenberg, implausibly, that her band would in fact always be inferior, since, having smaller hands, no woman could ever play guitar as skillfully as a man.
BONES' response to this unfounded idea, a song and video called "Girls Can't Play Guitar," offers plenty of good evidence to the contrary. Vandenberg's deft blues lines and powerful riffing reveal not just a fine guitar technique but a thorough study of the blues tradition—and a unique lens for viewing her influences, like Albert King and Muddy Waters.
Though she's only in her mid 20s, Vandenberg already has an impressive resume. She trained at London's Academy of Contemporary Music and established herself as a session guitarist. Onstage, she has backed up pop artists like Cher Lloyd and Kate Nash.
The depth of Vandenberg's musicality—and the guitarist's penchant for the blues—caught the attention of Jeff Beck, who asked BONES to cowrite his 2016 album, Loud Hailer, and to perform with him on tour. For the occasion, Vandenberg pulled off the mean feat of assimilating scores of songs from Beck's 1970s catalog, accompanying him onstage in performances of classics like "Blue Wind" and "Freeway Jam."
After having made a splash in their native U.K., Vandenberg and BONES recently moved to Los Angeles. They set up shop in a house and were in the process of writing new songs for an upcoming album when Vandenberg called to talk about the big move, working as a session guitarist, playing in BONES, and her cherished Fender guitars.
What inspired you to take up music?
I grew up in a rural town in Italy and started with the violin when I was 5 years old, because it was mandatory in school. I did the Suzuki method. I met Dave Stewart [best known for his work with Eurythmics] because his son was in my class, and we were like two naughty kids in the back of the classroom. We became friends, and then I saw his guitars and I just remember going back to my parents and saying, "I wanna do that. That's what I'm gonna do in my life. I'm gonna play guitar."
Then I started teaching myself. I would read from the violin parts on guitar and slowly learned to play. When I was a bit older, I started taking guitar lessons. It was that and a combination of my dad having a VHS cassette of Woodstock. Seeing Hendrix, I was like, "Daddy, can I be him?" That was one of those moments when my dad was like, "Oh shit."
Early on, people tried to discourage me from becoming a professional guitarist, mainly because I was a girl, but I guess sometimes you're a kid and you just set your mind to things—just try and do everything you can to make it happen.
"Seeing Hendrix, I was like, 'Daddy, can I be him?' That was one of those moments when my dad was like, 'Oh shit.'"
What are some of the things you've done to make it happen?
Playing at home a lot as a kid. My parents recently said that I used to pretend to head off to sleep, but would instead go down into my room and play. I guess listening to a lot of blues albums—like, by Albert Collins, Albert King, and all the other Kings, really—lying on my bed and then picking up the guitar afterwards to see what I could remember.
And then, going out and trying to meet people. There's always that thing of being at the right place at the right time, but you make your own luck by trying—trying in every kind of way. And sticking to the people that you really do want to work with, like the work relationship I have with my bandmates. We're actually moving house today.
Thanks for squeezing in the interview, then. You're in Los Angeles?
Yeah, we're in L.A. and we literally just rented the van today. We're packing up all the big bits.
That's exciting. What made you decide to move to L.A. and how has it been treating you, musically speaking?
Well, we were in London for a while and we did BONES for, like, a year. Then we cowrote Jeff Beck's album and went on tour with him for a year. So that took a chunk out of our year-and-a-half, which was an amazing experience: writing an album with such a lovely musician and being able to tour. But then we got back and we'd been in London for a long time.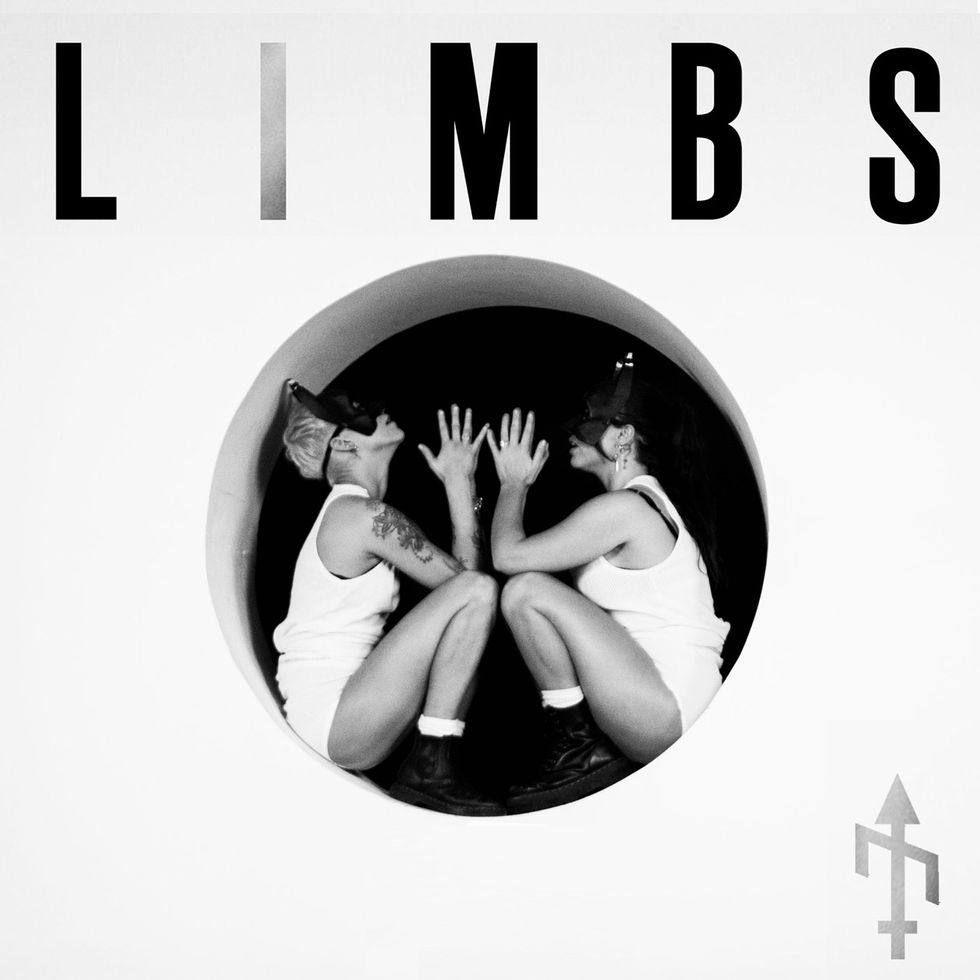 As they build up to a debut album, Carmen Vandenberg and Rosie Bones have released a series of singles and videos. The latest is "LIMBS"—a slinky piece of electro-rock with a (very) brief appearance by Stevie Ray Vaughan and Albert King.
We saw a window of opportunity. We wanted to change location, start fresh, and hit a different market, because we'd toured Europe already. And we were like, "Fuck it—let's just go to L.A." So, we moved out here—without a house, without anything. We didn't even know you needed a credit rating and shit like that to lease a house. We just kind of went on a whim, and we're still trying to make it work. We've got management; everything's going in the right direction. We're just writing songs and doing support tours. It's an exciting time.
Can you talk about music school and what you took from that experience?
I think with universities and music schools, you can learn as much from your teachers as you can from your fellow students. It's all about being surrounded by so many like-minded people—people who are inspiring. I learned that the whole concept about music was about entertaining, sharing, making people happy—this kind of sense of being comrades within this music industry.
The lectures were good. You have to be able to take what you want from it. You can't possibly absorb everything that they tell you in two years. You have to see what you want and make sure that things happen. You can easily just become a technically brilliant musician, but not know what opportunities are out there because you just stay at home.
Having fun was also part of it. I decided to do music because it's something that makes me happy and can make other people happy. But you can't take yourself too seriously through life; otherwise you'll just die.