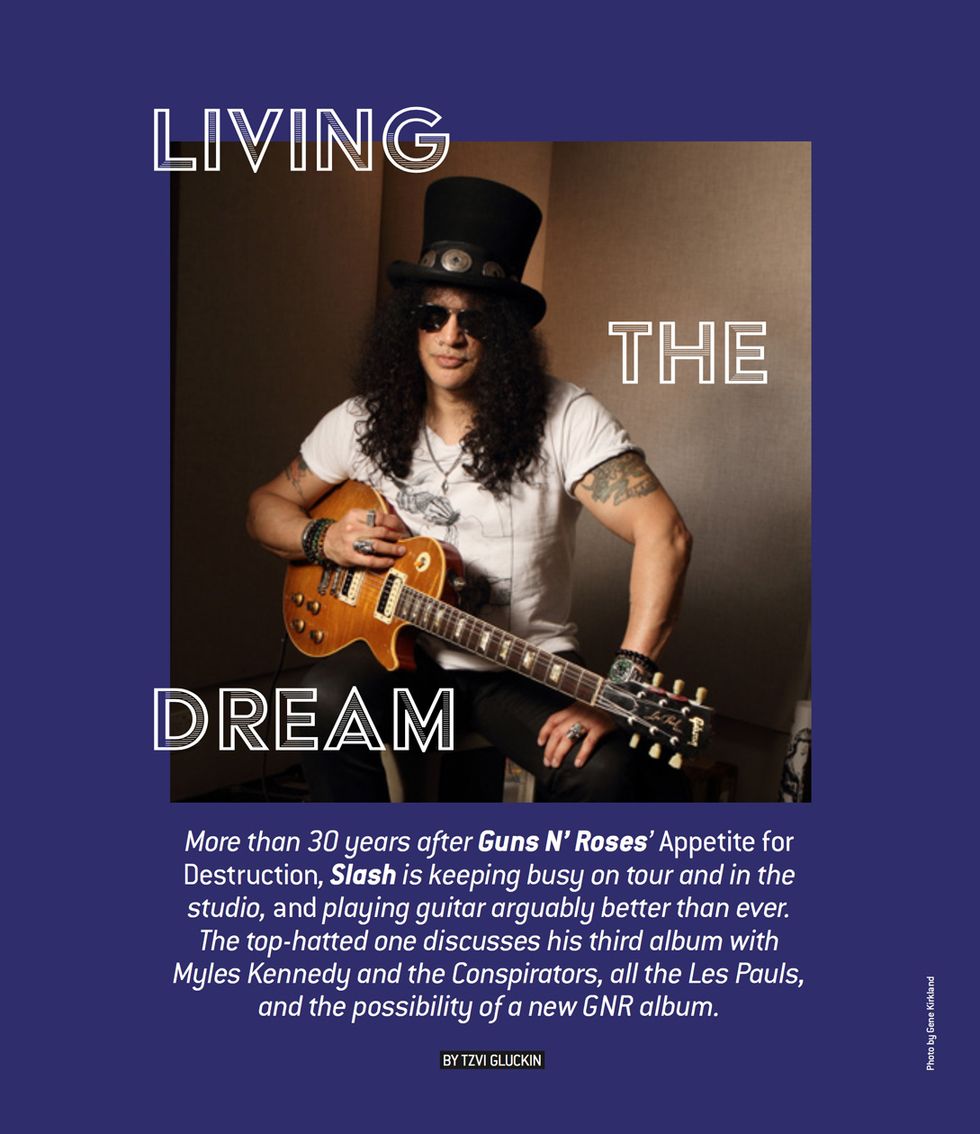 Photo by Gene Kirkland
Thousands of kids wear Slash costumes on Halloween each year. (Full disclosure: My kid dressed up as Slash last year, too.) Top hats, black curly wigs, and leather are ubiquitous in October, which—if nothing else—is a testament to Slash's massive cultural impact.
Iconography aside, Slash's stature as a guitarist is even bigger. Case in point: His opening lick to the Guns N' Roses classic "Sweet Child O' Mine" replaced "Stairway to Heaven" as the go-to riff that beginning guitarists played to flaunt their skills in guitar stores. (It's possible that "Seven Nation Army" now holds that distinction, but "Sweet Child O' Mine" dominated for decades.) He's been called the "Last Guitar Hero"—and his image was central to the branding of the video game, Guitar Hero III—but it was his arrival in the late '80s that cemented his legacy. In a world of big hair and synths, the Les Paul-playing Slash was a breath of fresh air—a vision of a better tomorrow.
It's been more than 30 years since Appetite for Destruction, Guns N' Roses' debut, but Slash is no relic from the past. From GNR's tumultuous initial run, through Slash's Snakepit, Velvet Revolver, his solo outings backed by Myles Kennedy and the Conspirators, and his long-awaited never-thought-possible reunion with Axl Rose, Slash is a consistent presence and an ambassador for the primacy of guitar-centric rock.
But what's more, Slash somehow keeps getting better.
Compare his playing on his most recent solo release, Living the Dream, to his earlier output. This is no lazy rock star resting comfortably on his laurels. It's obvious he works on his craft. Although if you ask him, he downplays it. "I have a hard time seeing myself doing what I consider most lead guitar players doing these days," he says. "Which is working on runs, patterns, and fucking dexterity. I'm just playing my guitar all the time."
But whatever he calls it, guitar playing is his obvious focus. He still looks cool—and kids still want to be him—but his mission is music. He keeps busy, works hard, and, despite his almost elder statesman status, manages to stay relevant.
We caught up with Slash at the end of his tour in support of Living the Dream, his third album with Myles Kennedy and the Conspirators, and as he was getting ready for the final leg of GNR's Not in This Lifetime… Tour. He shared his approach to working with the Conspirators, his recording and songwriting methods, his bare-bones signal chain, and his insights into working with a second guitarist. We also spoke with Myles Kennedy (see accompanying sidebar), who, although he limits himself to vocals with Slash, is a world-class guitarist in his own right.
Do you practice all the time? It sounds like you keep getting better.
Yeah, I definitely play. Obviously, I tour a lot, and in between tours I'm always recording, so I'm always playing. I think that's where the practicing sort of shows up—just playing every night and improvising a lot. I think that's where the growth is. If I sit home and just play my guitar, it's really just to write or if I have an idea or something like that. I do warm-up scales or whatever I can come up with, but I'm not really what you'd call an ardent practicer. I don't sit down and work on runs or theory or studiously work on my hand technique. It's really more just playing all the time and growing as a player that way.
"I can't pretend not to sound like myself."
You're not one of these guys who sit in front of the TV playing all day long?
I keep a guitar with me at all times, and if I'm sitting in my hotel room, sitting on the bed watching TV, I've got my guitar in my hands for sure.
What's your approach to recording the band?
We rehearse—we call it preproduction—if I come up with a new idea and present it to the band. It could be anywhere: It could be at soundcheck, it could be just a riff on the bus or in the dressing room or something like that, and when we're on tour, that's where all the ideas sort of happen. When the tour's over, we go into a room and start jamming together. We're all there. We work on the riff, and whatever arrangement I've got going on, and Myles is coming up with melodies. We just work on all that together.
And then you record the tracks live?
We do a hell of a lot of preproduction, rehearsing, so we can just play the songs in one or two takes live. Sometimes there might be three or four takes just to get the feel right. When we actually go into the recording studio, we've got all the songs down and we go in and jam them out real quick.
Do you do extra guitars later by yourself?
Yeah.
I heard you like to stand in the control room when you're recording your solos.
For the most part. Sometimes I'll go into the booth, into the sound room, but I like to do everything really loud in the control room.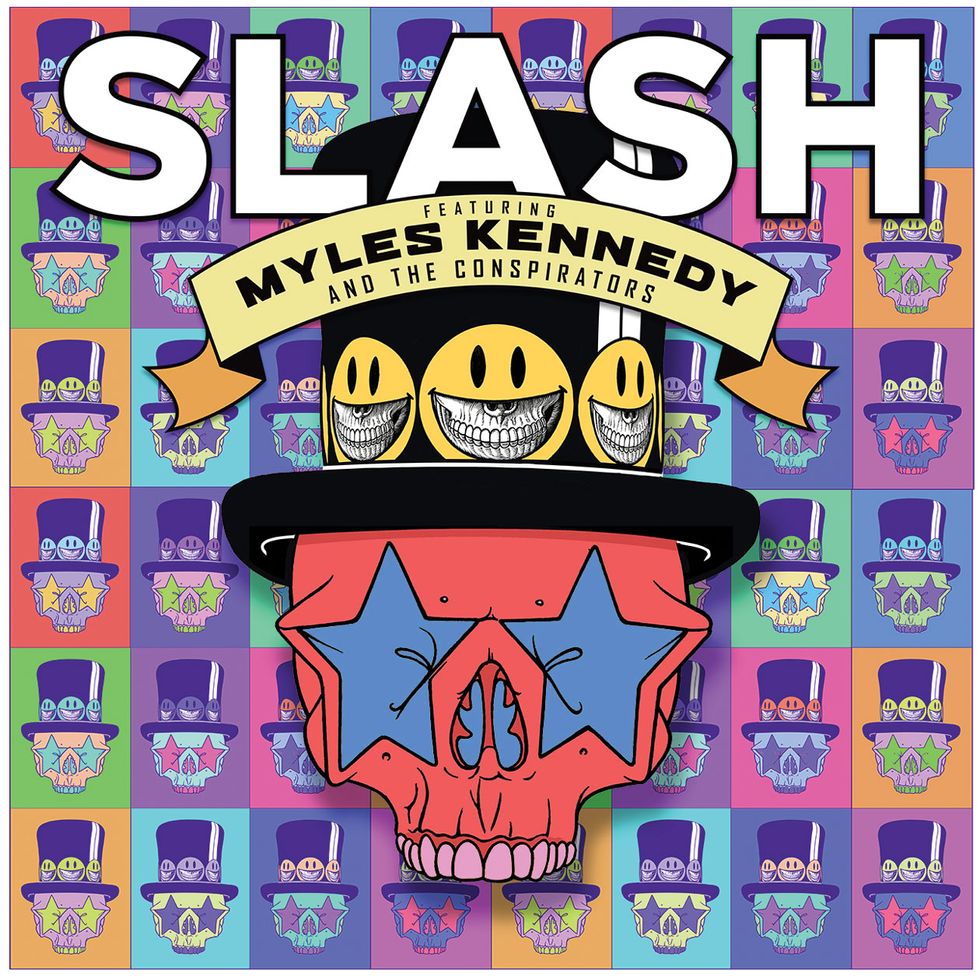 Living the Dream marks the first time Slash's touring rhythm guitarist, Frank Sidoris, appears on a Slash featuring Myles Kennedy and the Conspirators' album. On previous albums, Slash handled all guitar work in the studio.
How do you get your guitars to feed back when you're in the control room?
Yeah, that has been a thing. I've been working on ways of doing that forever. Sometimes I can get the feedback I want out of the monitor in the control room. When we did the Apocalyptic Love record, which was a couple of records ago, we actually built a room called the Slash Box. I was in the room with big monitors and a Marshall all competing together. I could get full-on, automatic response from my cabinet, without having headphones on. That sort of worked. There's no perfect formula for that. I will go out to the room in front of my amp with headphones if there's something in particular that I'm trying to achieve feedback-wise. But the thing is, the amp is so loud. Headphones have a hard time competing with that, but I work it out one way or the other.
Do you bring your live rig into the studio?
When I'm on the road, I take primarily new guitars and amps. When I'm in the studio, I might take one of my road amps in the studio. Like the amp I used on this record was a brand-new Jubilee that I just got from Marshall that sounded good. But on this record—are you familiar with the Kris Derrig Les Paul I've been using since 1986? That was only a road guitar in 1987 and I retired it to just being a studio guitar. But on this record, I primarily use vintage guitars. I use the Derrig for one or two songs. I use a '56 goldtop, a '59 standard, and a '58 that I have. Those guitars I would never take on the road, because I'm way too hard on guitars when I'm touring.
---
---