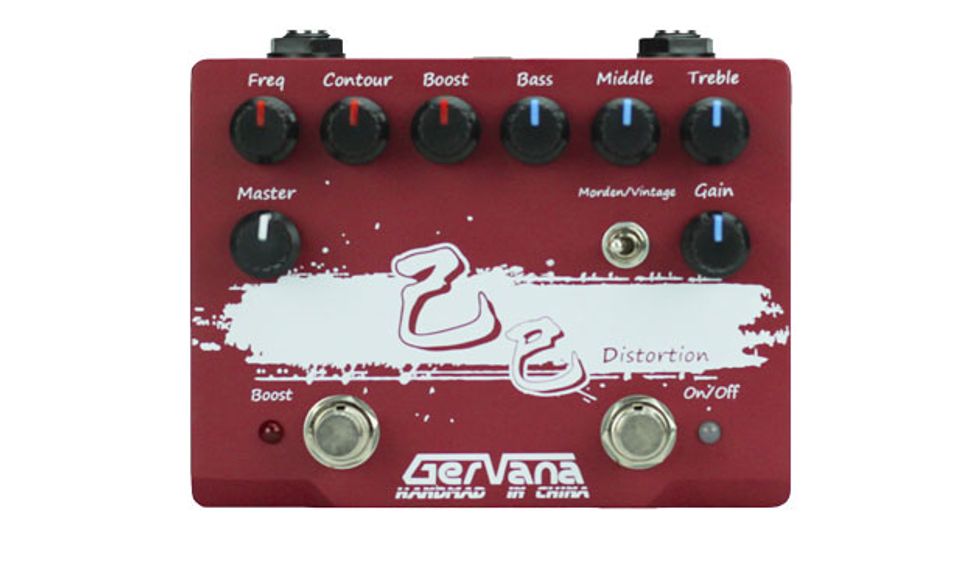 Nashville, TN (November 26, 2018) -- Gervana Pedals is proud to announce the launch of our new hand-wired distortion pedal, the Ji Si (pronounced jee-suh).­
The Ji Si offers incredible versatility over your distorted guitar tone. With common EQ controls (bass, mid, treble) and a dedicated gain control you can shape the tone to fit your mood. The Ji Si features two distortion modes, modern and vintage, both modeled after a traditional British gain structure. The vintage distortion has the sound of an old tube amplifier that has the master controls cranked up to sound more like power-tube overdrive, whereas the modern option focuses more on the preamp tube tone.
What sets the Ji Si apart is the boost side of the pedal. With its own independent and unique EQ controls you essentially have two distortion pedals in one. The boost channel adds a supercharged mid-range control which allows the player to sweep through the mid frequency between 250Hz and 4500Hz and adjust the contour of the eq curve for that frequency which can provide anywhere from a sharp spike of the selected midrange and volume for solos, or subtly adjust the mid-range to give the guitar a different voice.
The Ji Si is the perfect boutique pedal for the discerning player that needs a broad variety of quality distortion tones at their feet. Renowned pedal designer and electronics guru Bjorn Juhl says that this pedal is "…musical and fun to play. You don't normally see pedals with this performance."
Gervana's Ji Si offers the following features:
3-Band EQ on main channel
Selectable Modern and Vintage gain structures
Variable Gain Control
Mid-range sweep between 250Hz and 4500Hz on boost channel
Contour control to adjust the eq contour on boost channel
Master volume to control output of pedal
True-bypass circuitry
9-volt operation with standard DC input or battery (not included)
The Ji Si carries a street price of $149.
For more information:
Gervana Pedals