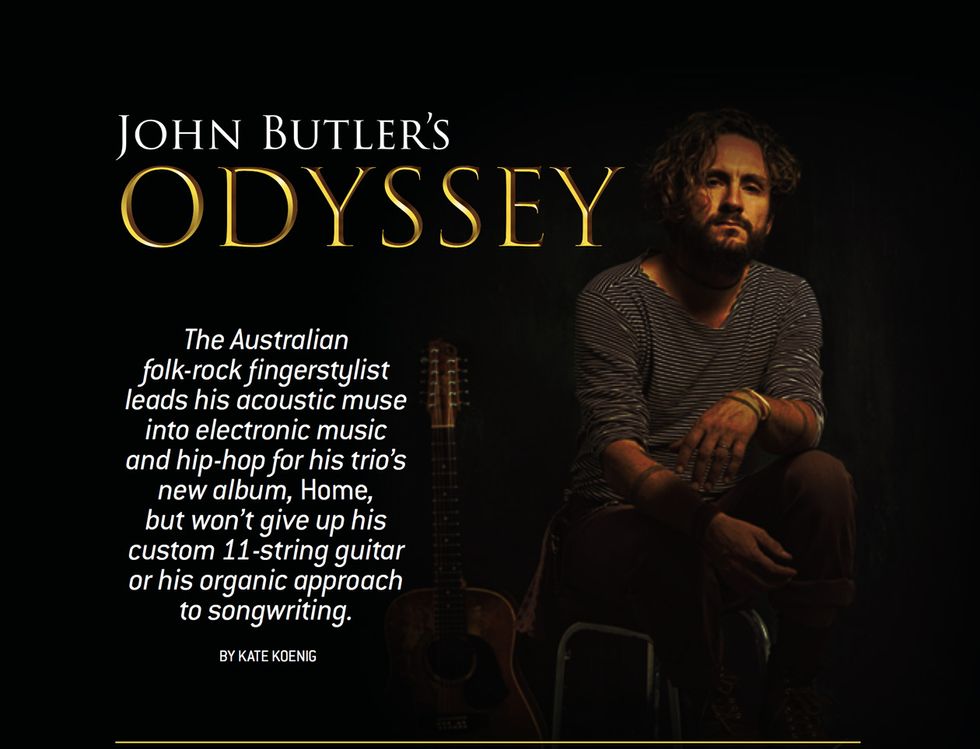 Photo by Kane Hibberd
The title of the John Butler Trio's seventh studio album, Home, is a bit ironic. Admittedly, it comes on the heels of bandleader John Butler spending more time with his family during the four-year break since Flesh & Blood, and the title track is about the guitarist missing his domestic life while on the road. But the recording itself, both in style and in its production process, marks a noteworthy departure from the Australian trio's traditional method.
While typically the band has recorded albums with plenty of group input during its 20-year history, on Home, Butler ended up becoming more personally involved in production, bringing his interests in electronic music and hip-hop into the mix, and really driving the recording sessions and musical approach. As a result, the project breathes with modern, digital colors that bond with a wellspring of his signature folk-blues-rock "acoustica."
But throughout the album's dozen tracks, it's clear that Butler remains a stunning instrumentalist. These days he prefers to perform on his Australian-made custom 11-string Maton acoustic guitar (strung like a 12-string, but without the octave G), which he picks just with his fingernails.
His folk leanings and inquisitive nature also inspired him to learn a variety of other stringed instruments early on, including banjo, mandolin, and lap steel. With his broad background in traditional styles, it's no surprise that the new album's more digital approach came with significant self-doubt. "I had to go through a lot of soul-searching to try and get to this moment where I was in the studio by myself with this producer just trying to bring the album to life," he says. "When things don't flow as much as you think they should, you keep on letting go, letting go—such a metaphor of life, in a way." This time around, the music asked for a new perspective, and Butler was forced to figure out exactly what that meant.
It has been four years between albums. What went on during that time?
I always have three years in between each album to tour and promote that album. Then I took a year off, because we relocated our home three hours south. We'd been touring incessantly for a decade, and I just thought it would be nice to take a bit of time, make a chicken shed, make a workshop, and make some friends [laughs], you know? Then there's a bit more touring and recording. It was very full.
How does the time you spend onstage shape your music?
Songs, when I start to write them, are still in utero in a lot of ways. They're kind of born once they get recorded and are on an album—they're infants. Then you take them on the road for three years and they grow. I think everything wants to change, and the live format is such a perfect garden bed for things to grow. You see what works every night, see what doesn't, see what happy accidents happen. Ten years later, the song sounds like the same song, but more grown up.
How do you nurture your songs in the studio?
I just work for the song. The song is boss and I'm the employee. The more I can surrender myself to the song in the recording process, the better it can be. Some songs I think should have loads of guitar on them, and at the end of the day they turn out with no guitar on them because that's what the song wanted. I just keep on trying to stay open. Sometimes that's musically open, or production-wise open. Sometimes it means emotionally open—going on a huge existential kind of journey to realize the song.
"I'll have a career in 10 years' time because of the relationships I make now onstage. And that's a really beautiful thing."
Not all bands are great live. What appeals to you about the live performance dynamic?
It's always kind of been that way for me. I started my career busking on the streets, and from there that's how I learned, how I shared my music. It's where my independent music business started. I was advertising, producing, managing, recording.
It's always been out in public, I guess.I'll have a career in 10 years' time because of the relationships I make now onstage. And that's a really beautiful thing. It's great having big albums. I'd always wish to have a nice big album, but big albums come and go and so do their fans. Relationships that you make onstage through a live experience are awesome. And then if you have a great album on top of that, that's the perfect scenario. That's what I'm always aiming for.
What makes a great live show, for you?
Some bands want to be clapped for, and some audiences want to be played to. I want to do something with the audience. It's very symbiotic. When they give and then we give, it just gets bigger and bigger and it builds and it builds and that's the magic that keeps me addicted. I am totally jonesing on that experience. It doesn't happen every time, and that's why I'm an addict—because I'm searching for my next magical fix.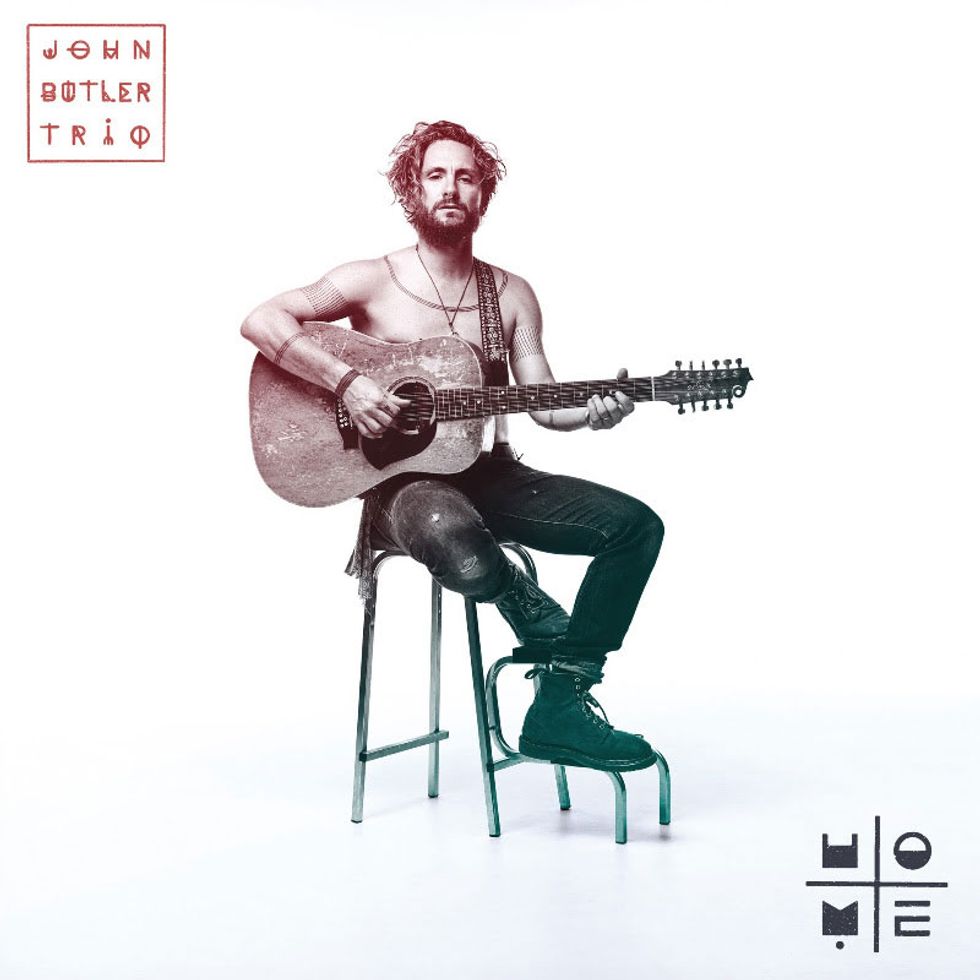 TIDBIT: On Home, his trio's latest album, John Butler took a less democratic role and developed the core rhythmic approach to many of the album's songs using the beat-making abilities of GarageBand.
It probably is what sustains me from being away from my family and all those things: When I have that moment, when I feel like we've transcended and we've raised the vibration. I've had success and I have enough money and I think I've proven to myself personally, to my own little ego, that I'm enough [
laughs
]. I want to have that transformative experience where I feel like we're doing something in this world that's positive, amongst all this division.
What is your go-to guitar?
A Maton jumbo 11-string, which is basically a 12-string without the high G. That's my main axe.
What gear are you particularly fond of?
I use a Midas 2-channel strip off a mixing desk. Another bit of gear I use is a Seymour Duncan Mag Mic magnetic pickup. I also use my Maton AP5 pickup, which is based off technology on a Takamine. And then I put them into each channel of the Midas XL42 mixer, which acts as my really high-end blender. That's my main acoustic sound—a combination of magnetic and piezo technology. Then I go through a whole bunch of effects anybody can go through. Once I go into my DI, I take the through from my magnetic side and plug that into an Ibanez Tube Screamer and into a Marshall JMP Super Lead 100 watt amp. But really importantly, that's going through a volume pedal, so it's not always on. I'm able to have this acoustic sound, and then with the volume pedal bring in this completely overdriven dirty sound on the top of it, which allows me to do all kinds of rootsy acoustica and bring in all the mayhemic rock stuff that I love as well.
---
---