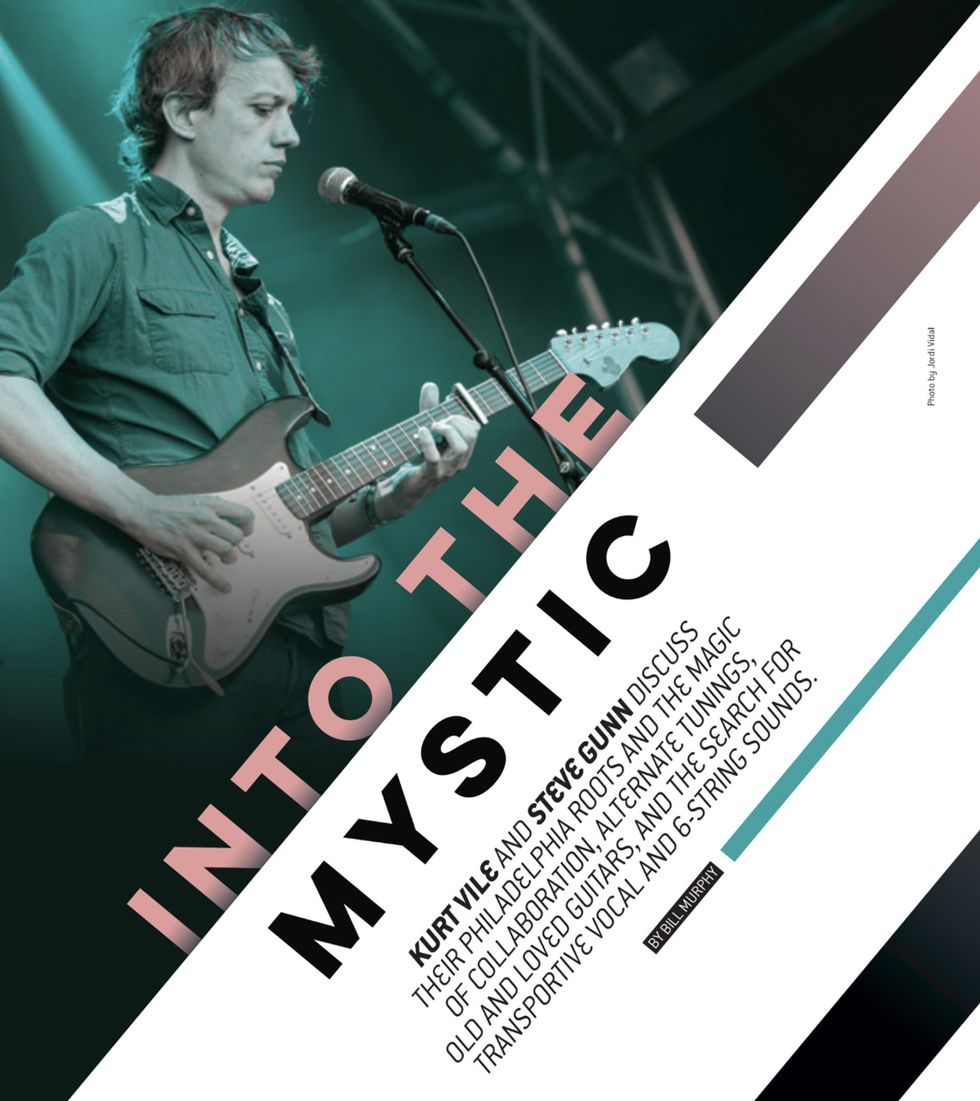 Steve Gunn's S-style model was custom built by Brian Haran of Fret Sounds in Durham, North Carolina. "He put Lindy Fralin pickups in it for me and it sounds really good," Gunn notes. Photo by Jordi Vidal
On the phone from Dallas, where he's prepping to hit the stage with his elite backing band, the Violators, Kurt Vile is musing over a question about the perceived sense of mysticism in his music, and how it might fuel his creative process. "Well, first I go down to the Shire," he drawls wryly, pausing for effect, "and then I get a bunch of shiny stones…." He trails off in a brief fit of laughter, while down the Brooklyn end of the line, Steve Gunn joins him. "Yeah, I see it," he gushes, and then just like that, we're off on a multifarious tangent about lyrical poetry and hypnotic grooves—and how music, in the right moment, can induce an exalted state, in the listener as well as the performer.
"Just even picking up my guitar and playing a couple of chords can transport me," Vile continues, his tone more reflective now. "It's a state of mind, it's a place, it's a dimension, really. Music just does that, especially if you're behind the wheel, driving it. All of a sudden, next thing you know, you're spacing out for hours on the couch, even after just a couple of minutes. If you're stressed out about shit, you can just play, and for a second your mind is completely changed. So yeah—it's mystical."
He and Gunn share another laugh. It's testament to the bond they have as artists who don't take themselves too seriously, but who nevertheless are seeking to remake—some might even say rescue—guitar-driven rock in their own implacably cool, blue-collar vagabond image.
For Vile, the journey is rooted in the country, blues, and bluegrass he picked up on as a kid. His first instrument was the banjo. Eventually he adapted some of the instrument's open-tuned techniques to guitar, and developed a personal style that tapped into an eclectic range of musical influences, from Bob Dylan to Sonic Youth. After a short stint living in Boston, he moved back to his hometown of Philadelphia in 2003 and met singer-songwriter Adam Granduciel, who channeled his own obsession with Dylan into the War on Drugs—a band that, along with the Violators, lit fire to the city's resurgent indie rock scene.
"I still crave that solitude, and locking yourself in your room and just playing and playing, and using your imagination in that way."
—Steve Gunn
Bottle It In is Vile's latest album with the Violators, and it captures a knockabout genius at his most freewheeling and comfortable. "Loading Zones," a slacker ode to the thrills and spills of free parking in Philly, sets the tone early: Vile has a way of uncovering simple and ecstatic truths in his songwriting, whether he's looking to "rip the world a new one" or, as he sings on the hypnotic jam "Bassackwards," to "fill the void of a long night, unwatched by the sun." Wielding his favorite '64 sunburst Fender Jaguar and various Martin acoustic guitars, he builds layers of sound that push his coproducers (among them Peter Katis, Rob Schnapf, Shawn Everett, and bandmate Rob Laakso) to the limit, while also giving his band (Laakso, guitarist Jesse Trbovich, drummer Kyle Spence, and various distinguished guests) plenty of leeway to dig into the beating heart of a song.
Gunn picks up the thread again. "Do you know that Jackson C. Frank song—I think the lyric is 'To sing is a state of mind'?" he asks Vile, referring to "Just Like Anything," an obscure chestnut from the troubled folk singer's 1965 debut album. "It's such a beautiful concept. Certain music puts you in a certain state of mind, and for me, I definitely have to work to get there. When I first started playing, I wasn't exactly practicing Van Halen riffs, but I would play things on repeat and try to get into my own head a little bit. Doing that really cyclical guitar stuff helps me to get into more of a meditative state to sing, or to think about what I want to write."
Gunn is also a Philly native, born and raised—as was Vile—in the western suburb of Lansdowne, and although he decamped to Brooklyn in 2001, his hometown is never far from his thoughts. "Stonehurst Cowboy," from his new album The Unseen in Between, is a stunningly beautiful acoustic ballad dedicated to his late father and named for the neighborhood where his parents grew up. The song also channels Gunn's deep connection to American Primitive and British folk music. After he graduated from Temple University, he lived in a house full of artists and musicians in West Philly where Jack Rose sometimes jammed, and where the records of John Fahey, Sandy Bull, and Robbie Basho were frequent staples. More recently, he has toured and recorded with British folk legend Michael Chapman. Chapman's exquisite "comeback" album 50, produced by Gunn, is an unmitigated career milestone.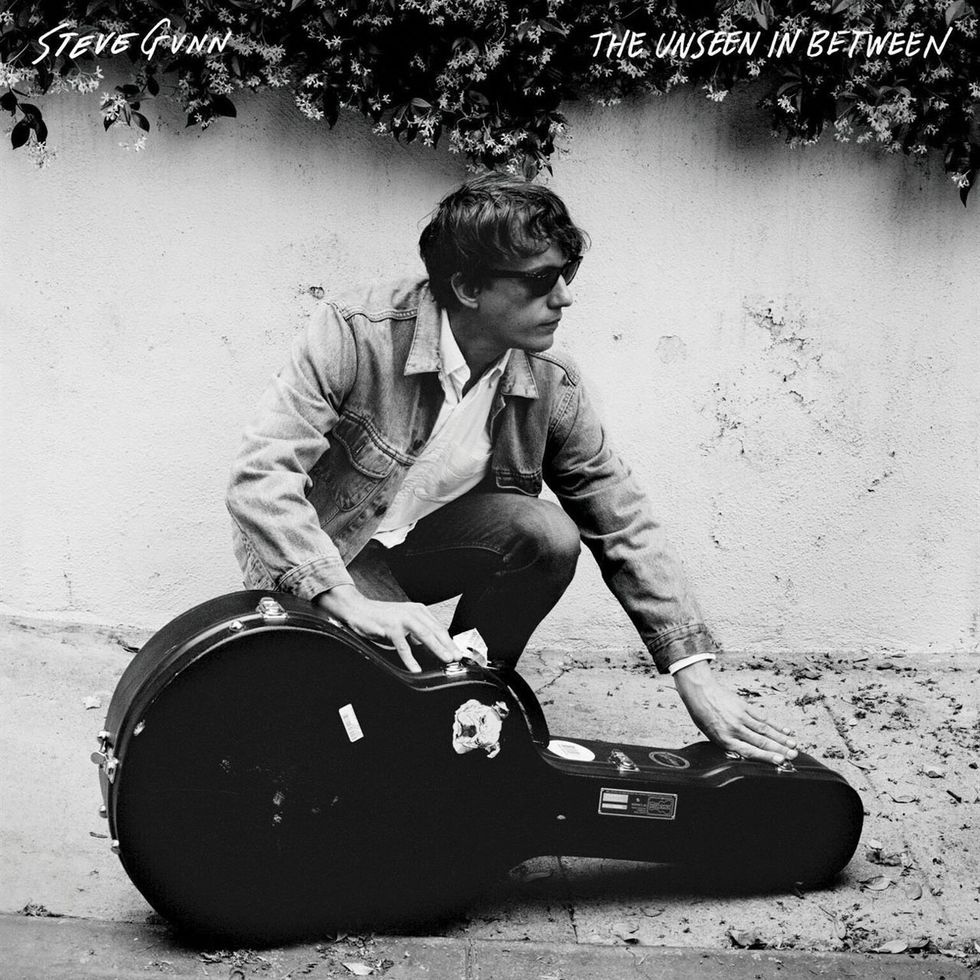 TIDBIT: Gunn's new album can be heard as a catalog of his influences, from folk to free jazz to psychedelic rock.
Since 2007, Gunn has released more than a dozen solo albums and collaborations, including 2015's Parallelogram EP with Vile, but The Unseen in Between, his second for Matador, is arguably his finest—and not just as a catalog of his influences, which range from folk to free jazz to psychedelic rock. Tracked in Brooklyn with an ace band featuring James Elkington (guitar and keyboards), TJ Mainani (drums), and upright bassist Tony Garnier (known for his long-running tenure in Bob Dylan's band), the album flows with a sure-footed ease and a real sense of purpose. That intent lives in the tripped-out vibrato waves of "New Moon" (with a nod to Johnny Marr's knack for thick guitar textures) and the folk-meets-Krautrock groove of "Lightning Field," which finds Gunn laying into a complex open-D figure that helps steer the song into wide vistas of sound, reverberant and majestic, that recall the more orchestral efforts of the Velvet Underground or Pink Floyd.
"You know, they gave me your new CD the other day," Vile reveals, regaling Gunn with recent tales of the road. "I started listening to it on the bus, and I smoked some weed because I hadn't been drinking—and when I say weed, I mean, I can't even handle the real action plants. Anyway, it sounded really good. I heard a few tracks and passed out, but I can't wait to hear the rest. It's atmospheric and beautiful."
Gunn laughs again and graciously accepts the compliment, and for a moment the brothers-in-arms camaraderie that these two must have shared together on tour back in 2013, when Gunn joined the Violators to support Vile's breakthrough album Wakin on a Pretty Daze, becomes palpable. Although they grew up just a few miles from each other, they didn't meet for the first time until they were both established as rising stars, each with an eclectic arsenal of guitar chops and a fetish for vintage Fender gear and Martin acoustics. And now here they are, full circle.
You both went to the same grade school in Lansdowne, but do you remember when you actually met?
Kurt Vile: Well, I always forget about the time, but we did this thing with Meg [Baird]. It was sort of like a supergroup of Philly types doing all these songs. I remember we did "Street Hassle" by Lou Reed. My bandmate, Jesse [Trbovich] was in it, Meg, of course, and having Steve there was really nice. What did we do? We did "Street Hassle," we did "They Don't Know About Us."
Steve Gunn: I think we did Big Star too.
Vile: Yeah, "Thirteen," I think. You lived in New York by that time, but you were visiting Philly, and that's how we really met.
Gunn: You know, the very first time I saw you play, and I made the connection that you were the same person from Lansdowne, was at Vox Populi [an artist-run event space in Philly]. I don't remember if I even said hello, but I did buy a CD, which was Constant Hitmaker [2008]. I knew your name and I knew where your family lived. We never were friends then, but I made that connection. And then you also took lessons at Todaro's, and I did too.
---
---