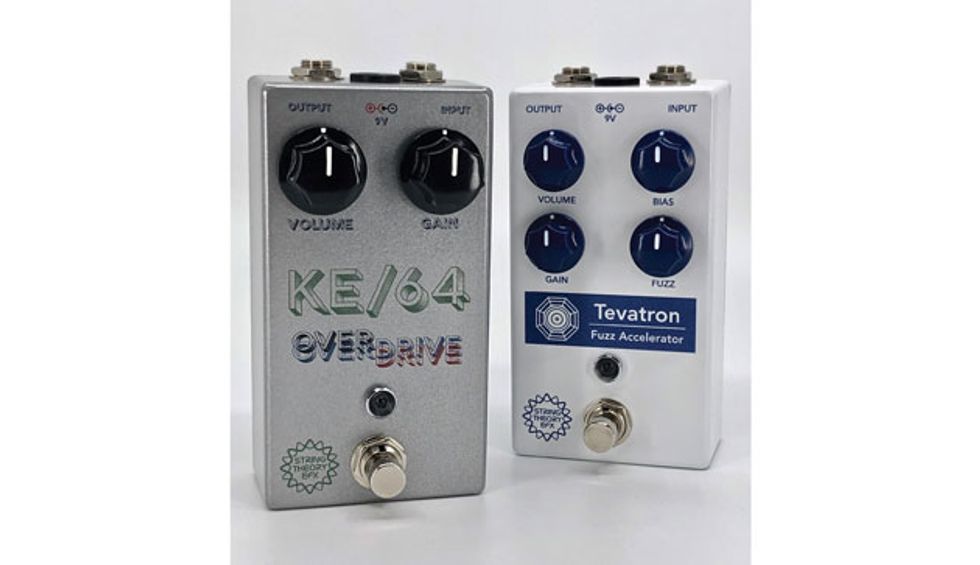 Wheaton, IL (April 19, 2019) -- Introducing the new updated versions of the Tevatron Fuzz and KE/64 Overdrive.
What's new about the V2's? String Theory EFX has been working hard over the last few months to make the KE/64 and Tevatron more pedalboard friendly, reduce production time and lower the cost, all while keeping the same great sound of each pedal intact. Both pedals now feature printed circuit boards and powder coated enclosures with UV printed graphics to drastically reduce the labor intensive practice of point-to-point wiring each circuit and acid etching each enclosure that the original effects featured. The Tevatron Fuzz and KE/64 Overdrive are still 100% handwired one at a time, using the exact same through-hole circuit components as the originals to retain the same sound and feel of the original versions of the pedals. The Tevatron Fuzz is also now available with the option of coming with either a hand selected NOS germanium transistor or a silicon transistor.
Both pedals from String Theory EFX are available now and can be purchased directly from our website www.stringtheoryefx.com . The KE/64 Overdrive is available for $165 and the Tevatron Fuzz starts at $180 equipped with the silicon transistor and $190 equipped with a NOS germanium transistor.
For more information:
String Theory EFX