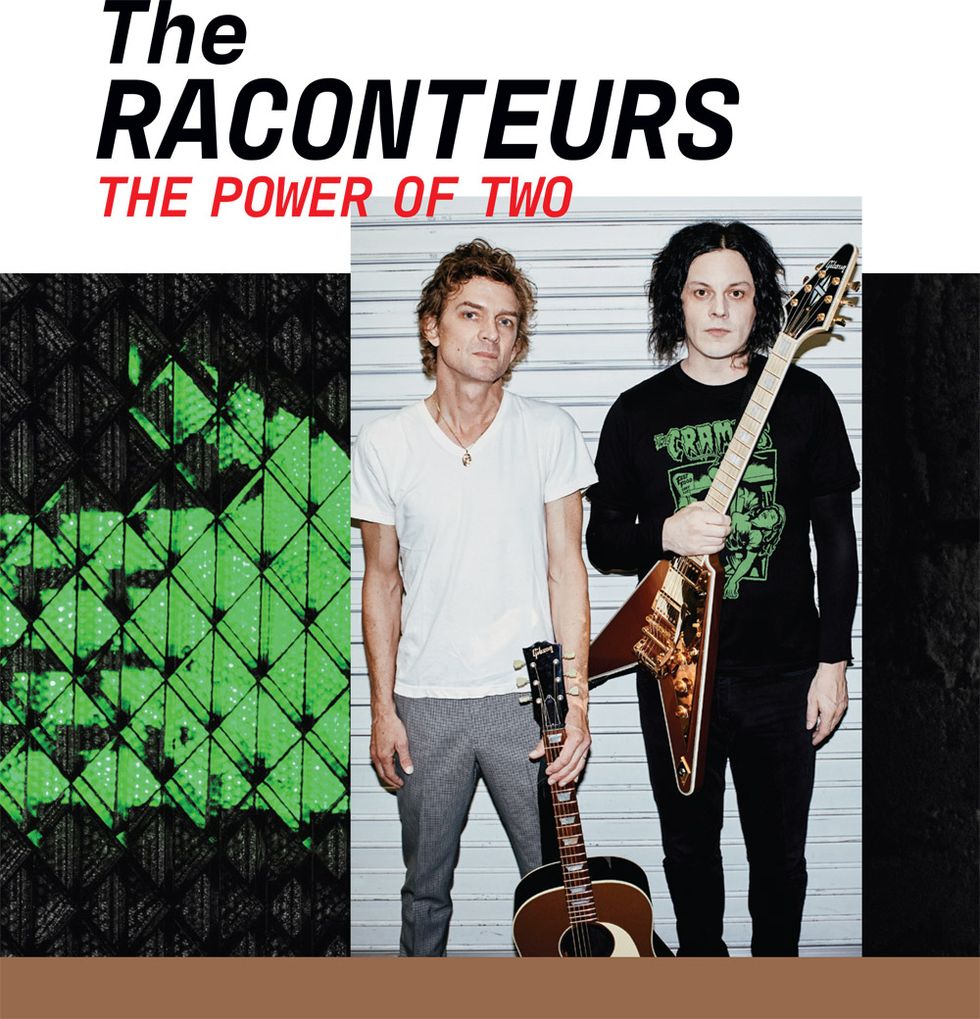 "If I could've picked who I'd be in a band with, of all the people in this scene, I'd say that I'd love to be in a band with Brendan and the rhythm section of the Greenhornes," says Jack White. "That's what happened! I couldn't have picked it any better." Photo by David James Swanson
Jack White is always on the hunt for the hard way out. For decades he's battled difficult pawnshop guitars and found trailblazing ways to make them growl, howl, and sing. White uses both experimenting and limiting as techniques. He might impose strict parameters on a project, or work in weird color schemes or numeral obsessions. For all the eccentricities, the man has no fear when it comes to artistic adventure. From the White Stripes to the Dead Weather to collaborating with pop titans like Beyoncé, he goes for it. But for the Raconteurs' third studio album, Help Us Stranger, he did something ironic and starkly less intense than what he's known for.
"The funniest thing on this album was that there's something that happened that I've been avoiding my whole life in recording," White shares. What did he do? He played a Les Paul through a Fender Champ. The yin to that yang is his new affection for using a B-Bender, G-Bender, and E-Bender on a Fender Telecaster.
On the whole, the Raconteurs' vibe is lighthearted and communal, in the spirit of traditional rock bands as a unit. Co-frontman Brendan Benson, White's writing foil who shares the Raconteurs' canon authorship equally, says it's "classic Raconteurs" modus operandi for the band to fly by the seat of their pants, improv their asses off, and somehow have things fall together in a mystical way that they have a hard time putting into words. "I'm kind of kidding," Benson says, "but with the Raconteurs, it's like, how far can we go with not playing the song?"
Benson's knack for clever, deep songwriting paired with White's bull-in-a-China-shop 6-string prowess is a palpable force. White brings explosive riffs and Benson provides the segues. Jack White is a lead guitarist; Benson is a glue-it-all together player who can do it all, from rhythm to slide to synchronized, ripping chords with White through a bridge to blues harp ad-libbing, all on a dime. Benson's keen sense of melody is evident in his vocal style, which the guitars in a Raconteurs' joint often mimic. The inventive tones on the album will leave no 6-string enthusiast wanting. Help Us Stranger's single, "Sunday Driver," packs a punch of guitar ideas, with White's experimental Flex synth-fuzz pedal spiraling into an octave-changing intro riff, while Benson hits arpeggios in the verses.
And look: White's rocking a Flying V now, too.
Help Us Stranger was produced by all four of the Raconteurs: White on lead guitar and vocals, Benson on rhythm guitar and vocals, "Little Jack" LJ Lawrence on bass, and Patrick Keeler on drums. (Dean Fertita plays keys/percussion at live shows, and he's also a member of another White-inclusive band, the Dead Weather.)
The new album comes more than a decade after the Grammy-winning sophomore release, Consolers of the Lonely, and misses no beats: It's constant motion, formidable swing with impeccable timing and phrasing, light-dark storytelling, and an intangible quality that shows up when groups have unflappable chemistry, like … dare I say—the Beatles.
For all of the Raconteurs' raging musicality, a specialness reveals itself in the emotional conjuring of existential struggle expressed in their lyric themes. "I think I suggested 'Help Me Stranger' because it's so powerful," Benson says. "We didn't talk about why or what it was. I think it's just one of those evocative statements. And then, of course, we decided to pluralize it to make it Help Us Stranger, since all the other records kind of had that gang mentality about them, like soldiers and consolers and strangers, or 'us.'"
White calls Benson the best songwriter out of the Detroit scene they both grew up in. Both White and Benson are also drummers, and it's fun to look at the teenage influences each guy cites and throw it up against the space they inhabit in the band. White was into Deep Purple, Emerson, Lake & Palmer, Dylan, the Cramps, and the Flat Duo Jets. For Benson, it was the subversive hardcore punk movement on Dischord Records (Minor Threat, S.O.A, Dag Nasty) and Black Flag, paired with what his hippie parents played at home: the Stooges, T. Rex, Bowie, Roxy Music.
It all makes for an interesting variety in their sonic journey. "When we were mixing the record I thought, 'Wow, these songs are little odysseys,'" Benson says. "They take some turns, and there are some definite departures and coming-back-agains. Even tempos going up and down."
From their home base of Nashville, White and Benson candidly discussed the making of Help Us Stranger and the artillery they used, from White's new trio of "golden Gibsons" and the "contraptions" he's putting on all his guitars to the pair's creative synergy, and how making Raconteurs' music has given them some of the most thrilling times in their lives. Spoiler alert: It all smells like rain, leather, hair spray, and clove cigarettes.
Are you in Nashville today?
Jack White: Yes, we're home for a little bit of regrouping. We just came back from Australia and Japan, our first shows over there. Yeah, I've been feeling good.
"When you write or record or produce something, your hope is that you'll be able to change somebody's mood when they're listening to it." —Jack White
I live in Nashville too. You know the Natchez Trace Parkway? That's where I drive to listen to new albums because there's no traffic. I listened to Help Us Stranger that way and it's my new driving album. What's your favorite way to listen to new music?
White: Yes, I love it. That's a nice idea! I have to say the car. I don't have a cell phone, so I'm undistracted there by anything. Nobody can come in and ask me anything or take me away from what's going on. It would be hard at my house to listen to an entire album without some kind of interruption. There's always so much stuff going on. So it's really nice. I'm lucky enough to drive a Tesla, and I really think it has the best sound system of any car. The factory sound system is just outstanding sounding. It still impresses me years later, the sound system in this car.
Brendan Benson: I usually like to be doing something, like cleaning up or driving, or in the headphones. That's always a good one: Go for a walk with the headphones. I rarely just sit down and put on a record and stay put, unless it's a vinyl record. Then, of course, you can't wander very far.
You guys are both from Detroit. How did you first meet?
Benson: I just went up to him and introduced myself. I was floored by the White Stripes. I couldn't believe what I saw. I was living in California at the time. I came home to visit over Christmas or something like that and some friends took me out to the Gold Dollar and the White Stripes played. I was asking my friend, like, "Who's this guy? What is this?" Oh, it's this guy Jack. Jack and Meg, they're from the West side. I think I offered to record him. I had recording gear and kind of a cool home-studio setup. I think I just said come on over and record some of your songs at my house. Which he did. I remember we did a few of his songs, which I just recently gave back to him. He was really not shy. I remember that. I remember thinking, "Wow, sweet! He's serious."
It's been a decade since Consolers of the Lonely. How did you know it was time for new Raconteurs music and to get writing?
White: That's the hardest question to answer lately. None of us could really remember why we started playing again. We also don't know why it took so long. It's very strange. The easy answer is to say that we're all very busy. I'm starting to think that there was this song called "Shine the Light on Me," which I had recorded for my last solo record. It just didn't fit all the other string songs on that record. I thought, "Y ou know what, this really does sound like a Raconteurs song." I might've played that for Brendan and said, "You know, I'm going to save this for the next time we record together." That might've started it. I'm not sure.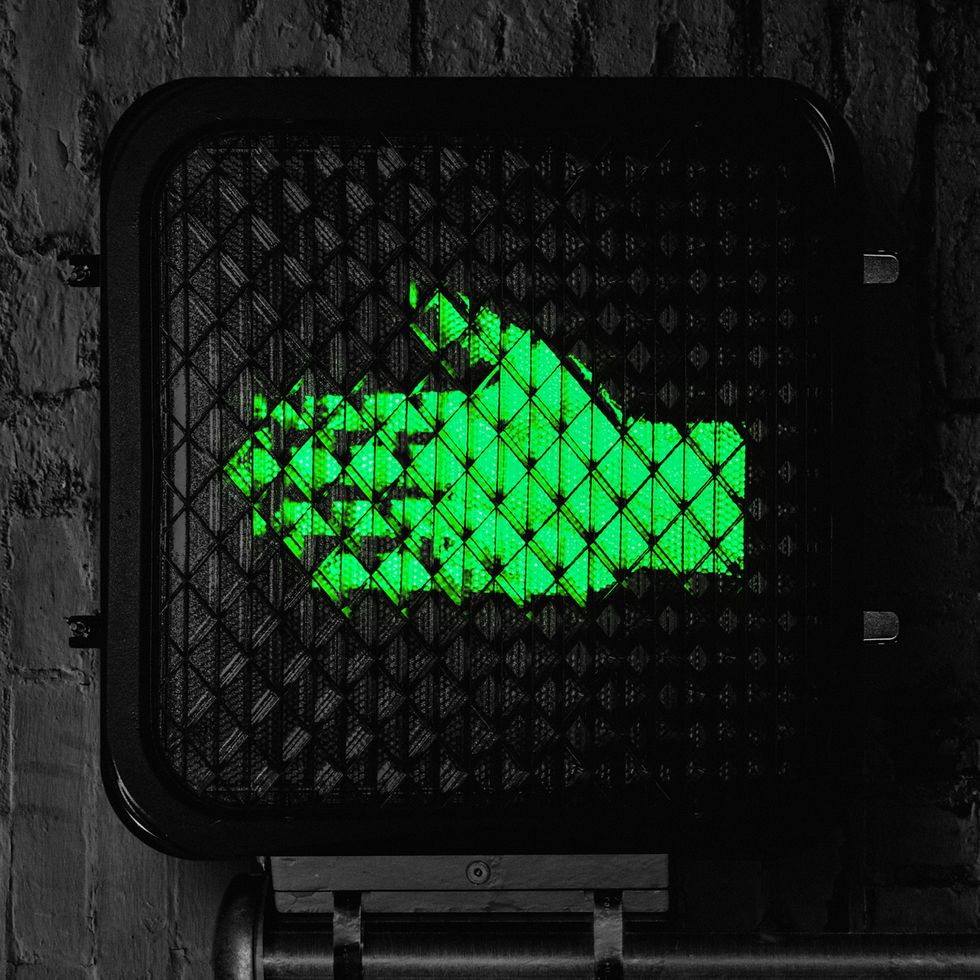 The Raconteurs third LP, Help Us Stranger, was produced by the band, recorded and engineered by Joshua Smith, and mixed by Vance Powell at Sputnik Sound in Nashville. It's the 600th release on Jack White's Third Man Records label.
You both collaborate with a lot of people. Sometimes a musical marriage or mixture works amazingly, but it's just once, or maybe for a short time. What is it about this band that has given you longevity?
White: It's probably because we're all from the same area. We came out of this Detroit garage-rock scene that was happening around the late '90s. Brendan was the best songwriter of the whole group. He was really not garage rock-y, but more of a singer-songwriter. He was somebody we looked up to a little bit, because he got signed first. He was signed to Virgin, and he released a solo record on a major label already, and the rest of us were all on these tiny little bedroom labels. He had a whole different lifestyle of music than the rest of us did, but he also really loved the White Stripes and the bands I was in, and the Greenhornes—Patrick [Keeler] and LJ ["Little Jack" Lawrence], their band. It was very cool. If I could've picked who I'd be in a band with, of all the people in this scene, I'd say that I'd love to be in a band with Brendan and the rhythm section of the Greenhornes. That's what happened! I couldn't have picked it any better.
Benson: It's one of those collaborations that just works really well. Not to compare ourselves with them, but like Lennon and McCartney. I think they were great for each other. Very complementary. They knew. Me and Jack both have the same musical sensibilities. So, it really works. Not just that we're able to finish a song together. I mean, I've written with a lot of people since Jack. Jack was the first guy I ever wrote or collaborated with. I'd never even thought of doing something like that. It's a very personal thing. I think he thought that way as well. When we wrote together, it stayed personal. I've written with people since, and you're kind of coming up with lines, coming up with words, coming up with choruses and chords and stuff. You might get a song that's pretty cool or whatever. More often than not you're lucky to have finished it. I think that's probably why. It's just a good chemistry.
When you write together, are you guys in the same room? Would you say the songwriting duties are pretty evenly shared?
White: All different things. We try to shake it up as much as possible. Sometimes one of us does 90 percent of it, and sometimes it's very 50/50. Each song is different. Sometimes we finish them in the studio together, or sometimes the other person does almost everything. You don't really have to touch it. You almost just add production or instrument tones to the idea of it to help flesh it out. You just have to do what the song is telling you to do and not let your ego get involved too much. We also don't have that competitive thing going on very much, like that Lennon-McCartney competition style. I sometimes wish we did. It might be interesting to see what would happen, but I think we have a mutual respect for each other. We just like to inspire one another.
Benson: I had some ideas laying around that I thought would be great for Raconteurs, and I had them laying around for years actually. So did Jack. We'll kind of come together…. It's only been three records, and it's different every time. The one thing that has remained constant is that we'll each have a couple of ideas to bring to the table. It's nice to have someone else help you finish them. It's great. That's my problem. I have a lot of unfinished ideas. Hearkening back to the lack of competition between us, I think, in fact, we look forward to someone else helping us. We can rely on each other. It's really great to be two singers and songwriters, because you have your songs that you sing, and then you can step back and take a breather and play guitar. It's really a great thing. I think the shows can be better. They can be longer, simply for endurance purposes. If I had to sing all those songs myself, there'd be no way! The set would be 20 minutes.
---
---