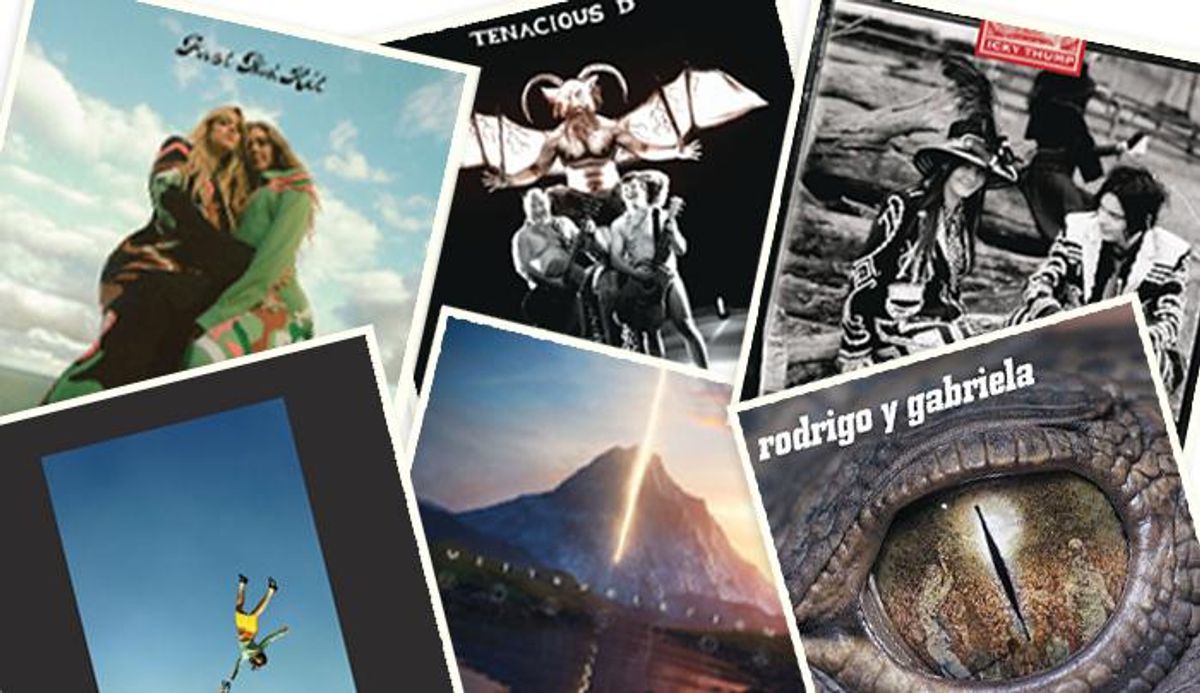 Lilly Hiatt joins us in discussing a couple of our treasured musical couplings. Plus, musical obsessions!
December 2022: Who is your favorite musical duo?
Q: Who is your favorite musical duo
Lilly Hiatt — Guest Picker
Photo by Gregg Roth
A: My fave musical duo is the White Stripes because their sound blows me away. I got to see them at Bonnaroo and was floored by how loud it was, and the crowd being completely mesmerized by the whole experience. Love Meg's drumming, love Jack's guitar and voice.
The White Stripes - Seven Nation Army (Live at Bonnaroo 2007)
Current obsession: Recording at home. My husband and I have made a lot of music in our house. Fun to do so because we can be impulsive and free with what gets put down, as well as crank it up anytime we want to!
Rubén Iván Antonio — Reader of the Month
A: Rodrigo y Gabriela because they are guitar virtuosos and play metal songs in their own acoustic style. A huevo a huevo!!!
Rodrigo y Gabriela - Full Performance (Live on KEXP)
Current obsession: I play rhythm guitar in a metal band with friends I've known for 25 years (and counting). We've played under different names, with different bandmates, and even different genres of metal until we stuck with the name Against the Ropes and started to gain attention. Now, our band is considered the best metal band in town (Reynosa, Mexico), and that gives me so much hope that soon my best friends and I will be playing alongside our favorite bands in festivals and tours.
Against The Ropes - Glass
Tessa Jeffers — Managing Editor
A: I've loved the Swedish duo First Aid Kit since I heard them reference Frank O'Hara in "To a Poet," but the sisters have blossomed into a full-on creative force that can do it all. Their ability to move Emmylou Harris to tears in a tribute performance is testament to their power. Also, a few months ago, I saw Robert Plant and Alison Krauss in concert and felt lucky to witness such magical harmonizing in person. A vocal marriage like peanut butter and jelly: sweet, satiating, timeless.
First Aid Kit - Angel (Glastonbury 2022)
Current obsession: Yeah Yeah Yeahs' Cool It Down and Meg Baird's new single, "Will You Follow Me Home?" I listen to the latter on my chilly late-autumn hikes and feel free.
Meg Baird "Will You Follow Me Home?" (Official Music Video)
John Bohlinger - Nashville Correspondent
A: Black Sabbath, Iron Maiden, and Molly Hatchet all had sex and are proud to announce the birth of their two-headed baby, Tenacious D. Caution: The surgeon general of rock warns that viewing this band is equal to 29 orgasms. The D is undeniably the hardest rocking duo to ever crawl out of hell and ascend to heavenly heights by combining brilliant musicianship with purely poetic lyrics and sublime vocal bliss.
"You Never Give Me Your Money / The End"
Current obsession: There's a lot of talk about "the hand of God" ... but let me be the first to talk about "the thumb of God"—that divine digit lived on Wes Montgomery's right hand.
Wes Montgomery-Four On Six (1965)-Guitarra de Jazz.