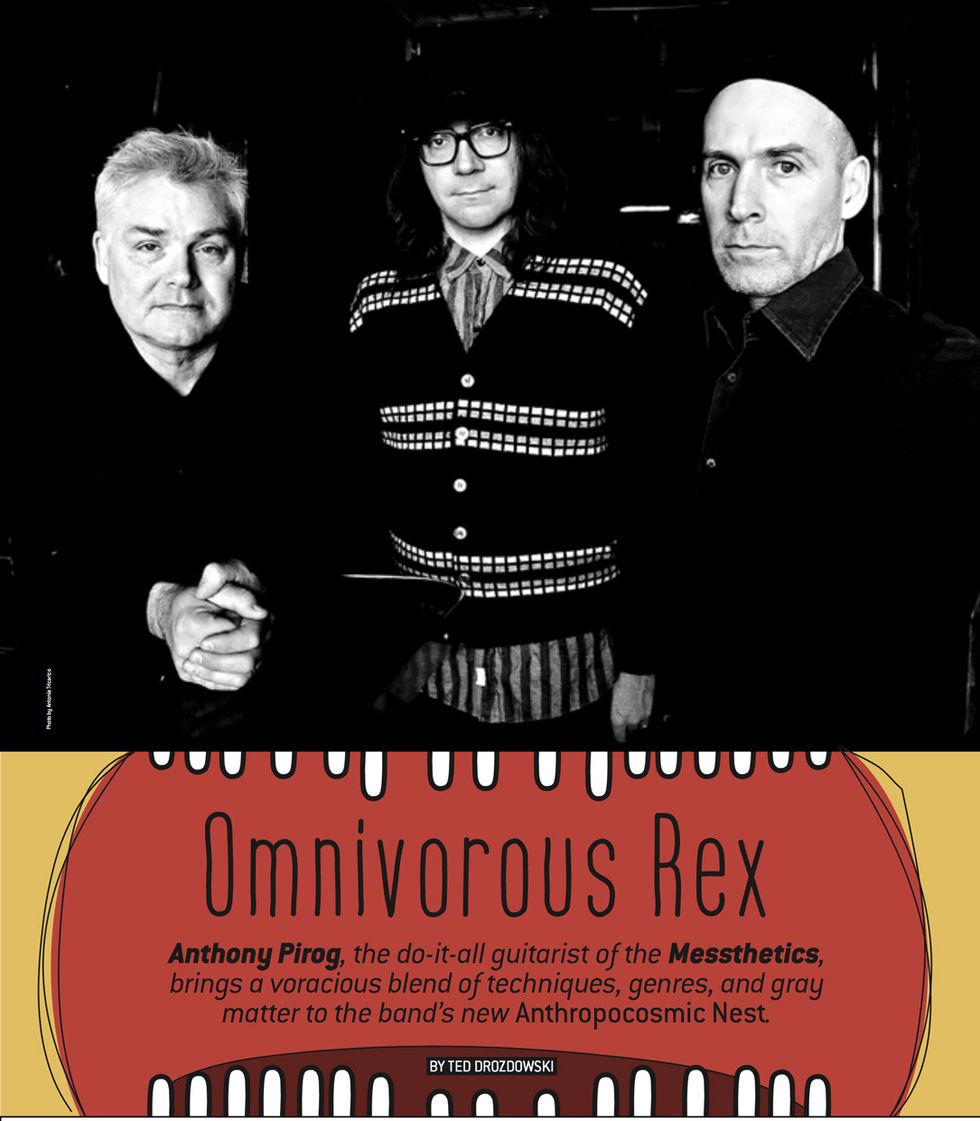 The Messthetics are, from left to right, drummer Brendan Canty, Anthony Pirog, and bassist Joe Lally.
Photo by Antonia Tricarico
There's a famous quote from free-jazz-guitar king-daddy Sonny Sharrock—at least famous among those who know of Sonny: "I've been trying to find a way for the terror and the beauty to live together in one song. I know it's possible."
Anthony Pirog is among the rare guitarists who have found that way, and he's turned it into a feedback loop that transforms and celebrates and expands rock, jazz, blues, folk, country, rockabilly, textural music, and all of the other genres within his massive grasp. He is not merely a chameleonic player, but utterly convincing and authentic. And he accents the beauty over the terror.
At March 2019's Big Ears Festival, an annual feast of the musically outré in Knoxville, Tennessee, Pirog's set with the Messthetics, the instrumental rock trio he co-founded with Fugazi's Joe Lally and Brendan Canty, bridged the past and present with a sweeping display of the sonic, physical, and conceptual. To call their performance magical is nearly an understatement. Pirog effortlessly shifted between melodies that elevated with pastoral beauty or rained hellfire from song to song, sustaining a rich and varied emotional landscape rarely displayed within one band. I imagine seeing the early Mahavishnu Orchestra or the 1973–'74 version of King Crimson provided a similar experience: a visceral and soaring series of modernist tone poems in a unique, collective musical language with rock as its foundation.
The band's 2018 debut, The Messthetics, was just a teaser—but a potent one. It was more bare-boned than the Knoxville concert, where Pirog engaged in all kinds of aural conjuring, but it was also reckless, surprising, and granite tough. With its solid melodies and locomotive rhythms, the album was another kind of bridge—an entry point into the edgy world of the avant garde for fans of more conventional rock.
The new Anthropocosmic Nest expands all of that with even more sonic uplift. From the opening "Better Wings"—which, in an era of less self-conscious radio programming, might be a hit for its ascendant bounty of riffs and melodies—to the last notes of the widescreen "Touch Earth Touch Sky," where Pirog works his amps like Tibetan bells, it is a masterful evolution of the band's dialect. Some tunes, like the rocking "Scrawler," are wholly composed (except for a little noise-burst at the end), while others, like the 42-second mind-scramble "The Assignment," are entirely improvised.
Although Pirog is wildly rad, he's also deeply trad. When he was 9, his family moved to the Washington, D.C. area, where he discovered the music of the region's Telecaster titans Danny Gatton and Roy Buchanan. He was fascinated by their intensity, precision, and invention. Pirog's resulting distillation can be heard on another 2019 album, the ripping roadhouse workout Music from the Anacostia Delta, by the Spellcasters, which also includes fellow D.C.-area Tele champs Joel Harrison and Dave Chappell. And lest dust settle on his picking fingers, https://www.premierguitar.com/articles/27904-rig-rundown-henry-kaisers-five-times-surprise. The band of the same name was assembled by kindred-spirit guitarist Henry Kaiser and includes legendary Dixie Dregs bassist Andy West.
"Technical guitar playing wasn't attractive to me for a long, long time, because I felt like the music was secondary to the technique." Anthony Pirog
Right now, Pirog, who's 39, is busy touring internationally with the Messthetics, but he's also working on a new album in his musical partnership with Janel Leppin, a classical-and-world-music-informed cellist who is also married to Pirog. And there's Skysaw, a prog-rock outfit with Smashing Pumpkins drummer Jimmy Chamberlin, plus a trio with bassist Michael Formanek and drummer Ches Smith. By the time I started writing this story, the prolific Pirog may have started a few more bands. His omnivorous desire for musical immersion is that deep.
Pirog's will to explore the expanding universe of sound, and to push it further toward the stars, starts, logically enough, with Jimi Hendrix. "There are some really experimental short pieces on Axis Bold As Love," he relates. "Even how the record begins, with the spatial sounds panning around. I thought of that as popular guitar playing. Then, when I was 11, the whole grunge thing started, so, listening to the radio, there were noise guitar solos—Sonic Youth, Kurt Cobain's solos on 'In Bloom.' I thought that song had a very beautiful solo: melodic and noisy. So to me, sounds like that were normal because that's what was being presented in popular culture."
Pirog received his first guitar, a '63 Jaguar, from his father, Bob, who played in a surf-rock band. "We'd drive around in his car, listening to the blues, like Sonny Boy Williamson, and doo-wop. Early popular music has very strong melodies—especially doo-wop—and that was a big thing for me.
"I also went to guitar stores with my dad, looking at pedals. I think the first pedal I ever got was the Boss Flanger. Wow! It was just incredible. And then I started practicing and running songs, and while I was running a Led Zeppelin song when I was 12 or 13, I'd try to get the fuzz sound to match. When I was getting into improvisation and jazz, I got really excited when I heard Bill Frisell play with the Paul Motian Trio, because he was using a distortion pedal over rhythm changes, and that was just mind-blowing. Then I was listening to Fred Frith and really liked how he could get into stereo amp setups and routing different chains of effects. After pedals, I started getting deeply into amps.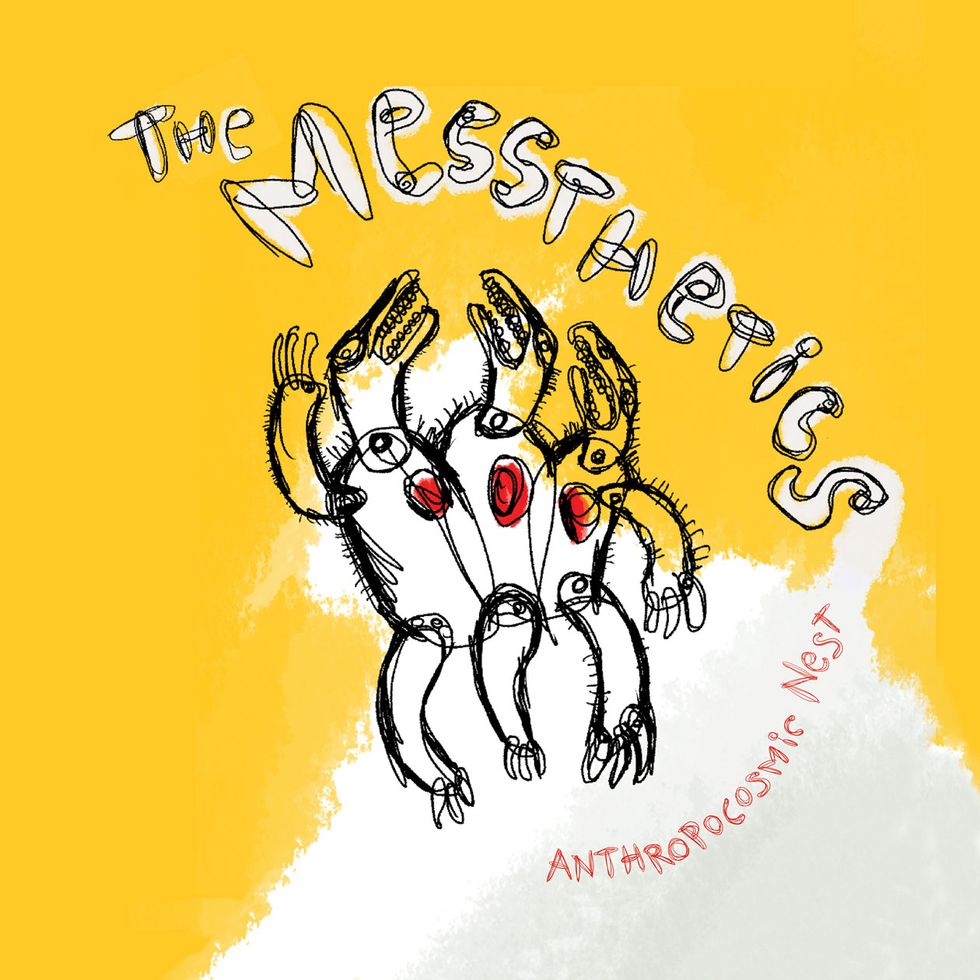 TIDBIT: The new album was recorded in the band's rehearsal space, with drummer Brendan Canty at the controls and the Messthetics playing the core tracks live.
"What else can I say? I was just excited by all the possibilities that the guitar had," Pirog continues. "It was all just mind-blowing. When I went to Berklee, I wanted to learn as much as I could about all these styles, so I could be working constantly. When I got out of school, I was gigging five to seven nights a week around D.C. I'd play a surf show, a rock show, an electronica show, an improvisation performance, jazz, a bar gig. I really love all of those sounds."
Brendan Canty caught Pirog live and was hooked. "It was obvious he had done the work and was really comfortable collaborating with just about anybody," the drumming powerhouse notes. "I've seen him do it on the fly with a harp, a West African band, a noise artist, Tele jazz.… In every setting he made everyone feel like they were going into uncharted territory. I almost immediately began looking for ways to play with him. I shared a bill with Anthony and asked him to work on a soundtrack I made, for a film series by Christoph Green called Burn to Shine."
After Joe Lally moved back to the D.C. area in 2015, Canty took him to one of Pirog's gigs. His first impression? "Fuck, this guy can play!" They also had similarly omnivorous appetites. "Long before the Messthetics came together, my listening shifted into Brazilian, African, free jazz, and classical, and I thought maybe I can play this someday, since I enjoy listening to it," Lally says.
That day came when Pirog asked his new friends, whose work with Fugazi he'd admired since he was in 9th grade, to be his rhythm section for a night. "It was a great pleasure to play with him," Lally recounts. "It was very easy to communicate musically, and I felt like my playing took a major step forward. I was hoping there was a way we were all going to play together again."
So was Canty. "Joe and I had played together for years, so in a certain way our muscle memory kicked in. Anthony though … I imagine everyone feels this way when they play with him. It was just so easy, and suddenly you are playing things that you couldn't imagine playing with anyone else. And the reason for that is he is simply one of the most adaptable and diverse improvisors out there. As we've kept playing, we've gotten better at hearing each other and playing off each other inside the songs. It's become a band—a real band, not a project. We've got each other's backs and are all on the same page in terms of work ethic and sonic ambitions. Stalking Anthony was fun. Seeing him play with Danny Gatton's rhythm section and the great Dave Chappell was amazing, but playing with him is the absolute nazz!"
---