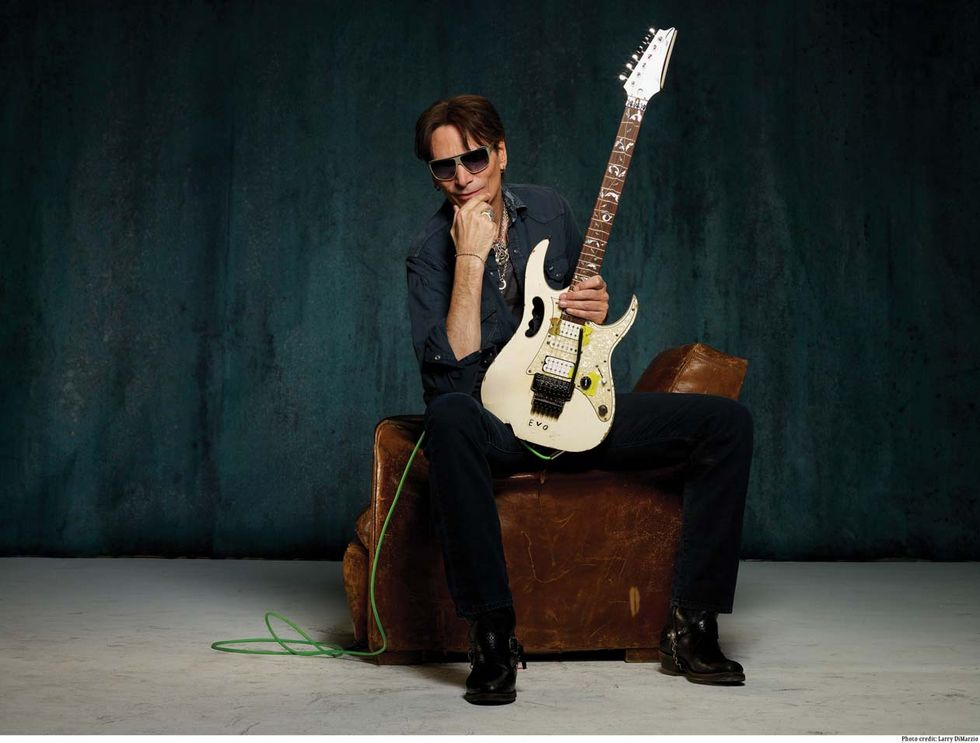 Photo by Larry DiMarzio
Joe Satriani

on Steve Vai
Photo by Joseph Cultice
I've known Steve since he was 12 years old, and over the years he's consistently demonstrated a pure love of music as well as a determination and drive that is awe-inspiring. Just a few months ago, he sent an MP3 to me and a few other guitar buddies just to get some feedback on an epic guitar composition/live performance piece he was working on. As one would expect, it was brilliant, and it blew us all away. In that recording, I could still hear the spirited 12-year-old Steve—so excited to be playing electric guitar, making music, and daring to change the world with his musical visions. His dedication to exploring all avenues of his creative soul has never wavered.
---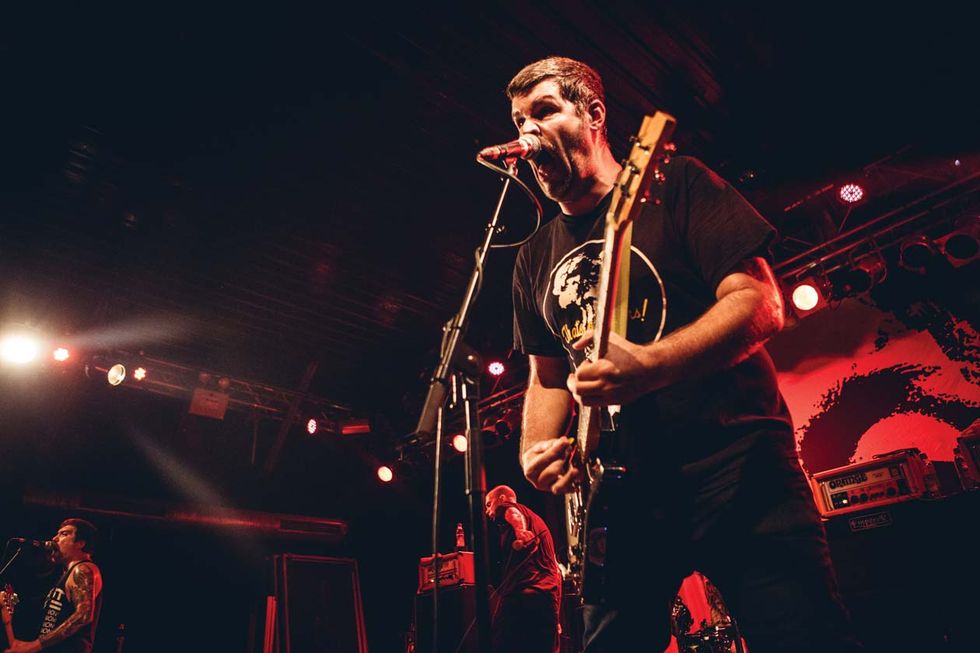 Photo by David Robinson
Baroness' John Baizley

on Converge's Kurt Ballou
Photo courtesy of Abraxan Hymns
I look up to and admire almost all of my peers, as I feel they are generally superior players to me. I've learned much from the bands Baroness has toured and worked alongside. But if I have to choose one at the moment, I'll choose Kurt Ballou from Converge. When so much guitar territory has been covered and perfected by earlier generations, I reserve my appreciation for the outsiders: those rare guitarists who manage to give life to sounds and styles as-yet unheard. To watch Kurt perform is to see a guitar used to its fullest capacity. Kurt's feel for his instrument is a thing of beauty. He wields dissonance as if it were melody, he has an encyclopedic understanding of the infinite nuances of noise, and an adventurous heart when it comes to tone. Additionally, his control and technique have that enviable quality of seeming entirely effortless. I consider Kurt a model guitarist for the modern era—a musician with an inspired approach to playing, mind-bending quality and consistency of output, and impressive ambition and dedication to his craft. He's a truly creative player/songwriter. When we look back at the musical history of the first two decades of the 21st century, I expect Kurt Ballou will have achieved a historic place among the great guitarists of this era.
---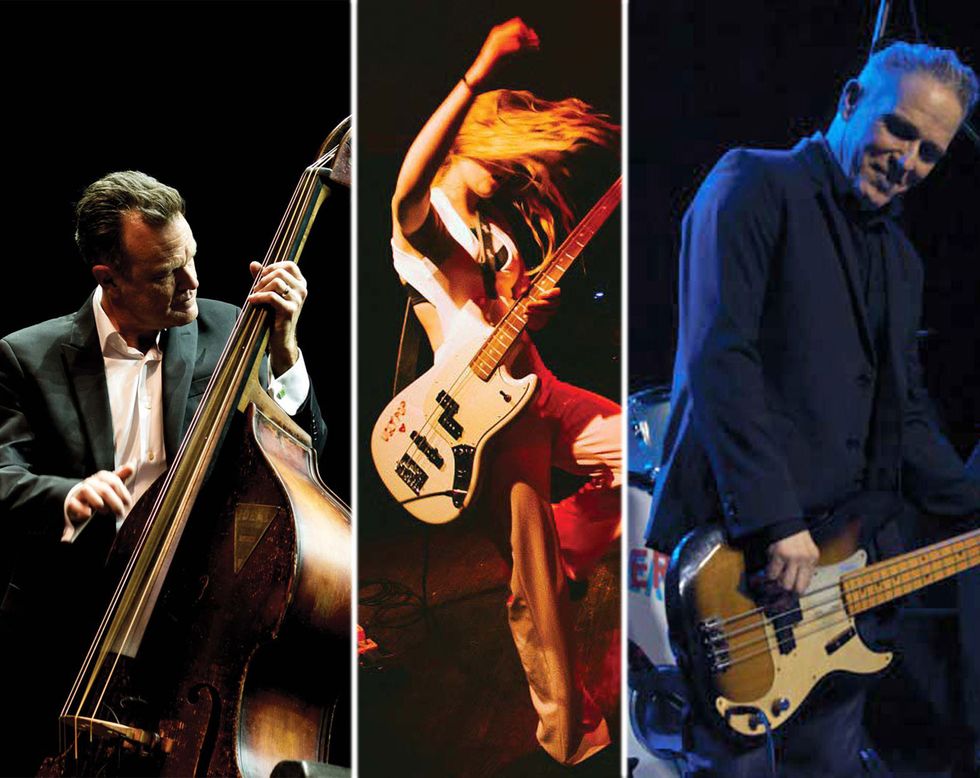 Photos by Janis Tillerson (left) and Chris Sikich (middle)
X's John Doe

on Kevin Smith, Kelli Mayo, and John Bazz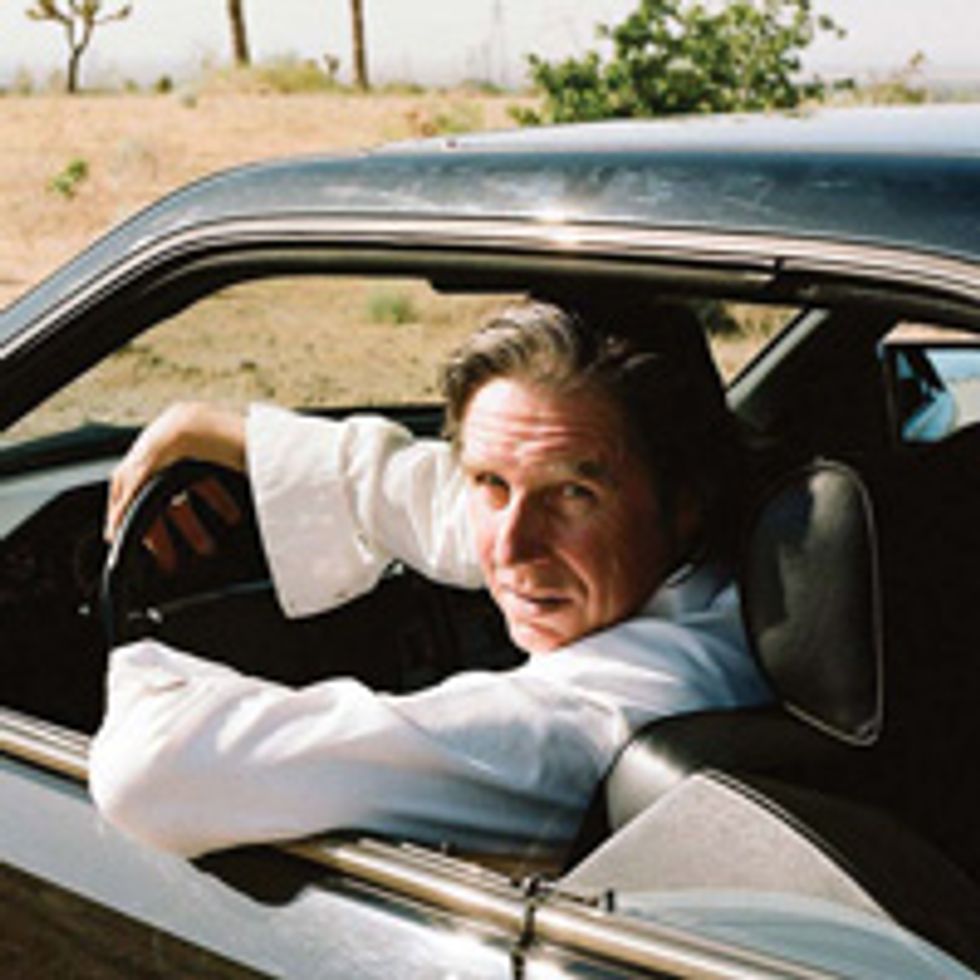 Photo by Autumn De Wilde
Three favorite bass players come to mind. Kevin Smith tours with Willie Nelson, and I've had the pleasure of working with him over the last few years. He has melody, precision, style, and power on the upright. The upright is a beast, but Kevin handles it like he was born to. He can slap with the best but doesn't need to do it all the time, thank you. He knows music old and new and loves to turn you on to something you might not have heard.
Kelli Mayo from Skating Polly only uses three strings on her custom Fender, but that's all she needs. She follows the punk-rock ethos where anything is possible. I truly love her fearlessness and innovation. I play chords on electric bass and she does, too—maybe that's why I like her.
John Bazz from the Blasters is an old friend and contemporary, but every time I see him play, I want to be him. He simplygets it. He finds new ways to say something in rock 'n' roll or roots music that may have already been said. I don't know any other bass player who has broken two strings in a night playing with his fingers and mounted a bottle opener on his P bass.
---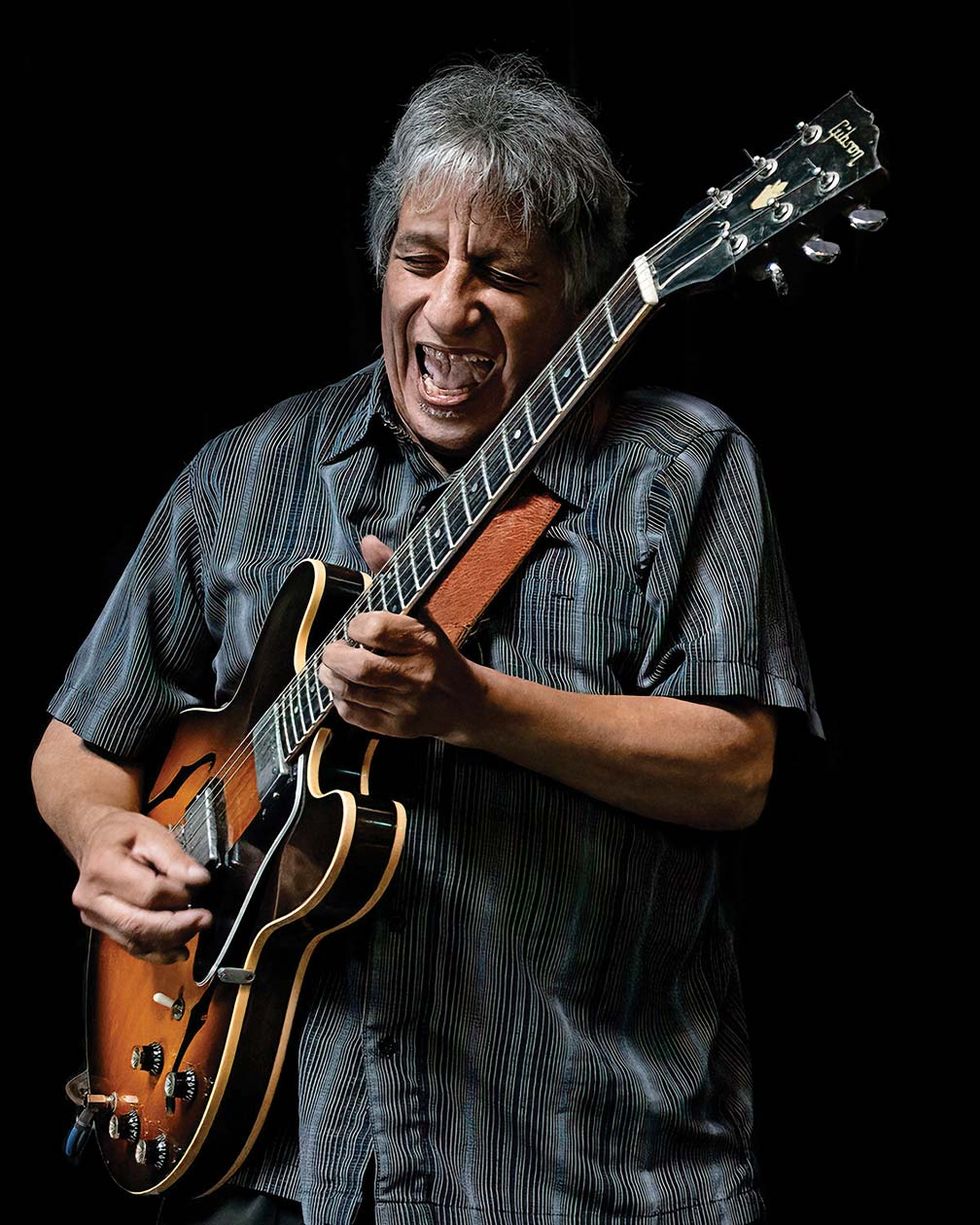 Photo by Bob Hakins
Kirk Fletcher

on Chris Cain
Photo by Jonathan Ellis
What do you get when you mix Ray Charles, Albert King, B.B. King, early Robben Ford, and the California Bay Area? A small taste of Mr. Chris Cain—a virtuoso guitarist, soulful singer, and wonderful songwriter. Chris has forgotten more guitar than most guitarists know. Seeing Chris live makes you feel good about being alive, inspires you to practice, or maybe even toss your guitar out the window.
I saw Chris the first time when I was 19 at B.B. King's Blues Club in Universal City. I played in the opening band, and I remember him being so nice and paying me a compliment. I had no idea what I was about to witness. Chris took the stage and my life was never the same again. I was heavily into Larry Carlton and Robben Ford, as well as B.B. King and Albert King. I viewed those as two different worlds until I heard Chris. He's not a copy of these guys but created his own signature. I think one of the big things is his effortless fluidity and horn-like phrasing. And the sweetest bends in the business. As a performer he is just top notch. His wit and sense of humor makes you forget about this crazy world.
---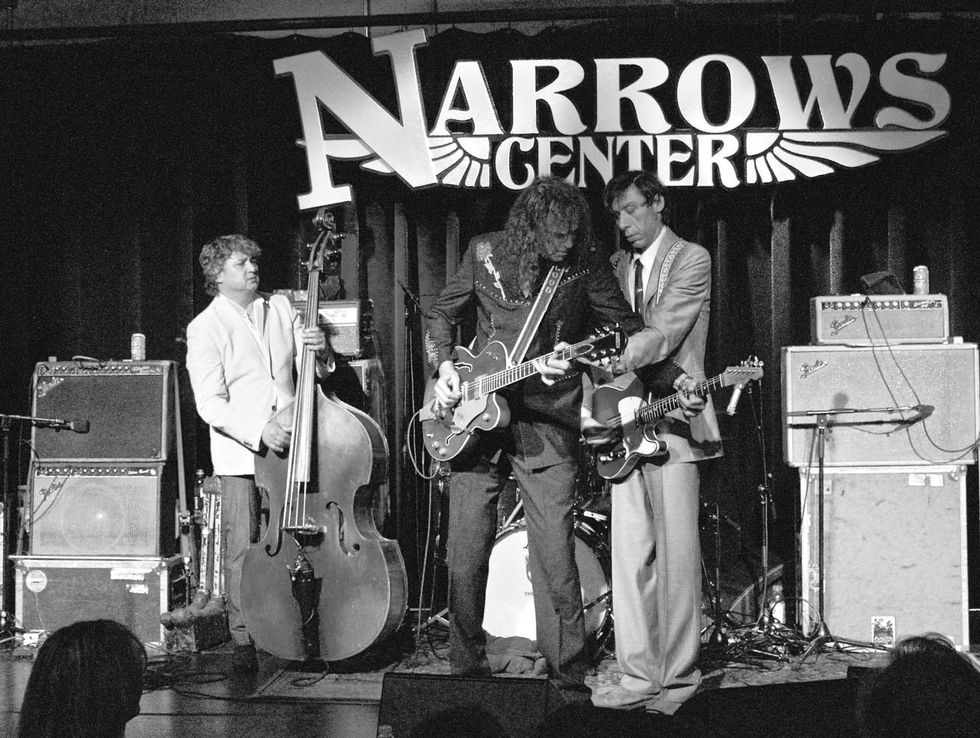 Photo by Linda Harvey
Kurt Vile

on Dallas and Travis Good
Photo by Jo Mccaughey
Among my contemporaries, if I were to pick one, it's actually a package deal. It's Dallas and Travis Good from the Sadies. They play guitar together sort of like the way the Louvin Brothers harmonized together. They're real brothers, and it's just in their blood. The Good Brothers is the name of their dad's band—the Grateful Dead helped put out their first album—and one of his best friends is Gordon Lightfoot.
Dallas is the psychedelic one, and Travis, the older one, is very traditional. A show-stopping trick is that they can grab each other's guitars and play each other's frets. Dallas, the more psychedelic one, is like a brother to me, if my brother was the same age and we weren't twins. Whereas Travis is definitely like the older brother that you truly look up to because it's just unbelievable how much soul and speed he has. He plays a Gretsch-style with the Bigsby. It just pours through them both.
They've backed up everyone from Neil Young to Neko Case. We've worked together and we plan to work together more. They are the realest things out there today. They do plenty of contemporary guitar things, but I feel like they're just not affected or altered whatsoever by the modern age, which is what I try to do as well. So, it's just traditional but not like retro or pastiche, either, because they're influenced by things like punk and the Gun Club, and modern things as well. They're influenced by their surroundings, but I feel like a lot of music is affected by computers. It's very hard not to be. Their shows are just unbelievable to see, it's beautiful.
I'm inspired and I'm also influenced by them. I take some things from them. Their music gives me chills, in the same way that draws you to your favorite bands and records. Whatever punches you in the gut … somewhere between the guts and the heart, or both—their music does all those things.
---