Arthur Channel's Jon Greene, Lyle Workman & Alain Johannes: Silver-Screen Dream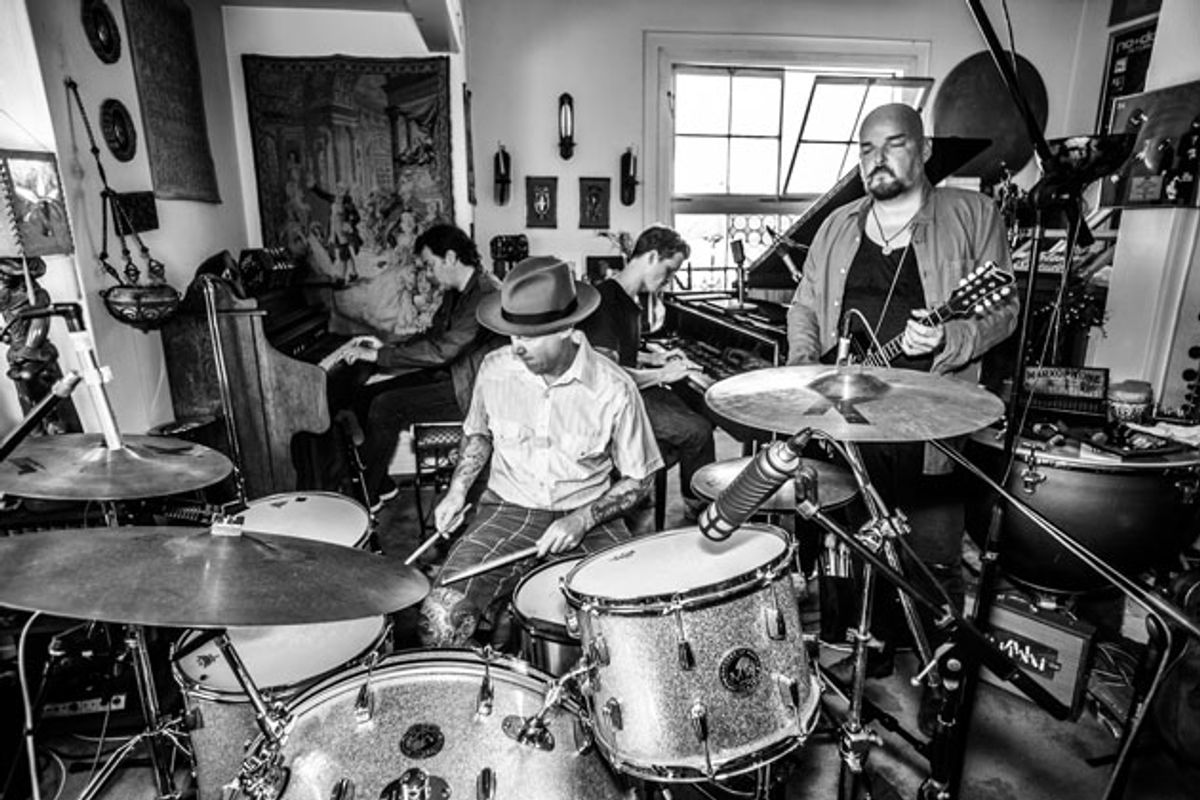 Photo by Tamarind Free Jones.
Ex-Chili Pepper drummer Jack Irons, Beck sideman Lyle Workman, Wallflowers bassist Greg Richling, and Alain Johannes team with singer/guitarist Jon Greene for a project right out of the movies.
It's the stuff of Hollywood. Well, almost. If rookie singer/guitarist Jon Greene's true-life story about forming Arthur Channel with a bunch of rock 'n' roll veterans were adapted to the silver screen, big-studio scriptwriters would have them racking up Top 40 hits, performing on all the late-night TV shows, and laughing all the way to the bank.
But it's unlikely that Arthur Channel's nine hauntingly atmospheric tunes full of velvety, warbling vocals, complex chord shapes, and trippy, neo-Holdsworthian guitar solos would get that kind of play in today's pop-oriented industry.
Greene's lucky-demo-tape tale is more like a down-to-earth indie film—but it's still pretty freakin' rad. It goes something like this: In 2009, Greene, a 31-year-old from Wales, Massachusetts, moved to Los Angeles with his band, Nude Black Glass, to give the whole rock-star dream thing a go.
Only the rest of his band never showed up. They all chickened out. Flaked.
"My initial impression was that Jon's voice contains a lot of originality, strength, emotion, and loftiness that you rarely find. Then I realized he could write these incredibly poetic lyrics that fit seamlessly along with his very unique style of guitar playing."
—ex-Wallflowers bassist Greg Richling

Greene had no band and no Cali connections—or so he thought until one day about a year later when he was catching up with a friend from back East. "We were talking about music, and I mentioned I'd just moved to L.A.," Greene recalls. "He said, 'Why don't you get in touch with my friend who lives there? This guy is a professional musician.' I was, like, 'Oh, cool. What's his name?'"
It turned out that this musician was ex-Pearl Jam drummer and founding Chili Pepper Jack Irons.
Back to the Woodshed
Armed with Irons' contact info, Greene knew he'd only have one shot at making anything of it. To keep the money coming in, he moved to Northern California to work as an arborist, and in his spare time he wrote a fresh batch of songs. "When I came back to L.A. about four months later, I finally got up the nerve to contact Jack," he says. At the drummer's request, Greene sent three demos. "He called me back that day or the next and said, 'Hey, let's get together.' I thought, 'Holy shit—all right!'"
Irons had just tracked drums for Jakob Dylan on the Wallflowers' 2012 album, Glad All Over, and during the sessions he'd hatched a plan with longtime Wallflowers bassist Greg Richling. "Greg and I had previously talked about working together, and maybe with an up-and-coming singer-songwriter," explains Irons. "So Jon and I put this out there to Greg and he dug it. About a month or so after first meeting with Jon, we all got together and started the process of the band and working on more tunes."
At that point, Greene had been playing guitar since seventh grade—but in bands he'd always focused exclusively on vocals and used the 6-string solely for songwriting. Style-wise, he's a big fan of quirky indie rock—the Mars Volta and Karate are major influences—but the tunes he'd worked up for Irons were much more straight ahead, just acoustic guitar and vocals. "They were so minimal," Greene explains. "I was really trying to write ... not pop songs, but things with nice melodies and vocal turnarounds."
The songs that ended up on Arthur Channel's eponymous debut—including those from the original demos—are a far cry from the mellow versions Greene penned whilst among the sequoias of NorCal. For starters, Greene—who says of his guitar skills, "I was just kind of amateurish"—had to put down the Martin acoustic he was most accustomed to and get used to the Rickenbacker 360 loaned to him by a friend of Richling.
One gets the feeling Greene is being modest about his guitar abilities, though. His rich, unusual chord constructions were integral to the unique songwriting style that opened doors for him. Though the band did recruit a second guitarist to fill out the sound, Greene's guitar work is the foundation of the songs and translates wonderfully to electric. "He has this amazing ability to pick out harmonically interesting chord choices that are not the obvious places to go," says Richling.
Greene attributes this to life-changing advice he got from a high school friend. "I was kind of in barre-chord mode," he says, "and then a friend of mine named Daniel Lafleur, who is a very, very talented singer-songwriter, was like, 'Just put your fingers all over the guitar. Make up chords—just land somewhere, make up a chord, and put a bunch of them together and see what comes out.' That just expanded my view of the guitar and what you could do."

Jon Greene's Rickenbacker and Vox combo.
Richling is as effusive in his praise of Greene's voice as he is of his playing. "My initial impression was that Jon's voice contains a lot of originality, strength, emotion, and loftiness that you rarely find. Then I realized he could write these incredibly poetic lyrics that fit seamlessly along with his very unique style of guitar playing." Even so, Greene did have to revamp his vocal approach to the constantly shifting, oft-bombastic interplay in Arthur Channel's rhythm section.
"I had to push my vocals to stay on top of everything," says Greene. "I had an idea of what the drums would sound like, but literally, on every song that we did, Jack completely changed that. I had a really simple-minded approach to everything. And the way those guys play so dynamically together completely changed things. It brought everything from two-dimensional to three-dimensional for me."
As for the guitar tracks—all of which were recorded live with Richling and Irons—Greene is frank: "I was really forced to step it up and learn that instrument well and get on the ride with these guys. They had a pretty high standard, and for a good while I was pretty intimidated by that.
"We were recording the demo of 'We Are in It,' and Jack was playing the backing guitar and was like, 'See—your guitar is out right there. You've got to redo that part,'" Greene says. "I remember being so aggravated and confused, because I just didn't get what I was doing wrong. There were many humbling experiences like that.
"I was really forced to step it up and learn that instrument well and get on the ride with these guys," says Jon Greene. "They had a pretty high standard, and for a good while
I was pretty intimidated by that."

I realized how to play well with a drummer and play in a pocket and listen to everything going on instead of kind of, as Greg would say, 'high-schooling it,' or speeding through the songs without paying attention to what everybody else is doing. I feel like I've learned 10 years of really great lessons in a very short period of time.But I got more comfortable and confident with it, and they were super supportive of me going through and figuring out my sound."
Session Superpowers
To get the tones that are the framework for Arthur Channel, Greene favored a Telecaster and the aforementioned borrowed Rickenbacker—which he loved so much he purchased an identical model. His amps included a custom, Eminence Legend-equipped Aric Audio 18-watt combo made from 1960s Hammond organ parts, and a '67 Fender Bandmaster head driving an Avatar cab loaded with two Celestions.
"When I was in sixth grade, my best friend at the time came back from Boston, where he'd been visiting his grandmother, and he had this giant cab with four 12s in it and this Fender Bandmaster head. They found it in Boston on the side of the road. Somebody was throwing it out because it wasn't working right. I didn't really know much about amps, but I was interested. So I saved up a little money and ended up buying the head and the cab off of him for $180.It sat in my bedroom for years, and then about five years ago I ended up having the whole thing rewired.A resistor was blown out, and one of the tubes was blown, and that was it." Greene is also a big fan of the Vox AC15 Hand-Wired combo. His only effects for the album were a Boss BD-2 Blues Driver, a Boss CS-3 Compression Sustainer, and occasionally an Electro-Harmonix Holy Grail.
Alain Johannes—whose 6-string and multi-instrumental prowess has been tapped by the likes of Queens of the Stone Age, Arctic Monkeys, Chris Cornell, and Dave Grohl's Sound City Players—was the first name to come up for a supporting guitar role.
Jon Greene's custom amp.
Prior commitments prevented his immediate involvement, but Johannes ended up mixing the album and playing guitar on the album's most driving number, "New Life."
To get the frenetic rotary-speaker effect that powers that tune, Johannes played his '70s Fender Jazzmaster into an Electro-Harmonix Stereo Pulsar tremolo and a Homebrew Electronics Germania driving a Supro Tremolectric and a Fender Twin. He miked them with a Sontronics Sigma ribbon mic and a vintage Telefunken mic feeding a pair of Neve 1080 preamps. "I must admit, I'd been listening to a lot of Neil Young," he says. "I love that slightly unhinged, on-the-edge feeling." Johannes also sometimes used an EBow on a fretless guitar strung with flatwounds to simulate cello and violin sounds.
The remaining lead-guitar duties were handled by Lyle Workman, a prolific session player whose credits include stints with Sting, Beck, and Todd Rundgren, as well as soundtrack work for films such as The 40-Year-Old Virgin, Get Him to the Greek, and Superbad.
"Greg and I went over to Lyle's house, and a lot of the songs were done literally on the first or second take," says Greene. "He just heard the song and said, 'All right, let me take a couple of runs at it.' It was just amazing. He started with [album-opener] 'Vapor,' and I remember Lyle asking, 'So, what are you looking for on these?' Greg was, like, 'Frank Black and the Catholics,' and then Lyle threw down these crazy-ass leads—I had no idea where they came from."
Of the angular, Allan Holdsworth-like leads in the otherwise more accessible opening track "Vapor," Greene says, "I appreciated it, but I didn't really know if it fit. I was a little concerned. Greg was like, 'Dude, just trust me.
"I realized how to play well with a drummer and play in a pocket and listen to everything going on instead of kind of, as Greg would say, 'high-schooling it,' or speeding through the songs without paying attention to what everybody else is doing."
—Jon Greene

When we get this mixed and get it back, it's going to be great.' I had that first-album syndrome, where I was being overly precious about certain things. But then I remembered how much I love the Mars Volta and how out-there Omar [Rodríguez-López] can be with his guitar playing.
I totally appreciate that everybody got to do what they like to do and that the sound took form from everybody's individual ability. It took a little while for me to come to that place, but I'm very glad that I did."
Hollywood Ending?
Given the demand for Channel's various players, it's no surprise the band's future is a little uncertain. "We've been discussing what to do," says Greene. "We definitely want to start getting out and doing shows."
All except Greene are highly sought-after studio and live performers, and Greene has already started another band. But he, Irons, and Richling agree Arthur shouldn't die. "We're going to do some recording soon." And Johannes has signed on as lead guitarist for live dates and any future recordings. "We're going to see what we come up with as a full band instead of me bringing in tunes," Greene explains. Whatever happens, he's got no regrets.
"My cousin—who was the drummer in my old band—called me up and said, 'I just wanna let you know that you're an asshole. You're not even a drummer, and you're in Drum! magazine.' I was like, 'Thanks, man—you happy you didn't come out to L.A.?'"
Lyle Workman Channels Arthur's Leads
Session guitarist and soundtrack composer Lyle Workman's guitar-playing and compositional abilities are such that he's a first-call player for a variety of projects. Many know him for his work on Todd Rundgren's albums Nearly Human and 2nd Wind, but his versatility earns him work with artists as diverse as Michael Bublé, Ziggy Marley, and Shakira—though these days he spends most of his time scoring films. We recently spoke to him about the lead-guitar work he did for Arthur Channel after vocalist/guitarist Jon Greene and bassist Greg Richling brought him the album's basic tracks.
Did you find yourself using a handful of go-to gear to track the Arthur Channel parts?
Yeah. Effects-wise, let's start with the overdrives: I've got the PaulCAudio Tim, the Univox Super-Fuzz, an old Fuzz Face, a reissue Pro Co Rat, and a Skreddy Zero, which is like a Big Muff. Sometimes I just turn the amp up and get the distortion from that.A Boss VB-2 Vibrato is my go-to unit for anything that sounds a little bit wobbly. The Line 6 DL4 delay is kind of a staple—I have to have that. I've got a crazy little Guyatone digital delay for freaky sounds, and I also have a DigiTech Whammy. And I use a bass compressor that I'm just in love with—the EBS MultiComp. A lot of the time, that's on to give me just a little bit of presence and not a whole lot of compression.
What do you like about the EBS versus other compressors?
It has a very nice, warm, robust sound, but it can be subtle. It doesn't thin the sound out. It's got a 3-position switch: tube simulation, midrange bump, and normal. I generally use tube-simulation mode. The preset threshold and ratio work really well with guitar, so you don't have that problem with the popping and clicking sound you get sometimes with other compressors. It's also very simple. When a compressor pedal has four or five knobs on it, it's just too much.
Did you use modelers or plug-ins or the real deal for amp sounds?
I used two Divided by 13s—an FTR 37 and an RSA 23. The 37 is 6V6 driven, and it's my favorite when I want a totally clean swatch to put stuff into, like distortions and overdrives. The 23 has KT88s, and I favor it when I want to get a little bit more overdrive from the amp—for medium- to high-gain stuff. I also used a have a '66 Princeton Reverb that's kind of a go-to clean-swatch amp. It takes pedals well and also has a kind of nice, natural compression.
What were your main guitars?
A '72 Fender Thinline Telecaster, the semi-acoustic one with the two big humbuckers. The pickups are hot. They've got, like, 10k output, but you still get that nice Tele sound—that really springy, steely sound you get from a Tele—but with much more gain. That's one of my main guitars. I also used a Gretsch Duo Jet reissue—one of the Stephen Stern custom shop masterbuilts, with the DeArmond-style pickups.
Is your '72 all stock?
Actually, no. I never really liked the neck on that guitar. It's very narrow, and it shrank over time—it got to the point where the high-E string would be falling off the neck. I cheated by loosening the bolt to sort of kick it one way, but then it would fall off the other side. So I went to Guitar Center and bought a Mexican-made Thinline reissue that had a nice neck. I took it to my guitar tech, Norik Renson, who's been working on my guitars for the last 18 years. He took the finish off, put a slightly different radius on the fretboard, and put new frets on it. It's been there ever since.
What was your initial impression of the Arthur Channel songs when you first heard them?
I really liked them. I thought they were fresh and unique. I liked the tone of Jon's voice. There was something different about the way he wrote songs. The chord structures weren't the typical pop fare. I heard maybe a little bit of Jeff Buckley, who I'm a huge fan of.
Did you collaborate with Jon and Greg on the approach to the leads, or did they pretty much give you free rein?
It was in the free-rein territory—obviously with their input, though. They would chime in if they really liked something or had something they wanted me to try. The thing that was also unique was that they would say, "Go ahead and do a solo here." "What?" I'd say incredulously. "A guitar solo in 2013?" Just about every pop song used to have a guitar solo—verse, chorus, verse, chorus, bridge, solo. But now the guitar solo's gone the way of the doo-wop singer.
There are a lot of layers, textures, and subtleties on this album, and there's a very atmospheric vibe. Was that there before, or were the delay- and reverb-drenched moods something you brought to the table?
That was me, but they also added a lot of that later in the mixing. When they came to me, the meat and potatoes of the tracks were laid down, the rhythm guitar parts, and then I added colors. Like the song "Vapor" starts with a kind of arpeggio—that would be a good indication of the types of parts that Jon laid down, the parts that the songwriter would have written the song to.
How do you approach a typical session where someone brings you songs to augment with guitar parts?
It's hard to pinpoint that process exactly. It's just reacting to what you're hearing. Typically, the people you're working with are careful not to fill your head with too many descriptions and too much information or instructions. They say, "This is what we have. What do you think?" And then it's me saying, "Well, let me try this." I'd just dial up a sound for a part and then either get the yea or the nay.
Do you think about melodic ideas or types of tones first?
I think of technical aspects last. The first things I think of are the melodic aspects—they dictate what the sound should be. For example, I'll hear a line, like a single-note line, in my head. It's not a solo, but maybe a line that happens in the intro and after the chorus, before the vocal comes in. And then, on my pedalboard I've got enough pedals to give me a gamut of distortion or fuzz. As I'm crafting the line, I might say, "This would sound better with this amp, or with this guitar." I have the ability to come up with the idea with my pedalboard and the guitar, but then I refine it if I feel I need to.
What sort of direction did they give you initially?
I think they just wanted to see what my take would be. I just started playing the songs, and we started recording. It sounds like a little bit of a glib answer, but you get to a point in your career where people just want to trust your first impressions of things. That's always the best-case scenario for me, when people let you do that. You end up doing your best work when you just do what you do. So if the casting is right … it's the same way with a movie, sometimes the best directors don't say anything. Woody Allen's supposedly that way. He's notorious for not telling anybody everything. You trust that your players are going to react in a way you like. It's all about the casting.
As an avid session player, how do you deal with it when you're hired for a project where you're not inspired—or are even repelled—by the music?
It's rare to be in love with the music … but it depends on the player and the type of music they like. Some people like the current state of pop music and are fine with it. For us older guys who miss Led Zeppelin and the Who and guitar solos, it's a little more challenging. But you've got to take it all in. I think anybody who can make a living playing music has a huge blessing. If you're playing on a record where you don't really communicate with or love the music but you're getting paid for it, that's a champagne problem. I feel grateful every time I get a call, even after all these years. I feel grateful regardless of what the project is, or what the music is, or whether I like it or not. Also, there's a cool challenge in figuring out how I can make music that I might not purchase myself as good as I can make it and make them happy. The more that you give of yourself to it, the more that you find something within it that you really like.