Photo by Brittany Durdin
The rising guitar star blends classic and psych-rock, Motown, and more influences with modern pop flourishes in songs replete with fat, fuzzy, fizzy tones from her new Epiphone Sheraton signature.
For so many artists, the return of live shows means the return of the thrill of performing, much-needed income, and, in a way, purpose. The third definitely goes for guitarist Emily Wolfe, who, when asked about her goals, immediately responds, "I just want to play arenas every night for the rest of my life. When I go up there, something could hit me at any point—an emotion that I felt 10 years ago could come out in a bend on the low E."
---
As she sharpens her sound, Wolfe is helping to keep the rock genre alive—not by mimicry or séance, but by taking the grit of the past and expanding it with a broader emotional vocabulary, confidently concise guitar work, and pop-inspired arrangements.
Wolfe, who's toured and performed with Gary Clark Jr., the Toadies, Heart, and the Pretenders, doesn't get why people can be so confounded by the third descriptor. "Some of my rock friends say, 'Pop isn't relevant,' and I'm like, 'What are you talking about—it's everywhere!' It's so sticky for people, and that's really fascinating to me. I want my music to have that quality … but also the realness of a raw guitar tone."
Epiphone Exclusive | "No Man" by Emily Wolfe
What's exciting about her latest full-length release, Outlier, is how she captures exactly what she's talking about. The songs bleed like a wounded gunslinger over a silvery backdrop of deftly layered synths, tight vocal harmonies, and blended acoustic and electronic drums. Over the course of the album, she sings, "I just can't get close enough to you," ("Vermillion Park"), "I'm addicted to the broken," ("Never Gonna Learn"), and "I'll chase you 'til my lungs give out," ("My Lungs Give Out"). It's through her adept genre fusion and aching romanticism that Wolfe offers her audience something to connect with that's not just clever, but also powerful.
"An emotion that I felt 10 years ago could come out in a bend on the low E."
Stone Age Methods
Outlier was produced by Michael Shuman, bassist of Queens of the Stone Age, who Wolfe describes as "like, the coolest guy that I've ever seen in my life." It started out as a long-distance project, as she's based in Austin and Shuman is in Los Angeles. They sent demos back and forth before Wolfe went into the studio in the fall of 2020. (She was later joined by bassist Evan Nicholson and drummer Clellan Hyatt.) With Shuman's encouragement, Wolfe set aside perfectionist leanings and took a more adventurous approach to the recording process than she had in the past.
Emily Wolfe's semi-hollow Epiphone signature model, the Sheraton Stealth, is a modern take on John Lee Hooker's longtime favorite, the Sheraton. It has a layered maple body with a mahogany neck, signature inlays, a Tune-o-matic bridge, CTS pots, two volume controls and one tone control, and Epiphone's Alnico Classic PRO pickups.
Photo by Barbara FG
On her 2019 self-titled first album, Wolfe exacted every tone before entering the studio, but this time around, she allowed more room for spontaneity, which made things far more relaxed. "It was easy to get into the flow and be really present," she says. "I think I'll probably do the next record like that because it was a lot more fun." One trick she made use of with engineer Michael Harris involved an MPC (music production center) controller and a few floppy discs of drum samples. Throughout the recording process, the samples were layered on top of the acoustic drums.
But that experimentalism came with some apprehension. "I said to [Shuman], 'How am I going to replicate this sound live?'" Wolfe says. "He was like, 'It doesn't matter, dude, just make the best record you can and figure out the live stuff later.'" Shuman's attitude toward recording contributed to the flexible atmosphere that enabled Wolfe to evolve, but not without some challenges. "There was one instance when, on 'Damage Control,' I didn't have anything prepared [for the solo]," she says, "and he was like, 'Go up to my living room and write something and come back down when you have it.'"
"If I get a new piece of gear, I have to figure out every single part of it before I can really use it."
The Persistence of Pop
On Outlier,Wolfe's ambition was to create a golden blend of classic eras, drawing upon '60s Motown, '70s glam, '80s synth-pop, and '90s grunge to produce something as enduring as those styles. "If you listen to Motown, in the first minute or so, the hook is there. I wanted to bring that in, too," she relates. "There's so much rawness [to classic rock]; the edges are not perfect, but there's a magic in that. There's also the side of modern stuff where the edges are really perfect and very computerized. I wanted to mix those together and see what would happen."
Wolfe believes that modern pop stars are not given enough credit for their work ethic, daring, and conceptual talent. If you doubt that, consider Carly Rae Jepsen, who wrote 200 songs in the course of producing her albums Emotion (2015) and Dedicated (2019). And there's the prolific Ed Sheeran, who in 2015 sold out the 90,000-capacity Wembley Stadium for three nights in a row as a solo act, and Swedish writer and producer Max Martin, who's written 25 No. 1 hits (split among 10 different artists), which is five more than the Beatles have as a band. "I have a theory that Max Martin is an alien. He's in the Illuminati, I swear to God," says Wolfe, laughing.
Emily Wolfe's Gear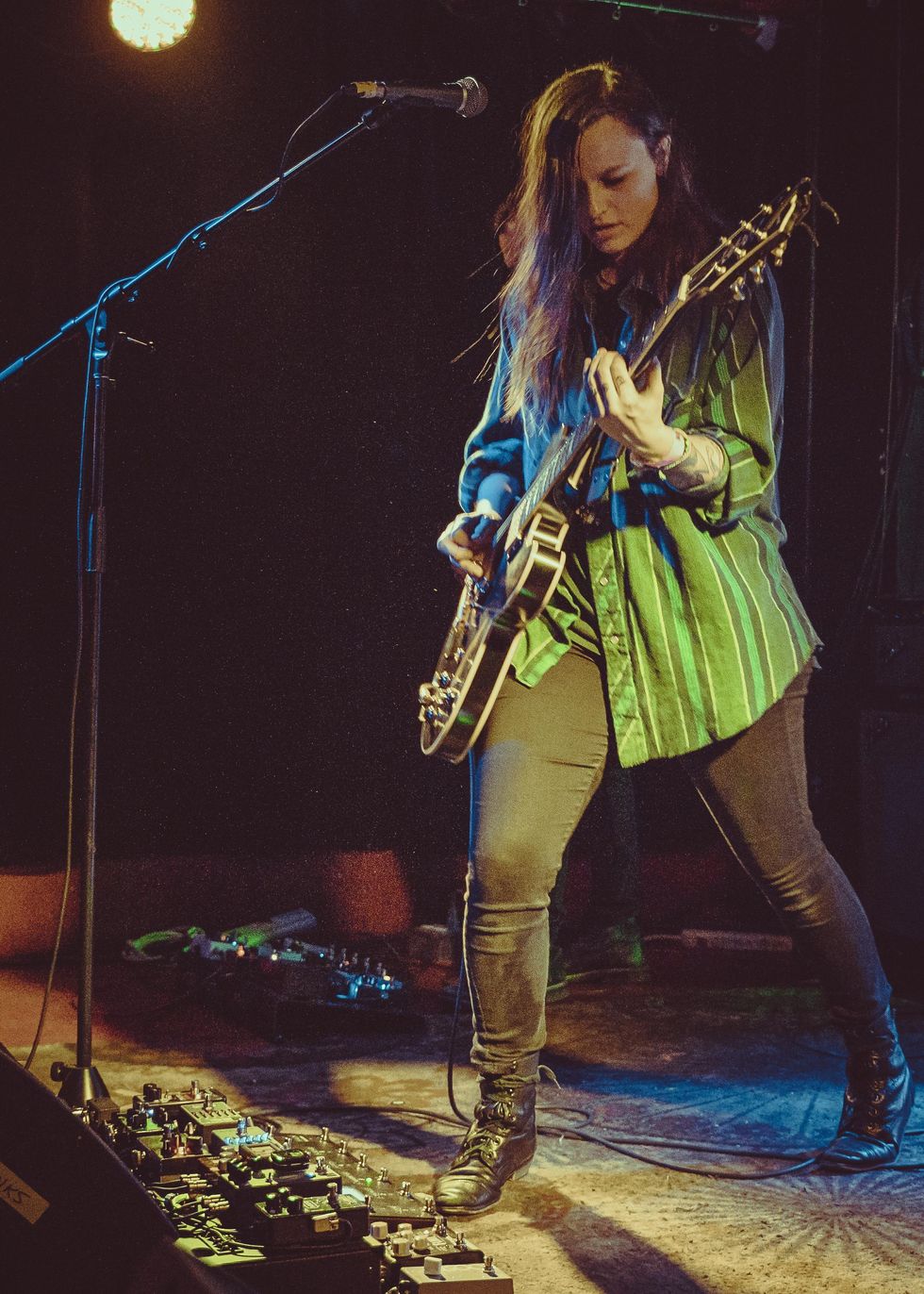 Although she has just two albums, Wolfe' caught here onstage at Cambridge, Massachusetts' Middle East nightclub in November 2021, released three singles and an EP before her first full-length, Emily Wolfe, arrived in 2019. Her new Outlier shows remarkable album-to-album growth.
Photo by Brent Goldman
Guitars
Epiphone Emily Wolfe Sheraton Stealth
2018 Gibson Firebird
Amps
Fender Hot Rod DeVille 4x10
String and Picks
Ernie Ball Slinky Cobalt (.010–.046)
Dunlop Tortex Jazz III .88 mm picks
Effects
RJM Mastermind PBC/10 switcher
Origin Effects Cali76
Dunlop Cry Baby Q Zone
EarthQuaker Devices Tentacle
EarthQuaker Devices Dirt Transmitter
MXR Six Band EQ
Fulltone OCD
Klon KTR
Walrus Audio Julia Analog Chorus
MXR Carbon Copy
Strymon Flint Tremolo and Reverb
Vertex Boost
"The backbone of so much of our industry is pop," she continues, expressing her admiration for artists like Demi Lovato and Ariana Grande, and pop production as a whole. "I try to dive in and analyze: 'How did this producer make this song stick in my head immediately and live in my soul?' If it comes on in a restaurant and I know every word.… I want my music to have that."
An Ear for Overdrive
We mentioned earlier that Wolfe can be exacting when it comes to finding the right tone. She fuels those analytical tendencies with as much gear knowledge as she can imbibe, saying that she feels lost if she doesn't know something about a piece of gear in her palette. "If I get a new piece of gear, I have to figure out every single part of it before I can really use it," she says.
TIDBIT: Wolfe's latest album was produced by Michael Shuman, bassist of Queens of the Stone Age. The guitarist describes Shuman as "like, the coolest guy that I've ever seen in my life," and he encouraged her most adventurous work.
In her spare time, Wolfe explores every pedal she can get her hands on and entertains herself by searching for the perfect combination for her signature sound. She's put together a "desert island board" comprised of three pedals: the EarthQuaker Devices Tentacle analog octave-up pedal, running into a Fulltone OCD, and an MXR Six Band EQ. "That's the sound that belongs to me," she says. The sequence creates a "crazy fuzztone" from the overdrive. Then she uses the EQ to reduce some of the lows and boost the mids for a sound she says will get her guitar to cut through any mix.
She says she never really liked using chorus until she stumbled across the Walrus Audio Julia Analog Chorus/Vibrato pedal. "It's pretty inspiring. 'My Lungs Give Out' was pretty much because of that pedal," she shares. "It kind of wrote the intro for me." The song's gentle vocal and subtle use of the pedal in the intro, followed by her singing paralleled by quietly distorted guitar in the pre-chorus, calls St. Vincent to mind. That's a comparison Wolfe responds to favorably.
Rig Rundown - Emily Wolfe
On top of her signature pedal combination, Wolfe now has a signature guitar. In March, Epiphone debuted the Emily Wolfe Sheraton Stealth, a black, semi-hollowbody electric guitar with diamond-shaped soundholes and gold hardware, set up with two Alnico Classic PRO humbuckers. "The Stealth is my dream guitar and gift to the music community," says Wolfe. "Playing it is like putting on a perfectly worn-in pair of jeans. It just fits. The guitar is the perfect frequency range for my soul." And for her music—from her stinging blues-rock bedrock to the expressionist colors of her newest work. (It was first featured in our Rig Rundown above.)
Melodic Mindfulness
Wolfe was only 5 when she found herself intensely drawn to the guitar after seeing one hanging on the wall at a thrift shop. That instrument became her first. But it wasn't until she was in high school that she fell in love with it, which is also when Wolfe first got into songwriting. Her early creative process involved writing down lyrics by L.A. indie-rockers Rogue Wave, her favorite band at the time, on one side of a page, then writing her own lyrics on the other. "They obviously weren't great," she says, "but over time I sharpened that skill."
Wolfe has a reputation for high-energy shows that bring the bones of her songs and the classic rock and blues foundation of her guitar playing to the fore.
Photo by Brent Goldman
Today, she fosters a kind of spiritual connection with her music. "Whenever I get an idea, I try to nurture it and treat it like this thing that wants to be born, then listen to it and what it wants to be," she says. She remembers that someone once suggested she pray to the song she wants to write, to make sure it comes from her and no one else. This advice made a lasting impression. "I was like, 'Oh shit, okay,'" she laughs. "Sometimes I'm like, all of these artists that have passed away—where did their talent go? Where did their songs go? Maybe they're sending these songs down to other people."
In a more concrete sense, Outlier is a departure from Wolfe's first album, which was slightly more traditional and featured a guitar solo on almost every song. Switching her mental focus to hooks and arrangements breathed new life into her writing. While she still feels proud of her earlier work, Wolfe feels she's headed in the right direction. "I wanted to make something that would be classic 10, 20, 30 years from now," she says. "That was the goal, and I think we achieved it."
Emily Wolfe - Damage Control (live in the studio)
Rhett and Zach unpack the big news for secondhand guitar sellers and buyers: Sweetwater has launched their new Gear Exchange. How does it compare to Reverb, Craigslist, and Marketplace? To find out, Zach takes the site for a spin and buys a pedal. He calls the process both "very easy" and "normal." They discuss the pros and cons of the various used-gear outlets and share tips for not getting got when buying gear. Plus, Zach grew a mustache, Mythos Pedals is moving, and he talks about his forthcoming line of Strat pickups inspired by Hendrix's reverse-stagger setup.
Sweetwater vs. Reverb

To celebrate its 20th anniversary, Xotic Effects unveils an updated version of their classic boost pedal.
Xotic's RC Booster pedal is back to celebrate its 20th anniversary. The RC Booster's original design was a customer favorite due to its versatile clean boost, active treble, bass, gain and volume controls. This classic reissue will join their regular pedal lineup permanently.
Features
• Transparent boost pedal for electric guitar
• Up to 20dB of boost for adding volume or sending your amp into overdrive
• Treble and bass EQ controls with +/-15dB range for fine-tuning your sound
• True bypass switching removes the effect from your signal path when disengaged
• Powered via 9-volt battery or optional AC adapter (sold separately)
• 9-18 volts
The first 1000 pedals will contain a special limited edition packaging with special items and actual guitar picks from Andy Timmons, Paul Jackson Jr, Dean Brown, Kirk Fletcher, Allen Hinds, Chris Duarte, Scott Henderson, Oz Noy, Michael Thompson, Yuya Komoguchi, Toshi Yanagi.
RC Booster with limited edition packaging street price is $172.00. More info: xotic.us.
Expanding on the innovations of Cort's original 8-string multiscale, the KX508 Multi-Scale II features an updated okoume body and a specially designed Fishman Fluence Modern Humbucker.
The KX508 Multi-Scale II is the second iteration of the eight-string KX508, Cort's first multi-scale 8-string guitar introduced in 2020. Like its predecessor, the KX508 Multi-Scale II has a visually stunning poplar burl top in a Mariana Blue Burst finish. Beyond its visual appeal, the poplar burl is an ideal tonal complement to Cort's newly introduced okoume body. Okoume is known for its light weight and ability to improve tonal clarity. It has a tight low-end and highly articulate high-end, which matches the overall sonic characteristics of the KX508 Multi-Scale II. The multi-scale, measuring 26.5 to 28 inches, offers a punchy low end while maintaining a familiar feel and tension on the treble strings, which allows for speedy runs and string-bending. Players have unhindered access to the high frets thanks to the low-scooped heel.

The 5-piece maple and purple heart neck not only provides strength and stability, aided by a spoke nut hotrod truss rod, but a strong and focused sound. The Macassar ebony fingerboard (15.75-inch radius) offers smooth playability along the 24 frets with teardrop inlays. Macassar is an ideal tonewood for high-gain applications because of its ability to cut through a dense mix. At the top of the neck, the 2 7/32-inch nut width (56.5 mm) is surprisingly comfortable for an 8-string guitar and is even suitable for players with smaller hands. The individual hardtail bridge with string-thru-body design results in greatly improved sustain, superb string separation for enhanced articulation, and precise intonation. Deluxe locking machine heads offer reliable tuning as well as easier and quicker string changes.

The Cort Sessions | KX508 Multi Scale II Electric Guitar
MSRP $1699.99 USD

MAP $1199.99 USD
For more information, please visit cortguitars.com.
Kurt Ballou delivers hip throwback looks and riff-ready tones.
Compound fretboard radius. Great blended-pickup sounds. Good low-end clarity. Excellent build quality.
Expensive for a Korea-built instrument.
4.5
4.5
4
3.5
As both an in-demand producer and a member of the hugely influential and long-running Converge, Kurt Ballou has put his sonic fingerprints all over heavy music. In the past few years, he diversified his output and made his way into the instrument business, growing God City Instruments—which shares a name with his Salem, Massachusetts, recording studio—into a unique artist-owned manufacturer of pedals, pickups, DIY PCBs for courageous tinkerers, and guitars and basses.
It's no surprise that Ballou's instruments are designed to deliver the massive tones one would expect from his records. But the visual aesthetic of GCI's instruments includes playfully retro-inspired body styles and bright candy colors. Ballou's newest are the Constructivist guitar and bass. It's a model that looks classic, but not overly so, and feels as solid as the riffs you'll want to head up to Salem and record once you get your hands on one. At $1,749, though, the Constructivist is in a price class with some heavy hitters, which could be hard to live up to for a Korea-built instrument.
Retro Looks and Formidable Function
Like GCI's other offerings—the Craftsman and the Deconstructivist—the Constructivist wouldn't look completely out of place in a '60s Teisco catalog. The cherryburst finish is handsome, and the ash body's German carve feels upscale and classic. The six-saddle hardtail bridge reminds me a little of a vintage Peavey T-60. And like that model—or at least what I remember of one—it's a sturdy, comfortable place to launch a variety of picking attacks.
The Constructivist's bolt-on, roasted-maple neck has a flat-C profile that makes it easy to grip. The satin polyurethane finish is flawless. The playability feels a little stiff right out of the box, but you sense a good breaking-in period would make it feel more personal. The block inlays look good across the bound rosewood fretboard's flat 12" to 16" compound radius, which delivers easily reachable playability.
With a 25 1/2" scale, medium jumbo frets, and set up for standard tuning with a set of .011s (God City instruments typically ship in D-standard tuning), it's a riff-blasting beast. I really clicked with the Constructivist when I jammed on the lower end of its range, where I found lots of resonating sustain at higher gain settings. Venturing up beyond the 12th fret, the compound radius provides a nice, even playing field, though it's not quite as bend friendly as you might suspect.
Creamy, Cutting, and More
Plugged straight into my Deluxe Reverb, GCI's P-90s deliver a fine creamy tone. I was delighted to hear a wide frequency response from both neck and bridge pickups, which both have lower bout on/off sliders that are nice and tight, so there's no chance of accidental switching. But the Constructivist is no bebop machine—as hip as that might be for a guitar that looks like this—and I restricted my clean playing to strums and open-chord arpeggios.
The Constructivist sounds even better with some dirt. I clicked between a couple different boxes—a Klon KTR, an Analog Man King of Tone, and an EHX Ripped Speaker—where I spent most of my time. The bridge pickup cuts while maintaining body. On low-end riffage, I found a twangy clarity, even when dosed with gain. Up top, I did my finest Duane Denison impression in search of scathing sustained clusters, which seem right in line with the GCI's agenda, and they sounded screechy enough to be nasty, but clear enough to hear all the notes.
The neck pickup delivers an articulate clarity that doesn't succumb to swampiness. There's enough brightness in this P-90 to sing through heavy doses of gain. But I spent the bulk of my time with both pickups on, using each volume knob to carve out tones. The dynamic response of these pickups seems to encourage picking subtleties, which illuminates the nuances found in pickup blending. That's something I rarely do on my own guitars, but on the Constructivist, I was able to dial in the sound I wanted, adding body to cutting high-end leads and giving dark power chords a little extra edge.
​The Verdict
It's no big surprise that this guitar is a riff machine. Like much of Ballou's musical work, it's sturdy, sounds heavy, and is aesthetically tight. Maybe that's a fancy way to say if you love his music, it's likely you'll get down with this guitar.
But you'll be paying a hefty price to do so. At $1,749 street, the Constructivist is expensive for a Korea-built instrument. Then again, God City uses a small-batch shop, rather than a large-scale contractor. Additionally, compound fretboard radiuses require care to get right. Plus, the attention to detail on this instrument is noticeable—this isn't something that just left the factory without a good going-over. That said, I'd expect the same quality from any domestic instrument in the same price range. Only time will determine if this is an early indicator of guitar pricing to come, or if the Constructivist is just costly for a Korean import. My gut tells me that, at this price range, it will appeal most to players whose specific tastes really align with Ballou's. But it's still a fun, well-built guitar.