Rig Rundown - Queens of the Stone Age's Troy Van Leeuwen
Guitarist Troy Van Leeuwen chats about his upcoming signature Fender Jazzmaster and his go-to amps and pedals. Plus! Photos of Josh Homme's and bassist Michael Shuman's main gear.
Premier Guitar's Shawn Hammond is on location in Council Bluffs, Iowa, where he sits down for a green-room chat with Queens of the Stone Age guitarist Troy Van Leeuwen before this stop on the band's Like Clockwork tour. Van Leeuwen chats at length about his favorite Vox AC30s, his upcoming signature Fender Jazzmaster, his new Echopark guitar, and his multiple pedalboards.
---
Although bandleader Josh Homme (who's famously elusive when it comes to talking shop about his gear) declined to take part in the Rig Rundown, we did shoot photos of his main guitars and amps (his crew asked us not to show his pedalboard). Pics of Homme's gear, as well as bassist Michael Shuman's main rig, appear after the shots of Van Leeuwen's setup.
Troy Van Leeuwen's Gear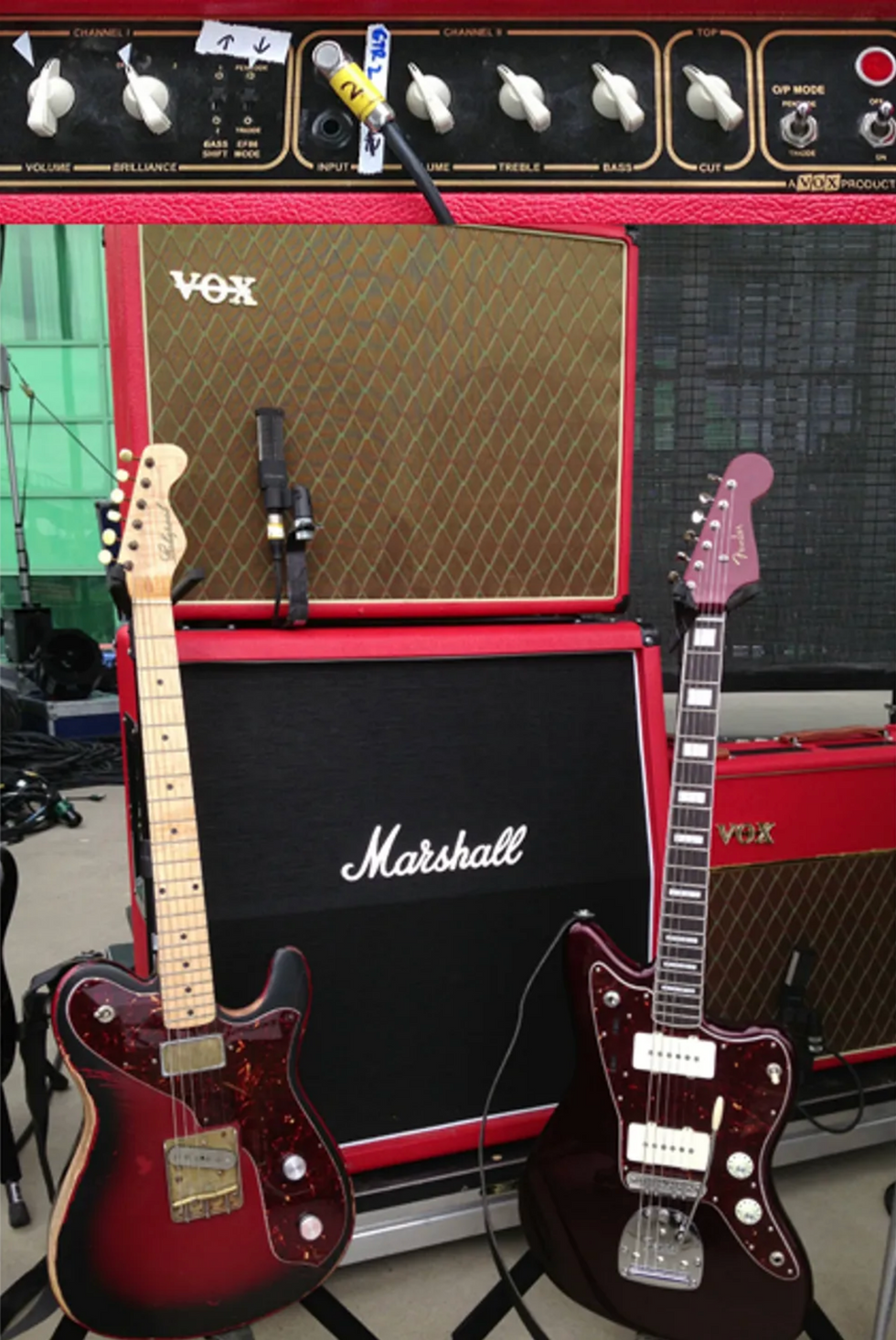 The former Perfect Circle guitarist's QOTSA rig consists of three main guitars—an Echopark T-style, his signature Fender Jazzmaster with a Mastery bridge, and a Burns 12-string (not shown). He plays through two Vox AC30s, a combo and a head driving Vox and Marshall cabs.
Van Leeuwen's Effects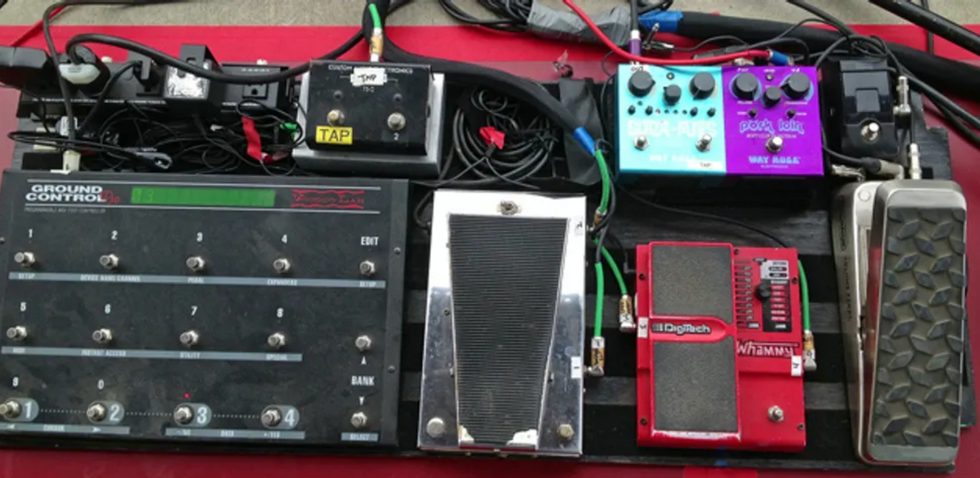 Van Leeuwen's main QOTSA pedalboard has a Voodoo Lab Ground Control Pro MIDI controller, a Custom Audio Electronics tap-tempo switch (for his Axe-Fx II, which is primarily used for reverb and delay), a Morley wah, Way Huge Supa-Puss and Pork Loin stomps, what appears to be a fourth-generation DigiTech Whammy, a Dunlop volume pedal, and a Korg tuner.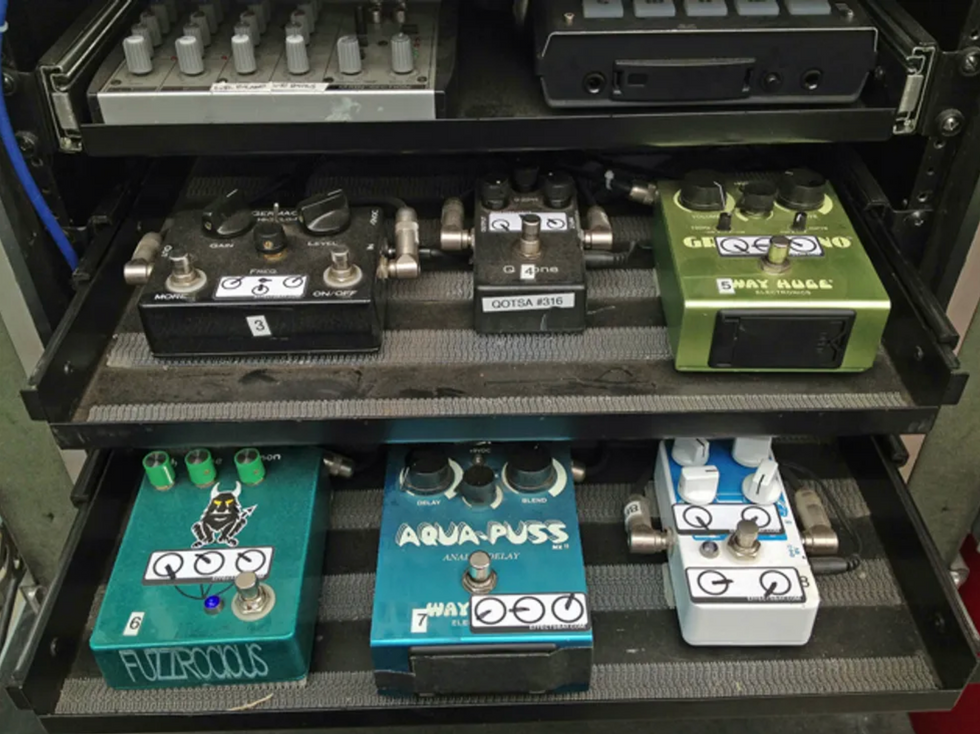 He also has a rack with two drawers holding Way Huge Green Rhino and Aqua-Puss pedals, an EarthQuaker Devices Dispatch Master, a Fuzzrocious Demon, and an MXR Q Zone, among other stomps.
Josh Homme's Gear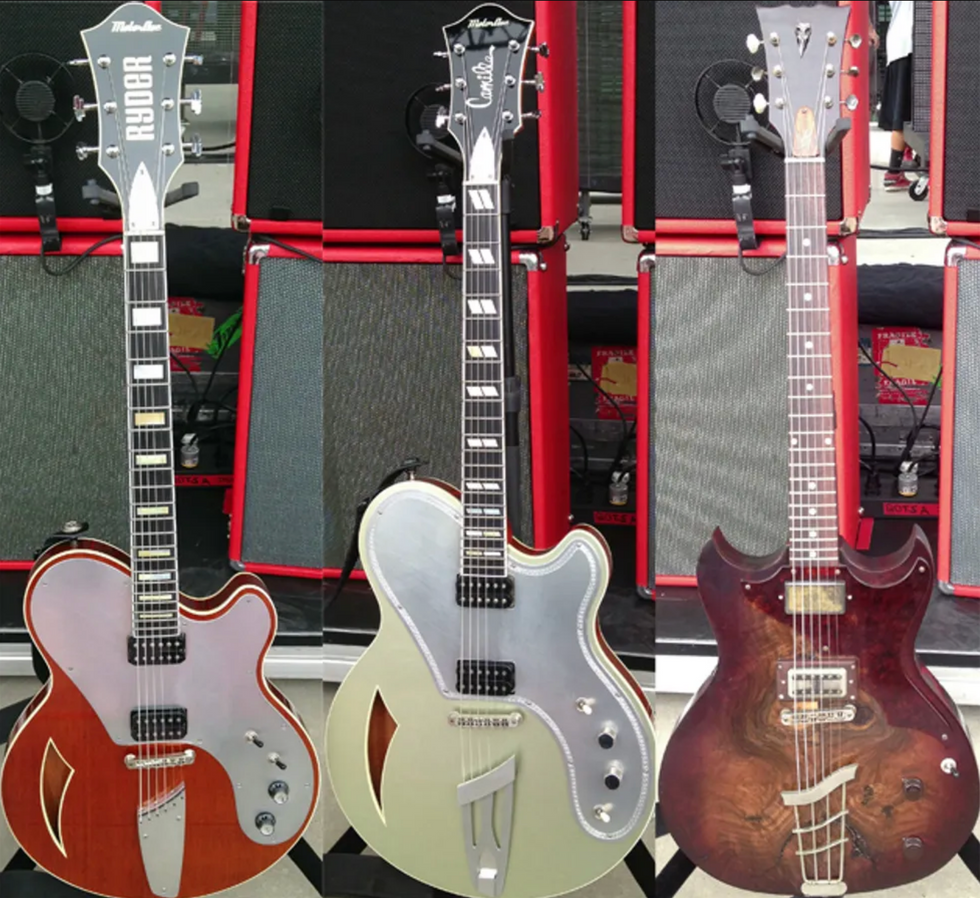 Longtime QOTSA fans will no doubt be bummed, though unsurprised, to hear that Homme didn't take part in our interview—he almost never gives guitar-oriented interviews. We did shoot pics of his guitars and amps, though. His main stage guitar these days is a MotorAve semi-hollowbody nicknamed Ryder. Another MotorAve semi-hollowbody that gets used quite a bit is Camille. He also recently acquired this Echopark guitar that we wrote about here.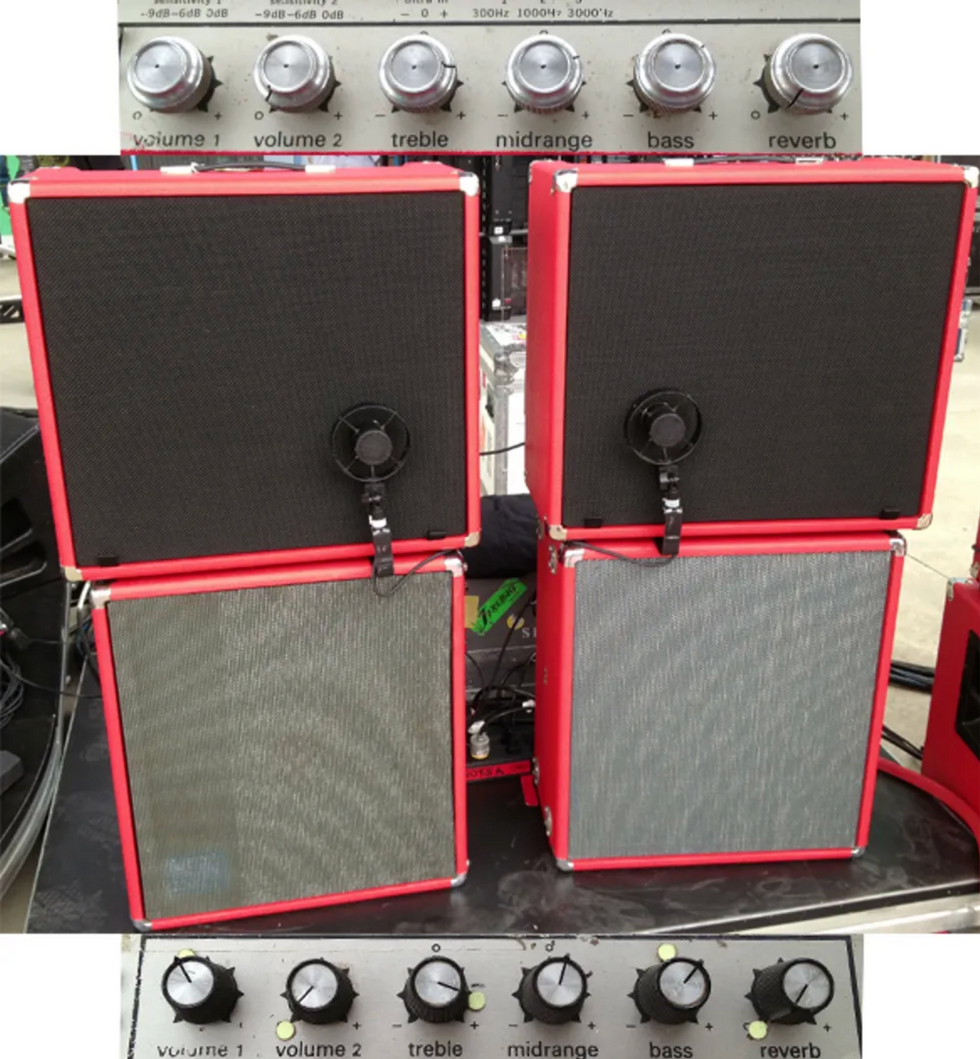 Homme's crew asked us not to show his pedalboard, but to be honest, the old adage about tone being in the hands was largely supported by what we saw: There really wasn't much there that wasn't current-production gear from mainstream manufacturers. We did, however, get a shot of his four vintage Ampeg VT-40 combos, which he connects to via a Little Labs distribution box mounted to the back of one.
Michael Shuman's Gear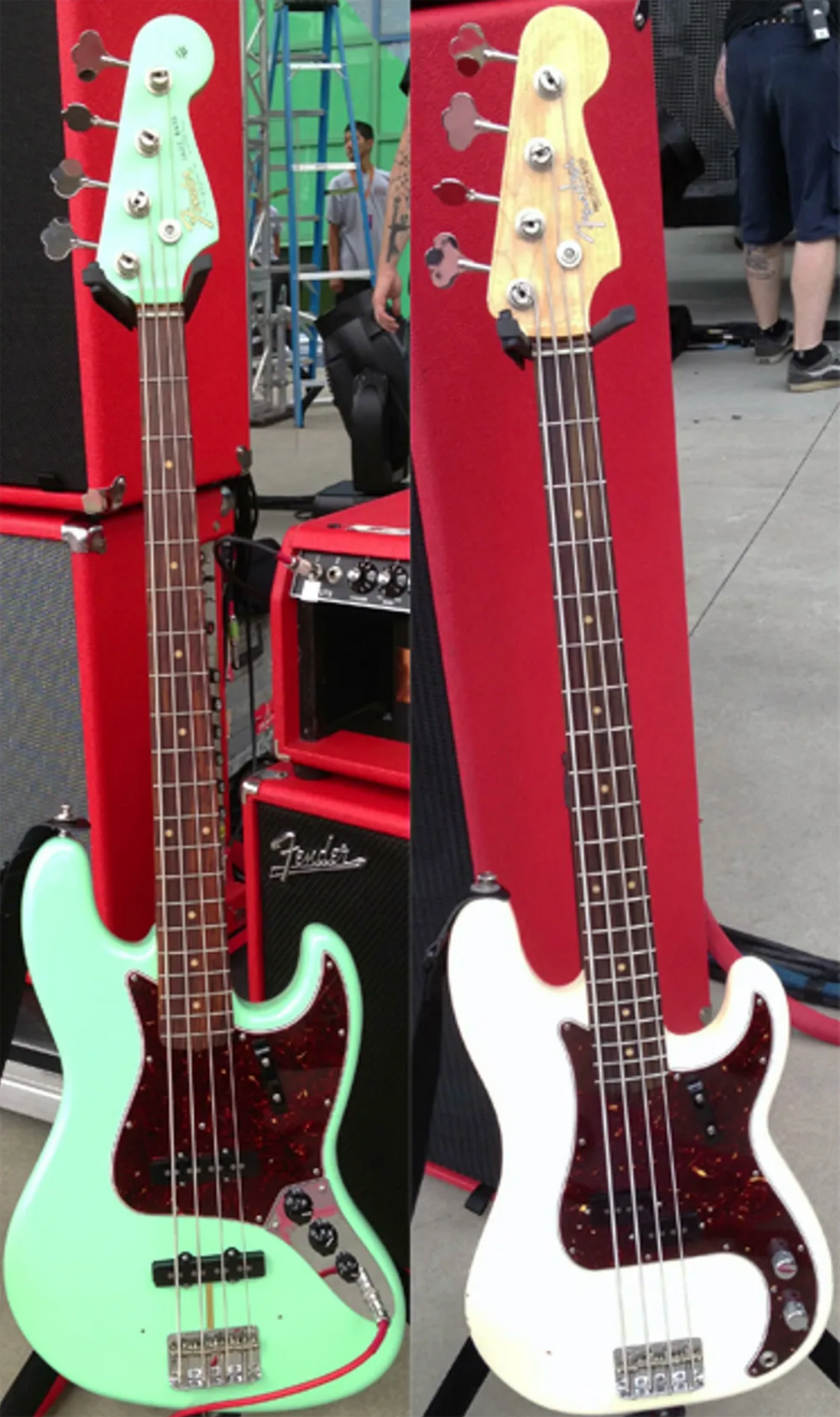 Though we didn't speak to QOTSA bassist Michael Shuman in our Rig Rundown, we did get some shots of his gear. His rig consists of two main basses, Fender American Vintage series J and P basses, each with thin custom finishes and pickups wound to '60s specs.
Shuman's Amps
He cranked through two Fender Super Bassman heads, one driving a 1x15 cab and one driving an 8x10.
Shuman's Effects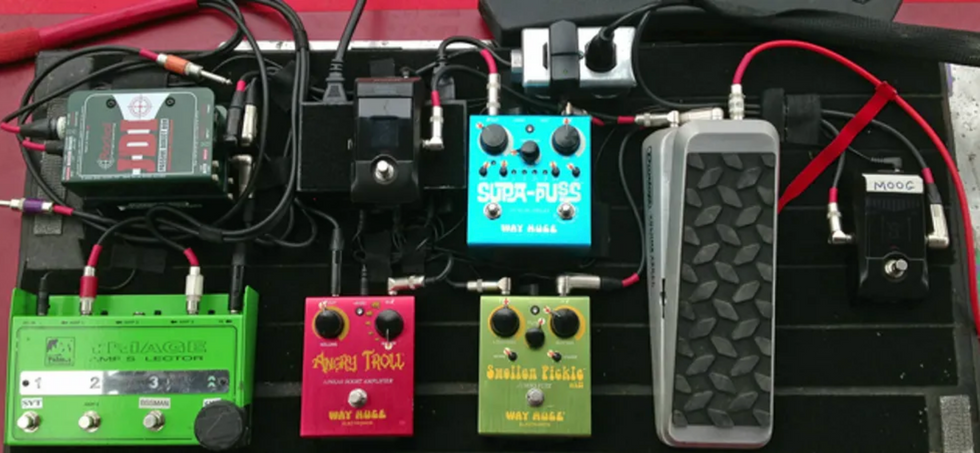 Shuman's pedalboard features a Palmer Triage amp selector, a Radial Engineering JDI direct box, a Korg tuner, three Way Huge stomps—an Angry Troll, a Swollen Pickle, and a Supa-Puss—a Jim Dunlop volume pedal, and a footswitch to activate an offstage Moog unit.
[Updated 10/7/21]