Epiphone Announces the Emily Wolfe Sheraton Stealth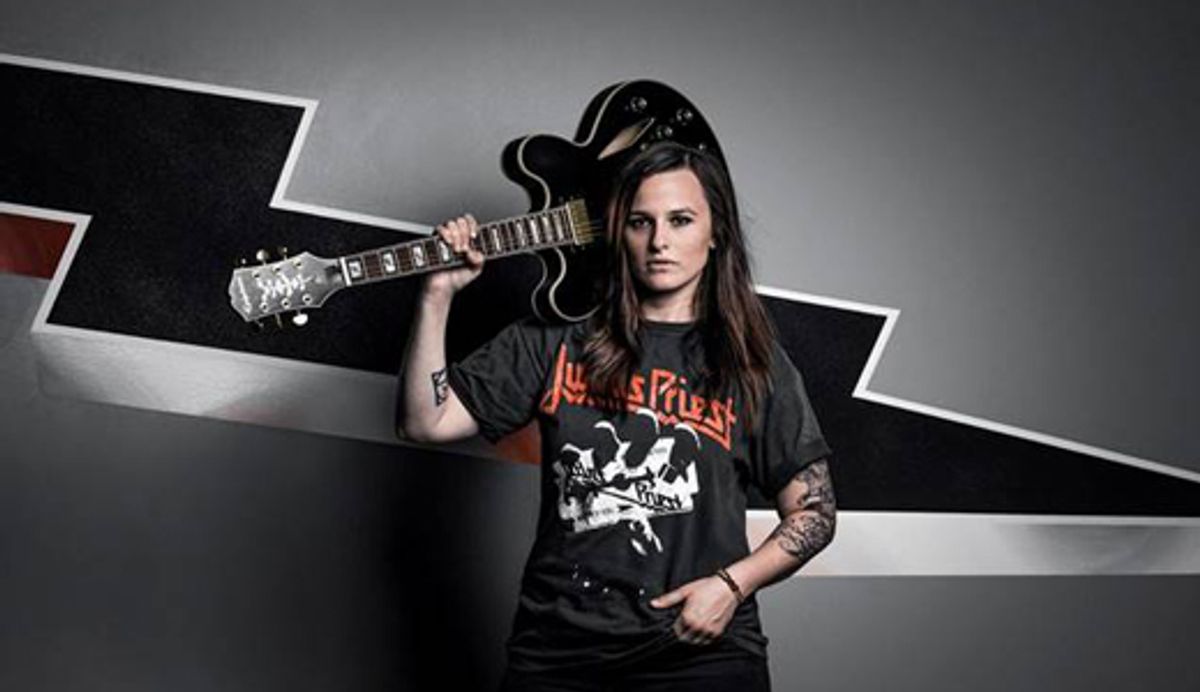 A new signature guitar that features Alnico Classic Pro humbuckers and a LockTone Tune-O-Matic bridge.
Epiphone, the leading accessible guitar brand For Every Stage, presents the new Emily Wolfe Sheraton Stealth electric guitar. The Sheraton Stealth is created by singer-songwriter-guitarist and producer Emily Wolfe and the luthiers at Epiphone in Nashville, TN, and marks Wolfe's first Epiphone signature guitar. The Epiphone Emily Wolfe Sheraton Stealth is available worldwide now at www.epiphone.com.
---
"My Sheraton is more than a guitar, it's an extension of me and somehow has the same magic that a rare vintage instrument has, in that songs flow out of it every day," explains Emily Wolfe. "There's no barrier between my creativity as an artist and the audience because my Sheraton so easily becomes a part of me."
"The Epiphone team is proud to craft and introduce the Emily Wolfe Sheraton Stealth Signature," says Krista Gilley, Brand Director for Epiphone and Kramer. "It's such a thrill to work with Emily, a Texas power-house songwriter and skilled guitarist, who is genuinely passionate about gear and tools that evoke creativity. At Epiphone, it is our obligation to create these types of guitars, and an even greater privilege to do so alongside such a strong female artist."
Emily Wolfe transcends the ranks of ordinary musicians. As a triple-threat rock & roll singer-songwriter-guitarist and producer from Austin, TX, Wolfe is on a mission to breathe new life into classic rock & roll with her incendiary guitar chops and original songwriting. Wolfe's creative songwriting, powerful lead vocals, and dominating guitar style has led her to share stages with Gary Clark Jr, The Struts, The Pretenders, White Reaper, Joan Jett, Catfish and the Bottlemen, and more. A self-taught guitar player starting from the age of 5, Wolfe has honed her craft and continues to take her playing to the next level. Wolfe is preparing to release new music later in the year.
Wolfe lent her creativity and worked with Epiphone luthiers to develop her first-ever signature guitar, the Emily Wolfe Sheraton Stealth. Available in Black Aged Gloss, the Emily Wolfe Sheraton Stealth features an Indian Laurel fingerboard with 22 medium jumbo frets and mother-of-pearl block inlays with abalone lightning bolts. The headstock comes in the popular 60s Kalamazoo shape with Emily's Wolfe logo--a mother of pearl tree of life--inlay on the front, and a black gloss Emily Wolfe "Stealth" signature on the back. The Sheraton Stealth is outfitted with Grover Rotomatic tuning machines and a GraphTech nut, an Epiphone LockTone Tune-O-Matic bridge and Stop Bar tailpiece hold down the other end of the strings and contribute to the impressive sustain of the instrument. The electronics include full-sized Epiphone Alnico Classic PRO humbucker pickups that are paired with CTS potentiometers for smooth control over individual pickup volume and overall tone.
For more information:
Epiphone