The Megalife of Megadeth's Dave Mustaine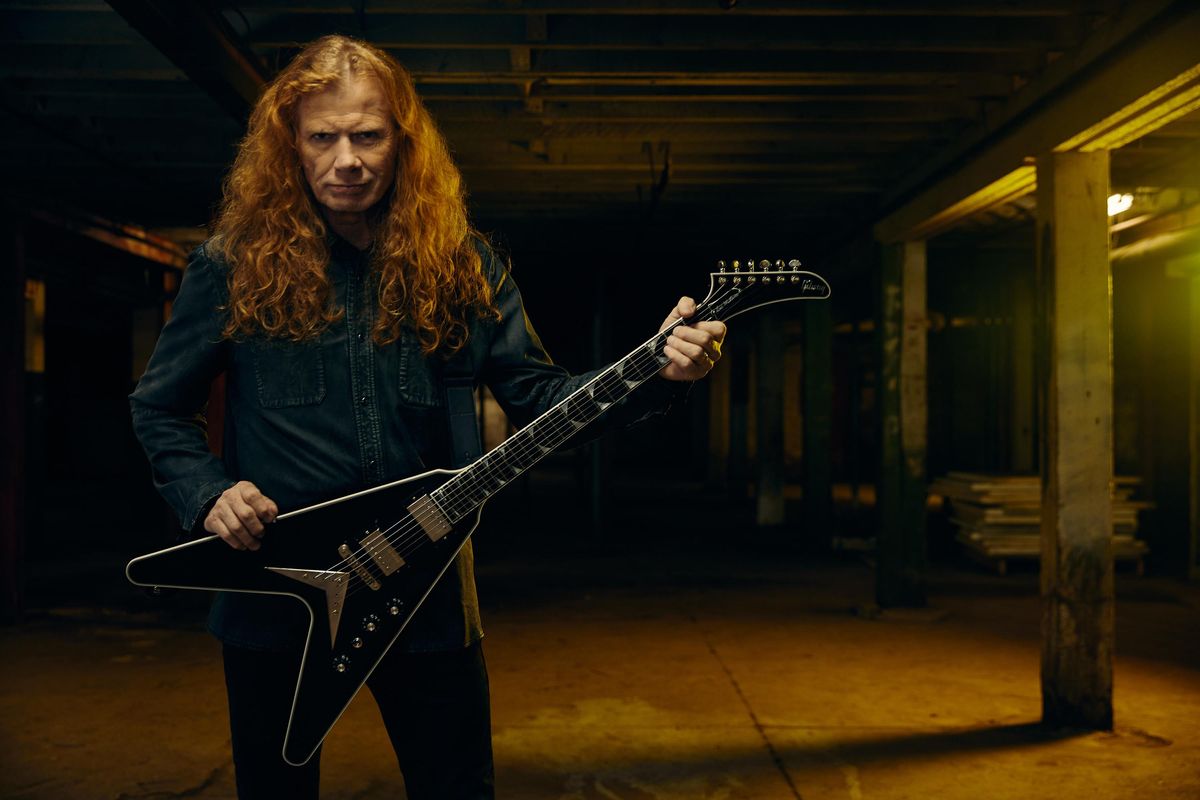 Photo courtesy of Gibson
The Megadeth leader survived his most difficult challenge—throat cancer—to make a new thrash metal opus, The Sick, the Dying… and the Dead!, with guitar foil Kiko Loureiro.
Megadeth's leader Dave Mustaine was about to dive into making the band's new album, The Sick, the Dying… and the Dead!, when he received a terrible diagnosis: throat cancer. "I was told by an oral surgeon just like he was ordering a cup of coffee. 'Oh, you have cancer.' I went out, sat in my car for a long time, and had tears down my face. I had just gone into a numbness," he recalls.
---
Mustaine endured a regimen of 51 radiation and nine chemo treatments in 2019 to emerge intact—just as he has endured a career and lifetime of challenges. Over the years, the metal icon has conquered severe drug and alcohol addiction, a near-vocation-ending arm injury, a broken neck, Megadeth's history of highly publicized personnel changes and legal fights, and rebuilding his band and its following after a questionable flirtation with a more mainstream sound. He was even pronounced dead in 1993, after an overdose of Valium. "Those were some tough days," observes Mustaine, "but nothing was as frightening as when I found out I first had cancer."
Megadeth - Night Stalkers: Chapter II ft. Ice-T
Kiko Loureiro, Megadeth's lead guitarist, remembers when he got the news: "Everything started when we were about to do an Ozzy tour in 2019, and Ozzy canceled. The management and Dave were talking, and then it's, 'Okay, let's start creating new songs for the new album.' Then, maybe two weeks before I was about to go to Nashville for the new album, Dave called me and said, 'You know what? I have cancer.' It was horrible. But he said, 'We are going to keep the schedule. You come here, let's see how it goes, and I will work every day until the day I don't feel that it's possible.' Dave was brave, man. He was working every day. Right after that—pandemic. Everything got canceled."
"My neck was broken. Now there's a plate on my throat. That's why we did the drop tuning into D. It's because my voice is affected by the plate."—Dave Mustaine
And then, in May 2021, the band announced the dismissal of bassist and founding member Dave Ellefson, Mustaine's creative foil on and off since 1983. This came following highly publicized accusations of online sexual indiscretion. Ellefson has since denounced these accusations.
Nonetheless, he was replaced for The Sick, the Dying… and the Dead! sessions bymetal veteran Steve Di Giorgio, who immediately locked with drummer Dirk Verbeuren.
Megadeth's current line-up, from left to right: bassist James LoMenzo, drummer Dirk Verbeuren, and guitarists Dave Mustaine and Kiko Loureiro.
Photo by Travis Shinn
At age 60, and after all of this, any fan would forgive Mustaine for hanging it up and enjoying life off "The Killing Road," to borrow a title from the band's 1994 album Youthanasia. But instead, he constructed another metal masterpiece.

"Steve came in, and we started over again," explains Mustaine. "He put his fingerprints on it, and I think he made it a really great-sounding record." Due to travel restrictions and Mustaine's treatment, the sessions were spread out, but while they were among the most physically taxing that Mustaine has experienced, he says they were also some of his favorites.
Dave Mustaine plays a prototype of the forthcoming Gibson Custom Shop version of his signature model Flying V at the Barcelona Rock Fest in July. Note the through-body stringing versus the Gibson USA model's Tune-o-matic bridge.
Photo by Jordi Vidal
"I was just fucking happy every day," he says, "getting in my little Polaris Ranger, bouncing along the dirt road on my farm to the house next door where we set up the studio, and to be with my brothers and make this record."
So, after all that, how does Mustaine walk onstage and do his thing like nothing's changed? He says he doesn't. "You go to the hospital and see other people hurting so badly for their patient," he says. "They're pushing their husband, or their wife, or their dad or mom, or sometimes their kids into the cancer ward, and you know they're going to die. It just breaks your heart. You wonder, 'Why me? How come mine's in remission?' That has to affect you unless you're not human. They really helped make me enjoy what time I have left now. I just see so much in what one person does … how it affects other people."
"Just to go through the motions—that's not me. I am not one to settle for second best."—Dave Mustaine
Yet for all that's changed in his life, one thing that hasn't is Megadeth's music. Not even cancer could take the edge off the thrash pioneers' sound. "We'll Be Back" and "Night Stalkers," the first singles released from the new album, prove that—with abrasive speed-picked riffs, shred solos galore, and cutting lyrics delivered in Mustaine's trademark snarl. That makes sense since many of these riffs have been around for years. When it comes to writing new albums, Mustaine dives into the same always-growing library of demos and ideas he's curated for decades.
"If you think about 'Rust in Peace' [the title track of the band's 1990 album], we played that song in Panic before I was in Metallica. I had that from back in the '70s. I've got stuff that was recorded on floppy discs, stuff that was recorded on tape machines, stuff that was recorded on microcassette recorders, and stuff that was recorded on answering machines."
Recorded outside Nashville on Dave Mustaine's property, the new album has the virtues of classic Megadeth: powerful thrash-metal rhythms, scalding high-velocity solos and fills, and mid-heavy tones, all in service of the bandleader's dark lyric poetry.
What does set The Sick, The Dying... and The Dead! apartfrom Megadeth's previous releases is its blend of relentless attitude and melody. The way both of the band's guitarists see it, writing a great song always had to come first.
"The ultimate goal was how to sound powerful and thrash and violent, but also melodic and have some good songwriting skills," says Loureiro.
Mustaine adds, "It was my goal to make a great record. Anything less than that would be a farce. Just to go through the motions—that's not me. I am not one to settle for second best."
Dave Mustaine's Gear
Mustaine plays one of his earlier Dean signature models while touring in support of the Dystopia album in 2016, at the fairgrounds in Schaghticoke, New York.
Photo by Ken Settle
Guitars
Gibson Signature Flying V EXP
Gibson Trini Lopez
Gibson Signature Songwriter acoustic
Strings & Picks
Cleartone customs (.011–.054, for D standard)
Cleartone Dave Mustaine Heavy Series (.010–.052, for standard)
Cleartone .73 mm
Amps
Marshall JCM800
Marshall 1959RR Randy Rhoads
Neural DSP Quad Cortex (live)
Marshall 1960DM Dave Mustaine Signature 4x12s
"Dogs of Chernobyl" is a standout example of the album's brutal melodic mashup. After announcing its arrival with Loureiro's gorgeous classical guitar, it suddenly shifts gears into gut-punching riffs, complete with finger-twisting passages, all the while offering a chorus that rings through your ears all day. But this is no pop album. Megadeth has always delivered supremely heavy music, and tuning their guitars down to D standard for the first time added an even heavier weight to these songs.
For the most part, down-tuning has been a big no-no for Mustaine. But, this time, he didn't have a choice. "I wanted to stay in standard tuning as a middle finger to people who had to detune to make their songs sound better," he says. "But my neck was broken [in 2012], and they fused my neck together. Now there's a plate on my throat. That's why we did the drop tuning into D. It's because my voice is affected by the plate."
"Megadeth is not about the drop tuning. It's about the attitude, the way we play," clarifies Loureiro. "But I think having the D standard gives a modern sound without going to a different style."
"I was told by an oral surgeon just like he was ordering a cup of coffee. 'Oh, you have cancer.'"—Dave Mustaine
Both guitarists applied this album's new tuning to their fleet of signature guitars. Loureiro—an Ibanez guy to the core—used RGs, AZs, and other models, but relied primarily on his off-the-shelf KIKO100. He says his 100 is "exactly the way you find it. I don't change anything. You choose the DiMarzio pickups, you choose everything that you like, and then you ask the company to manufacture the guitar the way you like. I think that's the idea of a signature guitar."
Mustaine, who last year became a Gibson brand ambassador, went straight to his signature Songwriter acoustic and Flying V EXP for the sessions. They are, after all, the guitars he says he's been chasing since he was a kid. "When I got my first Kiss record, it said, 'Kiss uses the best.' They had the Gibson logo. I knew Kiss was my band, and they used Gibson because they only wanted to use the best. It says so on their fucking records! Who would put that on their records if they weren't telling the truth? Gibson had to be the best."
Dave Mustaine on His Gibson Flying V EXP Signature | Megadeth Rig Rundown Trailer
Mustaine's instrument is no ordinary Flying V. Like with every other guitar he's endorsed, this model had to meet his exacting specifications and play just right. "Just the modification I made to the neck made this Flying V a contender. It plays just like the Jacksons that I created. Now we've got a 24-fret Flying V. A real flying V. It's not a King V, not a DV8, not a VMNT, not a WXYZ. It's a fucking Flying V. No more playing somebody else's version of the real deal. I got the real deal, and I've already modified it to make it mine." Mustaine's new model has a mahogany body and neck, with a 25 1/2" scale, an ebony compound radius fretboard, a Graph Tech nut, an Explorer-style headstock, a Nashville Tune-o-matic bridge, Seymour Duncan Thrash Factor pickups, two volume dials, a master tone knob, and custom wiring.
Amp-wise, Mustaine still relies on his beloved Marshalls. "Ever since Papa Jim [company founder Jim Marshall] passed away [in 2012], it's been sad for me," Mustaine says. "The company's changed a lot but is still the greatest amplification company for rock music. In the studio, that's all we use."
Kiko Loureiro's Gear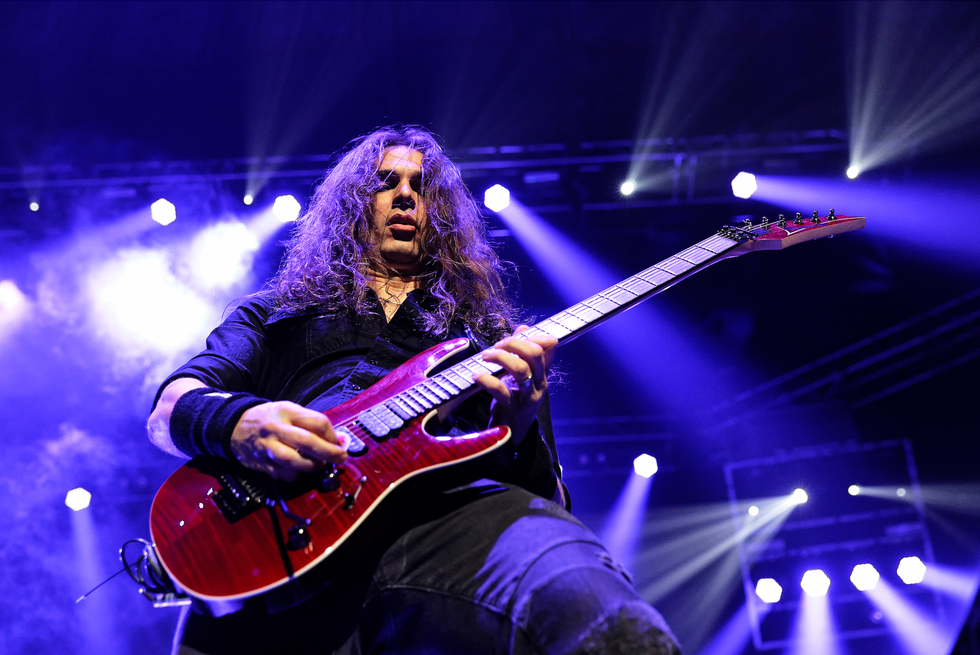 Kiko Loureiro, who hails from Rio de Janeiro, Brazil, joined Megadeth in 2015, bringing a highly melodic and sometimes neoclassical approach to the band's guitar attack.
Photo by Ken Settle
Guitars
Ibanez Signature KIKO100
Various Ibanez RG and AZ series models
Custom classical acoustic
String & Picks
D'Addario (.010–.046)
D'Addario heavy
Amps
Marshall JCM800

Bogner Shiva
Neural DSP Quad Cortex (live)
Marshall 1960DM Dave Mustaine Signature 4x12s
Using a blend of a JCM800 and a rare 1959RR Randy Rhoads head, Mustaine's tone is as mid-heavy and fierce as ever on The Sick, the Dying… and the Dead! Loureiro also went with the JCM800 as the foundation of his solos, but the addition of a Bogner Shiva and Ibanez Tube Screamer is the secret to his detailed lead tones.
Loureiro's fretboard mastery is all over The Sick, The Dying... and The Dead! He is as proficient at balancing Mustaine's go-for-the-throat solos with exotic, melodic flourishes as he is at tearing through hyper-speed chromatics. For proof, listen to Loureiro burn through the solo that follows Ice-T's guest appearance in "Night Stalkers."
"I really like the technical stuff: sweep picking, tapping, and the whole thing." Loureiro says. "But I also have to keep the energy. So, I use intense bends and vibratos and have this powerful, energetic way of picking the notes. I try to mix those things and get very aggressive, but also sound very clear and defined."
"Megadeth is not about drop tuning. It's about the attitude, the way you play. But I think D-standard gives a modern sound without going to a different style."—Kiko Loureiro
During his seven-year tenure, Loureiro's earned his place in Megadeth's pantheon of legendary lead guitarists, which also includes Marty Friedman, Chris Poland, and Al Pitrelli. It's a position he respects and embraces. "When I write stuff for Megadeth, I'm always picturing Megadeth in my mind. I mold myself into that Megadeth world," he says. "And I'm there to push Dave. Whenever he's playing something very energetic or something that really connects to the early days of Megadeth, it's like, 'Yes, that's the Dave we're a fan of!' We're also reminding him who he is—because he's Dave!"
In preparation for the new album's September 2 release, Mustaine invited bassist James LoMenzo, who played in Megadeth from 2006 to 2010, back into the band and hit the road. Their recent shows have been as potent as ever live, headlining a bill called the Metal Tour of the Year that includes Lamb of God, Trivium, and In Flames. The energy, power, and technicality of Megadeth's performances seemed more like the work of a young band hungry to make their mark. Mustaine agrees.
Rig Rundown: Megadeth's Dave Mustaine & Kiko Loureiro [2022]
"The time apart from James was really good for the two of us," Mustaine says. "I realized how much I really like him and respect him as a player. For us now, the sum of the parts is way more than the whole. It's the beginning of a new period for us."
If having fought through throat cancer, replacing key personnel, and surviving Covid marks a new period, one must wonder: Can anything stop Mustaine and crew? Not until he's ready.
"I'm not pushing it until the wheels come off, because I think that signifies that you're no longer able to run the race," Mustaine adds. "When it's time for me to go and make that final pit stop, I'll know. But I feel better than I've felt in a very long time. I think my playing and my singing are better now than ever, and I can't wait to get up onstage. I look forward to it every day."
YouTube It