Jim Campilongo: Dreams and Definitions
Photo by JR Delia.
Inspired by Miles Davis and jazzed by his new trio, the Tele master expands his voice on Dream Dictionary.
Like chapters in a poetic novel, the 12 tracks on Jim Campilongo's new Dream Dictionary—his first album since 2010's Orange—take the listener through a range of emotions. It's a record full of stylistic twists, turns, and surprises—including the Tele master's first solo-acoustic recording, a version of Hendrix's "Manic Depression" that more than lives up to its name, and a tasty rendition of Ray Charles' "Here I Am" that features vocals by longtime friend Norah Jones. One minute, he's channeling Chet Atkins ("Pie Party"), the next, he's taking a sideways stroll down a country road ("Nang Nang"), trying to channel opera singer Maria Callas ("The Past Is Looking Brighter and Brighter"), or exploring In a Silent Way-era Miles Davis ("Dream Dictionary," "Heaven Is Creepy").
Throughout it all, Campilongo plays like he's engaging in a long, very personal conversation: It ranges from heated to relaxed, angst-ridden, and even a little flirty—but it's always fluent, spontaneous and full of nuance, texture, and emotional truth.
Part of that fluency comes from the connection the Bay Area-native has forged with his new New York-based trio, which includes bassist Chris Morrissey (Sara Bareilles, Mark Guilliana's Beat Music, Taurus) and drummer Josh Dion (Pat Martino, John Medeski, Paris Monster). "As soon as I played with Chris and Josh in about March of 2013, I knew I wanted to make a record," Campilongo explains. "Our chemistry was so great that I knew it was the beginning stages of a great band."
"If I'm playing a place where, as soft as I play, it's really heard—and as loud as I play, it's really heard—I feel like there's this whole dynamic journey I can create."

It's been a while since Orange came out. Why the long wait between albums?
I'd been waffling about putting out a record since then. I could've made an all-acoustic record with Steve Cardenas, and I would've liked to make a record with the band Honey Fingers, where I'm playing hot country swing stuff. Then there was another band called High Space that does a sort of Miles Davis style. So technically, I could have made three records since 2009 that I think would've been good albums. But I just didn't want to make them because I didn't want to pay for them. The way the market is with Spotify and YouTube, it's really hard to recoup your investment. I mean, I really like YouTube—which definitely has many pluses—but I don't think there are many pluses for Spotify. Right now, the way to earn a living is by playing live.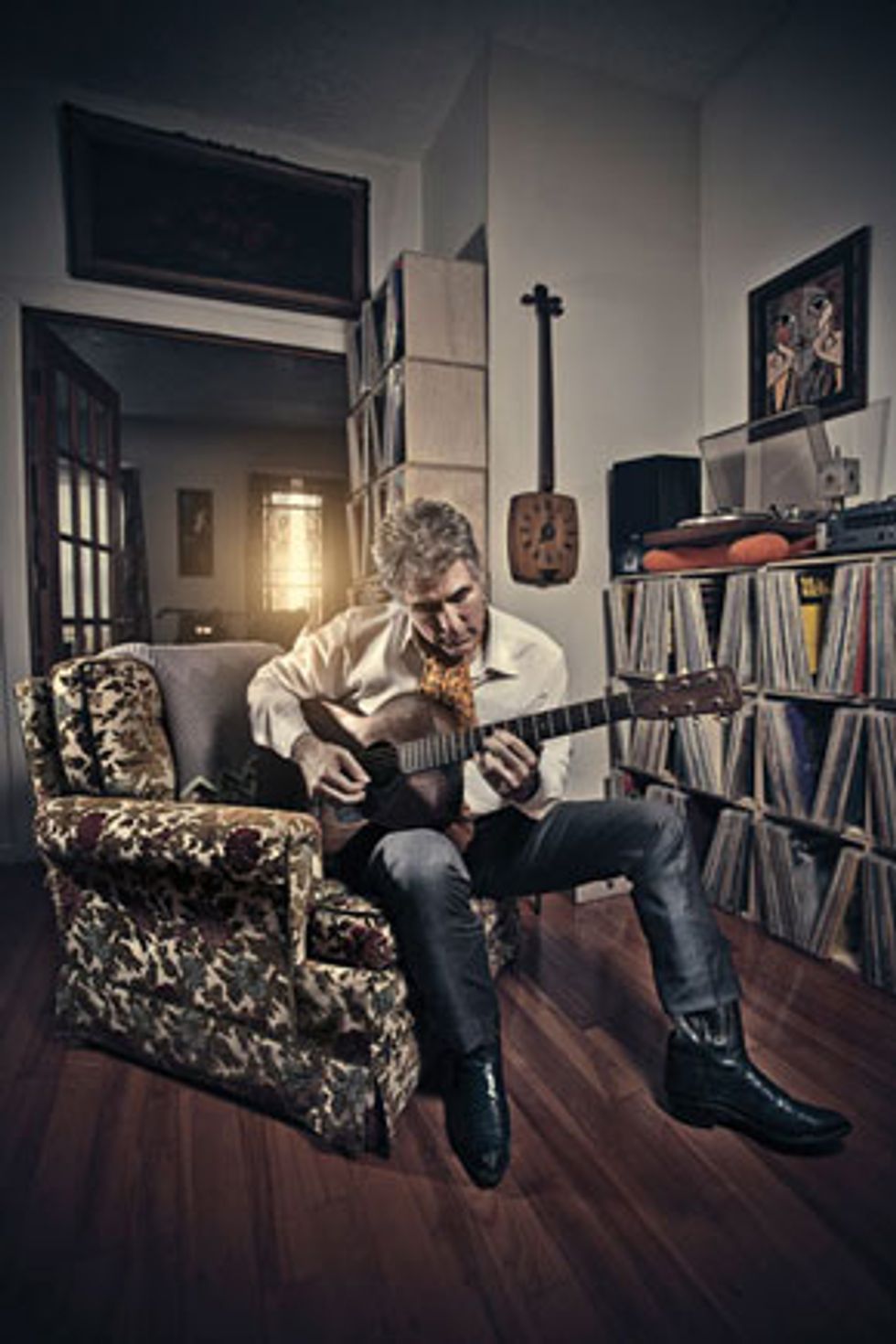 Photo by Federico Chiesa.
What inspired your approach to Dream Dictionary?
Miles Davis. I've been obsessed with listening to him lately. I got both the On the Corner and the In a Silent Way box sets with all the outtakes. I was also listening to Agharta and Pangaea after Pete Cosy died. That influenced me to where I feel like I'm playing more freely. I also revisited some records that have always been part of my DNA in some way: Stuff by Ernest Franklin, Buffalo Springfield, Talk Talk's Spirit of Eden, and a lot of Jimi Hendrix.
The performances have a conversational quality to them. You, Chris, and Josh really seem to feed off of one another.
I wanted to record in as comfortable a setting as possible, so we went to Bedford Studios in Brooklyn. There are nice windows there, and we pretty much played live, and I tried to make it sound relaxed. I decided I was going to record as if we were discovering the material fresh. There was a lot of interplay, and a lot of it was improvised. "Manic Depression" is totally improvised—I mean I had no idea what was going to come next. I have never really done that in the context of my own records. It was a bit risky in some ways for me, but I was, like, "The heck with it—this is what I want to do!"
"Manic Depression" could've been all about the guitar, but your version highlights the whole band—everyone seems really in the moment.
We did about six takes, and they're all really different. I try not to overthink when I'm recording—I was just reacting and playing. But prior to doing it, I thought, "What is manic depression?" And I'm not talking about the song I've heard since I was 12. I mean, what does manic depression feel like? I also thought about how Jimi Hendrix did "The Star Spangled Banner." He didn't just go up there and [hums the melody to the "Oh say can you see" part of the U.S. national anthem]. There's an actual narrative to it. I really like that there's some payoff—there's a point where we really started to groove on "Manic Depression." That was improvised, and you can hear that there's a thousandth of a second where everyone is, like, "Oh, we're going there," and it's really great. I'm really proud of how I played at that point. It really rocks.

The album has so many different moods. Does your mental approach change from song to song?
This may sound arty-farty, but when I'm recording, sometimes I'll think, "What's my motivation here?" like an actor might say. Or it's like a parody of what actors say [laughs]. Or I'll think, "What was I feeling when I wrote this particular song?" I try to recapture what I was originally feeling while I'm recording.

Photo by Josephine Bono.
How does that translate when you're improvising with the band?
Every musical statement is a question that has an answer or a rebuttal. To simplify it, if I hear [sings a line], then I'll go [sings a responding line]. Chris might play something and I'll be, like, "Whoa—I should do a raunchy cluster chord there!" I have to be open to playing the most real thing that could follow what I'm hearing. It's almost unconscious, and I think that's better.
Your playing is as much about tone and texture as it is about note choice and phrasing. How consciously do you think about tone when you're improvising?
Sometimes it all comes together. Sometimes it's a struggle. Sometimes I drink too much coffee before a gig, and if I really get coffee'd-out, I'm really not in touch with what I should be in touch with—whatever that is. I hope that is not too Buddhist! [Laughs.]
Your guitar plays off of Norah Jones' vocal almost like a duet on "Here I Am." Did her part inform the solo at all?
Oh yeah. On that one, I really thought about the lyric. Even though some of it is throwaway blues stuff like, "We'll have a ball," there are a few lines I really identify with. Norah sang it wonderfully, and I really like the starkness of it. There were a thousand ways we could have done it. Sometimes I wish we could've done it harder. But I like that it's not, you know, some jive-ass blues about me being some guy in a muscle t-shirt with a skull and crossbones and Keith Richards hair. Go back and listen to Son House or even John Lee Hooker, and one of the beautiful things about these guys is that they were trying to get laid [laughs]. I think that's part of the blues—it's seductive. On that tune, I'm not trying to seduce anyone—but it's a little understated. Some people might have expected some Eric Clapton kind of thing that's balls to the wall.
"One of the things I always check out when I pick up a Tele is the first string's C# or D. Those are the notes that can sound like somebody just slapped your ear. On my top-loader, those notes sound really lovely and wooden."

Going over the top might have taken away from the connection between you and Norah. It sounds so spontaneous.
She's one of the most fantastic musicians I've ever worked with. That was the first take, and it was the first time she really sang with the group. She just nails stuff. And she is real—she isn't uptight about being perfect. The more I've worked with Norah, the more in awe I am of her.

Let's talk about the original tunes: Did you write those specifically for this trio?
It's about half and half. I wrote "Cock and Bull Story" for Josh. I think he's one of the world's greatest drummers: He's like a combination of Keith Moon and Mick Fleetwood. "Dream Dictionary" I had written before, but I approached it completely differently with the trio. "Nang Nang" was written for them. "The Past Is Looking Brighter" is half and half. A weird thing happened with "Heaven Is Creepy": We became "us" playing that song, but it's from my [2006] record called Heaven Is Creepy. I repeated one of my own tunes, but we did an unabashed performance. We just went for it, and that recording was the best time we've ever done it. So in a way, I feel like that's our tune despite the fact it was the title track for a record I did with another band.

Jim Campilongo's Gear

Guitars
1959 Fender Telecaster with "late-1967" wiring (no .01uF capacitor between the first and second lug on the volume pot)
2010 Fender Custom Shop Jim Campilongo Telecaster
1958 Gibson ES-225
1958 Martin 0-15
1970 Martin D-35
1962 Fender Stratocaster
Amps
Two 1966 Fender Princeton Reverbs with either Celestion G10 or Jensen C10N speakers
Three 1970 Fender Princeton Reverbs
Three 1970s Fender Vibrolux Reverbs
'70s Fender Deluxe Reverb
'70s Fender Vibro-Champ
Effects
Crazy Tube Circuits Stardust Blackface
Boomerang Phrase Sampler
Sarno Music Steel Guitar Black Box
Jim Dunlop Cry Baby wah
Strings and Picks
D'Addario EXL120 strings
Everyone thinks of you as "the Telecaster guy," so the all-acoustic "Suppose" is a surprise. Was that your first solo-acoustic recording?
I guess it is. I enjoyed recording it. I didn't even play my own guitar. I'm certainly no bluegrass virtuoso, but I started playing on an acoustic, and I played one for the first couple of years when I was learning back in the early 1970s until I finally got a Gibson ES-330. Acoustic, to me, is like I'm returning home, despite the fact I'm an electric guitarist and a Tele guy. I recorded that track the day that I was checking out the studio. We jammed, and then after the guys left, I asked the engineer [Andy Tommasi, who also produced] if he had an acoustic guitar. I picked it up and recorded that take. It was almost like, before I could think about it, it was done. I was trying to write something like "Classical Gas," and I think I failed miserably [laughs]. But I really like it—it's a really positive-sounding song.
How about your acoustic duet with Steve Cardenas on "One Mean Eye"?
I have a great chemistry with Steve—he's just fantastic. That was a couple of takes, just as is. We're trading lines, and I like that you can't tell where one ends and the other begins. I just had fun playing acoustic—it seems like there's no hassle. It's not like I have 500 variables. You mike it and you play it.

Photo by Brian Geltner.
Still, your signature voice is on the electric. What are the most important characteristics of your sound?
One thing I look for is a dynamic range and a sound that has some variety. There are some rooms where I'll bring my Fender Princeton and I feel like I could maybe get two good sounds, and they both may be overdriven. And because of that, I feel like I can't really control a variety of dynamic choices—it's kind of loud, and that's it. It's not a bummer or a predicament, but I notice that I will get tired—tired of myself. I get tired of the sound of my own voice.
You mean you get mentally tired?
Mental tiredness that will turn into physicality. But if I'm playing a place where, as soft as I play, it's really heard—and as loud as I play, it's really heard—I feel like there's this whole dynamic journey I can create. And I can also control and conduct the band. I know those guys will react to whatever I'm playing quietly, so having that is really part of what I would consider to be having "a sound." Then there are the obvious things: I like reverb, but I've been playing gigs without it lately with Honey Fingers, and it's fine. It's all about having headroom—sometimes the Princeton doesn't give me enough. So I have a Deluxe, which is a few more watts and has a 12-inch speaker.
You're known for preferring a 1959 Telecaster with a top-loading bridge, and your signature Fender Telecaster is a top-loader, too. How did you get into that?
It was a total accident. I borrowed that guitar from a student and I fell in love with it. I finally gave it back and said, "Look, John [Jensen], I love this guitar so much that I just can't keep it any longer. It freaks me out that it's not mine." It was like having an affair with a married woman. He was taking lessons from me, and said, "If I ever get good, I'll give it to you." It took another year or two. I started giving him bass lessons, and he really clicked. One day he showed up with that thing. At the time, he paid like $2,000 for it—this is going back at least 18 years—and he was, like, "Hey, I want to give this to you." I said no a few times, but finally accepted it. Then everything started coming together musically for me. Six months later, somebody pointed out that it was a top-loader. A few people said they weren't as desirable, but I think they're great guitars.
YouTube It
Jim Campilongo performs "Dream Dictionary" at the Living Room in New York City.
What do you look for in a Telecaster?
One of the things I always check out when I pick up a Tele is I play the first string's C# or D. Those are the notes that can sound like somebody just slapped your ear. On my top-loader, those notes sound really lovely and wooden. I never cared for that shrapnel Tele sound, anyway.
Which guitars did you use on Dream Dictionary?
I used my new orange signature guitar on the rhythm of "Nang Nang." The rest of the album is my '59. I played my sig for about a year and a half and I really enjoyed it, but for some reason six months ago I brought out my '59, and I've been using that more lately.
In truth, the guitar I play the most is my Gibson ES-225. I play it two or three hours a day, and I've been playing it in Honey Fingers. It's weird, because when I play my Tele I go to swipe the toggle switch in the Gibson position and it's not there! It's like, "Wait a minute—I'm a guy who's supposed to be very athletic on a Tele!" [Laughs.]

Using the controls seems to be a big part of your playing.
People ask me, "What pickup position do you use on that song?" I'm like, "I have no idea!" I even watch myself on video and see that during a solo—I'm really hands-on, moving the tone, moving the volume—and I'm not even conscious of that. I'm not thinking about it whatsoever. If I'm driving a car, I'm not conscious that I'm making a left turn, putting on my turn signal, or looking at a pretty girl. It's not magic. If you do something long enough, it just becomes a kind of reflex.