Daniel Rocco explains how the News of the World track deconstructed the rock-song formula, compares the opening to Jaws, and praises Brian May's wizardry.
Megadeth founder teams up with Gibson for his first acoustic guitar in the Dave Mustaine Collection.
For the new acoustic guitar, Gibson acoustic luthiers in Bozeman, Montana collaborated with Dave Mustaine the legendary guitarist, vocalist, songwriter, and founder of the multi-platinum selling and Grammy Award-winning band, Megadeth. The Gibson Dave Mustaine Songwriter in Ebony is available in a both a standard version and a limited edition model, signed by the artist. Part of the Dave Mustaine Collection, the new Dave Mustaine Songwriter in Ebony is the first 24-fret neck ever installed on a Gibson acoustic guitar. With a slightly thinner walnut body, the Dave Mustaine Songwriter guitar features a cutaway for easy access to the upper frets.
Megadeth has gone on to sell more than 50 million albums worldwide, earning many accolades along the way, including a Grammy Award for the title track from their most recent album Dystopia, along with 12 additional Grammy nominations, as well as five consecutive platinum/multi-platinum albums. Megadeth has headlined many of the biggest stages in the world and recently played their most successful tour ever, closing every night on the North American amphitheater "Metal Tour of the Year". Also, a New York Times bestselling author and sought after speaker, host, and commentator, Mustaine has remained a standard bearer for metal and heavy guitar rock, combining a musical and technical standard with the punk and rock n' roll ethos and attitude.
Icons: Dave Mustaine of Megadeth
The story of 1960 Gibson Les Paul 0 8145—a 'burst with a nameplate and, now, a reputation.
These days it's difficult to imagine any vintage Gibson Les Paul being a tough sell, but there was a time when 1960 'bursts were considered less desirable than the '58s and '59s of legend—even though Clapton played a '60 cherry sunburst in his Bluesbreakers days. Such was the case in the mid 1990s, when the family of a local musician who was the original owner of one of these guitars walked into Rumble Seat Music's original Ithaca, New York, store with this column's featured instrument.
Les Paul 0 8145 is a typical 1960 'burst in most ways. A vibrant cherry color is prominent in the finish—which is a result of a change in dyes Gibson made when owners complained of their new '58 and '59 model guitars fading in ultraviolet light—and the neck is thinner than the late-'50s models, similar to what you'd find on the SG-body-style guitars that debuted not long after this 6-string left Kalamazoo.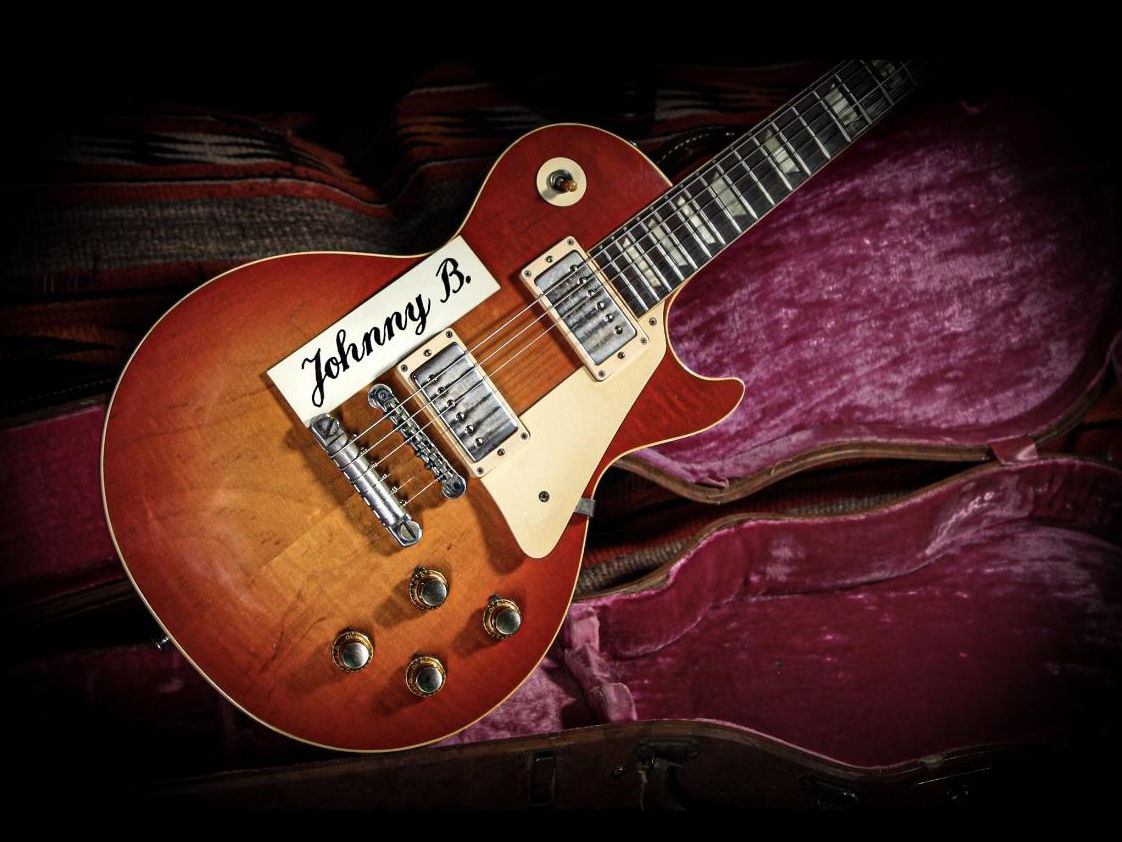 This close-up of the guitar's body shows it in excellent condition, and the sound generated by its humbuckers is terrific.
The maple top is hardly the most figured, yet neither is it plain. But one thing certainly jumps out on this guitar: The original owner applied a name plate on the top for all the world to know it belonged to "Johnny B"! Perhaps for this reason, or perhaps because Rumble Seat was never short on amazing guitars on display to compete for attention, the guitar we named Johnny B. hung on the wall for close to eight months.
Eliot Michael, Rumble Seat's owner, insisted that what Johnny B. lacked in flame was made up for in spades via its monstrous sound. The two original PAF humbuckers are incredible. It's now common knowledge that many of the best sounding 'bursts do come from the later run in 1960, but it took some convincing for one of my friends and good customers to finally plug Johnny B. in to hear it for himself. Upon doing so, he immediately declared it "the best sounding guitar I've ever heard." And Johnny B. left the shop for a new home.
The back of the guitar also shows TLC—as well as its classic mahogany wood grain.
As tends to happen, the guitar eventually found its way back to Rumble Seat Music, after we moved the store to Nashville, Tennessee. Another friend and customer agreed with that assessment of its sound. His name is Joe Bonamassa. Johnny B. went to live with Joe B., where it took on a new chapter of life on the road and in the studio for several years.
Joe wielded this truly exceptional-sounding guitar in many shows across the U.S. You may have seen it onstage. While some Les Pauls are known for their sweet sound, Johnny B. wants to rock. This is one of the most aggressive, raunchy, and downright rude-sounding Les Paul Standards out there, which seems appropriate for an instrument sharing a name with a Chuck Berry song. It doesn't get much more rock 'n' roll than that!
As I mentioned earlier, guitars we sell have a habit of finding their way back to our store, and so it goes with Johnny B.–now returned to our walls after some serious adventures. Typically, good condition 1960 Les Pauls carry tags in six figures, and this one is no exception at $278,000. That's within the same current range for '58s and '59s, since players and collectors have gotten hip to the virtues of 1960 models. And although it was initially overlooked, Johnny B. has earned its place as one of the most recognizable 'bursts around.