Rick Nielsen: His Checkered Past
Rick Nielsen talks about his 5-neck Hamers, Cheap Trick, and memorable moments from the last 40 years
At one point in our conversation, Rick Nielsen blurted out, "You're not laughing enough!"

"Well Rick," I replied, "I'm trying to write down everything you're saying." My wife always says I can't take a joke.

I learned pretty quickly that Rick Nielsen, lead guitarist of Cheap Trick for well over thirty years, is a pretty funny guy who punctuates his remarks with an occasional Woody Woodpecker-style chuckle. Nielsen is also a consummate guitar collector, chief songwriter, and the man behind Cheap Trick's visual image. He's certainly not your typical rock star. He has four kids and has been married to the same woman for decades. With his highly recognizable geeky persona, numerous custom-made and vintage guitars, distinctive clothing (he's more apt to wear a suit onstage these days) and baseball caps, Nielsen has become a bona fide guitar hero without the usual trappings, affectations and posturing you might expect from your average rock guitar god. Few people know that Nielsen was actually the keyboard player/ second guitarist in Fuse, the band that eventually morphed into Cheap Trick. He didn't become "the official guitar player" until Cheap Trick came together. 
 

Second 5-neck (checkerboard) 1994. Photo: Neil Zlozower
According to Jol Dantzig, president of Hamer Guitars, "Rick definitely likes to make people laugh… and confuse people. He has a definite sense of humor."
Can you tell us about the guitars you'll be using on this upcoming tour?

Probably about fifty guitars total. I like to use what I have, and because I'm a collector, you'll see me with Gibsons, Gretsches, Fenders, and of course, Hamers. When I started collecting, there were no "vintage guitars." They were just "used guitars." I always liked the way guitars looked, as a kid and now. You start with one, and before you know it, you have five hundred! I always hated it when I'd go see a guitarist break a string and everything would stop. I liked to have ten or twelve guitars around at least, although I haven't had to tune any of them for years! I have a guy who does that for me.
You're using the new Carlino Korina guitars this time out, I understand.
Eddie Carlino was a fan of Hamer, Gibson and B.C. Rich, so his guitars are like tribute instruments, with elements of all those models. I didn't know Eddie, but he contacted me and sent me a guitar, one of the first ones he made. It played terrific, but there were a few little things that I wanted to change, and he did that for me. They're great guitars.
Your father owned a music store. Were you able to grab the cool stuff that walked through the door? What came your way over the years?
I got a Gretsch Duo Jet, some Fender Esquires,
Telecaster
Customs, Strats, Les Paul Juniors and more. The store was called Rockford Music House, in Rockford, Illinois. We were the first US dealer to sell Mellotrons in 1967. Back then, it wasn't a big deal to change necks or do modifications. I did a lot of my own repairs, and I screwed some things up, I'm sure. Today, collectors get nuts if one little thing is changed on a vintage guitar, but I never cared if the guitars were changed. It was like the discarded dog in the pound nobody wanted. It's your guitar; if you want to change something, change it!
"You Know You Like It" Hamer Sunburst model 1979. Underneath the strat is the original Hamer Standard, serial # 0000. Photo: John T Comerford 111 / Frank White Photo Agency
Most of us can only imagine what it must have been like growing up in that environment in the '60s. Any cool stories?
I sold Jeff Beck his second Les Paul Standard and we've been friends ever since. It was a dark sunburst with a Bigsby. I nailed my first Les Paul, a '55 Goldtop, for $65. I remember going to place called the El Dorado Club, and I'd be the only white guy in the place; it was full of Mexicans and blacks. Themusicians there knew me from the music store. I did a lot of work back then backing up musicians like Freddy Cannon, Del Shannon, Chuck Berry and Bo Diddley. Bo used to say, "Play me something funky! Don't play the Bo Diddley beat."
How did you like working with Chuck Berry?

He's a very angry man (laughs). He would never tell us what key the songs were in. I used to look at his hands to see what fret he was on. He made it clear to his backup musicians that he didn't need us—we needed him. He gave the promoters a lot of grief with his demands.
Who were your guitar influences?
Duane Eddy, the Ventures, Chet Atkins, and the edgier stuff like Jeff Beck, and later, Jimi Hendrix. I saw The Yardbirds with Jeff Beck, and was one of seven people in the audience when the Jeff Beck Group played locally. I saw Jimi at The Factory, in Madison, WI.
You've had a long association with Hamer Guitars. When did you hook up with them, and what's your relationship with them like today?
It goes back to around 1973. I got a call from Paul Hamer, who knew of me as a guitar collector. He wanted a Sunburst Les Paul Standard, and I had one to sell. It was pretty faded out as I recall. He gave me $2500 for it. My wife and I were living in Philadelphia at the time, and she was pregnant with our first child, so that money allowed us to return to Illinois. Paul sold that guitar, and that became the working capital that helped start Hamer.
Another thing is, I was looking for an Explorer. I had pictures of an original Gibson, but they were so rare. There were only nineteen built originally. Hamer agreed to build me an Explorer-shaped guitar. I think I helped reintroduce the Explorer to the general public. Hamer has built well over a hundred guitars for me over the years, maybe as many as one hundred fifty. I still have about seventy eight of them. I have given some of them to Hard Rock Cafes around the world.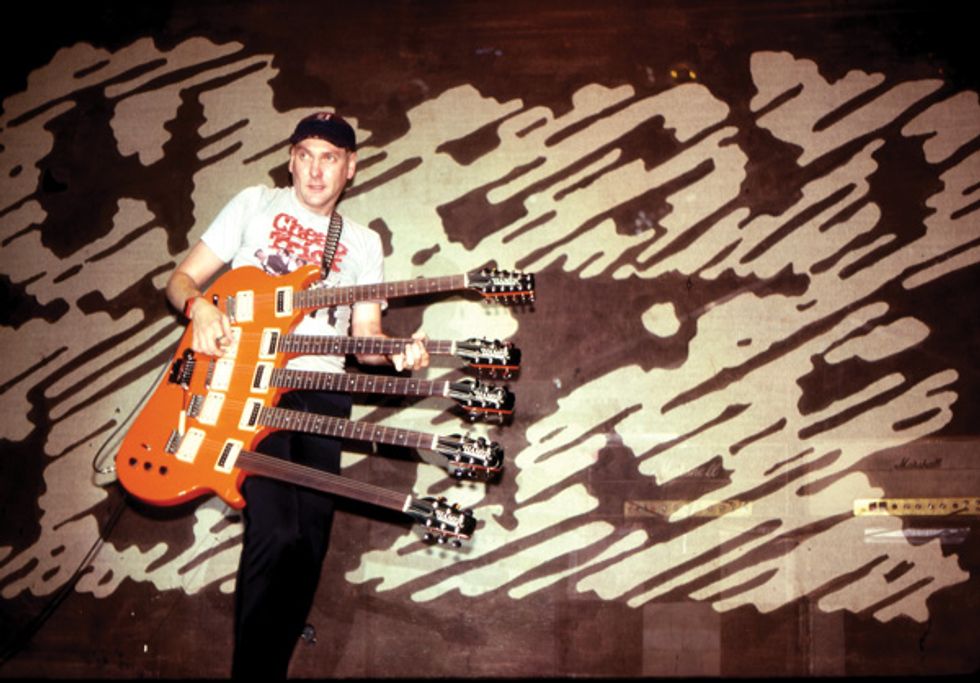 First Hamer Five-neck (orange) 1981. Photo: Frank White
And you guys like the band Patto too?
I love "Singing The Blues On Reds," and all that Patto stuff.
Your upcoming tour with Def Leppard and Poison runs all summer. How do you get prepared physically and emotionally for a tour of that length, and is it still fun for you?
Lots of Darvon (laughs)! I love to play. I don't care about all the shenanigans that go on offstage. What we like most is playing music. I think it's a good, fun package. It's not like we're on tour every day of the year. I guess you could say I'm too dumb to quit.
How long do you see Cheap Trick continuing?
What am I going to retire for? I don't play bridge. I don't tan. We're doing what we love to do, and the live work and recording is still there, so why should we stop? I like playing live and I like recording studios, so that's what we'll continue to do for as long as we can. We're a cool band, we have good songs. People still want to hear what we do.
Any thoughts on the state of the recording/ music industry?

I think the idea of major record labels isn't broken, but how it's done sure is. Thank God for satellite radio playing Cheap Trick's music.
Any final words of wisdom?

Final words? That sounds so final… this is the first interview I've ever done with two deaf people that ever made any sense! (Author's Note: both this writer and Rick Nielsen are hearing-impaired rock 'n' roll lifers.)
Rick's Gearbox
Guitars:
Approximately fifty guitars, including
Gibsons, Gretsches, Fenders and
custom Hamers.

Amps:
Fuchs 50 watt Train model, with two Celestion Vintage 30 speakers.
Custom Fender with Fender two 12"
ISO cabinets.

Effects:
Dunlop Cry Baby wah.

Strings:
Dean Markley .011-.048.

Picks:
Custom R.N. model,
V-Resin .073 mm.

cheaptrick.com