Blackstar Releases the Sonnet Series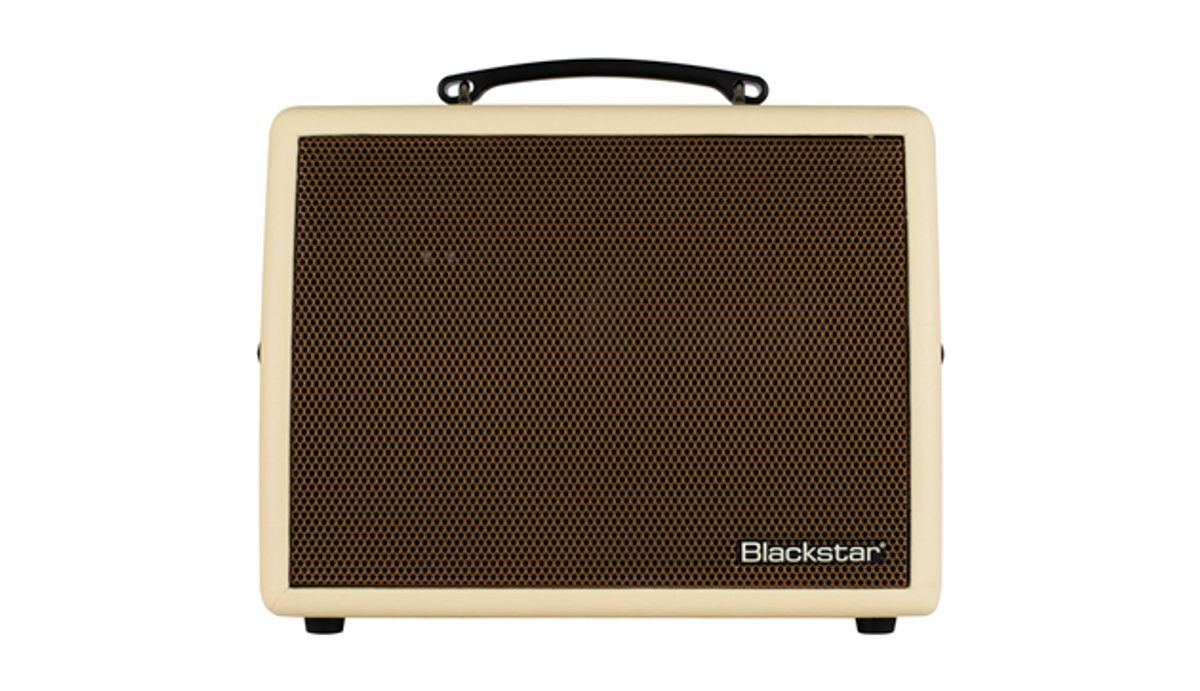 Each model has two independent channels, microphone and instrument, with their own EQ and reverb level settings and a host of other features.
Melville, NY (January 16, 2020) -- Introducing the new standard in acoustic guitar amplification, the Blackstar Sonnet Series. The new Sonnet line faithfully amplifies the natural response of your acoustic instrument capturing every nuance of its tone and your performance.
Each model has two independent channels, microphone and instrument, with their own EQ and reverb level settings and a host of player-friendly features such as XLR and USB outputs. The addition of Bluetooth audio playback makes them the ideal solution for solo performers or duos.
These amps are powerful, light and compact, with an adjustable tilt-back stand to project the sound for any performance.
Acoustic guitar virtuoso Jon Gomm was involved throughout the design process. Jon comments:
'Finally, an amp that can reproduce the full spectrum of sound of acoustic instruments. All I hear is my sound.'
Having used many different acoustic amps throughout his career Jon said:
'Every other amp changes me, squashes me, confines me, they just can't cope. I'd given up on acoustic amps, until I heard the Sonnet.'
Sonnet amps are powerful, light and compact, making them easy to transport to any gig and powerful enough for any performance. Perfect for solo performers or duos. The Sonnet 60 and Sonnet 120 are available in classic, sleek black covering with black grille and control panel or stunning cream covering with copper grill and matching control panel. The 60 and the 120 will be available in February of 2020 for $399.99 and $579.99.
Natural Sound
Hear the natural tone of your acoustic instrument through the unique Natural 60 and Natural 120 speaker. The essence of a natural acoustic tone is delivered by the custom-voiced Natural speaker. Hear the clarity and authenticity of your acoustic tone the way nature intended.
Performance Versatility: instrument, microphone, Bluetooth, Line In – 4 simultaneous inputs
Instrument and vocal microphone inputs, MP3/Line In, and Bluetooth connectivity for wireless audio playback. All 4 inputs can be used at once for ultimate versatility.
Acoustic Control: High Pass Filter and Brilliance control
Acoustic-minded High Pass Filter (HPF) and Brilliance controls to adjust the crucial body resonance and piezo high-end of acoustic instruments.
Pro Connections
Capture tones easily with simple low-latency USB audio out, plus mix D.I. XLR for perfect recording and mixer connections.
Bluetooth
Sonnet has easy-to-pair Bluetooth audio streaming for playing along to music or backing tracks.
MP3/Line in:
Sonnet has an MP3/Line in for jamming along, listening to music or adding a line level instrument to the mix.
State-of-the-art Studio Quality Reverbs
Stunning state-of-the-art studio quality reverbs come as standard.
Built-in tilt stand
The built-in tilt stand allows you to perfectly angle your Sonnet amp for audio projection.
Ported cabinet
Ported cabinets for extended bass and fine-tuning low-end frequencies.
Optional Extras:
SA-2 stand adaptor
Attach your Sonnet 60 or Sonnet 120 to a standard 35mm P.A. stand using the SA-2 stand adaptor.
FS-17 2-way footswitch
The FS-17 Footswitch gives you the option to mute audio and switch reverb on/off.
The Blackstar Sonnet Series is available in:
Sonnet 60 Black: 60W, 1x6.5 + tweeter
Sonnet 60 Blonde: 60W, 1x6.5 + tweeter
Sonnet 120 Black: 120W, 1x8 + tweeter
Sonnet 120 Blonde: 120W, 1x8 + tweeter
For more information:
Blackstar Amps