Carl Martin Announces New Pedals
Carl Martin introduces the Vintage DC Drive, Vintage Series Flanger and Rock Bug
Clifton, NJ
(December 22, 2008) -- Carl Martin has announced a handful of new pedals in preparation for January's NAMM Show. We told you about the
new Vintage Opto-Compressor
a few weeks ago. Here are the details on the rest:
Carl Martin Vintage DC Drive
What Vintage series would be complete without an ultra-versatile and simple to use drive pedal? Funny, that's what Carl said just before he introduced the DC Drive. Just like Carl, this pedal has a few tricks up its sleeve. Besides the typical Level, Tone and Drive knobs which obviously control the volume of the signal, the tone (hmmm, which knob?) and the amount of overdrive, Carl has smartly added a clean boost after the drive section, and a Regular/Fat switch….not so typical. In Regular mode, the drive is crisp and clear, suitable for anything that calls for old-school drive….switch over to Fat and the drive gets thicker with a lot more gain, much more modern. Anyone who knows the Carl Martin line is familiar with his Clean Boost….a bump-up in signal volume that can be used either with your clean or overdriven sounds. The result is a multi-use pedal that allows you to have a variety of rhythm and solo volumes at your feet. Like the rest of the Vintage line, the DC Drive comes in that cool retro die-cast housing with the equally cool chicken-head knobs and CM graphics. The pedal can be powered by 9v battery but we recommend a regulated power supply like the Carl Martin Big John.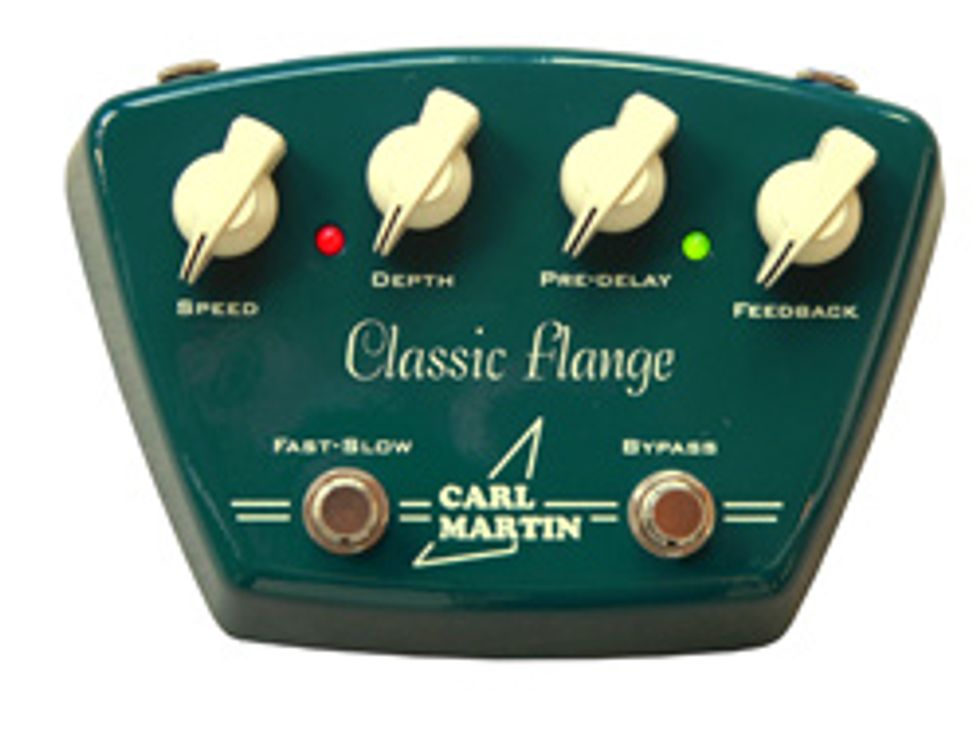 Vintage Series Flanger
Carl Martin is doing a groovy thing out there man…. Introducing the Vintage Flanger; designed for those guitarists who desire this unique form of modulation. The Vintage Flanger has four knobs to control Speed, Depth, Pre-delay and Feedback, plus a dual speed mode that is foot-switchable. There are no rules with a Flanger, just plug this versatile modulation pedal in and play play play. As with all the Vintage pedals, the Flanger comes in a solid, die-cast housing with the cool CM graphics and chicken-head knobs. It can be powered by 9v battery or a (recommended) regulated 9v power supply like the CM Big John.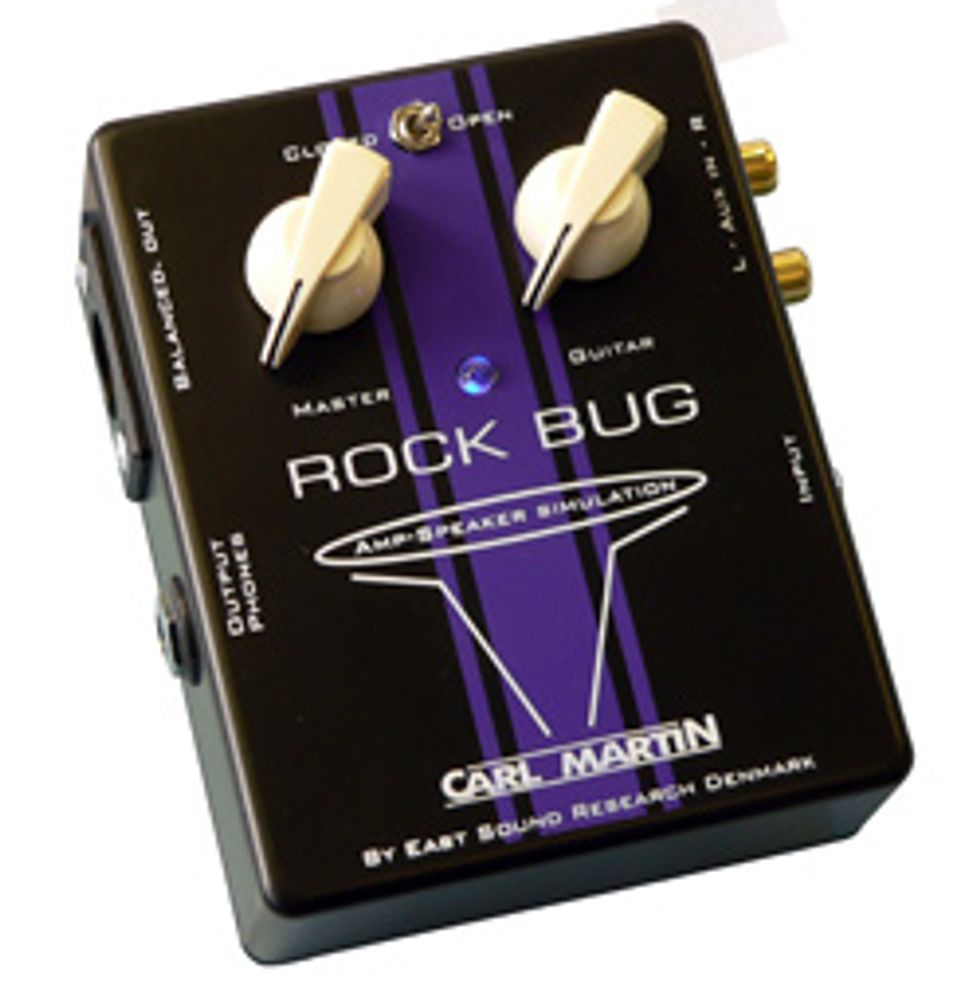 Rock Bug
The Carl Martin Rock Bug is an Amp/Speaker Simulator and Headphone rehearsal unit that operates on a single 9v battery. Although this type of accessory is not new, we believe there is nothing on the market that feels as real or sounds as realistic as the Rock Bug! You simply get the feeling that you are playing through a good tube amp. Just plug your guitar (with or without pedals) into the unbalanced ¼" input, plug your favorite headphones into the unbalanced ¼" output and off you go! Adjust your instruments' volume with the Guitar knob, select an open cabinet or closed cabinet simulation with the mini-toggle switch, and wail away through the privacy of your headphones. If you like, use the AUX stereo inputs and add an MP3, CD or DAT player to the mix; adjust the Master volume for your music, blend in your guitar sounds with the Guitar volume, and either play along with your favorite CDs or add a personal touch to your pre-recorded backing tracks.
Utilizing the balanced XLR output, you can connect your Rock Bug to a mixing console for recording, solo gigs accompanying the pre-recorded music with your live guitar, or as a DI for live performance when you are packing light, or your amp goes down. You might not think an Amp-Speaker Simulator is new, but with all these features, the Rock Bug is the little Danish-Swiss Army Knife that belongs in the pocket of every guitar player's gig-bag
For more information:
Carl Martin