Carl Martin introduces the Vintage DC Drive, Vintage Series Flanger and Rock Bug
Clifton, NJ
(December 22, 2008) -- Carl Martin has announced a handful of new pedals in preparation for January's NAMM Show. We told you about the
new Vintage Opto-Compressor
a few weeks ago. Here are the details on the rest:
Carl Martin Vintage DC Drive
What Vintage series would be complete without an ultra-versatile and simple to use drive pedal? Funny, that's what Carl said just before he introduced the DC Drive. Just like Carl, this pedal has a few tricks up its sleeve. Besides the typical Level, Tone and Drive knobs which obviously control the volume of the signal, the tone (hmmm, which knob?) and the amount of overdrive, Carl has smartly added a clean boost after the drive section, and a Regular/Fat switch….not so typical. In Regular mode, the drive is crisp and clear, suitable for anything that calls for old-school drive….switch over to Fat and the drive gets thicker with a lot more gain, much more modern. Anyone who knows the Carl Martin line is familiar with his Clean Boost….a bump-up in signal volume that can be used either with your clean or overdriven sounds. The result is a multi-use pedal that allows you to have a variety of rhythm and solo volumes at your feet. Like the rest of the Vintage line, the DC Drive comes in that cool retro die-cast housing with the equally cool chicken-head knobs and CM graphics. The pedal can be powered by 9v battery but we recommend a regulated power supply like the Carl Martin Big John.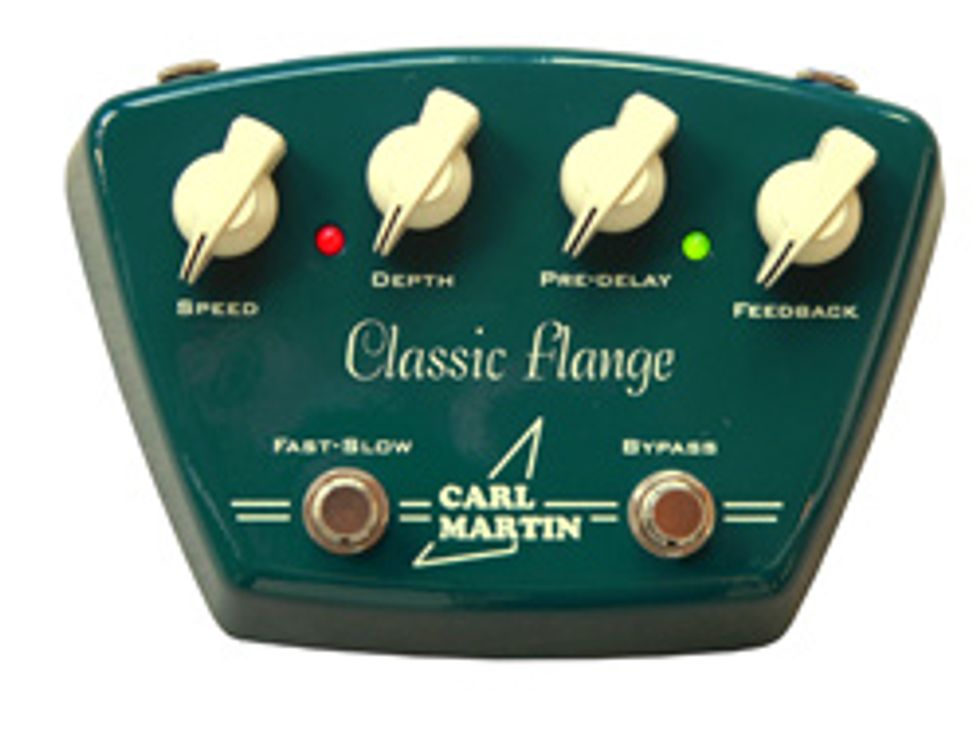 Vintage Series Flanger
Carl Martin is doing a groovy thing out there man…. Introducing the Vintage Flanger; designed for those guitarists who desire this unique form of modulation. The Vintage Flanger has four knobs to control Speed, Depth, Pre-delay and Feedback, plus a dual speed mode that is foot-switchable. There are no rules with a Flanger, just plug this versatile modulation pedal in and play play play. As with all the Vintage pedals, the Flanger comes in a solid, die-cast housing with the cool CM graphics and chicken-head knobs. It can be powered by 9v battery or a (recommended) regulated 9v power supply like the CM Big John.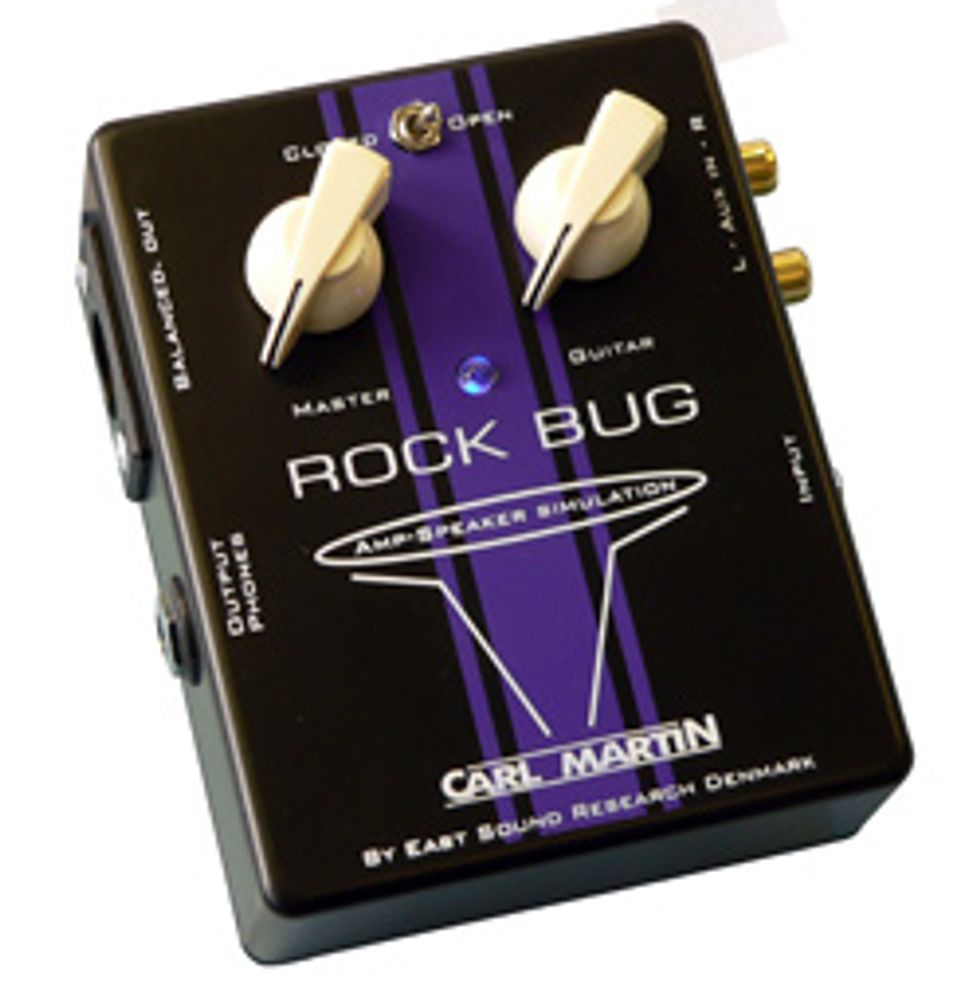 Rock Bug
The Carl Martin Rock Bug is an Amp/Speaker Simulator and Headphone rehearsal unit that operates on a single 9v battery. Although this type of accessory is not new, we believe there is nothing on the market that feels as real or sounds as realistic as the Rock Bug! You simply get the feeling that you are playing through a good tube amp. Just plug your guitar (with or without pedals) into the unbalanced ¼" input, plug your favorite headphones into the unbalanced ¼" output and off you go! Adjust your instruments' volume with the Guitar knob, select an open cabinet or closed cabinet simulation with the mini-toggle switch, and wail away through the privacy of your headphones. If you like, use the AUX stereo inputs and add an MP3, CD or DAT player to the mix; adjust the Master volume for your music, blend in your guitar sounds with the Guitar volume, and either play along with your favorite CDs or add a personal touch to your pre-recorded backing tracks.
Utilizing the balanced XLR output, you can connect your Rock Bug to a mixing console for recording, solo gigs accompanying the pre-recorded music with your live guitar, or as a DI for live performance when you are packing light, or your amp goes down. You might not think an Amp-Speaker Simulator is new, but with all these features, the Rock Bug is the little Danish-Swiss Army Knife that belongs in the pocket of every guitar player's gig-bag
For more information:
Carl Martin
Looking for more great gear for the guitar player in your life (yourself included!)? Check out this year's Holiday Gear Finds!
Created in collaboration with legendary guitarist George Lynch of Dokken and Lynch Mob fame, the Mr.Scary Mod adds an adjustable tube gain stage and an onboard Deep control, which together are designed to enable an amp to have increased sustain while still retaining note definition and dynamics.
LegendaryTones, LLC today announced production availability of its new Mr. Scary Mod, a 100% pure tube module designed to instantly and easily expand the capabilities of many classic amplifiers with additional gain and tone shaping. Created in collaboration with legendary guitarist George Lynch of Dokken and Lynch Mob fame, the Mr.Scary Mod adds an adjustable tube gain stage and an onboard Deep control, which together are designed to enable an amp to have increased sustain while still retaining note definition and dynamics.
Originally released as the Lynch Mod in February 2021, the updated Mr. Scary Mod features the same core circuit as the Lynch Mod but is now equipped with a revised tube mix combo per George's preference as well as a facelift in a newly redesigned electro-galvanized steel enclosure. As with the Lynch Mod, each run will be limited and the first run in Pumpkin Orange with Black hardware is limited to just 150 pieces worldwide.
​The Mr. Scary Mod adds an adjustable tube gain stage on top of the cathode follower position, keeping note definition and articulation while further increasing sustain. Each Mr. Scary mod is meticulously built by hand in the USA, one at a time, and tuned using high-grade components. Equipped with a single ECC81 (12AT7) in the first position and ECC83 (12AX7) in the second, the Mr. Scary Mod can clean up beautifully when rolling down your guitar's volume, and still adds scorching gain when you roll it back up. This is a gain stage that's been tuned and approved by the ears of the maestro George Lynch himself.
"The Mr. Scary Mod excels with dynamics and is incredibly touch-responsive, allowing me to shift from playing clear, lightly compressed cleans to full-out aggressive sustain and distortion –and control it all simply by varying my guitar's volume control and picking," said GeorgeLynch. "In many ways, it's an old-school approach, but it's also so much more natural and expressive in addition to being musically fulfilling when you can play both the guitar and amp dynamically together this way."
The Mr. Scary Mod installs in minutes, is safe and effective to use, and requires no special tools or re-biasing of the amplifier. Simply insert the module into the cathode follower preamp position of compatible amplifiers (includes Marshall 2203/2204/1959/1987 circuits) and

immediately get the benefit of enjoying a hot-rodded amp that delivers all the pure harmonic character that comes with an added pure tube gain stage. The handmade in the USA Mr. Scary Mod is now available to order for $319.
For more information, please visit legendarytones.com.
October Audio has miniaturized their NVMBR Gain pedal to create two mini versions of this beautifully organic-sounding circuit – including an always-on gain device.
The NVMBR Gain is a nonlinear amp that transitions gracefully from clean boost to overdriven tones. Volume increases from just over unity to about 10db before soft-clipping drive appears for another 5db of boost. Its extraordinary ease of use is matched by outstanding versatility: you can use it as a clean boost, push a stubborn amp into overdrive or create a just-breaking-up sound at any amp volume.

October Audio's new family of mini NVMBR Gain pedals includes a switchable version that allows you to bypass the effect: one option features brand logo pedal graphics, while the other sports a fun "Witch Finger" graphic with a Davies knob as the"fingernail".
The second version in the new lineup is an always-on device featuring the Witch Finger graphic and Davies knob, with the same NVMBR Gain circuit that lies at the core of the switchable version.
Features:
Knob controls gain and clipping simultaneously
Stunning silver hammertone finish
Switchable versions are true-bypass, available with classic or witch finger graphics
Authentic Davies knobs, including the "fingernail"
9V center negative power supply required
Dimensions: 3.63 x 1.50 x 1.88 in​
Witch Finger (always on NVMBR Gain) demo
​All October Audio pedals are assembled in Richmond, VA, and available for purchase directly through the online shop. Street price is $109 for NVMBR Gain footswitch versions and $89 for the always-on device.
For more information, please visit octoberaudio.com.