D'Angelico Expands Brand With Introduction of Four New Standard Archtop Reissues, a D'Angelico Bass and Limited Edition USA Masterbuilt Series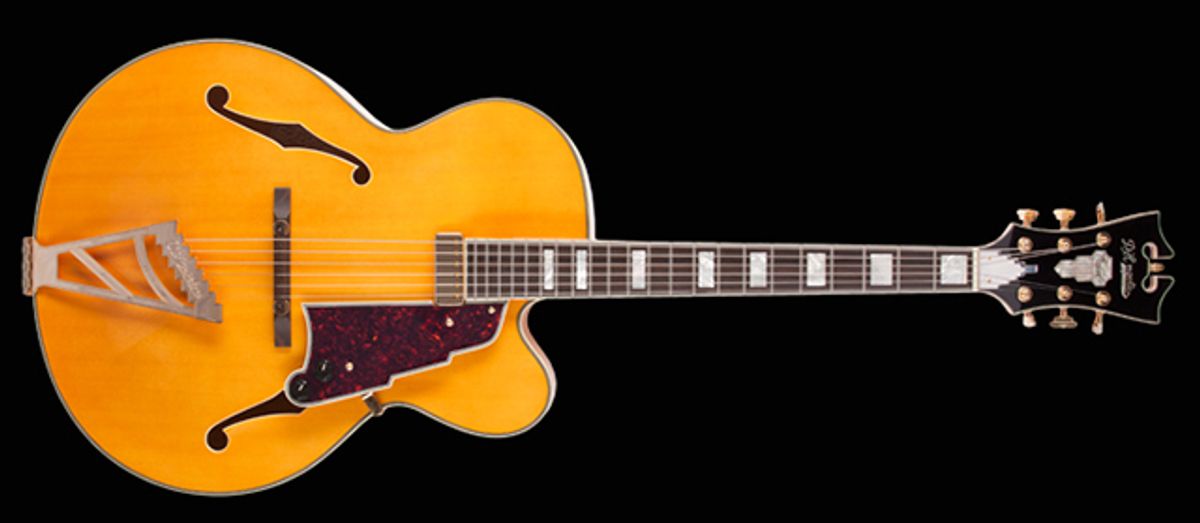 The limited run USA Masterbuilt Series is being built for D'Angelico by Premier Builders Guild (PBG), under the direction of PBG Chief Master Builder Gene Baker and Senior Master Builder Art Esparza
New York, NY (January 16, 2013) - D'Angelico Guitars will expand its popular line of authorized archtop reissues in 2013 with the introduction of four new Standard reissues, a D'Angelico bass and an exclusive, limited edition USA Masterbuilt Series. The new models will debut at NAMM (Booth 2882).
The "Standard" models, reissues of John D'Angelico's iconic Excel archtops, include single cuts in Natural and Sunburst and double cuts in Cherry, White, Natural and Sunburst. All feature the spruce top, maple back, and stairstep pickguard and tailpiece that are quintessential D'Angelico. The bass, an entirely new guitar inspired by classic D'Angelico design, is available in Black, White, Natural and Sunburst. MAP prices range from $1200-$1500.

D'Angelico Bass
The limited run USA Masterbuilt Series is being built for D'Angelico by Premier Builders Guild (PBG), under the direction of PBG Chief Master Builder Gene Baker and Senior Master Builder Art Esparza, at the PBG guitar workshop in Arroyo Grande, California. The first reissue in the series is the 1943 D'Angelico Excel. Based on extensive research that began with MRI's of the original, the 1943 Excel Reissue is an authentic update enhanced by modern hardware and appointments. It is available in Acoustic Burst and Electric Burst. MAP ranges between $9,000 and $10,000.
While the USA Masterbuilt Series will be officially launched at NAMM, the initial run of ten guitars sold out during a short NAMM presell window. A second run of ten guitars is in process. The initial guitar in the series will be presented to contemporary guitarist and New York Yankee great Bernie Williams at NAMM on Thursday, January 24th at 1 PM in the D'Angelico booth (2882). D'Angelico plans to launch a signature Bernie Williams D'Angelico reissue later in 2013.
"We've operated under the radar, working hard to develop a successful line of reissues that delivers D'Angelico magic for an accessible price," said Brenden Cohen, D'Angelico Guitars CEO. "Having built that foundation, we believe that 2013 is the right time to expand the Standard Series and to launch the USA Masterbuilt Series."
For more information:
D'Angelico