Mitch clues us in on some recording tricks to make your guitar tone sound even more massive.
Bigger is always better. Okay, maybe that sentiment isn't 100% true, but more times than not when you're dealing with guitar tracks, you're looking for the biggest, thickest, punchiest sounds you can get. Here are some suggestions for making your guitar tracks so fat they should appear on The Biggest Loser.

Make it big at the source.
While we can do a lot of magic and reconstructive surgery with plug-ins and other studio tools, it's a law of nature that the finished result will only be as good as the original source. Get your guitar sounding huge when heard through the amp, in the room. Then, do your best to capture all that corpulent majesty with your microphones—get it down onto tape or hard drive as big as you can, so you have a great foundation to work from. This means choosing the right guitar (with the right pickups, etc.) and the right amp, using the best mic or mics, choosing a full-sounding mic preamp, and so on.

Use the room.
Adding some natural ambiance from a room mic or mic that's back a few feet from the amp can really increase the sense of size and space in a recording. Record the ambiance mic or mics to separate tracks, so you can blend them in to taste later. Try putting the dry/close-mic'd track on the right side of the mix, and pan the ambiance to the left side (or vice versa).

Double it.
An old studio trick is to record a part, then go back and record the exact same part, with the exact same guitar tone, onto a new track, so you end up with two nearly identical versions of the same thing. When you mix those two tracks—either panned left and right or layered right on top of each other in the stereo field—the small timing, tone, and pitch differences between the two tracks result in a much bigger sound than either track by itself. Some producers like to add even more doubled tracks—making three, four, or even more passes on each part—but in my experience, you quickly reach a point of diminishing returns, where you sacrifice clarity and presence for a small amount of additional thickness.

Layer different tones.
While doubling parts works great, sometimes you can get even better results if you change the tone of the doubled part. This might mean playing it the second time with a cleaner sound, with a dirtier sound, or even with a completely different guitar or amp rig. Try playing a part with a Les Paul through a Marshall, then double it with a Tele through a Twin, or some other combination. On mixdown, blend the tracks to create a huge sound that includes the best of both tones. If you're recording a crunchy rhythm part, and getting your dirt from pedals, you might record one pass using a Zendrive, then a pass through a Tube Screamer, then a pass through an OCD, each set for a slightly cleaner than normal sound. Pan one hard left, one hard right, and one up the middle for a wide, thick, vast tone.

Use multiple amps.
Try splitting your guitar's signal so it feeds two, three, or even more different amps— maybe a Marshall through a 4x12" cab, a Deluxe 1x12" combo, a little mini amp, a modeled amp, whatever you have available. Set each amp for a great tone and mic each one up so it can be recorded to a separate track. During mixdown, you can combine the various amp tracks to create a "super tone" that contains the best tonal components from each source.

Work the arrangement.
Instead of recording an exact double of a part, record the first pass, then record the double an octave higher, or with different chord voicings or inversions. Experiment with the double coming in and out of the song to reinforce certain sections.

As an example, some of the biggest crunchy rhythm guitar tracks I've recorded using these tricks consisted of an original track featuring a Les Paul through a Boogie Mark IIB, doubled by a superstrat through a Marshall, then those two parts each doubled with a slightly different tone, played higher on the neck using inversions and alternate voicings. A bit of compression, a short delay or two, careful panning, and a couple of reverbs were used during mixdown. The results were simply massive!

Fortunately, with today's hard disk recording systems, we have plenty of tracks to work with. If you try something and it doesn't work, who cares? Move on to another track and try something else—experiment! One last tip: keep all your "failed" experiments; you never know when one might work perfectly later in the production process.


---
Mitch Gallagher

Mitch Gallagher is the former Editor in Chief of EQ magazine, and is the author of six books and over 1,000 articles on recording and music technology. He has played guitar—from metal to country to big band to classical—for more years than he cares to remember. He is the Editorial Director for Sweetwater in Fort Wayne, Indiana. You can reach him at
mitch_gallagher@sweetwater.com
or at
mitchgallagher.com
.
Looking for more great gear for the guitar player in your life (yourself included!)? Check out this year's Holiday Gear Finds!
Outlaw Effects introduces their next generation of NOMAD rechargeable battery-powered pedal boards.
Available in two sizes, NOMAD ISO is a compact, versatile tool that offers the convenience of a fully powered board plus the additional freedom of not having to plug into an outlet. NOMAD ISO is ideal for stages with limited outlet availability, quick changeovers, busking outdoors, temporary rehearsal locations, and more!
NOMAD ISO builds upon the legacy of the ultra-convenient and reliable NOMAD rechargeable pedalboard line originally launched in 2018. The brand new NOMAD ISO editions feature eight isolated outputs (1 x 9V DC, and 1 switchable 9V/12V DC) for even more versatility and clean, quiet power. With an integrated lithium-ion battery pack boasting 12800mAh capacity, NOMAD ISO can fuel a wide array of pedals, and will last over 10 hours* on a single charge.
Each NOMAD ISO pedal board includes adhesive hook & loop pedal-mounting tape, eight (8) standard DC connector cables, and one (1) reverse polarity DC cable, giving you everything you need to build your ultimate "off-the-grid" rig. A rugged, road-ready padded gig bag with shoulder strap is also included, to safely protect your gear while you're on the move.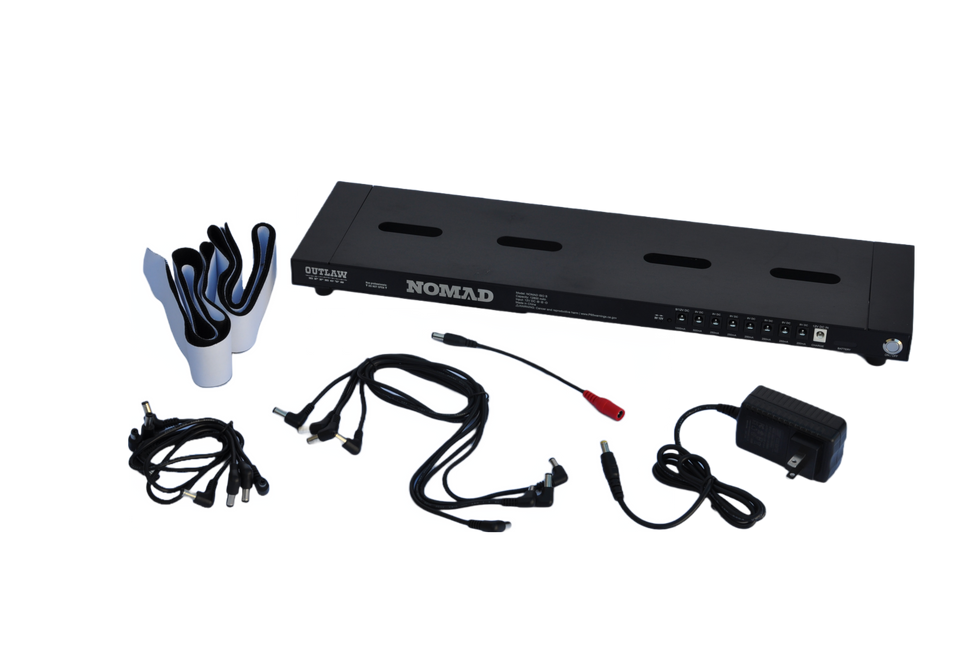 Dunable announce new Minotaur model featuring Grover Rotomatic Keystone tuners.
The Minotaur's DNA is rooted in their classic Moonflower model, which Dunable discontinued in 2017. However, they have long since wanted to create a fresh take on a carved top guitar design, and various attempts to rework the Moonflower led them to a brand new concept with the Minotuar.
Dunable's goal is to give the player a guitar that plays fast and smooth, sounds amazing, and gives maximum physical ergonomic comfort. The Minotaur's soft and meticulous contours, simple and effective control layout, and 25.5" scale length are designed to easily meet this criteria.

Dunable Minotaur!
Features
25.5" scale length
Dual Humbucker
one volume, one tone, push pull for coil splitting
Grover Rotomatic Keystone tuners
Grover Tune O Matic bridge with brass Kluson top-mount tailpiece
jumbo nickel frets
12" fretboard radius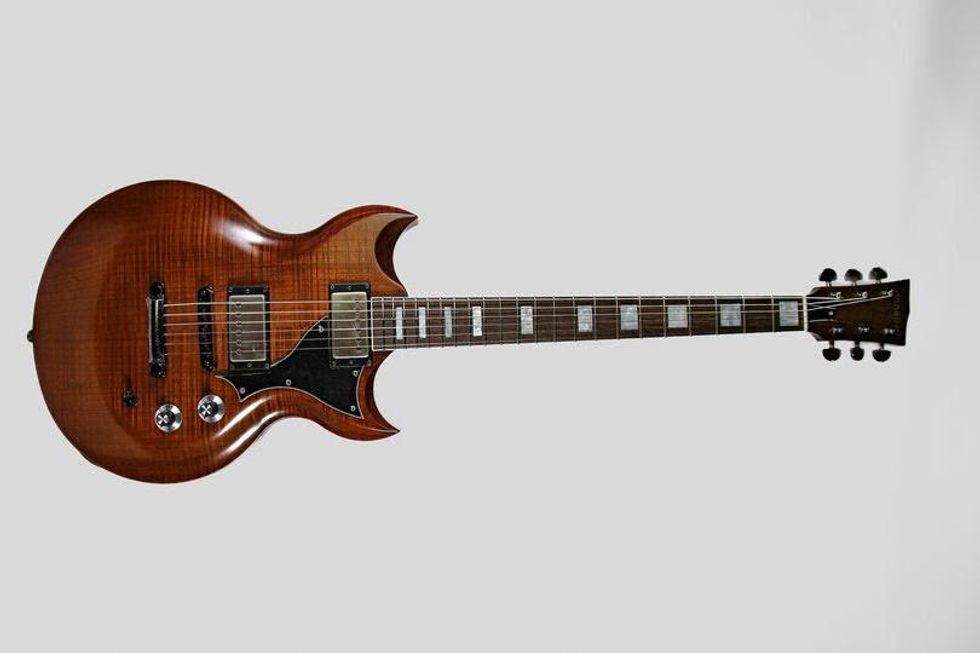 Dunable
This full-amp-stack-in-a-box pedal brings a new flavor to the Guitar Legend Tone Series of pedals, Missing Link Audio's flagship product line.
Adding to the company's line of premium-quality effects pedals, Missing Link Audio has unleashed the new AC/Overdrive pedal. This full-amp-stack-in-a-box pedal – the only Angus & Malcom all-in-one stompbox on the market – brings a new flavor to the Guitar Legend Tone Series of pedals, Missing Link Audio's flagship product line.
The AC/OD layout has three knobs to control Volume, Gain and Tone. That user-friendly format is perfect for quickly getting your ideal tone, and it also offers a ton of versatility. MLA's new AC/OD absolutely nails the Angus tone from the days of "High Voltage" to "Back in Black". You can also easily dial inMalcom with the turn of a knob. The pedal covers a broad range of sonic terrain, from boost to hot overdrive to complete tube-like saturation. The pedal is designed to leave on all the time and is very touch responsive. You can get everything from fat rhythm tones to a perfect lead tone just by using your guitar's volume knob and your right-hand attack.
Features 
Three knobs to control Volume, Gain and Tone
Die-cast aluminum cases for gig-worthy durability
Limited lifetime warranty
True bypass on/off switch
9-volt DC input
Made in the USA
MLA Pedals AC/OD - Music & Demo by A. Barrero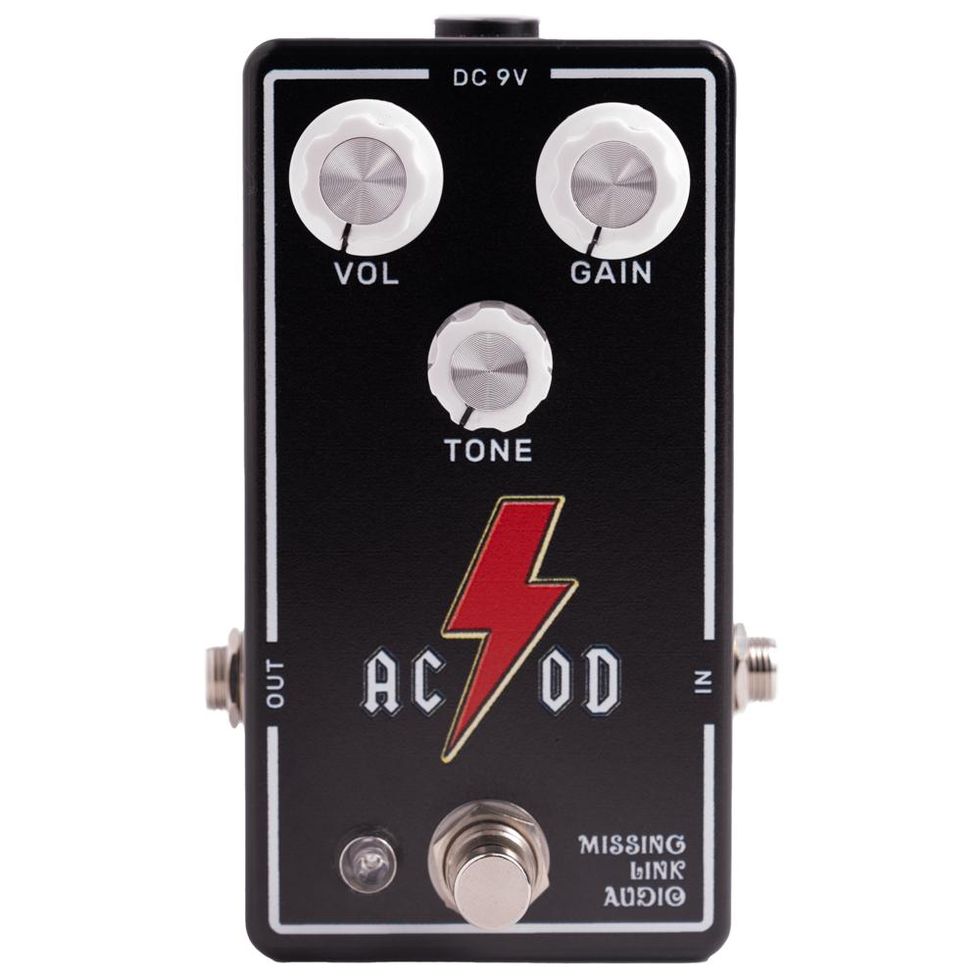 www.mlapedals.com.