This 30-watt combo is loaded with 7591 power tubes and a UK-made Celestion H30 speaker.
Ohio (October 1, 2019) -- With the Jetta, Dr. Z aimed to capture a unique sound suited for any level of guitarist, from amateur hobbyist to professional player at a price that would turn heads. From painstakingly auditioning guitar after guitar, tweaking, adjusting, and coaxing out the best tones from each model, Dr. Z molded the Jetta. This amp was engineered to provide an articulate and detailed platform for any guitar, be it vintage single coil or hotrodded humbucker. Notes seemingly leap from the fretboard and chords are reproduced with remarkable clarity and sustain. The Jetta produces the true sound of your guitar without compromise.
Starting with a pair of 7591 power tubes at its heart, the Jetta's signature sound is one of near hi-fi accuracy with a soundstage far larger than its small package would belie. The circuit topology provides a streamlined, effective signal path from guitar to speaker: a volume knob to adjust the gain and saturation, a single tone knob to quickly adjust for any guitar you plug in, and an attenuator-like master volume knob provides control at any volume level, with no loss of tonal integrity, detail, or bandwidth. Don't let the simplicity of the Jetta fool you. Plug in a guitar and you won't find yourself nudging the tone knob much shy of noon to find that sweet spot. Trust us, we have tried it; sonic bliss is a simple recipe!
The Jetta's 30 watts provides plentiful clean headroom for the player with even the most robust pedalboard, yet it's able to grind out thick overdrive at a controllable volume level. For those players that prefer achieve tube distortion from the Jetta, we have included the stellar Metro Zero-Loss FX loop circuit to retain signal integrity through any path of modulation, delay, or reverb effects.
Despite being the most affordable amp in the Dr. Z line, no corner was cut, no exception was made; the Jetta is hand-wired in Cleveland, OH with the premium components (including Jupiter caps, Heyboer power transformer, and Triad output transformer) used in all of our models. Our ultra-resonant, ultra-lightweight studio 1×12 cabinet comes loaded with a UK-made Celestion H30, and weighs a portable 34lbs.
The Jetta is available for sale on October 7th, 2019 at authorized Dr. Z dealers.
Watch the company's video demo:

For more information:
Dr. Z Amps
Looking for more great gear for the guitar player in your life (yourself included!)? Check out this year's Holiday Gear Finds!
This full-amp-stack-in-a-box pedal brings a new flavor to the Guitar Legend Tone Series of pedals, Missing Link Audio's flagship product line.
Adding to the company's line of premium-quality effects pedals, Missing Link Audio has unleashed the new AC/Overdrive pedal. This full-amp-stack-in-a-box pedal – the only Angus & Malcom all-in-one stompbox on the market – brings a new flavor to the Guitar Legend Tone Series of pedals, Missing Link Audio's flagship product line.
The AC/OD layout has three knobs to control Volume, Gain and Tone. That user-friendly format is perfect for quickly getting your ideal tone, and it also offers a ton of versatility. MLA's new AC/OD absolutely nails the Angus tone from the days of "High Voltage" to "Back in Black". You can also easily dial inMalcom with the turn of a knob. The pedal covers a broad range of sonic terrain, from boost to hot overdrive to complete tube-like saturation. The pedal is designed to leave on all the time and is very touch responsive. You can get everything from fat rhythm tones to a perfect lead tone just by using your guitar's volume knob and your right-hand attack.
Features 
Three knobs to control Volume, Gain and Tone
Die-cast aluminum cases for gig-worthy durability
Limited lifetime warranty
True bypass on/off switch
9-volt DC input
Made in the USA
MLA Pedals AC/OD - Music & Demo by A. Barrero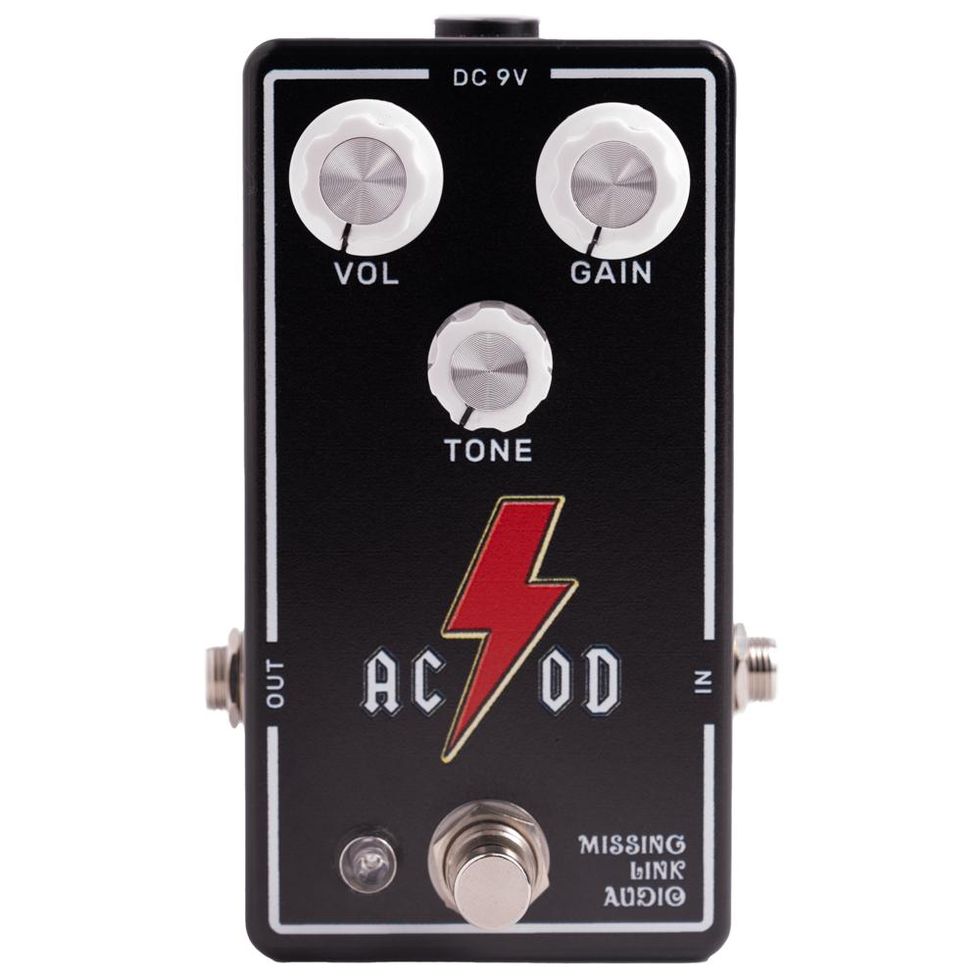 www.mlapedals.com.
Sporting custom artwork etched onto the covers, the Railhammer Billy Corgan Z-One Humcutters are designed to offer a fat midrange and a smooth top end.
Billy Corgan was looking for something for heavier Smashing Pumpkins songs, so Joe Naylor designed the Railhammer Billy Corgan Z-One pickup. Sporting custom artwork etched onto the covers, the Railhammer Billy Corgan Z-One Humcutters have a fat midrange and a smooth top end. This pickup combines the drive and sustain of a humbucker with the percussive attack and string clarity of a P90. Get beefy P90 tone plus amp-pummeling output with the Railhammer Billy Corgan Z-One.
Patented Railhammer Pickups take passive guitar pickups to a new level with rails under the wound strings lead to tighter lows, and poles under the plain strings offer fatter heights. With increased clarity, the passive pickup's tone is never sterile.
Railhammer Billy Corgan Signature Z-One Pickup Demo
Designed for utmost comfort and performance, the Vertigo Ultra Bass is Mono's answer to those who seek the ultimate gigging experience.
Complete with a range of game-changing design features, such as the patent-pending attachable FREERIDE Wheel System, premium water-resistant and reflective materials, shockproof shell structure and improved ergonomic features, the Vertigo Ultra Bass takes gear protection to the next level.
The Vertigo Ultra Bass features:
Patent-pending FREERIDE Wheel System that allows for wheels to be attached on the case in no time, giving you the option to travel with it seamlessly
Upgraded materials, including a water-resistant 1680D Ballistic Nylon outer shell, plush inner lining and new reflective trim for maximum backstage and night visibility
Enhanced protection with a shockproof shell structure and heavy-duty water-resistant YKK zippers for protection from the elements
Improved ergonomics and functionality including added back support and load-lifting detachable shoulder straps with side release buckles
Flexible storage options with added space for touring essentials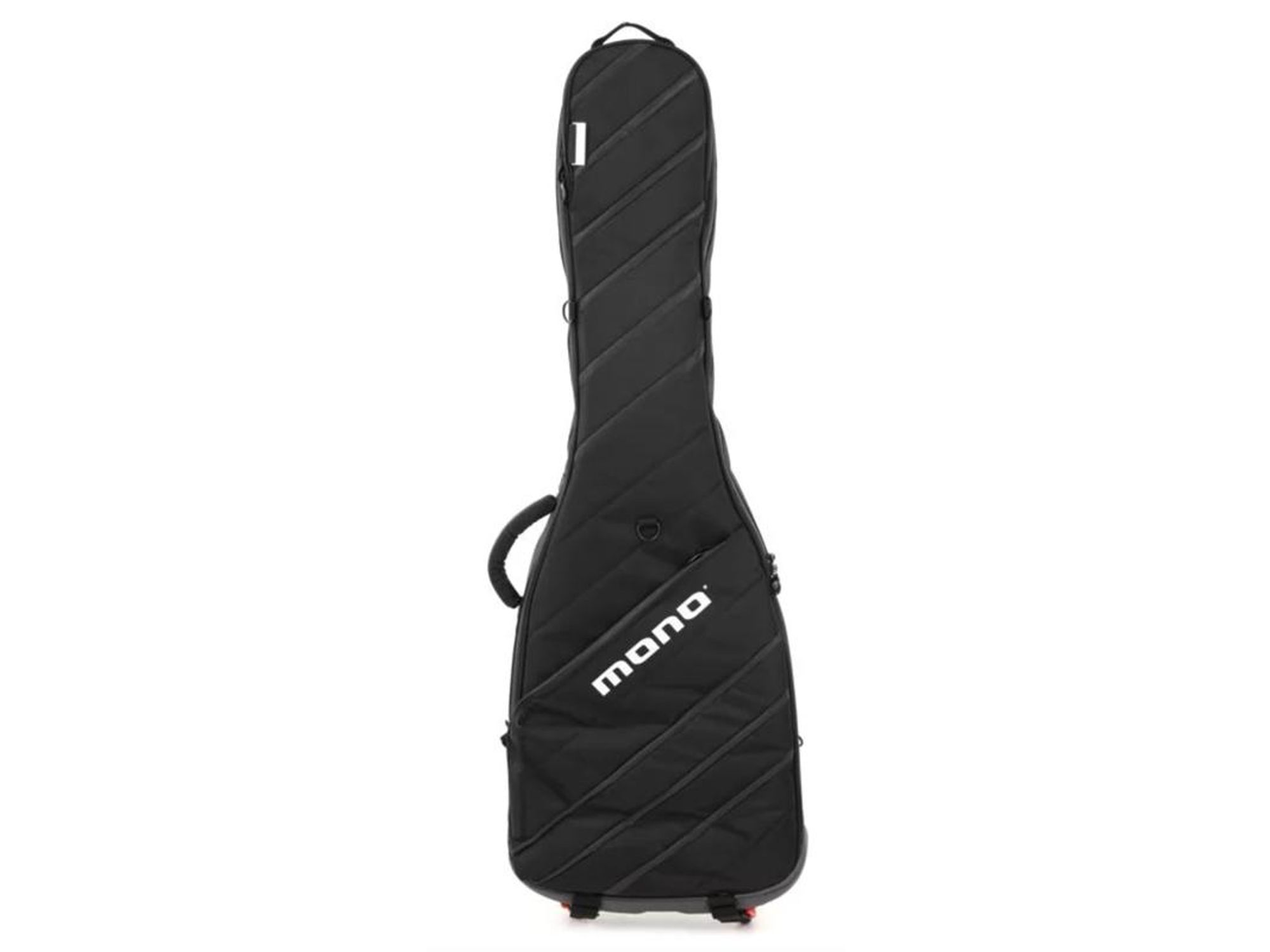 For more information, please visit monocreators.com.
Mono