Fractal Audio Systems Announces the FX8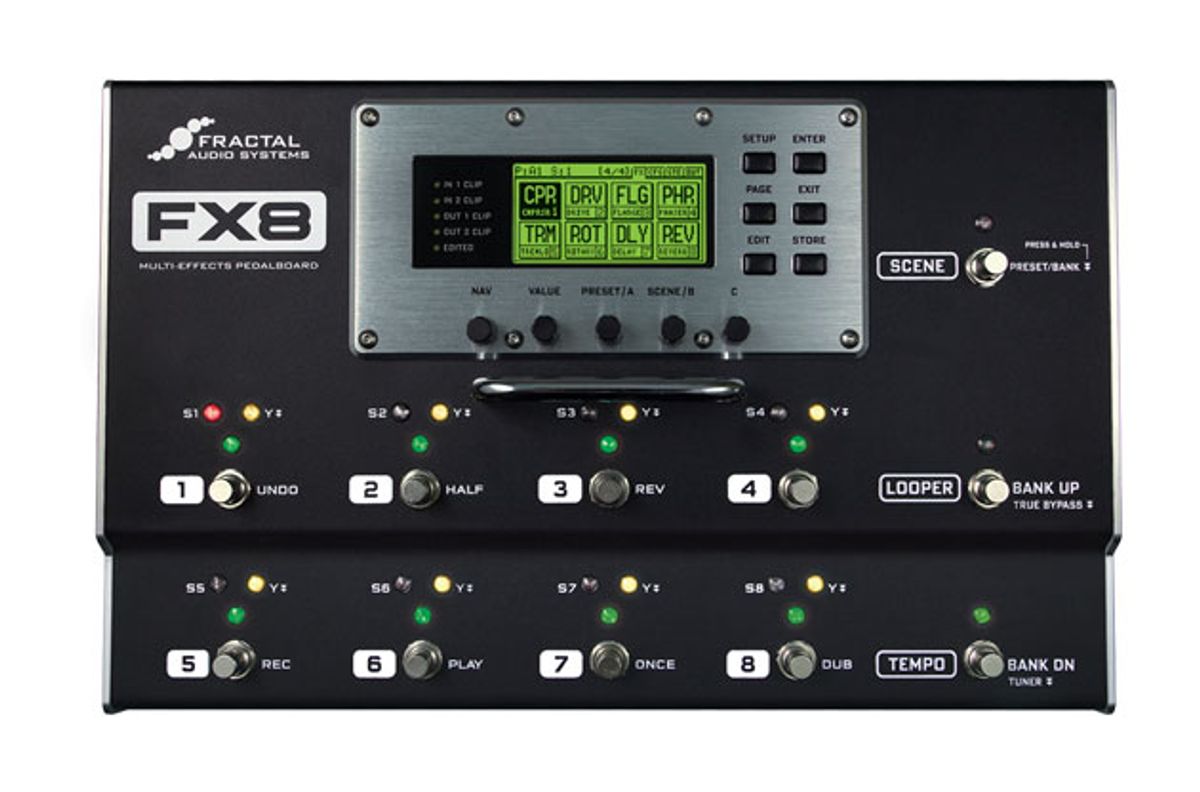 The unit can run up to eight simultaneous effects.
Plaistow, NH (October 3, 2014) -- The FX8 is a new "multi-effects pedalboard" designed to deliver Fractal's signature "quality without compromise" in an effects-only floor unit. FX8 runs up to eight simultaneous effects using the state-of-the-art algorithms made famous in the Axe-Fx II line of processors. It features a rugged steel chassis with aircraft aluminum end-panels, convenient top handle, eleven quiet, durable solid state footswitches with no mechanical contacts to fail, 27 LEDs in three colors, five knobs beneath a bright display, Humbuster outputs to eliminate hum due to ground loops (when used with Humbuster cables) dual TRS relays for amp switching, two switch/expression pedal jacks, USB, MIDI and more. The unit is designed for unity gain and offers true bypass. Above all, it features an extremely high quality signal path to deliver ultra-low noise and pristine sound quality. In other words, "no tone suck!"
Onboard preset memories let you create 128 totally different pedalboards. Every effect in every preset can be run in series or parallel. Using the optional four-cable setup, you can place each effect "Pre" (between guitar and amp, where pedals go) or "Post" (in the amp's send/return loop, where rack effects are typically placed).
Use Stompbox Mode on the FX8 for traditional effect switching, or leverage the eight scenes in each preset to engage pre-defined effect groups from a single switch. Many effects also offer XY switching, which gives them two completely different sound settings: Imagine dialing in a single drive pedal with both overdrive and fuzz channels, or a reverb with foot-selectable spring and hall sounds.
The fantastically flexible modifier system enables easy real-time sound changes. You can plug two expression pedals (like the new Fractal EV-1!) into the onboard jacks to control wah, whammy, volume, or virtually anything else, and utilize MIDI or onboard controllers for automated dynamic effects. A precision tuner, two global equalizers and a dedicated, global 4-minute stereo Looper are also built-in.
FX8-EDIT, a full-featured software editor, is also included free. In the tradition of all Fractal Audio Systems products, the FX8 is fully compatible with Fractal-Bot for preset sharing, easy backup and restore, plus firmware updates as new features are added.
FX8 is expected to begin shipping Q4 2014. List Price $1999.95 Direct Price: $1349.95
For more information:
Fractal Audio