Stompboxtober Is here!
Check back each day at 11:00 am Central Starting Oct. 1 for your daily chance to win! Scroll down for today's giveaway.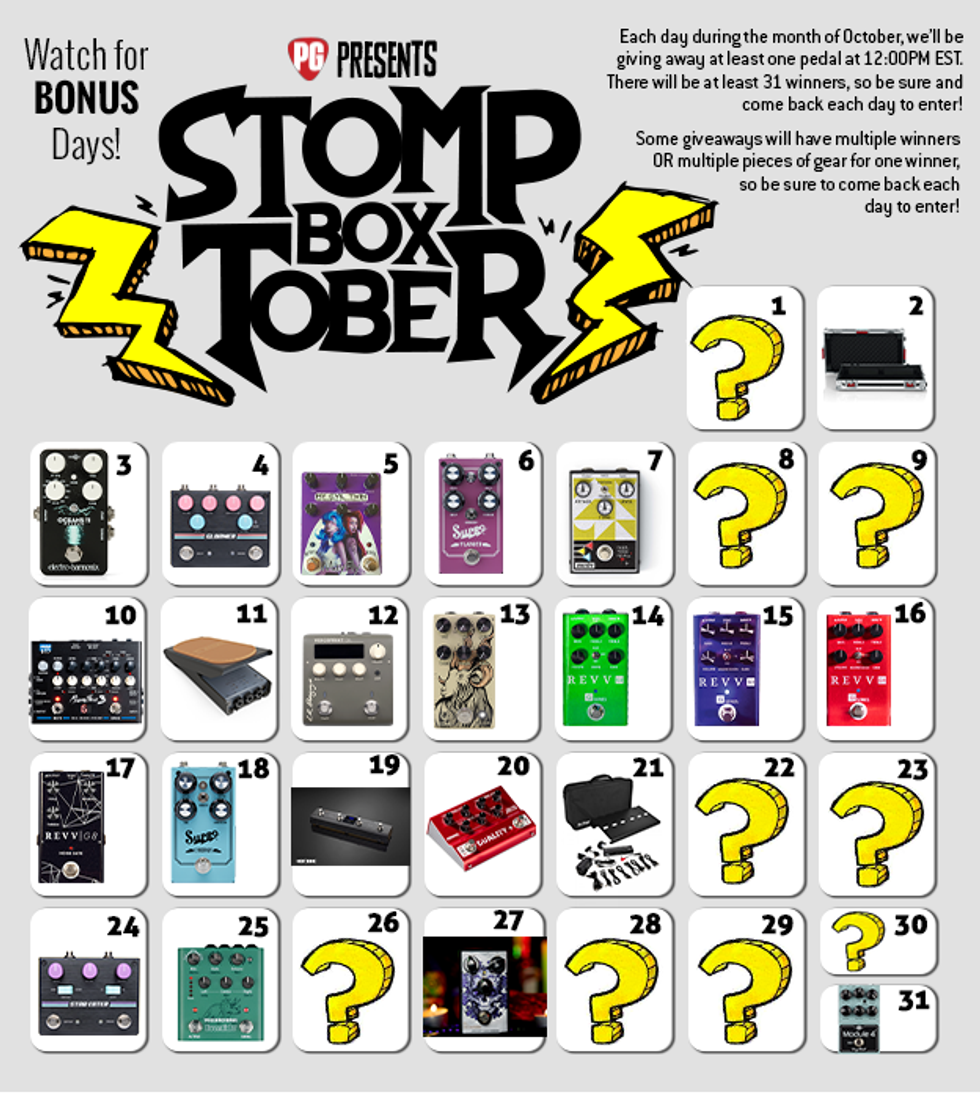 The KOA Acoustic Preamp offers classic, natural acoustic tone with unprecedented tonal control and extended headroom.
​Designed for performing guitarists and pro musicians, the Koa preamp offers classic, natural acoustic tone with unprecedented tonal control and extended headroom. The Koa begins with a boutique flat response and adds extensive tone capabilities, allowing you to carve out your signature sound.
The pedal's interface is intuitive and well laid out, making it easy for you to adjust your acoustic guitar settings on-the-fly. Harmonic content increases as you turn up the INPUT GAIN control, producing the rich harmonics you desire from your preamp. Lightweight, compact design, bullet-proof construction, and a list of indispensable features assure the Koa will be the heart of your tone for years to come.
Key Koa features include:
Preamp GAIN and master VOLUME controls
BLEND control adjusts the EQ/dry mix
Mid sweep semi-parametric EQ
COMPRESSOR: Threshold and Strength controls
Effects Loop
True Bypass
Switchable MUTE
THRU/TUNER output jack independent of MUTE switch
-10dB Attenuation switch
DIRECT OUT balanced XLR and 1/4-inch
9V Power supply included. 90-230VAC, 50-60Hz
Battery compartment for 9V battery operation
Carvin KOA Acoustic Guitar Preamp
The KOA acoustic preamp is available for $239. For more information, please visit carvinaudio.com.
Fitted and non-fitted risers and frames designed to work with popular effects pedals and pedalboards.
​Designed to provide an improved system for elevating effects pedals, the product line includes a broad array of options that will fit almost any pedal and pedalboard. Strong, stable, and lightweight, Elephant Foot Risers are designed for gigging musicians who need a reliable and road-worthy solution for improving their pedalboards.
​The line features fitted and non-fitted risers and frames that can make your pedalboard as solid, secure, and streamlined as possible – without forcing you to sacrifice your favorite pedals or compromise on your routing preferences.
Features
No more accidental pedal stomps, no more pedal wobble, no more sloppy pedal boards!
Works with all popular brands
Easy and neat cable routing and pedal attachment options
Strong, yet lightweight
Versatile - use on wood, composite or metal pedalboards
Excellent value! Prices starting at only $4.99.
Intro to Elephant Foot Risers
Elephant Foot Risers are priced from $4.99 to $12.99. For more information, please visit elephantfootrisers.com.