Looking for more great gear for the guitar player in your life (yourself included!)? Check out this year's Holiday Gear Finds!
---
You could WIN a Walrus Audio Melee in this all-new giveaway! Enter before Feb. 24, 2023 for your chance to win.
Walrus Audio Pedal Play: Melee: Wall of Noise Distortion + Reverb
The Walrus crew took over the FlashBack RetroPub in Oklahoma City for a few hours to play some games, work on our high scores and even film a video for the M...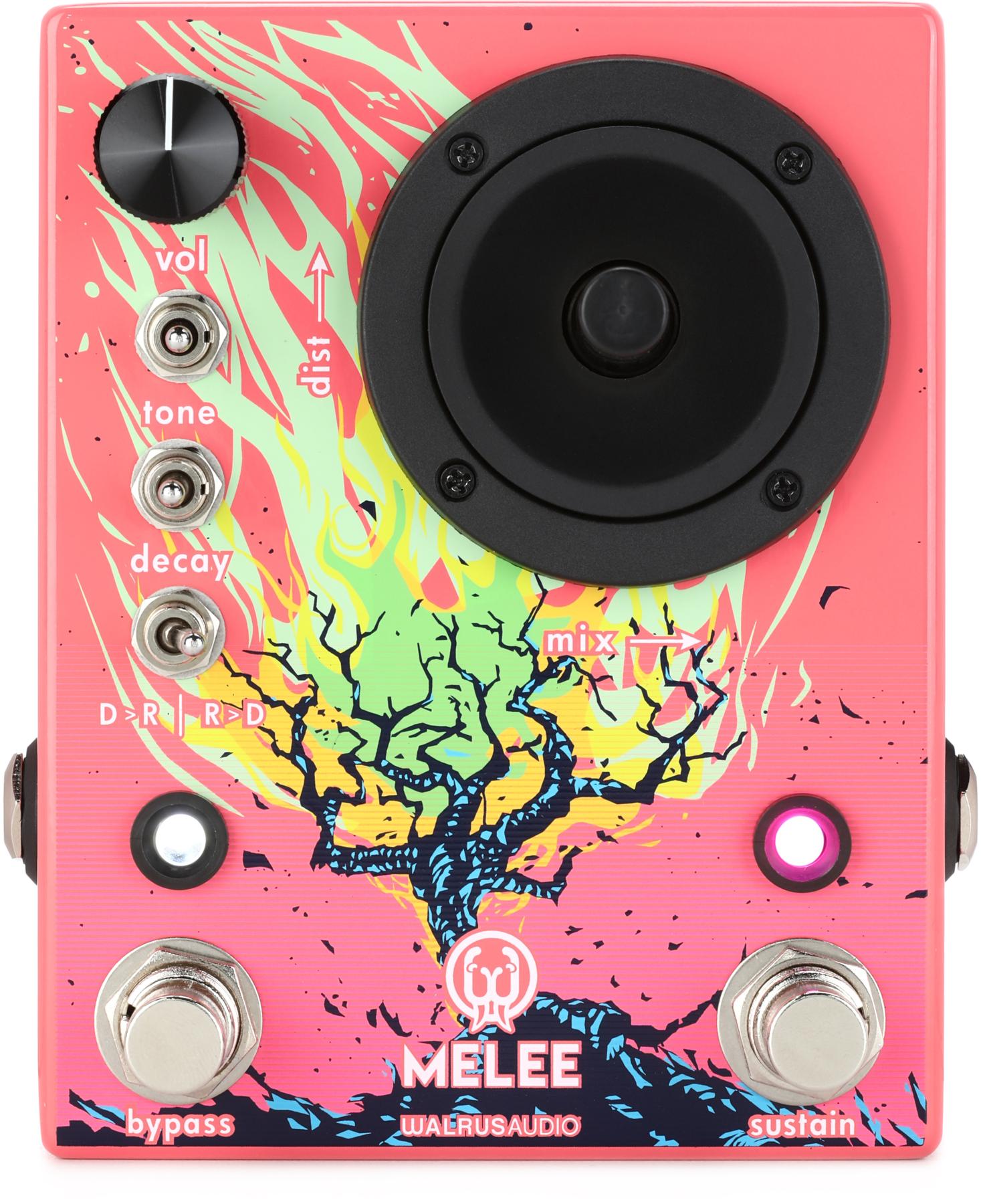 We give you the two most quintessential effects that yield unruly amounts of power and influence to an instrumentalist: reverb and distortion. They have been harnessed and woven together for an eternity of ethereal power with The Melee: Wall of Noise. The Melee unapologetically uses a joystick to meld reverb and distortion into one massive blaze of sound. With the flip of the order switch, run the distortion into the reverb or reverb into distortion; signal chain is your call now. For the explorer, the Melee can run one of three different reverb programs Ambient, Octave, and Reverse. In a less is more approach, we've intentionally decided on controls that are fun to use and will inspire a wealth of creative output. Use the joystick to control the amount of distortion by moving it up and down. Moving the joystick left and right will adjust your reverb mix. The tone and decay toggles have low, medium, and high settings. Modulation can be added to the wet signal by holding down the bypass switch and moving the decay toggle. The left position is no modulation, the middle is a slight modulation, and the right is a high modulation.
Walrus Audio
The new guitars feature a hand-painted tobacco sunburst top, firestripe faux tortoiseshell pickguard and 4mm Italian acrylic dot fretboard inlays for a rootsy, vintage look.

The award-winning American Dream Series was first introduced in 2020 during the pandemic. The solid-wood, U.S.-made acoustic guitars were designed to deliver all the essentials of a premium acoustic guitar, with a thoughtfully streamlined appointment package to make the guitars more accessible during a time of economic uncertainty and increased consumer demand. Each American Dream guitar is voiced with Taylor's tone-enhancing V-Class® bracing system (and new C-Class® bracing for the AD11e-SB). Appointments on the new sunburst American Dream guitars support the rootsy, organic vibe, with black top purfling, a black/maple/black rosette, black satin tuners and a thin matte finish. Chamfered body edges add additional playing comfort alongside Taylor's ultra-playable necks.



AD11e-SB
The all-new AD11e-SB features the new Taylor Grand Theater (GT) body shape, which sports a comfortably downsized frame and scale length. Tonally, it's voiced with C-Class bracing (a variation on V-Class bracing) that enhances the low-end response to give the guitar the tonal depth of a full-size guitar. The new model includes a special 24-1/8" scale length and is strung with light-gauge D'Addario XS coated phosphor bronze strings. Starting at $1799.
AD12e-SB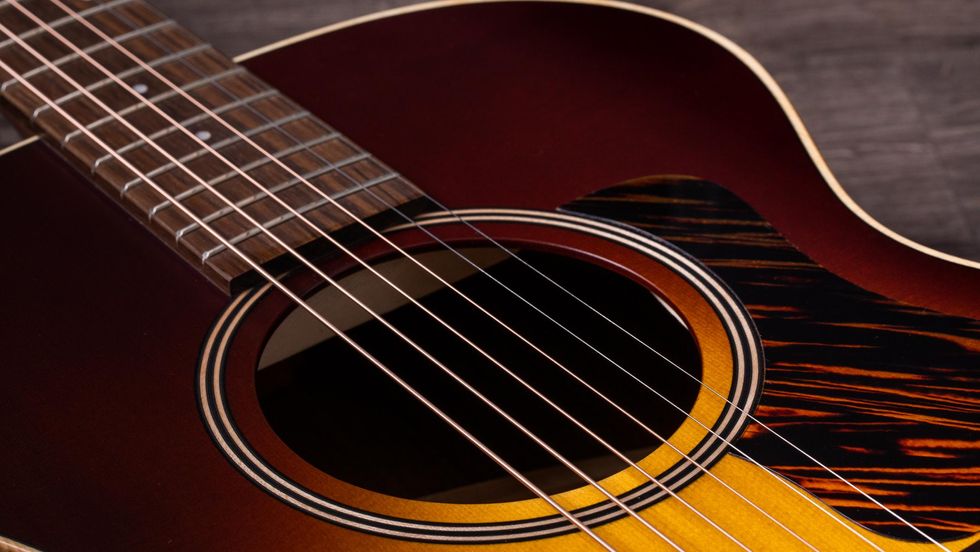 The AD12e-SB brings the first spruce-top Grand Concert to the American Dream Series. Powered by V-Class bracing, the clarity, responsiveness, and note-to-note definition of the compact body makes the AD12e-SB perfect for fingerstyle guitarists, nimble flatpickers, and recording applications. The guitar is strung with light-gauge D'Addario XS-coated phosphor bronze strings. Starting at $1999.
AD17e-SB
The AD17e-SB features Taylor's Grand Pacific body shape, a round-shoulder dreadnought inspired by classic acoustic guitar recordings. With a 25-½" scale length and medium-gauge, D'Addario XS coated phosphor bronze strings, this guitar is a midrange powerhouse that serves up seasoned tone without sacrificing balance or articulation. Starting at $1999.
Introducing New Sunburst American Dream Acoustic Guitars
The new sunburst American Dream guitars include Taylor's onboard ES2 electronics and a brown or gray AeroCase for convenient transportation.

For more information, please visit taylorguitars.com.