Looking for more great gear for the guitar player in your life (yourself included!)? Check out this year's Holiday Gear Finds!
---
Keeley Electronics is giving away a limited edition Ariel Posen Hydra Reverb! The giveaway will end on February 10, 2023.
The new HYDRA is a high fidelity and true stereo Reverb and Tremolo. Designed to be the perfect end to ANY pedalboard, regardless of genre. Save up to 3 presets and dive deep into the HYDRA's potential using our Alt Control feature. The Hydra features on-board or remote tap-tempo, you can swap the order of the Tremolo and Reverb, expression pedal control, Infinite Hold Reverb trails and so much more!
Keeley
Fender unveils a Blue Marlin finish for the historic H.E.R. Signature Stratocaster guitar—a launch that established H.E.R. as the first Black female signature artist in Fender's 77-year history.

The guitar features personalized cutting edge specs that five-time Grammy winner H.E.R. prefers in a Stratocaster with the body boasting the striking debut colorway that emulates the brilliant blue of a marlin, complete with an iridescent finish that shifts in the light. With only 300 units made world-wide, this guitar is a true, special limited edition.

"I distinctly remember my father teaching me how to play my first blues scale on a Fender mini black-and-white Stratocaster. Filming this interview with him, reflecting on my musical journey, and the development of my second signature Fender guitar has been a surreal 'pinch me' moment. I designed my Limited Edition Stratocaster guitar with a color, shape and sound that is 100% my own so that young women and players from all backgrounds feel inspired to pick up this guitar, tap into their thoughts and create amazing music." - H.E.R. on the Limited-Edition Strat
Fans of H.E.R. can also learn to play their favorite songs on the Fender Play App, including her hits like "Could've Been," "Every Kind of Way," "This Way," and more. Under H.E.R.'s Artist Spotlight, users can learn over 7 songs and 3 skills to play more like the 5-time Grammy award winner.
Features
Only 300 units made world-wide
Blue Marlin iridescent finish: a tribute to her father Kenny, who would take H.E.R. on fishing trips growing up
One-piece Maple Neck with mid-'60s "C" shape: Perfect for all players, new and experienced, that allows for fretting and bending with ease.
9.5" Radius, 21 Vintage-tall Frets: Easily allows for classic Fender tone and effort-less bending.
Fender Vintage Noiseless Stratocaster pickups: a necessary feature for H.E.R. that allows clear and articulate tone with no 60-cycle hum and a six-screw.
A custom neck plate engraved with H.E.R. artwork: Small but personalized touch for a signature guitar making it a fit for any player at any occasion.
Exploring the Limited H.E.R. Stratocaster | Artist Signature Series | Fender
More info at www.fender.com.
Fender
Photo by Han-Su Kim
Following a long road from Saskatchewan to California, this master builder lands in Corona, to painstakingly reproduce Jerry Garcia's "Alligator' and other gems.
Like everything in the Grateful Dead's orbit, each of Jerry Garcia's stage guitars has been pored over by Deadheads, with data on their usage rivalling baseball-stat-level analysis. Dedicated fans can hear the differences between each of these iconic instruments—not just because of their tones, but in the type of music and playing they inspired. So, it's only natural that each 6-string has its own subset of fans. Some love to hear and see Wolf and Tiger—custom instruments built by Doug Irwin, both of which have their own merch, including T-shirts, hats, and miniature replicas. And some prefer Garcia's deep-cut Travis Bean era. A large cadre of others prefer Alligator, the Stratocaster that Graham Nash gave to Garcia as the Dead embraced cleaner, country- and folk-inspired sounds.
Oddly enough, until now, some of the finer details about Alligator and its extensive modifications remained improbably unknown. A quick visual inspection will catch the brass control plate and unique bridge assembly, and maybe even the brass nut. The details of what lies inside, however, have been less reported. So, when Fender set out to create a Custom Shop Jerry Garcia Alligator Stratocaster, master builder Austin MacNutt took on the monumental task of analyzing the finest nuances of the original in order to painstakingly recreate each and every one.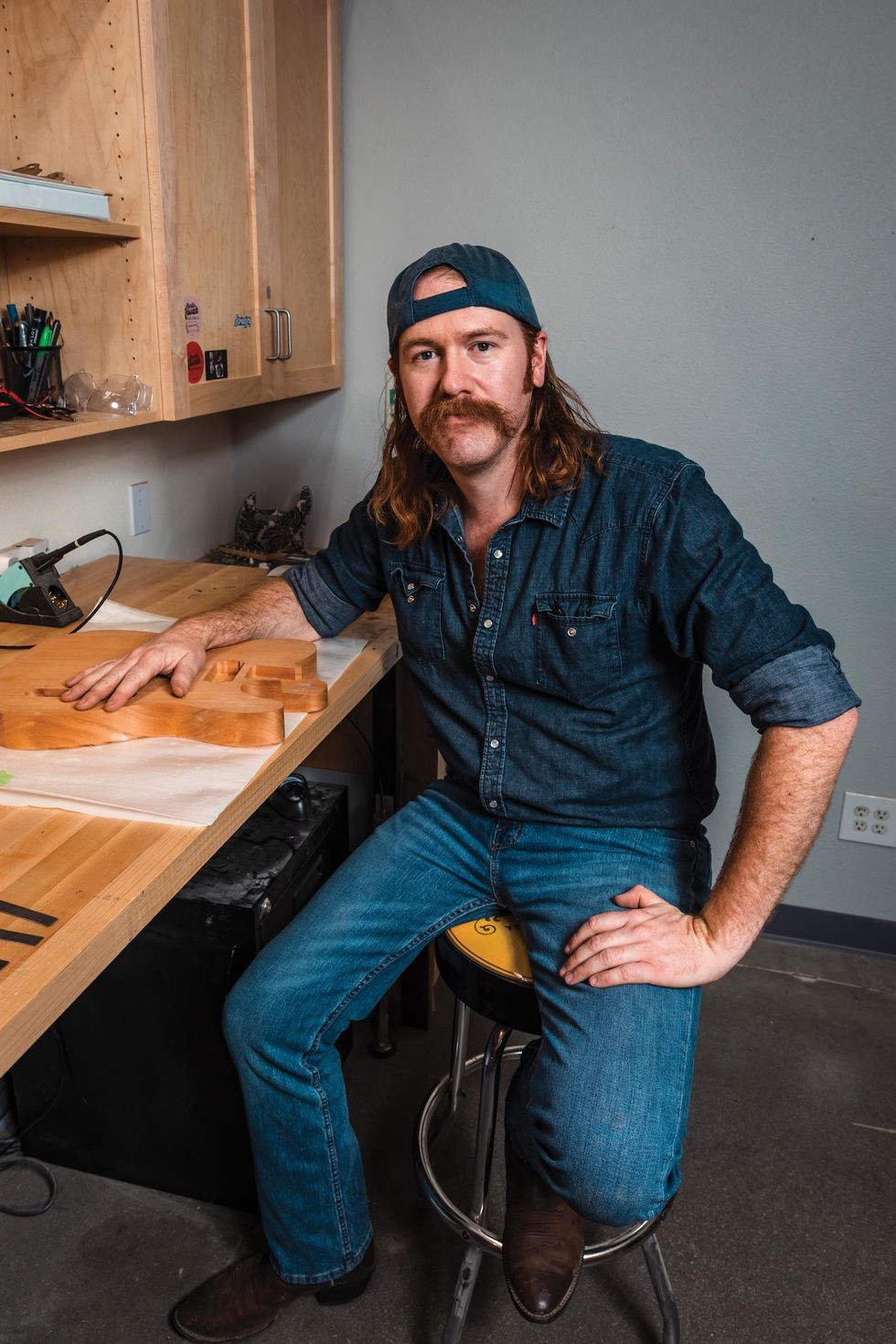 Master builder Austin MacNutt joined the Fender Custom Shop team in March 2022.
Photo by Han-Su Kim
When he took on the project, MacNutt was already familiar with Alligator and some of its unique attributes. "I've seen pictures of it," he says, "but not detailed shots. There's not a lot of great pictures of it from back in the day." MacNutt was given one day to spend with the guitar and collect all the necessary data. "That day when we brought it in," he recalls, "we opened it, and the room was just silent—everyone taking it in for a good minute or two before anyone even touched it. We pulled it out, put it on the table, and started taking it apart. To get to disassemble it is such an honor."
MacNutt knew he had his work cut out for him. "There's a lot of strange stuff on it," he says. "It's one of a kind, for sure. It was definitely a work in progress, like a test bed, where they're trying out different things." He took extensive notes and photos on everything from the guitar's boost circuit and the unique metal bar that serves as a string retainer, to more refined details, like the scalloping on the brass nut and unique hammer-pattern on the control plate. "I was writing down how thick this thing is, what size this screw is, how long is this screw," he explains. Surprisingly, when he disconnected the neck joint, MacNutt discovered that Alligator—believed to be a 1957 Strat—was actually assembled by ground-floor Fender employee Tadeo Gomez back in 1955.
"That day when we brought it in, we opened it, and the room was just silent—everyone taking it in for a good minute or two before anyone even touched it."
Over the course of a couple months, MacNutt set about creating a prototype for a limited edition run of instruments. When we talked in mid-November, the production of those guitars was under way, and MacNutt sat at his computer with a rack of six in-progress Alligator builds behind him. When MacNutt talks about the process, his face lights up. It's not lost on him that the Alligator model is a full-circle project with deep personal roots.
Growing up in a musical family in Saskatoon, Saskatchewan, both of MacNutt's parents played country music. His older brother is also a guitarist and helped Austin find his way to classic rock when he got started playing around the age of 11. While MacNutt's first guitar was a Hondo Paul Dean II, it wasn't the Loverboy guitarist's signature model that really inspired him. It was his dad's 1963 Fender Jaguar that was often laying around the house. He says he felt that the Jaguar was special even before he started playing.
MacNutt's first build was a Tele copy with a Jerry Garcia-style flourish. Here, he works on an actual Fender Telecaster.
Photo by Han-Su Kim
"My dad tinkered on his stuff a lot," he reminisces. "He worked in a music store. When I was real little, I have faint memories of being in the basement where all the parts are. It was always fascinating to me." Austin took to tinkering at a young age and, after high school, he decided to attend the Guitar Craft Academy in Hollywood.
During the program, he built his first guitar, a Telecaster-style instrument with some auspicious modifications. He explains, "The bottom horn was kind of like some of Jerry Garcia's Alembic builds, with the little thumb. Three P-90s, a wraparound bridge, the big Strat headstock on it, ebony build with no face dots. It was a lot of weird stuff. A lot of times, people's first guitars are filled with strange choices."
The folks at the Guitar Craft Academy must have noticed something special in Austin's work, because once he finished the program, they offered him a job. "Before, I was working at a grocery store, saving up money to go there, and I didn't know what I was gonna do next," he explains. "At the end of it—honestly, I wasn't even sure I was gonna stay in L.A.—they offered me a job."
The painstakingly detailed Custom Shop Jerry Garcia Alligator Stratocaster prototype.
Photo by Han-Su Kim
He found teaching to be a great experience. "It was a perfect opportunity," he says with a warm, appreciative tone. "Not only did I get to work there, I kind of got to continue my education by continuing to keep the rate at which I was doing all that stuff up." But that wasn't the only opportunity that came from working at the Academy.
"We brought Ron Thorn [of L.A.'s Thorn Custom Guitars] in for a day, and he'd go over inlay work—he's a master of inlay," he says of the esteemed luthier. The two hit it off and Thorn invited the up-and-comer to join him at his shop. Starting first as a part-time employee, MacNutt eventually moved on after five years of teaching to join Thorn Custom Guitars full time. In the small, dedicated shop, MacNutt gained loads of new experience. "I was resawing wood, fretting, truing boards, picking the wood, gluing body blanks, whatever needed to get done," he says. "I got to learn a lot of skills under the whole umbrella of guitar building."
But in 2018, Ron Thorn took a job at Fender and closed his shop. MacNutt moved on to Xotic and also began running his own shop, where he focused on repair work. Along the way, he stayed in touch with his old boss. And when there was a position available in the shop, Thorn gave him a call. "I jumped at the chance," MacNutt says.
"A lot of times, people's first guitars are filled with strange choices."
Last March, MacNutt joined Fender as a master builder and says there have been "whirlwind aspects of it, definitely diving in and just getting the lay of the land." It's not lost on him that, like many builders, his first build was a Telecaster copy, and now he gets to build the real thing. "The first one I put my signature on the back of the headstock," he says, "I had to sit and look at it for a little bit, taking it in."
By the time we spoke, about eight months later, MacNutt estimated he'd built about 100 Fenders. In the shop, he spends his days bouncing between various builds and says he gets to work on a nice variety of instruments. "It's a good mix between spec pieces—things I want to build—and something a customer or a dealer has ordered," he points out.
His favorite spec piece so far was a special one: a copy of his dad's '63 Jaguar. "I pitched it to a dealer, and they loved it," he enthuses, "and they wanted me to go ahead and do it. I had my dad take pictures and send them to me. Nobody else knows that guitar, but it was special to be able to do that." He adds that it was weird to play a copy of the guitar he's admired for his entire life. "There's a few paint chips on the back that I remember noticing when I was a kid. To see the paint chips on there, they're strange."
MacNutt and longtime Grateful Dead crewmember Steve Parish take a close look at the Alligator prototype.
Photo by Han-Su Kim
The Alligator project drew on the same inspired, detail-oriented skills. "When that opportunity came up, I knew the guitar," he exclaims. "Ron pitched it to me, and immediately, I was on board." While MacNutt was the expert on his dad's Jaguar, he turned to former Grateful Dead crew member Steve Parish—who made some of the guitar's modifications—to give his Alligator prototype an enthusiastic thumbs up (and there's a video to prove it).
Re-creating the iconic Alligator has a unique angle. "To see a vintage Strat like that heavily modified, you'd never see that now," he says, shaking his head. "But in the early '70s, it was just an old guitar—'Let's hack it up, let's customize it.'" And reproducing his reproduction is another endeavor. "Up until this point," he says, "I've been building different guitars, and I relic them however I want them to look. Whereas with these, I've got a template that I stick to. That's been a new experience. It's fun the whole way through."
Looking ahead, MacNutt sees a lot of builds in his future and is plotting out some new spec pieces. But he feels like the Alligator will loom large for quite some time. "I know that guitar pretty well at this point. I'll come across a picture of it on a random Instagram post now, and it's like, 'Hey, there it is!' It feels strangely like a part of me now."